The global dermatology diagnostic devices and therapeutics market size was estimated at USD 13 billion in 2022 and is projected to hit around USD 25.69 billion by 2032 with a registered CAGR of 7.1% during the forecast period 2023 to 2032.
Dermatology diagnostic devices and therapeutics are used for diagnosing skin wounds, skin-related disorders, pigmentation acne, and assisting in the diagnosis of skin cancer.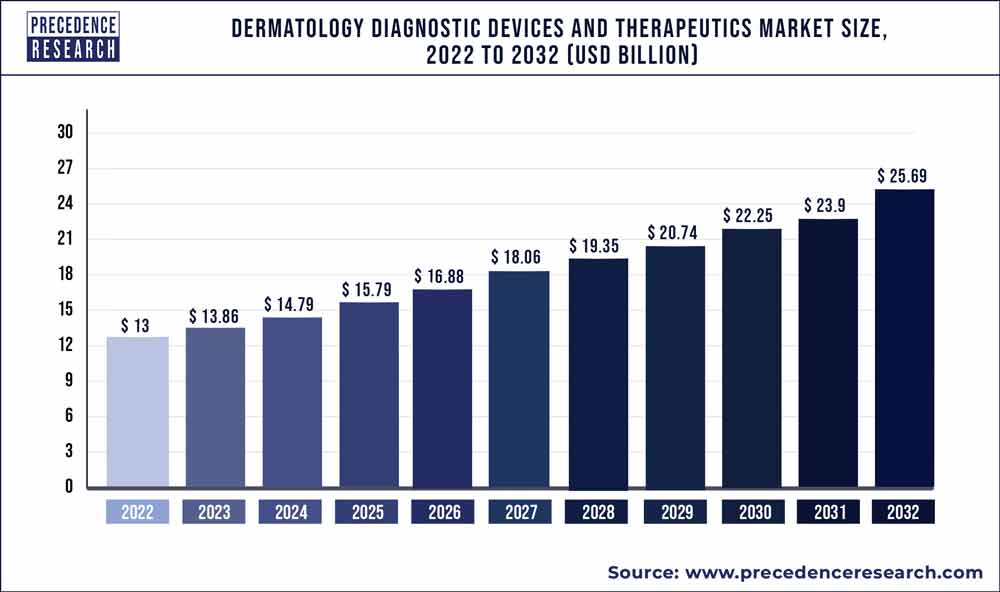 Key Takeaways:
By diagnostic devices, the imaging equipment segment had the highest revenues in 2022 and is expected to see above-average CAGR growth of 7.96% from 2023 to 2032.
By application, the hair removal segment has captured a market share of 15% in 2022.
By end use, the hospitals' segment accounted for a market share of 54.60% in 2022.
The North America region contributed 45% of the revenue share in 2022.
Growth Factor
The market growth for dermatological diagnostic equipment would be greatly impacted by the rising incidence of skin cancer. UV radiation exposure is a cause of skin cancer. According to the American Academy of Dermatology, 1.9 million individuals were expected to have melanoma in 2019. Additionally, the Skin Cancer Foundation predicts a 2% increase in new melanoma occurrences in 2020. The demand for dermatological devices will also increase during the next years due to the increasing requirement for quick diagnostics of skin cancer and other associated skin problems. The size of the market for dermatological diagnostic equipment will increase over the future years due to technological developments in the field of dermatology. Manufacturers should benefit from these technical developments in order to preserve their place in the market. The adoption of dermatological diagnostic devices will also be influenced by the development of diagnostic tools for treating malignant skin cancer and other conditions like squamous cell carcinoma. Similarly to this, as dermatological diagnostic gadgets become more digitalized, more people will use them, increasing the market's growth. Therefore, the industry of dermatological diagnostic devices will have the potential for significant growth due to ongoing improvements in dermatology equipment. The market for dermatological diagnostic equipment and therapies is gaining momentum due to the proliferation of specialist clinics, in addition to the rise in cases of hair loss and skin illnesses and technological advances in the industry. Additionally, the development of e-commerce and the rise of the cosmetics industry are anticipated to have a beneficial impact on this market. On the other hand, high prices for dermatological diagnostic tools and associated treatments prevent the market from growing more profitably.
An increase in occurrences of hair loss, skin conditions, and scientific developments
An increase in patients with skin allergies, fungus infections, and skin cancer due to pollution and environmental changes.
A high incidence of acne and psoriasis has also been caused by rising pollution, changing lifestyles, and more cosmetic use, which has positively impacted the worldwide market.
The expansion of the overall market has been attributed to rising healthcare costs as well as the development of new and improved dermatological diagnostic tools, treatments, and equipment.
Report Scope of the Dermatology Diagnostic Devices and Therapeutics Market
Report Coverage
Details
Market Size in 2023
USD 13.86 Billion
Market Size by 2032
USD 25.69 Billion
Growth Rate from 2023 to 2032
CAGR of 7.1%
Largest Market
North America
Fastest Growing Market
Asia Pacific
Base Year
2022
Forecast Period
2023 to 2032
Segments Covered

By Diagnostic Devices
By Application Class
By End Use

Regions Covered

North America
Europe
Asia-Pacific
Latin America
Middle East & Africa

Key Market Drivers
Geriatric people are using aesthetic operations more frequently
The number of people 60 and older in the globe is projected to rise from 880 Mn in 2011 to 2 Bn by 2050, or 22% of the world's population. The increasing degeneration of the skin is a result of aging. Therefore, it is anticipated that older people would become more interested in cosmetic operations like skin tightening and anti-wrinkle therapy.
Nearly 204000 liposuction operations were carried out in the U.S. in 2019 on patients between the ages of 51 and 64, while 35000 treatments were carried out on patients 65 years of age and above, according to the American Society for Aesthetic Plastic surgery.
Increasing use of non-invasive and minimally invasive aesthetic treatments
The need for minimally invasive as well as non-invasive cosmetic procedures over standard surgical procedures has increased during the last decade. Alternatives that are minimally invasive or non-surgical provide a number of benefits over more common surgical techniques, including less discomfort, less scars, and speedier healing. These methods are also less costly than customary surgical treatments.
The market for aesthetic lasers, treatment tools, and cosmetic dermatology is all being driven by the rising demand for aesthetic operations. Such lasers are used for cosmetic operations such as skin rejuvenation, hair removal, treating psoriasis, and acne, removing tattoos, treating pigmented lesions, treating vascular lesions, and treating other skin conditions like psoriasis. The options for beauty treatments have increased thanks to lasers with lengthier wavelengths and better settings, making the aesthetic lasers market profitable.
Key Market Challenges
Clinical risks and complications associated with dermatology procedures
Over the past 20 years, dermatology procedures have become more and more common. The market has experienced significant growth in demand for cosmetic procedures as a result of the rise in dermatologists as well as surgeons providing safe and effective treatments as well as the development of technologically advanced items for the same. However, there are a number of potential negative effects linked to dermatological operations.
Patients receiving aesthetic procedures run the risk of infection, skin irritation, pigment changes, organ damage, and anesthesia-related problems, among other things. Red light treatment devices have been blamed for causing blisters and burns, according to reports. Few people have reported getting burned after sleeping with the unit on, while others have claimed getting burned by corroded equipment or faulty wiring. It is anticipated that these issues may hinder the use of dermatological therapies.
Key Market Opportunities
Demand for minimally invasive/non-surgical procedures is rising
The preference for minimally invasive as well as non-invasive cosmetic procedures over traditional surgical methods has increased noticeably during the past 10 years. Compared to typical surgical techniques, minimally invasive/non-surgical therapies provide a number of benefits, such as quicker recovery and less discomfort. Additionally, these procedures are less costly than standard surgical treatments. Cosmetic dermatology, aesthetic lasers, and therapeutic devices are all being impacted by the rising demand for aesthetic procedures.
Advancements in skincare treatments
Over the past ten years, there has been a discernible rise in the popularity of minimally invasive as well as non-cosmetic operations over standard surgical procedures. Minimally invasive/non-surgical therapies provide a variety of advantages over conventional surgical methods, including speedier healing and reduced discomfort. These methods are also less expensive than conventional surgical procedures. The growing demand for aesthetic operations has an effect on cosmetic dermatology, aesthetic lasers, and therapeutic devices.
Segments Insight
Diagnostic Devices Insights
The market for dermatology has been divided into imaging equipment, microscopes and trichoscopy, and dreamscapes based on diagnostic tools. The report categorizes imaging devices into optical coherence tomography, ultrasound, X-ray, magnetic resonance imaging, and magnetic resonance spectroscopy. Microscopes and trichoscopy are further divided into reflectance confocal microscopy, multispectral photoacoustic microscopy, Raman spectroscopy, and other categories. Additionally, there are three different types of dermatoscopes: hybrid, cross-polarized, and contact oil immersion. These include the sub-segments of imaging equipment, which had the highest revenues in 2022 and are expected to see above-average CAGR growth of 7.96% from 2023 to 2032. The imaging equipment market is booming as a consequence of its successful detection rates, real-time diagnostic picture production, and high sensitivity.
Application Class Insights
With a market share of over 15% in 2022, the hair removal therapy application sector will also have the fastest CAGR between 2023 to 2032. The treatment application segment is further divided into the following sub-segments: cellulite reduction, vascular and pigmented lesion removal, skin rejuvenation, hair removal, acne, psoriasis, and tattoo removal; wrinkle removal and skin resurfacing; removal of wrinkling and age spots; and others. Laser hair removal equipment in particular has been shown to be less uncomfortable and safer for all skin tones and hair colors, which is driving the expansion of this market.
End Use Insights
A major portion of the market, more than 54.60%, was accounted for by the hospital sector in 2022 due to the widespread use of cutting-edge dermatological equipment in hospital settings. Numerous visits are made to these facilities for the diagnosis and treatment of skin diseases as a result of the availability of a variety of treatment choices, which in turn promotes the segment's expansion. The end-user category for clinics is anticipated to see the fastest CAGR between 2023 to 2032. Clinics that specialize in the diagnosis and treatment of skin diseases are called dermatology offices. Certified plastic surgeons provide both surgical and nonsurgical procedures in dermatological clinics.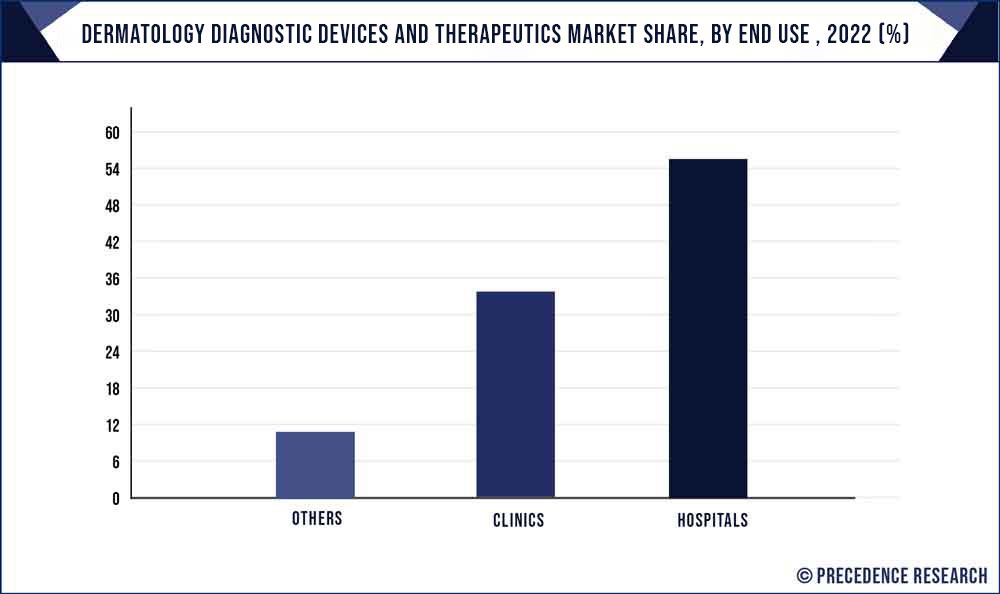 According to TripleTree, the United States will have 14,000 dermatologists and 9,000 dermatology practices in 2020. 34% of all practices were single operations, while 48% of all operations had three or more physicians. Patients frequently attend specialty dermatological clinics for quick and efficient care as the need for specialized dermatology treatments increases, which fuels the segment's expansion. In addition, more people are attending dermatological clinics for treatment and care due to the global growth in skin cancer and melanoma prevalence and the expansion of clinics providing dermatology services.
Dermatology Diagnostic Devices and Therapeutics Market Share, By Region, 2022 (%)
| | |
| --- | --- |
| Regions | Revenue Share in 2022 (%) |
| North America | 45% |
| Asia Pacific | 16.7% |
| Europe | 25% |
| Latin America | 9.3% |
| MEA | 4% |

Regional Insights
The region with the highest revenue share in 2022—more than 45%—was North America. During the projection period, the regional market is expected to maintain its dominance and develop at a steady CAGR. The increased prevalence of skin cancer and other skin problems including eczema and rosacea, as well as the expanding usage of cosmetic procedures, are two major factors contributing to the regional market's development. 80% of Americans will encounter acne vulgaris at some time in their lives, and 20% of those people may have severe acne that might leave them permanently emotionally and physically damaged.
From 2023 to 2032, the Asia Pacific regional market is anticipated to develop at the quickest rate. An increase in the number of multinational corporations engaging in R&D in the Asia Pacific has shown to be a significant driver of the regional market. Rising consumer awareness of beauty is also projected to stimulate product demand, fostering regional market expansion.
Recent Developments
MyFiziq Ltd. has acquired a strategic equity stake in Triage, enabling the company to license Triage AI—a health assistant platform—as a SaaS offering in December 2020 that includes the capacity to do dermatological diagnoses.
Nikon Corporation unveiled the ECLIPSE Ci-L Plus biological microscope in September 2021. This device does not need to modify the light intensity while changing magnifications. Additionally, it boasts an ergonomic layout that eases the pressure on the body.
Key Market Players
Canfield Scientific, Inc.
Novartis International AG
Valeant Pharmaceuticals International, Inc.
gfa-Gevaert N.V.
Galderma S.A.
Michelson Diagnostics Ltd.
Cutera, Inc.
Astellas Pharma, Inc.
Genentech
GlaxoSmithKline plc
LEO Pharma A/S
Dino-Lite Europe/IDCP B.V.
Segment Covered in the Report
(Note*: We offer reports based on sub-segments as well. Kindly, let us know if you are interested)
By Diagnostic Devices
Dermatoscopes
Microscopes and Trichoscopes
Imaging Equipment
By Application Class
Diagnostic Devices

Skin Cancer Diagnosis
Other

Treatment Devices

Hair Removal
Skin Rejuvenation
Acne, Psoriasis, and Tattoo Removal
Wrinkle Removal and Skin Resurfacing
Body Contouring and Fat Removal
Cellulite Reduction
Vascular and Pigmented Lesion Removal
Others
By End Use
By Geography
North America
Europe
Asia-Pacific
Latin America
Middle East & Africa (MEA)