The global oxygen therapy market size was estimated at USD 35.58 billion in 2022 and it is expected to surpass around USD 60.08 billion by 2032, poised to grow at a CAGR of 5.38% between 2023 and 2032.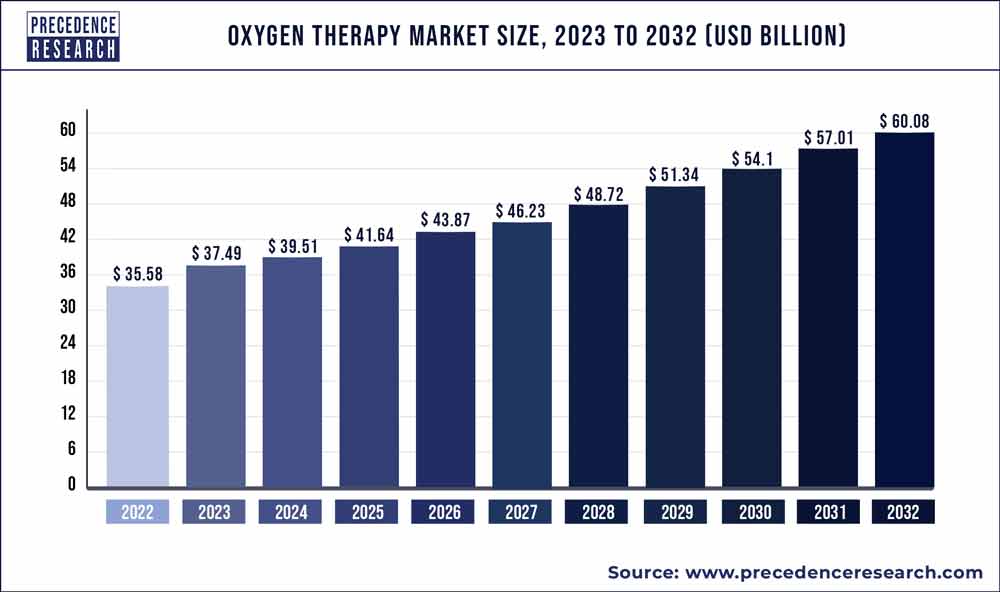 Access our Premium Real Time Data Intelligence Tool, Visit: Precedence Statistics
Oxygen therapy is used for the treatment of both acute and chronic illnesses such as chronic obstructive pulmonary disease (COPD), pneumonia, and asthma. This therapy helps maintain the blood's oxygen level. People with COPD often benefit from long-term oxygen therapy. Cystic fibrosis, dysplasia, heart failure, sleep apnea, and lung abnormalities are a few other acute or chronic medical conditions when oxygen therapy is helpful. Some individuals only require it temporarily, and some need ongoing oxygen therapy.
Key Insights:
By geography, the North America dominated the market and generated more than 33% revenue share in 2022.
By product, the oxygen source equipment segment made up the biggest percentage in 2022.
By portability, the stationary oxygen therapy equipment devices segment is predicted to dominate the market.
By application, the chronic obstructive pulmonary disorder (COPD) segment generated more than 36% in 2022.
Growth Factors
The main drivers of the market are the rising incidence of persistent respiratory disorders and the rising demand for home healthcare. Nearly 12 million adult Americans have been diagnosed with COPD, and 120,000 people die from it each year, according to the National Institutes of Health (NIH). The market for these goods is anticipated to increase as the patient population grows. In the ensuing years, the sector is expected to be driven by this subsequent rise in demand.
Increasing incidence of various chronic respiratory disorders
Increasing acceptance of home oxygen therapy
Growing geriatric population
Increasing Organizational Initiative Regarding Respiratory Diseases
Rapidly increasing hospital infrastructure in developing countries
Increased demand during Covid-19
Report Scope of the Oxygen Therapy Market
| | |
| --- | --- |
| Report Coverage | Details |
| Market Size in 2023 | USD 37.49 Billion |
| Market Size by 2032 | USD 60.08 Billion |
| Growth Rate from 2023 to 2032 | CAGR of 5.38% |
| Largest Market | North America |
| Base Year | 2022 |
| Forecast Period | 2023 to 2032 |
| Segments Covered | By Product, By Portability and By Application |
| Regions Covered | North America, Europe, Asia-Pacific, Latin America and Middle East & Africa |

Market Dynamics:
Driver:
The surge in the latest oxygen therapy solutions:
The demand for the most minor, durable portable oxygen solutions is rising. Patients are less likely to adhere to their therapy using portable home oxygen therapy equipment because they prefer to avoid carrying around a heavy, cumbersome oxygen device. However, the improvement of battery life is one of the areas where there have been considerable advancements in oxygen-conserving methods and lithium-ion battery technology in recent years.
The most recent versions of portable oxygen concentrators weigh just 5-7 pounds and, depending on the litre flow settings chosen by each patient, can provide oxygen therapy for up to 8–13 hours after a battery charge.
Manufacturers of portable oxygen concentrators are also aiming for silent compressor motors, which would reduce noise pollution in small places. The most effective use of dosing technology has allowed portable oxygen concentrator manufacturers to improve performance features, enabling more current designs to increase the units' lifespan beyond occasional use and become dependable and durable for a consistent five-year cycle.
Restraint:
Frequent adverse effects:
The market expansion for oxygen treatment is being constrained by their unfavorable side effects, which, when used therapeutically, include skin irritation and nasal dryness. Dryness of the nose and skin irritation are two of the most typical side effects of oxygen therapy. The cannula may rub against the skin and create irritation.
The nasal passages are dried out by oxygen therapy, which increases the risk of nasal dryness and nosebleeds. Oxygen toxicity, brought by inappropriate or excessive supplemental oxygen, can seriously harm the lungs and other organ systems. Long-term exposure to high oxygen concentrations can enhance free radical production and cause lung injury.
The range of lung ailments it can induce includes minor tracheobronchitis and widespread alveolar damage. As a result, this may hinder the expansion of the oxygen therapy market.
Opportunity:
Technology advancements in therapeutic equipment:
Due to the increase in individuals with respiratory conditions who practically need oxygen therapy devices (OTD), the pressure on healthcare facilities to handle patients who need OTD constantly is fueling the market for oxygen therapy. As wearable technology develops with improvements in Photoplethysmography (PPG) sensors and wireless 5G connectivity, it is anticipated that the trend of digital health data transfer for oxygen therapy monitoring will increase rapidly.
PPG is a non-invasive device that measures volumetric fluctuations in blood circulation by using a light source and a photodetector at the skin's surface. Only specific body parts, including the fingertips, earlobes, and forehead, can accommodate wearable PPG sensors. Additionally, patients can become more involved in the success of their care with the rising use and adoption of remote patient monitoring systems and the proper instruction in their use. The aforementioned aspects will give the market profitable prospects.
Segments Insight
Product Insights
Due to its high availability and utilization in the form of O2 concentrators, compressed gas systems, cylinders, and liquid oxygen, oxygen source equipment made up the highest percentage in 2022. Additionally, these devices serve as the primary source and first step in O2 therapy, playing a crucial role in the industry's overall growth.
The oxygen concentrators segment of the oxygen source equipment market is anticipated to grow profitably. Transportable concentrators are expected to have a high growth potential due to their use in ambulances, trains, and aeroplanes, as well as their application in various medical emergencies, which will support this segment's potential demand.
Over the next few years, it is anticipated that demand will increase due to the growing acceptance and popularity of on-demand & continuous Portable Oxygen Concentrators (POC) in various applications, including emergency medicine. This increase is linked to the entry of international rivals, consumer desire for portable technology, and the urgent clinical need for more mobility support for the senior population. The firm is expected to grow due to ongoing innovation, which produces more effective units and lower prices.
Due to the accessibility of various delivery methods tailored to different patients' physiological and inspiratory needs, the oxygen delivery devices market is predicted to grow at a profitable rate. In the upcoming years, demand is anticipated to be aided by prospective benefits such as consistent O2 flow, variable pressure, exclusion of complicated masks, and flow dilution.
Portability Insights
The stationary oxygen therapy equipment devices category is predicted to lead the market in portability during the study period. Because most patients receiving treatment are confined to beds, the fixed oxygen therapy equipment market is driven and will account for maximum market revenue during the projection period.
Due to a rising population base, favorable reimbursement policies, and a low mobility profile, this category is expanding. Long-term oxygen therapy (LTOT) equipment used in residential settings is expected to enhance demand for oxygen therapy equipment over the projected period.
Application Insights
Due to the rising prevalence of COPD, the chronic obstructive pulmonary disorder (COPD) segment will hold a share of about 36% in 2022. According to the WHO, COPD affects about 65 million people worldwide and is the third most significant cause of death. The clinical need for COPD treatment is driven by the disease's increasing prevalence, which is helping the industry grow.
Regional Insights
With a revenue share of over 33% in 2022, North America dominated the market thanks to extensive O2 treatment research and development activities. For instance, the British Medical Research Council and North American Nocturnal Oxygen Therapy conducted studies to determine the efficacy of long-term O2 therapy.
The increasing use of topical wound oxygen therapy (TWO) and hyperbaric oxygen therapy in this region also impact market demand. Due to urbanization and occupational risks, this region also has a higher risk of developing respiratory illnesses, which is anticipated to spur market growth throughout the projection period.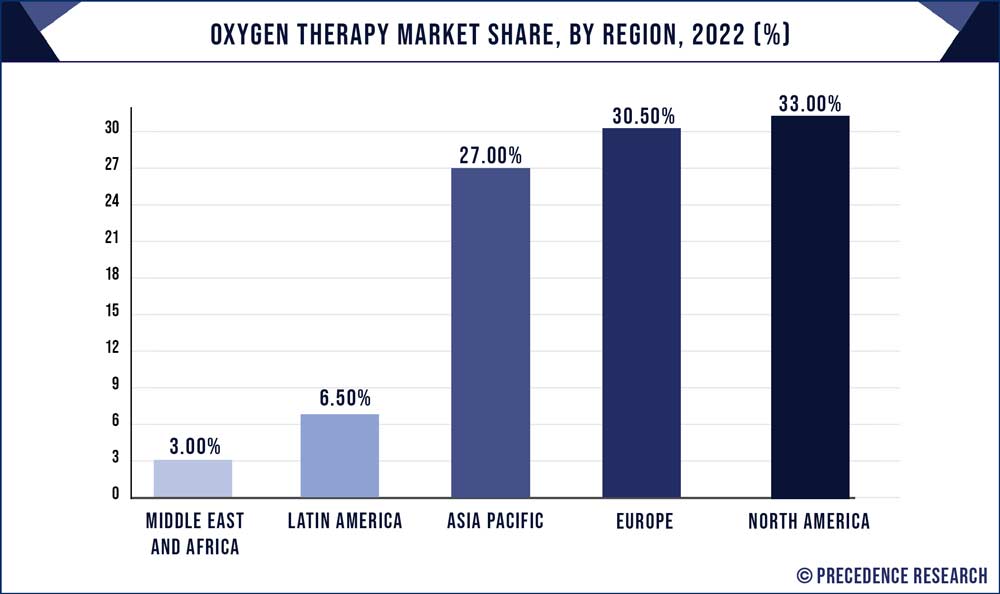 During the forecast period, Asia Pacific is projected to have exponential growth. High R&D spending by international manufacturers and the rising commercialization of O2 therapy devices created by these firms are the market's primary drivers. Additionally, throughout the projected period, the firm is expected to benefit from lucrative growth potential due to the urgent need to create new technologies and replace and update medical infrastructure.
Ongoing technological advancements, growing international collaboration and expanding distribution networks fuel the development of O2 therapy in this area.
Recent Developments
In November 2021 – To create a robust oxygen concentrator for use in places with limited resources, UNICEF collaborated with the British government and Oxygen CoLab. This work is currently underway to combat the coronavirus problem and meet the demand for oxygen in critical care settings.
In July 2021 – For its line of portable oxygen concentrators known as X-PLO2RTM, Belluscura (BELL) announced the signing of its first contract and third distribution agreement with a producer of durable medical equipment. Durable medical equipment (or "DME") is offered online and at several shops in various states. The X-PLO2RTM portable oxygen concentrator, which should arrive in less than 90 days, has already been ordered by the third distributor while this is happening.
Key Market Players
Philips Healthcare
Linde Healthcare
Chart Industries, Inc.
Invacare Corporation
Becton, Dickinson, and Company
Smiths Medical
Drägerwerk AG & Co. KGaA
Teleflex Incorporated
Fisher & Paykel Healthcare Corporation Limited
DeVilbiss Healthcare
HERSILL, S.L.
GCE Holding AB
Segments Covered in the Report
(Note*: We offer report based on sub segments as well. Kindly, let us know if you are interested)
By Product
Oxygen Source Equipment

Oxygen Therapy Equipment for Cardiovascular & Thoracic Surgeries
Oxygen Concentrators
Liquid Oxygen
Oxygen Cylinders

Oxygen Delivery Devices

Oxygen Masks
Nasal Cannulas
Venturi Masks
Non-Rebreather Masks
Bag-Valve Masks
Other Oxygen Delivery Devices
By Portability
Stationary Oxygen Therapy Equipment Devices
Portable Oxygen Therapy Equipment Devices
By Application
Chronic Obstructive Pulmonary Disease
Asthma
Obstructive Sleep Apnea
Respiratory Distress Syndrome
Cystic Fibrosis
Pneumonia
Others
By Geography
North America
Europe
Asia-Pacific
Latin America
The Middle East and Africa