The global portable oxygen concentrators market size was recorded at USD 1.67 billion in 2022 and is foreseen to touch around USD 3.83 billion by 2032 with a registered compound annual growth rate (CAGR) of 8.7% from 2023 to 2032.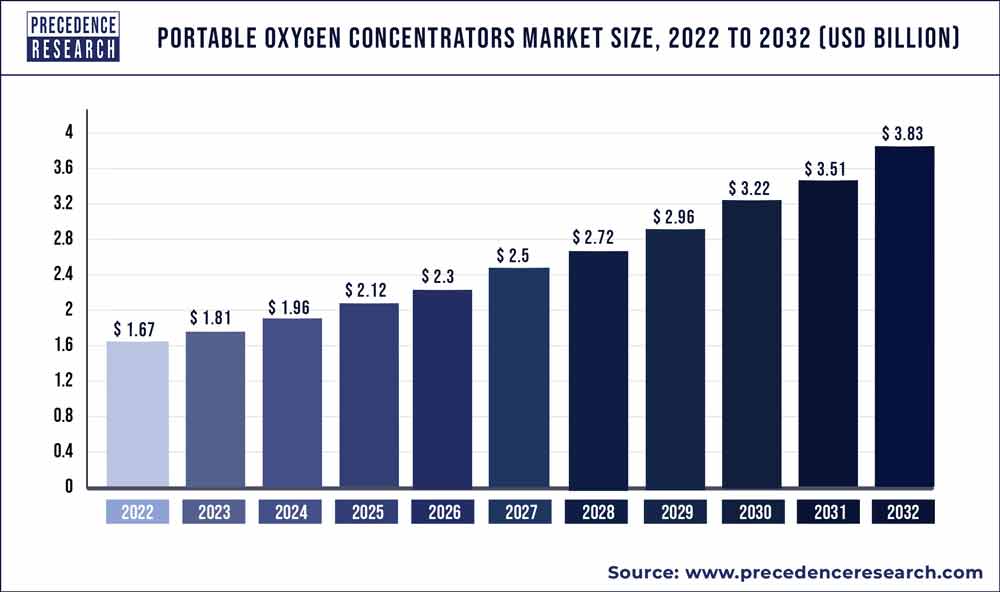 Key Takeaways:
The North America market accounted for 42.8% revenue share in 2022.
Asia Pacific market is growing at a high CAGR over the forecast period
By product, the portable segment has captured a 56% revenue share in 2022.
By technology, the pulse flow segment has captured a 68.4% revenue share in 2022.
By indication, the COPD segment has held the major share of around 42% in 2022.
By end use, the homecare segment held a 57.3% revenue share in 2022.
People who need supplemental oxygen that has a greater level of co2 than what is found in the surrounding air can utilize portable oxygen inverters. They are used specifically to provide oxygen to those with respiratory illnesses such as obstructive pulmonary disease. The concentrator separates the oxygen and nitrogen from the ambient air before discarding the nitrogen and gives the patient % liquid oxygen through with a mask. In comparison to home healthcare oxygen inverters, portable gas concentrators were small, making them easier for users to transport. In addition to physicians, mountain climbers and tourists utilize POCs in locations with insufficient oxygen.
Global demand for portable oxygen concentrators is anticipated to increase as more people throughout the world suffer from respiratory conditions such as chronic obstructive pulmonary disease. The World Health Organization reports that chronic obstructive pulmonary disorder is still the third greatest cause of death globally, accounting for over 3.33 million fatalities.
Sales of portable gas extractors are anticipated to increase at a healthy rate throughout the forecast period because persons with this condition frequently need supplemental oxygen to raise oxygen content in their bloodstream and enhance oxygen flow to their tissues. Additionally, non-pressurized aircraft, the glass-blowing business, and the skin care industry all use portable gas concentrators.
Over the next 10 years, this will boost the need for portable gas extractors. Similarly, it is anticipated that frequent new product introductions and certifications by top manufacturers will propel the market for oxygen concentrators worldwide. Leading competitors in the portable gas concentrators industry are launching new, effective products to capitalize on available opportunities to the fullest extent possible.
Report Scope of the Portable Oxygen Concentrators Market
Report Coverage
Details
Market Size in 2023
USD 1.81 Billion
Market Size by 2032
USD 3.83 Billion
Growth Rate from 2023 to 2032
CAGR of 8.7%
Base Year
2022
Forecast Period
2023 to 2032
Segments Covered

By Product Type
By Technology
By Indication
By Application

Regions Covered

North America
Europe
Asia-Pacific
Latin America
Middle East & Africa

Growth Factors
The prevalence of COPD and other respiratory disorders is rising, portable oxygen concentrator technology is improving, home health care is becoming more and more popular, and the worldwide health insurance market is expanding quickly. The need for homecare services is rapidly rising, particularly in industrialized countries, due to the growing senior population.
The requirement for compressed air concentrators is anticipated to increase during the forecasted period due to an increase in patients suffering from chronic obstructive illness and respiratory illnesses brought on by poor lifestyle choices, like young people smoking cigars, marijuana, and pipes and being exposed to hazardous materials at work. Similar to this, the switch from ordinary conventional condensers to portable gas extractors is driving the market for these devices to expand.
The producers' employment of cutting-edge technology in the creation of oxygen extractors is another factor promoting the market's expansion. To meet the rising demand for portable gas extractors, businesses are concentrating on producing devices with improved efficacy and expense capabilities. By working with prestigious educational institutions like IIT Jammu, Servotech Power Grids, for example, announced in June 2021 that it will introduce a medical-grade oxygenation extractor to Indian and raise the product's awareness to boost sales for the maker.
Additionally, the government and commercial organizations are promoting market expansion with their investment funds and acceptable reimbursement rules. New market actors are being encouraged and given platforms by strategic actions like acquisitions or mergers among firms.
Key Market Drivers
The incidence of chronic diseases is rising
During the projection timeframe of 2023–2032, the increased incidence of chronic illnesses will drive the industry's rate of growth. The increasing prevalence of respiratory conditions including sleep problems and asthmatic is among the major factors fuelling the industry's expansion.
Increase in the proportion of elderly people
The market is being driven ahead by the aging population, which is susceptible to these ailments, as well as the rising demand for practical portable technology. The market for compressed air extractors will also be greatly impacted by the increase in everyday environmental pollutant exposure. Besides this, increasing urbanization and discretionary economic levels are the key drivers propelling the portable gas concentrator industry's expansion. Additionally, rising spending on the healthcare system and person's constantly changing lifestyles are two other key market factors that will propel the market for portable gas condensers even further.
Growing COPD Cases and Constant New Product introductions to drive market
During the projection timeframe, the industry for portable gas extractors would benefit from the rising usage of these devices in emerging countries due to rising income and technical developments. Patients with chronic obstructive pulmonary disorder are becoming more prevalent worldwide, particularly in nations like India and China. This will consequently lead to a rise in the need for portable gas condensers on a worldwide scale. Additionally, throughout the projected period, the market expansion will be fueled by firms increasing their expenditure in the manufacture of transportable pulse and continuous-flow oxygen extractors.
Key Market Challenges
Stringent government rules and reimbursement procedures
The expensive price of the product is the main obstacle preventing the widespread use of portable gas extractors. Due to limited disposable cash and a higher price of the product than in wealthy nations, POC acceptance is limited in emerging economies. Additionally, the market expansion for portable gas extractors is being hampered by the president's tight restrictions and reimbursement guidelines.
The expansion of the sector is being hampered by modifications to the FDA's approval process in several nations for medical devices. Additionally, a shortage of skilled specialists and limited increasing understanding could have a detrimental impact on the industry's expansion.
Segments Insight
Product Type Insights
In 2022, the portable category saturated the market and accounted for the biggest revenue share. Additionally, the portable sector is anticipated to increase at the quickest rate during the course of the forecast. This is due to the growing need for portable, lightweight extractors that can be utilized in a variety of settings, including offices, airlines, and retail establishments. These devices have advantages such as a constant supply of oxygen, improved exercise capacity, higher endurance, flexibility to travel, ease of maintenance, and ease of use. According to predictions, wearable health oxygen concentrator utilization will expand rapidly in the coming years.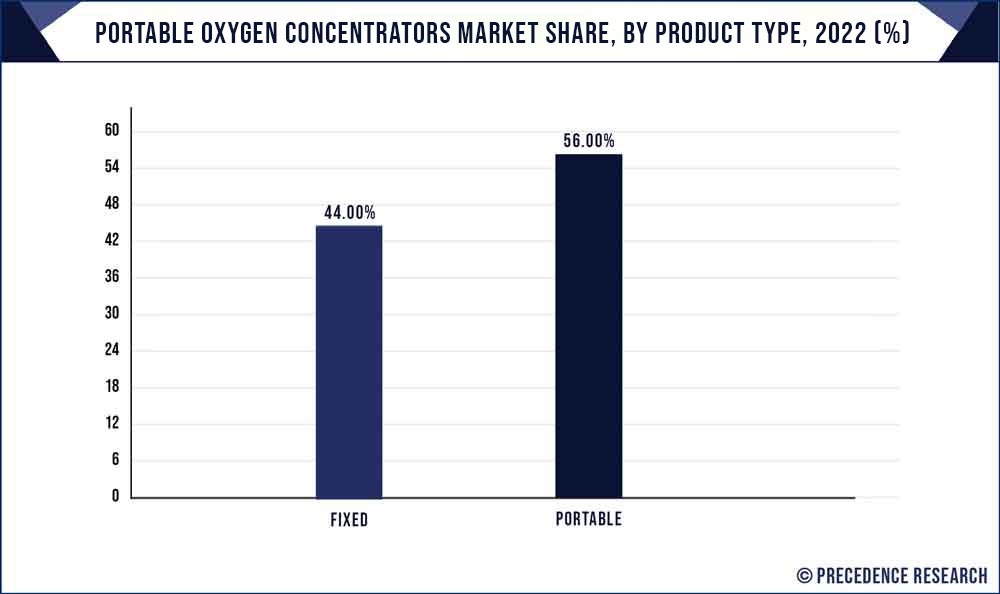 The permanent segment is anticipated to grow more slowly than the transportable sector. It is suitable for patients who are immobilized and offers a constant oxygen supply with a larger distribution capability. Over the forecast timeframe, the segment is expected to be driven by the growing aging populations, the existence of a sizable long-term customer base, and the growing preference for repaired medical oxygen extractors for bedridden hospitalized patients. home healthcare facilities, and long-term care facilities.
Application Insights
In 2022, the homecare category dominated the market and had the biggest revenue share. This is linked to an increment in the amount of COPD patients and also a rise in requests for homecare treatments. Additionally, as COPD is typically identified in older and middle-aged populations, portable oxygen concentrator therapy is recommended by doctors for wheezing. The category is being driven by the simple availability of a significant variety of efficient o2 concentrators for home healthcare.
The COVID-19 pandemic's quick spread resulted in a profitable demand for non-homecare services in 2020. The need for oxygen therapy goods has greatly risen as a result of the unexpected COVID-19 epidemic, and this is expected to continue to boost sector possibilities in the coming years. Additionally, the aging population and rising incidence of respiratory diseases are fueling sector expansion.
Technology Insights
In terms of revenue share in 2022, the batch and continuous technique category dominated the marketplace for oxygen extractors in North America. This is linked to the widespread use of batch and continuous oxygenation extractors, rapid technological advancement, and the rising number of patients with chronic respiratory illnesses. Patients with low levels of physical activity, those who require more oxygen than 5 LPM, and those who breathe primarily via their lips should use controlled release technology. Furthermore, CPAP and BiPAP machines could be used with batch and continuous oxygen extractors. The potential for segment expansion is being driven by patients experiencing obstructive sleep adopting CPAP and BiPAP devices more frequently together with oxygen extractors.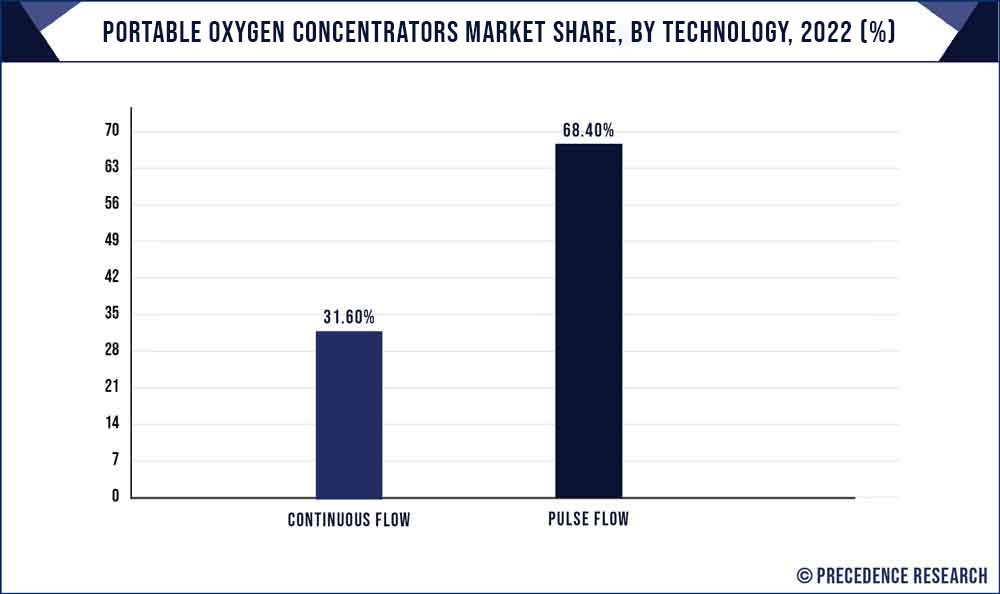 However, because of its benefits, including high flexibility, lightweight, and suitability for patients leading busy lifestyles, the pulses flow category is anticipated to increase at substantial growth rates and over the projected timeframe. For addressing respiratory disorders that only need a few liters of oxygen given per minute, these distillation columns are perfect. Since healthcare devices' oxygen distillation columns frequently employ it, the sector is anticipated to rise over the course of the projection timeframe.
Portable Oxygen Concentrators Market Share, By Region, 2022 (%)
| | |
| --- | --- |
| Regions | Revenue Share in 2022 (%) |
| North America | 42.8% |
| Asia Pacific | 20.8% |
| Europe | 25.6% |
| Latin America | 6% |
| MEA | 4.8% |

Regional Insights
Because of its well-developed healthcare system, rising awareness of cutting-edge treatment options, and rising rates of chronic obstructive pulmonary disease, breathing problems, and other breathing diseases that make people dependent on portable gas condensers as their main sources of oxygen, North America dominated the worldwide market for portable oxygen extractors in 2022. The invention of compact, affordable, portable air condensers has made it possible for patients to travel without inconvenience. During the forecast timeframe, the region is expected to dominate the international market. Because smoking is more common and there are more elderly people, the World Health Organization predicts that the incidence of COPD will climb rapidly by 2032.
The Asia Pacific market is anticipated to expand at a very high CAGR throughout the forecast period, driven by the country's rising disposable income, rising cigarette smoke and tobacco use, rising COPD patient characteristics, improved health care infrastructure, rising awareness of and acknowledgment of sophisticated portable gas extractors, and rising cigarettes and tobacco use. In addition, it is projected that the growing number of aging people in the Asia Pacific would soon propel the region's portable gas generator industry.
Recent Developments:
Servotech Power Stations introduced a range of medical-grade oxygenation condensers in Jun 2021. By working with IIT Jammu & IISER Bhopal to transmit knowledge for the production of oxygen extractors in India and making its product genuinely indigenous, Servotech also has increased the scope of its network of significant collaborations. Concentrators by Servotech will be provided to hospitals, universities, medical facilities, commercial organizations, and other important stakeholders who require the item.
Inogen, Inc. introduced the Inogen One G5 in Apr 2019, a compact, portable gas generator designed to meet patients' needs for oxygen.
Live Active Five, a portable gas generator, was introduced by Precise Medicine in Oct 2019. People suffering from chronic pulmonary disease as well as other respiratory illnesses can benefit from the medication, which was developed for them.
To bolster its position in the global market for compressed air condensers, NGK SPARK PLUG Company, Limited announced in Oct. 2018 that it had acquired the oxygen-related merchandise businesses of CAIRE, Inc. in the United States, Chart BioMedical (Chengdu) Company, Limited in China, as well as Chart BioMedical Limited within the United Kingdom. This action aided the business in strengthening its line of products in the marketplace.
In Jan 2018, ResMed introduced "Mobi," its 2nd portable gas extractor product, for people with COPD or other respiratory diseases.
Key Market Players:
AirSep Corporation
Besco Medical Co., LTD (China)
CAIRE Inc. (US)
Chart Industries, Inc. (US)
Drive DeVilbiss Healthcare (US)
Foshan Keyhub Electronic Industries Co. Ltd. (Guangdong)
GCE Group (Sweden)
Inogen, Inc. (US)
Inova Labs, Inc.
Invacare Corporation (US)
Koninklijke Philips N.V (Netherlands)
Nidek Medical (India)
O2 CONCEPTS LLC., (US)
Oxus America, Inc. (Oxus)
Philips Respironics (US)
Precision Medical, Inc. (US)
ResMed (US)
Smith's Medical, Inc. (US)
Zadro Health Solutions (US)
Segments Covered in the Report:
(Note*: We offer reports based on sub-segments as well. Kindly, let us know if you are interested)
By Product Type
By Technology
Continuous Flow
Pulse Flow
By Indication
Chronic Obstructive Pulmonary Disease (COPD)
Asthma
Sleep Apnea
Others
By Application
Homecare
Travel
Hospital
Others
By Geography
North America
Europe
Asia-Pacific
Latin America
Middle East & Africa (MEA)