The global portable magnetic resonance imaging (MRI) market size was valued at USD 3.7 billion in 2022 and is expected to hit over USD 6.3 billion by 2032, growing at a CAGR of 5.46% throughout the projection period 2023 to 2032.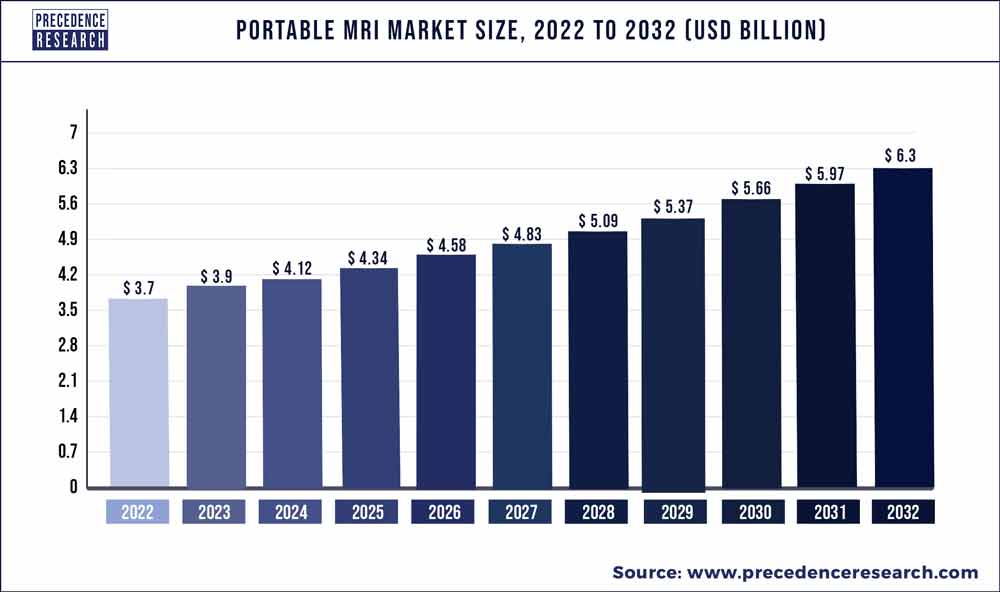 Access our Premium Real Time Data Intelligence Tool, Visit: Precedence Statistics
Key Takeaways:
By facility, the global market of portable MRI was led by the hospital segment.
By application, the neurology segment dominated the worldwide market.
By region, the global market will be led by North America.
Market Overview:
Portable magnetic resonance imaging (MRI) is the imaging given by an MRI scanner that has portability and mobility. For example, it provides the patients MR imaging on-site and in-time in the Intensive care unit (ICU) where danger is linked to moving patients, after a disaster rescue, in an ambulance, or in a medical tent/ field hospital. Portable magnetic resonance imaging (MRI) is a development that is revolutionary in the field of healthcare. This development opens new possibilities and helps expand the applications where MRI can help in the diagnosis of multiple diseases.
Growth Factors:
The portable MRI market is expanding due to a variety of applications, more cost-effectiveness than conventional MRI, and rising market player investment. The market is expected to grow in the years to come because of factors like an increase in chronic diseases brought on by a preference for home healthcare, changing lifestyles, and an increase in the population of senior citizens. In addition, one of the major drivers of market expansion is the rising demand for wireless medical devices and wearable electronics. The adoption of portable medical equipment in hospitals and healthcare settings is also being aided by rising consumer awareness of the advantages of portable devices and the growing popularity of smart technologies.
Additionally, the widespread use of portable MRI has encouraged a lot of investments in the sector, which is further anticipated to benefit the market under research. Additionally, the market under study is anticipated to grow as a result of consumer demand for portable MRI equipment with cutting-edge technologies. For example, in December 2022, Ashish Kaul, Frost & Sullivan's healthcare industry analyst stated that "Innovations in MRI imaging device's design, AI integration, and audiovisual systems have improved the image quality, patient experience, and reduced scan time. Additionally, MRI innovation, including material-based products to enhance image quality, coil design for portable systems, and AI for image analysis, will boost care delivery for patients and take center stage during the upcoming 3 years. Further, new AI-based image analysis software that enhances magnetic resonance (MR) image quality and supports clinical decision-making is making the market even more competitive for technology developers."
Report Scope of the Portable Magnetic Resonance Imaging (MRI) Market:
| | |
| --- | --- |
| Report Coverage | Details |
| Market Size in 2023 | USD 3.9 Billion |
| Market Size by 2032 | USD 6.3 Billion |
| Growth Rate from 2023 to 2032 | CAGR of 5.46% |
| Largest Market | North America |
| Base Year | 2022 |
| Forecast Period | 2023 to 2032 |
| Segments Covered | By Facility and By Application |
| Regions Covered | North America, Europe, Asia-Pacific, Latin America and Middle East & Africa |

Market Dynamics:
Rising government's focus on improving the healthcare infrastructure
A large increase in government spending on public healthcare during the projection period may lead to growth in the market value for portable MRI devices worldwide. The increase in initiatives taken to enhance health-related systems for people, in general, is projected to fuel the rise. Several governments are focused on the improvisation of the healthcare infrastructure in countries to offer advanced healthcare services to citizens. Governments have been working to make high-quality medical care available to everyone. The use of MRI technology is prevalent throughout many medical treatment procedures. For instance, the Indian government promised a more than INR 64,000 crore investment in the health industry over the following five years in November 2021. Such improvements and investments in the healthcare industry are expected to boost the growth of the market during the forecast period.
Restraints:
Limitations associated with the resolution in portable MRI devices
In comparison to portable MRI, standard MRI devices are constructed in rooms with specialized equipment and have more modern technologies installed. Even though mobile MRI devices produce effective results, they still lag behind their stationary counterparts in terms of technology. The quality of the images produced by the two MRI methods differs significantly, which could restrict the market cap globally. The resolution in images offered by portable MRI devices.
Opportunities:
Ongoing technical research to create prospects for commercial expansion
To improve the results produced by portable MRI, ongoing efforts are made. The scientific community is attempting to resolve the limitations associated with the usage of portable MRI equipment because the technology has broad applications and advantages. Private and public institutions' investments in technical development are anticipated to remove the limitations of mobile MRI devices while expanding and improving the market's potential for expansion. Once the requirement for massive superconducting magnets is gone, the range of potential applications for MRI technology expands dramatically. For instance, low-field systems have been installed in automobiles, and a 64 mT FDA-approved scanner has been used to demonstrate point-of-care and bedside neuroimaging.
The latter is possibly the most effective mobile MRI effort to date. Low-cost, portable equipment with greater mobility would make it possible to use MRI outside of clinical settings, such as in sports facilities, hospice care facilities, tiny clinics, rural areas, and homes. A significant portion of the world's population that currently lacks or has insufficient access to MRI could have access to it because of autonomously powered scanners that could even be used outdoors, such as at sporting events, field hospitals, or NGO and military camps.
Segments Insight:
Facility Insights:
Based on facility, the global market of portable MRI was led by the hospital segment, portable MRI devices can be very useful, especially in hospitals of developing areas. New technologies like the Hyperfine Swoop Portable MRI System can travel safely to a patient's bedside and around the hospital.
Application Insights:
Based on application, the neurology segment dominated the worldwide market. With the introduction of portable imaging devices, there is a revolutionary change in emergency neurologic care management. Mobile stroke units are present in most hospitals, which can install a computed tomography scanner in the ambulance. This makes earlier administration of thrombolytics, which is the process of stopping blood clots from forming, easier, and helps the providers in ruling out the presence of hemorrhage when traveling to the hospital. These mobile stroke units collect data which can be used to guide patients later to either a comprehensive stroke center or a primary stroke center depending on whether further diagnostic treatment and work-up is needed. So, there are less hospital stays and faster workup for neurology patients.
Regional Insights:
Based on Region, the global portable MRI market will likely be led by North America in the coming years majorly due to the excellent medical infrastructure of the USA, Mexico, and Canada. Previously, North America had a market share of 40.8% and would likely continue the same trend in the following years. The factors attributed to regional growth include an increasing number of cases of chronic diseases like chronic obstructive pulmonary disorder (COPD) and asthma. The countries have a high awareness rate about portable MRI machines and their application which is coupled with the presence of many regional players producing and giving services related to portable MRI machines, therefore fuelling regional growth. Hospitals, research facilities, clinics, and diagnostic centers are all well-equipped with portable MRI scanners since there has been a significant increase in the US FDA approvals for these products.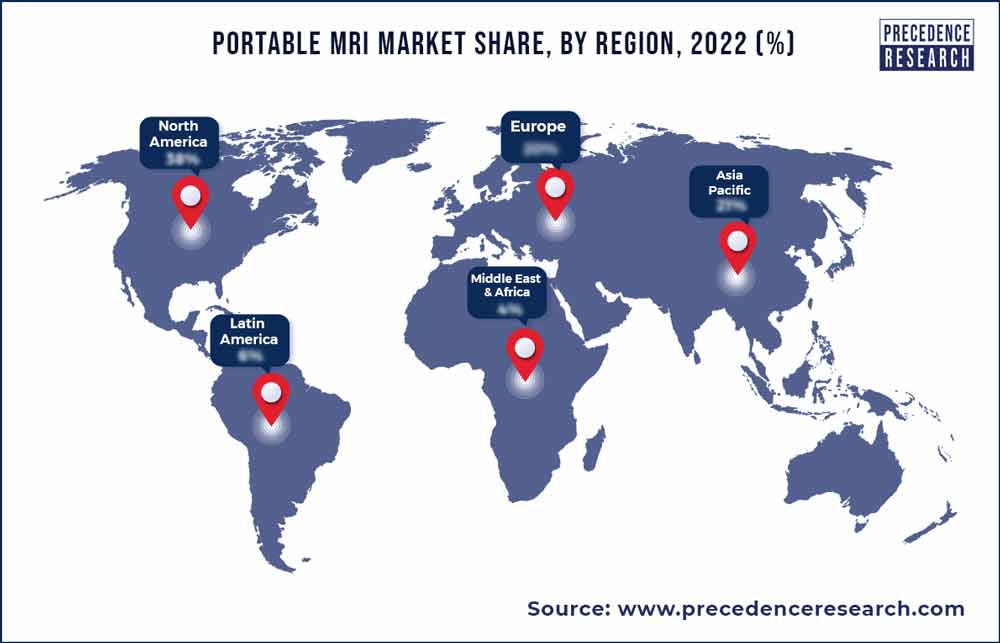 Kingston Health Sciences Centre and Queen's University had already received the equipment by February 2022 when Hyperfine, a major maker of portable MRI machines, announced its plans to expand in Canada. The products were then put into operation during the following few months. According to the report the corporation produced in 2021, the organization was able to deploy and manage more than 50 units after receiving the required approvals.
The regional growth is also attributed to the investments made by the government in improving medical facilities. The federal government of the United States spent more than USD 1.2 trillion in 2019 to improve its healthcare segment.
Recent Developments:
In February 2023, Interim Diagnostic Imaging has teamed with Modular Devices, O2 Investment Partners portfolio company, and one of the most significant suppliers of modular and mobile medical imaging equipment cleanroom and labs solutions. As per O2 Investment Partners' Pat Corden, both Interim Diagnostic Imaging and Modular Devices were excited to collaborate. IDI's performance and reputation will be a big asset to the growing platform.
In December, 2022, Fujifilm Healthcare Americas Corporation, a leading diagnostic and enterprise imaging solutions provider, announced it would showcase its latest medical technology advancements and portfolio of medical imaging solutions at the 2022 Radiological Society of North America (RSNA) annual meeting at McCormick Place in Chicago. Henry Izawa, president, and chief executive officer of FUJIFILM Healthcare Americas Corporation stated that they were excited to meet RSNA attendees to show how cutting-edge solutions offered a powerful combination of easy-to-use features and high image quality, and in turn empowering clinicians to be more confident while diagnosing and treating their patients.
In March 2023, new software for the Swoop Portable MR Imaging equipment has received 510(k) clearance from the Food and Drug Administration (FDA), which may greatly improve the magnetic resonance imaging (MRI) that is diffusion-weighted for patients with neurocritical conditions. According to Hyperfine, the device's maker, the new software boosts diffusion-weighted imaging (DWI) sequence's signal-to-noise ratio by 42%. Additional adjustments for minute patient movements along with more consistent imaging for DWI sequences are two additional advantages of the program, according to the company.
Key Market Players:
Hyperfine Inc.
Voxelgrids Innovations Pvt. Ltd.
Canon Medical Systems
PrizMed Imaging Solution, Inc.
Cobalt Health
Siemens Healthineers Ag
Koninklijke Philips NV
GE Healthcare
JMP Medical SP
Segments Covered in the Report:
(Note*: We offer report based on sub segments as well. Kindly, let us know if you are interested)
By Facility
Hospitals
Diagnostic Centers
Ambulatory Surgery Centers
Others
By Application
Neurology
Musculoskeletal
Gastroenterology
Others
By Geography
North America
Europe
Asia-Pacific
Latin America
Middle East and Africa