The global orthopedic regenerative surgical products market size reached USD 4 billion in 2022 and it is expected to hit around USD 6.18 billion by 2032, poised to grow a CAGR of 4.5% during the forecast period 2023 to 2032.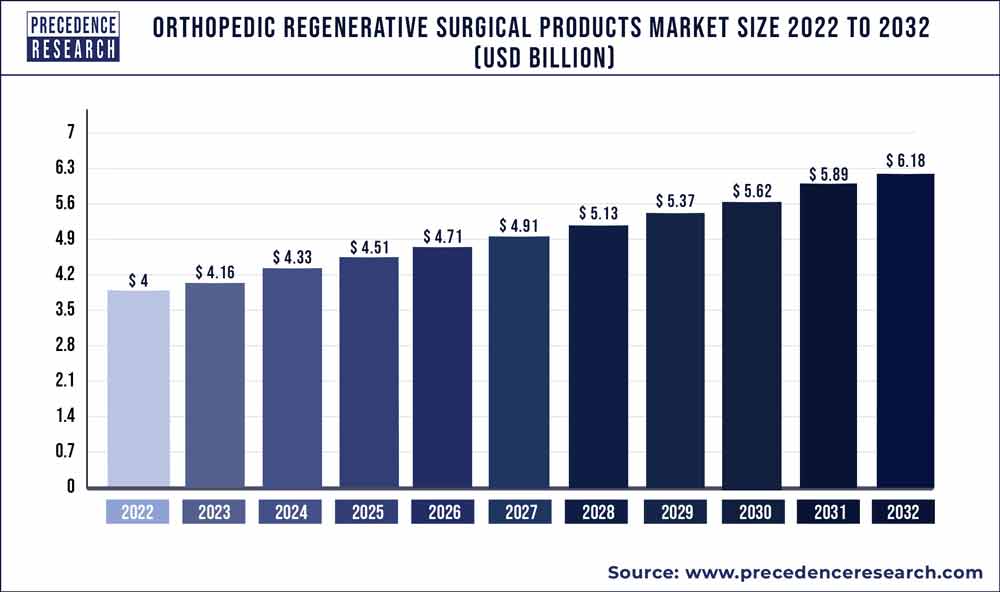 Access our Premium Real Time Data Intelligence Tool, Visit: Precedence Statistics
Key Takeaways:
North America has contributed more than 42% of revenue share in 2022.
Asia Pacific is considered to grow at the fastest rate during the forecast period.
By Product, the viscosupplements segment dominated the market in 2022 and is expected to maintain its dominance during the forecast period.
By Product, the allografts segment is anticipated to grow significantly.
By Application, the joint reconstruction segment led the market in 2022. Whereas the cartilage and tendon repair segment are anticipated to increase significantly.
U.S. Orthopedic Regenerative Surgical Products Market Size By 2032
The U.S. orthopedic regenerative surgical products market size was valued at USD 1.18 billion in 2022 and is projected to surpass around USD 1.85 billion by 2032, expanding at a CAGR of 4.7% between 2023 and 2032.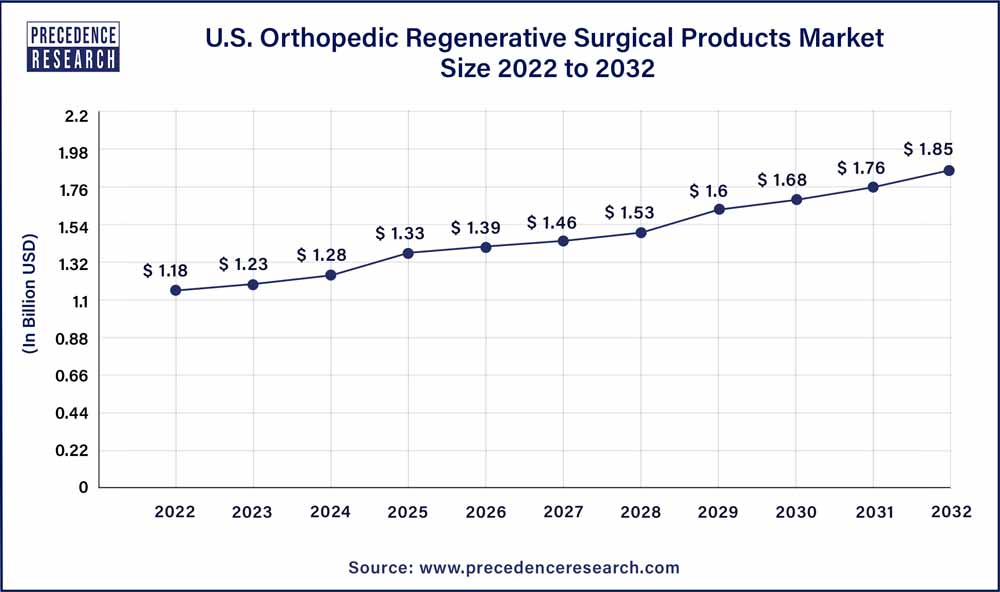 The market for orthopedic regenerative surgical products is dominated by North America, and this dominance is anticipated to continue for the forecast period. The market is experiencing robust growth, driven by several key factors that converge to create a favorable environment for its expansion. This market focused on regenerative solutions for musculoskeletal conditions, has witnessed a surge in demand and innovation.
The region's passion for sports has resulted in a high rate of sports-related injuries, particularly among athletes. Regenerative products like PRP injections have gained popularity for their ability to accelerate healing and reduce downtime, making them attractive to professional athletes and the general population. The presence of important players, the technologically advanced healthcare infrastructure in Canada and the United States, and the rising senior population are reasons for the region's supremacy. Statistics from 2022 show that 18.8% of Canada's population was 65 years or older.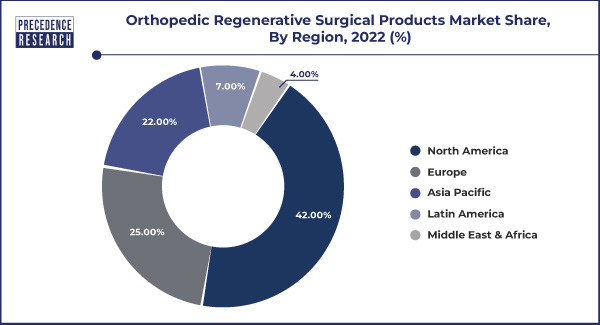 Asia Pacific has One of the Largest and Fastest-Growing Market
The demand for orthopedic regenerative surgical products in Asia Pacific is driven by a convergence of several key factors. The aging population in few countries is a significant driver for the market in the region. As people age, orthopedic conditions such as osteoarthritis and degenerative joint diseases increase. Regenerative surgical products offer hope for improved mobility and pain relief, making them increasingly sought after by the elderly.
The growing awareness of regenerative medicines potential benefits fuels demand. Patients and healthcare providers in the region are becoming more informed about regenerative treatments, leading to greater adoption. This awareness is often bolstered by success stories and positive outcomes from patients undergoing regenerative procedures. Favorable regulatory environments in several Asian nations encourage market expansion by making regenerative products simpler to access. These elements combine to fuel demand for orthopedic regenerative surgical products in Europe, with growth prospects as the industry develops and becomes more widely accepted.
The growth of the orthopedic regenerative surgical products market in Asia Pacific is also anticipated due to advancements in medical technology and increasing healthcare investments in countries like China and India. This is further bolstered by a growing awareness of non-surgical alternatives to traditional orthopedic procedures.
Collaborations between local healthcare providers and international orthopedic companies are expanding the availability of orthopedic regenerative products in the region. Regulatory approvals and clinical trials also pave the way for more treatment options. Moreover, the desire for quicker recovery times, reduced hospital stays, and improved patient outcomes propels the adoption of regenerative surgical products among patients and healthcare providers.
Market Overview:
Regenerative orthopedics are generally referred to lessen musculoskeletal pain and discomfort and speed up the recovery from orthopedic disorders such as tears to the tendon, ligament, bone, muscle, spinal disc, knee meniscus, cartilage, or other musculoskeletal tissues. One of the main causes of disability in the older population worldwide is a variety of orthopedic diseases, including osteoarthritis. Thus, in the years to come, demand prospects in the worldwide orthopedic regenerative surgical products market are anticipated to be driven by growth in the older population across key regions.
A number of market trends are gaining traction, including the rising demand for less invasive orthopedic surgeries using regenerative materials from patients and healthcare professionals, as these techniques frequently lead to faster healing.
Growth Factors:
Key drivers of the orthopedic regenerative surgical products market expansion include the rising prevalence of orthopedic disorders, including arthritis, advancing technology, and an increase in orthopedic operations. According to reports from the National Health Interview Survey (NHIS), by 2040, 78.4 million (25.9%) US adults 18 and older are anticipated to have arthritis that has been officially diagnosed by a doctor.
Report Scope of the Orthopedic Regenerative Surgical Products Market:
| | |
| --- | --- |
| Report Coverage | Details |
| Market Size in 2023 | USD 4.16 Billion |
| Market Size by 2032 | USD 6.18 Billion |
| Growth Rate from 2023 to 2032 | CAGR of 4.5% |
| Largest Market | North America |
| Fastest Growing Market | Asia Pacific |
| Base Year | 2022 |
| Forecast Period | 2023 to 2032 |
| Segments Covered | By Product and By Application |
| Regions Covered | North America, Europe, Asia-Pacific, Latin America, and Middle East & Africa |

Market Dynamics:
Driver:
Technological advancements
Orthopedic regenerative surgical products market expansion has been significantly accelerated by technological improvements. By offering safer and less intrusive treatments, these advances have changed how orthopedic surgery is practiced. Significant advancements have been made in regenerative medicine recently. Biologics, tissue engineering, and stem cell therapy are now recognized as essential to regenerative surgical products. These innovative technologies have completely transformed how orthopedic diseases are treated.
For instance, stem cell therapy enables patients to induce tissue repair and regeneration using their stem cells. This tailored strategy may improve results while lowering the likelihood of failure. Due to tissue engineering techniques, bioactive scaffolds and grafts that resemble natural tissues have been created. These scaffolds are crucial for mending injured tendons, ligaments, and joints because they may enable tissue growth and regeneration. Additionally, biologics like growth factors and cytokines have been used to activate cellular tissue healing.
Improvements in surgical methods have made it possible for minimally invasive operations. For instance, arthroscopy allows surgeons to examine and treat joint problems using tiny incisions, minimizing damage to the nearby tissues. This reduces the chance of infection and complications while also hastening recovery timeframes.
Restraint:
Regulatory challenges
The market for orthopedic regenerative surgical products confronts considerable regulatory obstacles due to the complexity of these therapies and the necessity to ensure their efficacy. These difficulties result from regenerative goods frequently incorporating unique biological components and cutting-edge techniques that need meticulous control. Regulatory agencies, like the European Medicines Agency (EMA) and the U.S. Food and Drug Administration (FDA), are essential in guaranteeing the efficacy and safety of medical products. These organizations struggle to create suitable regulatory frameworks for regenerative surgical goods that can consider the special features of these treatments.
Regenerative products frequently need to go through a protracted and stringent approval process. To prove safety and efficacy, comprehensive preclinical and clinical testing is required. These tests might be expensive and time-consuming, which would postpone the release of regenerative products. Thus, such regulatory hurdles are observed to create a restraint for the market.
Opportunity:
Personalized medicine
Precision medicine, or personalized medicine, is a revolutionary method of providing healthcare that adapts medical decisions and treatments to unique patient features, such as genetics, way of life, and environmental factors. Personalized medicine is altering how one approaches treatment and has the potential to greatly enhance patient outcomes in the context of orthopedic regenerative surgical devices.
In orthopedics, genetic profiling is a crucial component of customized medicine. Healthcare professionals can uncover genetic predispositions to orthopedic disorders or judge patients' appropriateness for particular regeneration treatments by looking at their genetic composition. For instance, understanding a patient's genetic risk factors can help clinicians decide whether to pursue stem cell therapy or a conventional joint replacement in cases of osteoarthritis. Orthopedic surgeons can tailor regenerative treatment regimens depending on the unique patient profiles. For instance, the surgeon may suggest a different strategy or combination of medicines to speed up the healing process if the patient carries a certain gene mutation linked to poor tissue healing.
Product Insights:
The visco supplements segment held the largest share in 2022 and is predicted to continue to rule throughout the projected period. Viscosupplements, which are frequently used to treat osteoarthritis, have grown in popularity for a number of reasons. As the world's population ages, osteoarthritis is more common, which raises the demand for therapies like viscosupplements. People are more likely to seek medical advice, including viscosupplements, due to increased knowledge of osteoarthritis and available treatment alternatives. They are an appealing non-surgical solution for controlling osteoarthritis pain for people who prefer to avoid surgery. Viscosupplements' efficacy has been increased due to ongoing research and development in the sector and better formulations. Many players operating in the market are forming strategies to maintain a strong foothold.
In the global market, the allografts segment has the fastest growth rate. The market for orthopedic regenerative surgical products has expanded significantly in recent years, and allografts have been a major factor in this rise. The rising use of allografts in orthopedic regeneration operations is being fueled by a number of factors, such as advancements in tissue processing and preservation techniques that have improved the safety and efficacy of allografts. These developments have reduced the risk of disease transmission and graft failure, making allografts a more viable option for surgeons and patients.
The demand for allografts has increased due to the shift toward minimally invasive surgical procedures. Allografts can be utilized to restore and regenerate injured tissues during various minimally invasive procedures, such as arthroscopy and endoscopy. These less invasive methods are frequently chosen by patients since they frequently lead to speedier healing times and less post-operative pain. In August 2022, orthopedic surgeons at the University National Hospital carried out the first meniscal transplant in Scotland, who transplanted donor cartilage into the patient's knee.
Application Insights:
The joint reconstruction segment had the dominating share in 2022. There are a number of important aspects that can be linked to the rising demand for joint reconstruction operations. The demand is growing as people lead more active lifestyles. Nowadays, more people participate in sports and other physical activities, which might result in joint injuries that need surgery for proper healing. In addition, people are more concerned with health and well-being and frequently seek joint reconstruction to keep an active lifestyle even after joint-related accidents or degeneration.
The cartilage and tendon repair segment is predicted to grow fastest worldwide. Medical technology and research developments have made the development of more potent regeneration products possible. This comprises applying biocompatible components that facilitate tissue regeneration and repair, such as stem cells and scaffolds. Additionally, improved imaging techniques allow for more accurate diagnosis and monitoring of musculoskeletal conditions, enabling surgeons to better tailor their treatment plans.
Recent Developments:
In July 2023, Anika Therapeutics, Inc. (NASDAQ: ANIK), a business dedicated to early intervention orthopedics and a global leader in joint preservation, announced that the FDA has granted the IntegrityTM Implant System its final 510(k) clearance.
In September 2022, MiMedx, a Marietta, Georgia-based company that trades placental biologics, declared its participation in the Innovation Quarter's RegenMed Hub.
In July 2022, AlloSource expanded their AlloConnex line of tendons, ligaments, and fascia by including a quadricep tendon. The AlloConnex quadricep tendon from AlloSource, which can be utilized with or without the bone block for different surgical procedures, is used for cruciate ligament surgeries.
Key Market Players:
The few prominent players in the global orthopedic regenerative surgical products market include:
Anika Therapeutics, Inc.
Vericel Corporation
Baxter
Zimmer Biomet
Stryker
Smith & Nephew
AlloSource
Amniox Medical, Inc.
Aptissen S.A.
MiMedx
Market Segmentation:
(Note*: We offer reports based on sub-segments as well. Kindly, let us know if you are interested)
By Product
Allografts
Synthetic
Cell-based
Visco supplements
By Application
Orthopedic Pain Management
Trauma Repair
Cartilage & Tendon Repair
Joint Reconstruction
By Geography
North America
Europe
Asia-Pacific
Latin America
Middle East and Africa