The global veterinary orthopedic implants market size was valued at USD 360 million in 2022 and is predicted to reach USD 666.29 million by the end of 2032, representing an impressive CAGR of 6.40% during the forecast period 2023 to 2032.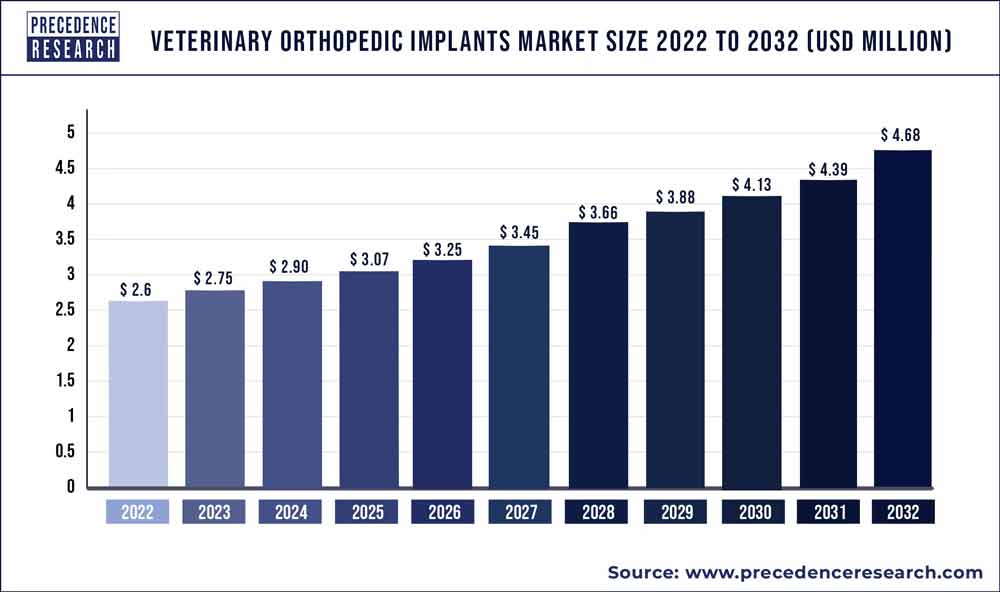 Access our Premium Real Time Data Intelligence Tool, Visit: Precedence Statistics

Crucial factors accountable for market growth are:
Increased number of companion animals
Rising expenditure on pet healthcare
Increasing number of veterinary surgeries
Constant approvals for novel products
Increasing cases of osteoarthritis in pets
Growing research and development expenditure
Increasing popularity of animal sports
Technological innovations
Veterinary Orthopedic Implants Market Size in the U.S. 2023 To 2032
The U.S. veterinary orthopedic implants market size surpassed USD 79.34 million in 2022 and is predicted to reach USD 148.24 million by 2032, at a CAGR of 6.50% between 2023 and 2032.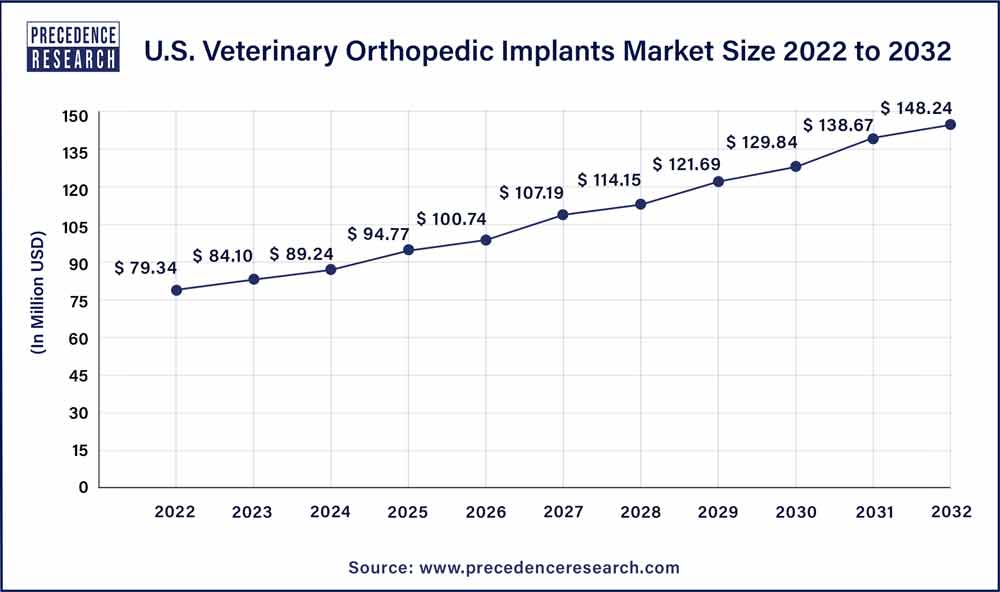 North America Is Projected To Lead the Veterinary Orthopedic Implants Market By Region
The research study covers key prospects and trends of veterinary orthopedic implants products throughout different regions including Europe, North America, Asia-Pacific, Middle East and Africa, and Latin America. Regionally, veterinary orthopedic implants market is dominated by North America due tohigh population of companion animals, and presence of skilled veterinarians. Europe accounted for the second highest share majorly due to the increasing trend of owning companion animals among the elderly population in Western Europe. On the other hand, Asia-Pacific is anticipated to witness the rapid growth rate, on account of increasing investment by major manufacturers, rising popularity of animal sports, high cattle population, and growing expenditure on animal healthcare.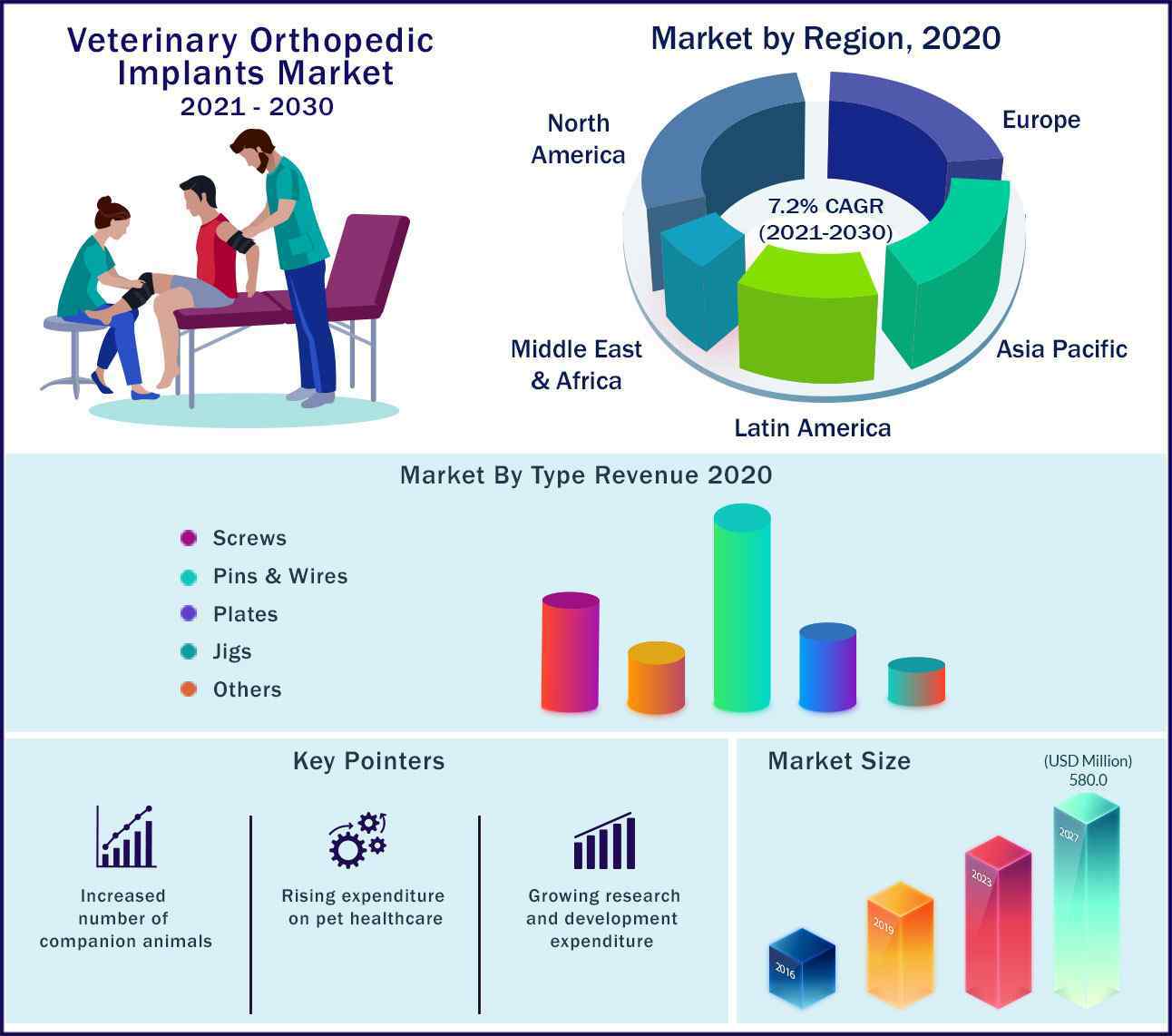 Key market Insights:
The use of implants in animals is increasing at a rapid pace. The use is even more prevalent in cats and dogs. These domesticated animals frequently get hurt from fractures owing to multiple factors such as old age, fights, accidents, vehicular trauma, and sport related injuries. Although animal injuries heal rapidly, orthopedic surgeries are needed for healing in the event of cracked bones. The veterinarians decide the type of treatment and implant to be used based on the type of fracture. Plates and screws are the most common types of orthopedic implants.
The orthopedic screws are used to tighten injured bones or reestablish stability in a weak part. Orthopedic plates are used to treat fractures and provide stability and reconstruction. Other implants such as joint replacement implants, knee replacement implants, and hip replacement implants are also widely used to treat animals with serious injuries. Organized animal sports have also developed as a business in many parts of the world. In all such sports, trained animals can be quite lucrative for the people who control, train, and supervise them. These sports lead to serious injuries which require surgeries and use of implants.
The demand for veterinary orthopedic implants is growing rapidly due to increasing trend of owing companion animals. People are keen to spend more on the well being of their pets which is consolidating the demand for veterinary healthcare products. Moreover, increasing approvals for veterinary orthopedic implants is expected to present attractive opportunities over the forecast period.
COVID-19 Impact on Global Veterinary Orthopedic Implants Market
The corona virus pandemic had a major impact on the veterinary orthopedic implants industry. The output of many manufacturers declined due to closure of factories. Companies with low liquidity are finding it difficult to sustain in this hour of crisis. The economic slowdown will also impact the buying decisions of consumers. Lockdown measures have resulted in halting of rollout of new products. Various industry organizations are taking measures to help the animal owners, veterinarians, and manufactures.
Future of Veterinary Orthopedic Implants
Implants have been used in both humans and animals since a long time to effectively treat a huge array orthopedic ailment. After years of research, the use of new type of implants is on the rise. These bioabsorbable implants can be used in multiple orthopedic procedures. Bioabsorbable polymer implants are expected to make significant inroads into various orthopedic applications. Physicians who have been familiar with the features and handling attributes of the metal implants, could find it beneficial to familiarize themselves with the exclusive characteristics and benefits of these latest types of biomaterials.
Veterinary Orthopedic Implants Market Scope
| | |
| --- | --- |
| Report Highlights | Details |
| Market Size | USD 666.29 Million by 2032 |
| Growth Rate | CAGR of 6.40% from 2023 to 2032 |
| Base Year | 2022 |
| Historic Data | 2020 to 2021 |
| Forecast Period | 2023 to 2032 |
| Segments Covered | Product, End User |
| Regional Scope | North America, Europe, Asia Pacific, Latin America, Middle East & Africa (MEA) |
| Companies Mentioned | DePuy Synthes Vet, KYON Pharma, Inc., MWI Veterinary Supply Co., Vet Implants, Braun Melsungen AG, Everost, Inc., IMEX Veterinary, Inc., BioMedtrix, LLC, Securos Surgical, Vet Implants |

Segment Analysis:
The Orthopedic Plates Accounted for Highest Market Stake in 2022
Plates recorded the major market stake in the worldwide veterinary orthopedic implants market in 2020. Ease of availability and new product launches are the major reason for high market share of NSAIDs. Other factors such as technological improvements and use of new materials will boost the demand for Orthopedic Implant Plates.
Screw Implants are anticipated to advance at the maximum CAGR through the forecast period due to high demand in the treatment of companion animals as well as cattle.
Veterinary Hospitals Are Expected to Dominate the End User Segment of Veterinary Orthopedic Implants Market
Veterinary hospitals are equipped with all the latest equipment's and skilled veterinarians which encourages the animal owners to visit these healthcare facilities for better and effective care of their pets. Moreover, the larger veterinary hospitals have sufficient funds to acquire latest technologies which can reduce the procedure duration and make the procedure pain free for small animals. These factors contribute to the high popularity of veterinary hospitals. Veterinary clinics are expected to advance at a high CAGR due to launch of new chains especially in developed regions.
Top Players contending in the Market:
The companies focusing on research and development are expected to lead the global veterinary orthopedic implants market. Leading competitors contending in global veterinary orthopedic implants market are as follows:
DePuy Synthes Vet
KYON Pharma, Inc.
MWI Veterinary Supply Co.
Vet Implants
Braun Melsungen AG
Everost, Inc.
IMEX Veterinary, Inc.
BioMedtrix, LLC
Securos Surgical
Vet Implants
Among different leading players, DePuy Synthes Vet, and B. Braun accounted for a significant share of the global veterinary orthopedic implants market.In order to better recognize the current status of veterinary orthopedic implants, and policies adopted by the foremost countries, Precedence Research predicted the future evolution of the veterinary orthopedic implants market. This research study bids qualitative and quantitative insights on veterinary orthopedic implants market and assessment of market size and growth trend for potential market segments.
Key Market Developments:
In October 2019, HyProtect implant was launched by Veterinary Orthopedic Implants. HyProtect comes with an antimicrobial coating. The product consists of unadulterated elemental-silver based plasma covering that enables continuous dispersal of silver ions to avert the growth of bacteria on the exterior of the implant for a period of up to 3 months.
In October 2019, Veterinary Orthopedic Implants launched TPLO plate. This model locking TPLO plate is structurally contoured to match the proximal tibial surface. Each screw's direction is oriented for optimal bone purchase and to avoid joint.
Major Market Segments Covered:
By Product
Screws
Pins & Wires
Plates
Jigs
Others
By End User
Veterinary Clinics
Veterinary Hospitals
Others
By Geography
North America
Europe
Germany
France
United Kingdom
Rest of Europe
Asia Pacific
China
Japan
India
Southeast Asia
Rest of Asia Pacific
Latin America
Brazil
Rest of Latin America
Middle East & Africa (MEA)
GCC
North Africa
South Africa
Rest of Middle East & Africa