The global veterinary services market size accounted for USD 118 billion in 2022 and it is expected to surpass around USD 208.34 billion by 2032 with a registered compound annual growth rate (CAGR) of 5.9% from 2023 to 2032.
The term "veterinary services" refers to a development that is utilized for the care and treatment of all animals, and which mostly includes outpatient care and small surgical operations requiring fewer than four days in the hospital.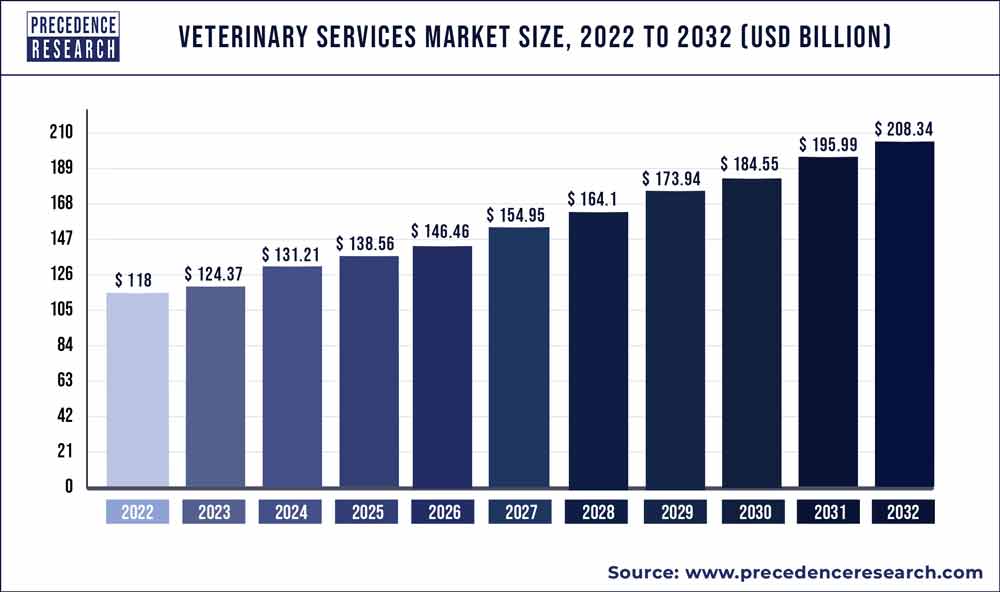 Access our Premium Real Time Data Intelligence Tool, Visit: Precedence Statistics
Key Takeaways:
In 2022, by service type, the diagnostic tests and imaging services generated over USD 34 billion in revenue share.
In 2022, by animal type, the companion animal segments were predicted to be occupied by over 59.2%.
In 2022, North America had the highest revenue share of more than 43%.
The Asia Pacific region is expected to see the quickest rate of growth from 2023 to 2032.
Growth Factor
The huge global increase in zoonotic and food-borne illnesses is the primary factor driving the market. The protection of animal health and welfare as well as the upkeep of the hygienic safety of international trade are vital functions of veterinary services. Additionally, it helps protect the general public's health and guarantees food safety. The Organization for Animal Health (OIE) said in an article that there is a rising worldwide demand for foods derived from animals, including meat, which is anticipated to reach 445 million tons by 2050. Customers' preferences for shopping have changed from traditional brick-and-mortar stores to online marketplaces as a result of the COVID-19 pandemic, which has accelerated industry growth.
It is expected that a growing number of government measures to guarantee food security and biosecurity would hasten the adoption of veterinary services in cattle across the world. For instance, the OIE, which is concerned with preserving food safety, has continuously issued guidelines to remove possible biological dangers and risks connected with inspections on-farm, before slaughter, prior to processing, and during processing. Because more workers are working from home due to the pandemic, pet adoption has skyrocketed. Pets are a big part of many people's life. Many people view their pet as a member of the family. There are always cats and dogs around, and people are spending more money on them. In order to meet the growing demand, veterinary businesses produced new goods, diagnostic equipment, and services. This is a brand-new platform for diagnosing intestinal parasites in canines. Additionally, the following rise in pet ownership around the globe has aided in the market's quick expansion. In order to ensure animal welfare, veterinarians and veterinary service providers consistently make efforts, which motivates pet owners to employ these services.
The growing prevalence of zoonotic diseases is increasing the growth of the veterinary service market
Rapidly increasing pet adoption will result in an increase in the demand for the pet care services
Raising awareness about animal health is also fueling market growth.
The growing number of cattle and poultry farm
Report Scope of the Veterinary Services Market
Report Coverage
Details
Market Size in 2023
USD 124.37 Billion
Market Size by 2032
USD 208.34 Billion
Growth Rate from 2023 to 2032
CAGR of 5.9%
Base Year
2022
Forecast Period
2023 to 2032
Segments Covered

By Service Type
By Animal Type

Regions Covered

North America
Europe
Asia-Pacific
Latin America
Middle East & Africa

Key Market Drivers
The willingness of pet parents to spend more on pets
About 70% of American families would have at least one pet in 2021, according to the American Pet Products Association (APPA). Over the past few decades, pet care spending in the United States has climbed both nationally and per person. The North American Pet Health Insurance Association (NAPHIA) estimates that in 2020, the total written premiums for pet insurance in the United States would exceed $1.99 billion. With the help of pet insurance, pet owners may effectively spend money on high-quality services for their animals and provide them with the best possible care, lowering their out-of-pocket costs. Additionally, it has been noted that the adoption rate of pets has grown recently. In 2021, 14% of new and current pet owners adopted a new animal, according to the APPA. As a result, the market as a whole is anticipated to expand considerably over the course of the forecast period due to increased pet adoption and pet insurance programs.
Key Market Challenges
Rising costs of veterinary services may hamper the market growth
Increasing demand for veterinarian services, an increase in the number of pets, and technical developments in clinical procedures all contribute to rising veterinary service prices. This is anticipated to limit market expansion somewhat. For instance, according to the American Veterinary Medical Association, over 38% of dogs and over 40% of cats made up the pet population in the United States in 2020. Furthermore, just 5% of cats and 10% of dogs have pet insurance, according to a poll by the American Pet Product Association. Even though it is growing, the pet insurance market in the United States is still very young. Additionally, the cost of veterinarian services has climbed 2015 by over 10% for clinical treatments and more than 5% for routine check-ups, according to the Nationwide/Purdue University Veterinary Price Index. Prices for both veterinary surgical procedures and pharmaceuticals are showing a similar rise. As pet insurance products become more widely used, it is projected that the aforementioned aspect will have a minor long-term influence on the industry.
Key Market Opportunities
Increase in pet adoption
Because so many people were working from home during the coronavirus epidemic, the adoption of pets increased. Many people view their pet as a member of the family. To meet the demand, veterinarian businesses introduced several new goods, services, and diagnostic equipment. The development of the veterinary services sector is anticipated to be aided by rising consumer spending on veterinary care, a rise in pet ownership, and a rise in the number of poultry and cattle farms. Throughout the anticipated period, rising pet adoption in Southeast Asia and Central America will additionally fuel the market for veterinary services. In the case of an incident or infection, pet owners are more worried about the health of their animals and take better care of their livestock. As a result, the market value for veterinary services will rise significantly in the near future.
Government programs for animal care
Government institutions work with veterinary associations to establish programs that guarantee the best inventory availability in sectors for treating domestic animals. The rising need for veterinary supplies is a reflection of veterinary services industry developments. Additionally, it is anticipated that throughout the forecast period, rising per capita spending on animal healthcare and an increase in animal health consciousness would fuel the market development.
Segments Insight
Service Type Insights
The market for diagnostic tests and imaging services generated over USD 34 billion in revenue in 2022, and it is expected to continue to dominate over the forecast period with a sizable market growth rate. Pets who get infectious illnesses run the risk of dying, and farm animals are frequently less productive as a result. The potential of disease invasion is exacerbated by the globalization of the animal and allied product trade. The detection, control, and eradication of such illnesses depend on accurate and timely diagnostic procedures. As a result, veterinary services including diagnostic testing and imaging have increased. The development of equipment and auxiliary instruments for the quick and simple identification of animal diseases has been prompted by the requirement for imaging and diagnostic tests. The creation of prototype diagnostic tests for a variety of zoonotic illnesses is made possible by revolutionary technological technologies for personalized human medicine. A veterinary clinic also uses cutting-edge imaging technologies in its radiology and imaging rooms to identify and treat illnesses in animals. Therefore, as a result of the aforementioned factors, the market for veterinary services is anticipated to continue to grow over the projected period.
Animal Type Insights
Over 59.2% of the market was predicted to be occupied by companion animals in 2022. The need for pet care services, including veterinary services among others, is significantly increased by the growing adoption rate of companion animals. For instance, The American Pet Products Association (APPA) estimates that in 2021, pet owners would spend USD 1,480 on average per year on the essential costs of a pet dog. Similar to this, there has been a marked rise in the prevalence of several illnesses in animals kept as pets. In 2018, it was projected that 2.5% of dogs in the UK have osteoarthritis, according to research that was published in the Nature Journal. Additionally, about 8% of cats and 10% of dogs received surgery, according to the APPA's 2017-2018 National Pet Owners Survey data. As a result, the market need for veterinary services will increase as more pets undergo surgical operations.
Regional Insights
In 2022, North America had the biggest revenue share of more than 43%. The main causes of this significant expansion are the determined actions conducted by various government animal welfare groups geared at the enhancement of veterinary services in the United States and Canada. It is projected that the proliferation of new animal education programs in the United States, including unconventional programs seeking accreditation, will increase access to these services and hence increase the potential for acceptance of veterinary services in the years to come.
On the other hand, during the anticipated years, Asia Pacific is expected to see the quickest rate of growth. The regions developed and developing economies' expanding pet and livestock populations are the cause of the exponential rise. Additionally, because they aid in the maintenance of the priceless livestock herd, veterinary services also serve to lower poverty, particularly among rural communities in developing nations. The number of veterinarians in Japan who treat pets and other small animals is rising, which might present a development opportunity for the industry. The increased demand for goods like meat and milk as a result of the expanding population, which leads to animal husbandry, is predicted to enhance the need for veterinarians and their services in India.
Recent Developments
Swissvet, a firm located in Switzerland that runs a franchise of veterinary clinics offering procedures including dental work, cat spaying, and microchipping, was bought by VetPartners in December 2021. The goal of the purchase was to broaden the company's geographic reach while also improving its service offerings.
Two reputable referral clinics, Davies Veterinary Specialists based in Hitchin and other Southfields Veterinary Specialists based in Essex, opened their doors in January 2021. These facilities would provide maxillofacial surgery and sophisticated veterinary dentistry for animals throughout the United Kingdom market. This tactic increased the services it offered, particularly in the dental industry, and increased its reach into underdeveloped markets.
DS Pharma Animal Health and Hacarus Inc. debuted their (electrocardiogram) ECG platform in March 2022. To help in the early identification of cardiac illness, the second most common cause of death in dogs, the gadget examines and analyzes the health of the canine heart.
Key Market Players
Merck Animal Health
Ceva Sante Animale
Vetoquinol S.A.
Zoetis
Boehringer Ingelheim GmbH
Elanco
Nutreco N.V.
Virbac
Kindred Biosciences, Inc.
Biogenesis Bago
Indian Immunologicals Ltd.
Neogen Corp.
Hester Biosciences
Phibro Animal Health
Dechra Pharmaceuticals PL
Segment Covered in the Report
(Note*: We offer reports based on sub-segments as well. Kindly, let us know if you are interested)
By Service Type
Diagnostic tests and imaging
Physical health monitoring
Surgery
Others
By Animal Type
Production
Poultry
Swine
Cattle
Sheep & Goats
Fish
Companion
Dogs
Cats
Horses
Others
By Geography
North America
Europe
Asia-Pacific
Latin America
Middle East & Africa (MEA)