The global veterinary medicine market size was reached at USD 45.71 billion in 2022 and it is expected to hit around USD 93.67 billion by 2032, expanding at a CAGR of 7.43% between 2023 and 2032.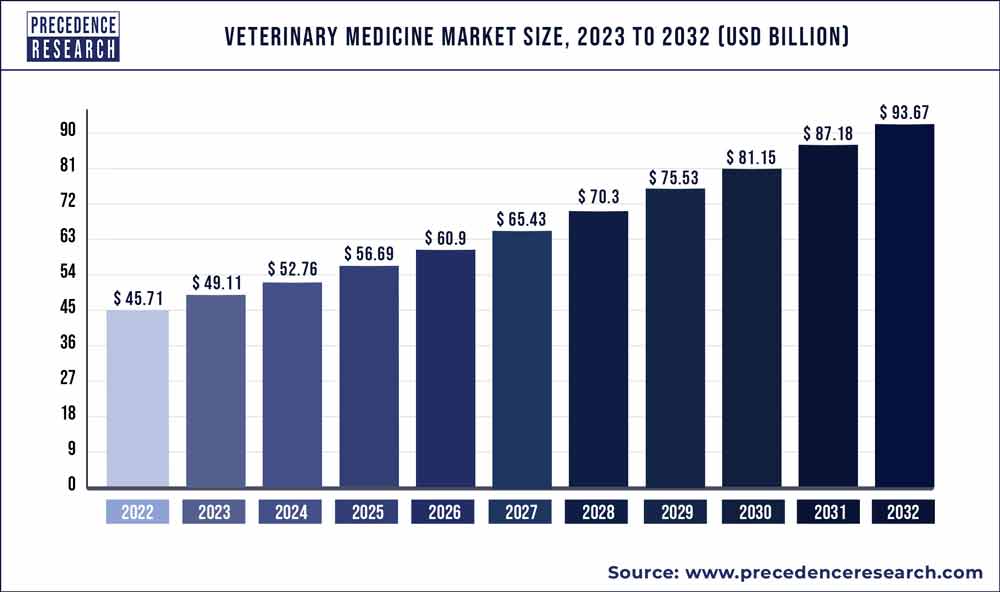 Animals are susceptible to various illnesses caused by parasites, bacteria, fungi, and viruses, just like people. Farm animals and domestic pets suffer from fewer diseases thanks to veterinary care. Growing zoonotic and chronic animal diseases have a significant impact on human interests. Extending the lifespan of pets by constructing healthcare facilities and requiring better feeding. Chronic diseases are on the rise as a result of the growing pet population.
Key Takeaways:
By geography, the North America region captured more than 27% of revenue share in 2022.
By animal type, the production segment generated more than 55% of the revenue share in 2022.
By product, the pharmaceuticals segment contributed more than 60% of the revenue share in 2022.
By mode of delivery, the parenteral segment held the maximum market share of around 45% in 2022.
By end-user, the veterinary hospitals and clinics segment captured more than 73% of revenue share in 2022.
Growth Factors
The primary driver of this market is the increase in the cases of zoonotic as well as chronic illnesses cases. The number of livestock in the world has been rapidly increasing during the last few decades. According to the USDA, there were approximately 103 million cattle and 32.05 million beef cows in the country as of July 2020, and this number is expected to rise sharply over the following few years.
Additionally, it is anticipated that shortly, there will be a greater need for veterinary drugs and animal vaccinations due to increased R&D and procedural developments, the rate of pet adoption, rising meat consumption, and required immunization.
An increasing number of pet ownership
Increasing R&D and procedural advancements
Upsurge in the number of zoonotic & chronic diseases
Report Scope of the Veterinary Medicine Market
| | |
| --- | --- |
| Report Coverage | Details |
| Market Size in 2023 | USD 49.11 Billion |
| Market Size by 2032 | USD 93.67 Billion |
| Growth Rate from 2023 to 2032 | CAGR of 7.43% |
| Largest Market | North America |
| Base Year | 2022 |
| Forecast Period | 2023 to 2032 |
| Segments Covered | By Animal Type, By Product, By Mode of Delivery and By End-User |
| Regions Covered | North America, Europe, Asia-Pacific, Latin America and Middle East & Africa |

Key Market Drivers
The growing number of pet owners
The American Pet Products Association reports that the total amount spent on pets in the United States climbed to USD 103.6 billion in 2020 from USD 97.1 billion in 2019 and is predicted to reach USD 109.6 billion or more by 2022. A pet was also present in roughly 67% of American households, which in 2020 will equate to nearly 84.9 million residences. Additionally, the veterinary business is anticipated to benefit financially from R&D efforts that result in the creation of new products.
Increasing demand for pet insurance policies
Market expansion is anticipated to be fuelled by the rising adoption of pet health insurance to pay for veterinary services in developed nations. The pet health insurance market is thriving in Canada, the United Kingdom, and Sweden. In China, there has been a rapid rise in the use of pet health insurance. Two crucial factors that have contributed to the development of pet healthcare insurance are the growing popularity of pets and the growing awareness and understanding of pet health.
Government Intervension: The livestock sector is a major GDP contributor in several developing economies. Hence, governments are increasingly focusing on adoption of improved medication & vaccination facilities for a healthy livestock population. With the rising concern over animal health, the profitability index of vaccine producers is reducing. Government efforts such as bulk purchase of vaccines for assuring greater food quality and a healthy animal population are affecting distribution channels, thereby increasing the dependency of producers on government organizations. For instance, the Indian government is involved in the purchase & distribution of vaccines for foot and mouth disease in cattle as it is a major concern in the country. This is impeding the profit margins of manufacturers in India.
Rise in Livestock Population and Increasing Pet Ownership Rates
The global livestock population has been experiencing rapid growth over the past few decades. According to a USDA report, there were around 94.4 million cattle & calves in the U.S., as of 2017. In developing economies, the demand for livestock products is increasing. According to the 19th Animal Census Report, India was home to a livestock population of about 512 million. Growing concern about food security and increasing animal husbandry occupations are boosting the demand for veterinary pharmaceuticals & vaccines for livestock. Increasing demand for animal products has intensified livestock production worldwide. Factors such as changes in food preferences owing to changing lifestyle habits and population growth are further boosting the demand for livestock products.
Increase in the number of pet owners is driving the need for better treatment options for companion animals. According to The Humane Society of the United States reports, around 60.2 million U.S. households had at least 1 dog and around 47.1 million households had 1 cat, as of 2017. According to The American Pet Products Association report of 2018, overall spending in the U.S. pet industry increased by 4.1% from 2016 to 2017. Moreover, veterinary care spending increased by 7%, from USD 15.95 billion in 2016 to USD 17.07 billion in 2017. The increasing demand for vaccination and drugs is likely to propel the market over the forecast period.
SHORT PRODUCT EXCLUSIVITY PERIOD
Demand for innovative animal health vaccine solutions is increasing, owing to the growth in disease outbreaks and commercialization of animal products. The exclusivity period of veterinary vaccines and other pharmaceuticals related to animal health is about 3 to 5 years. In addition, stringent regulatory policies and complex approval procedures are restricting the launch of new products, limiting the overall profitability of pharmaceutical & vaccine manufacturers.
INCREASING INFLUX OF COUNTERFEIT DRUGS
An influx of substandard and counterfeit drugs in the treatment of a wide range of diseases affecting animals is one of the major factors expected to restrain the market for animal health market over the forecast period. Counterfeit medicines are available at low costs and developed without adequate clinical testing, increasing the risk of adverse effects in animals. This issue is more common in emerging economies and is expected to impede the market to a significant extent over the coming years. According to the European Commission, approximately 20% to 30% of counterfeit drugs were found in India, Africa, & South America and nearly 10% to 20% of counterfeit drugs were found in European countries.
In addition, scarce and erratic supply of pharmaceuticals, unaffordable pricing, and availability of unregulated therapeutics are anticipated to propel the production of counterfeit drugs. The growing use of e-commerce platforms for veterinary healthcare sales and distribution is further widening the scope for the sale of counterfeit drugs. These factors cumulatively exert a negative impact on the market.
Key Market Challenges
High cost associated with veterinary medicines - The market for veterinary pharmaceuticals will, however, experience a slower growth rate due to the high cost of these products. The growth of the veterinary medicine industry will also be hampered by the rising prevalence of infections and the growing number of fake medications. The COVID-19 outbreak and lack of knowledge, along with the advent of unfavorable conditions, will present additional challenges for the industry during the aforementioned projected period.
Segments Insight
Animal Type Insights
In 2022, the production animal market segment held the top spot & accounted for more than 55.0% of worldwide revenue. Fish, swine, cattle, poultry, fish, sheep, and goats are other subcategories of the producing animal industry. The world's expanding dietary protein needs is the cause of producing animals capturing the lion's share of the market.
The widespread acceptance of such production animals is also seen to be a result of rising spending on animal healthcare, particularly in industrialized nations. The entire output of eggs, broilers, and turkey, as well as the number of chicken sales, were estimated by the USDA's National Agricultural Statistics Service to be worth USD 35.5 billion previously.
Due to the rise in chronic conditions, the companion animal segment is expected to grow at the highest CAGR over the forecast period. According to an AVMA estimate, dog and cat owners spent over USD 95.7 billion on pets in the United States in 2019. Over the anticipated period, the aforementioned variables are anticipated to fuel market expansion.
Product Insights
The market is divided into pharmaceuticals, medicated feed additives, and biologics, pharmaceuticals based on product. The vaccines and other sections of the biologics market are divided into the subcategories of pharmaceuticals including analgesics, anti-inflammatories, parasiticides, and others.
Pharmaceuticals held a market share of more than 60% in 2022 as a result of the rise in zoonotic diseases, brucellosis, and food-borne disorders. The biologics section is predicted to expand at the fastest rate over the forecast period because more livestock and companion animals are utilizing vaccines to avoid sickness.
The factor driving the demand for vaccinations as a defense against such diseases is the enormous losses the animal breeding sector has suffered as a result of epidemics in earlier years. Additionally, a sizable number of mergers and acquisitions made by important market players to broaden their vaccination product range are anticipated to significantly increase the market's growth potential.
Due to their expanding use in preserving animal health, the market for medical feed additives is also anticipated to expand significantly during the forecast years. The demand for meat and dairy is also increasing as a result of the growing world population, which also contributes to category growth.
Mode of Delivery Insights
The market is divided into parenteral, oral, and other administration routes depending on the method of administration. Other topics covered in this part include topical and targeted medication delivery. In 2022, the parenteral segment held the largest market share of around 45%. The rise can be attributed to the accessibility of the product and the prompt start of the action.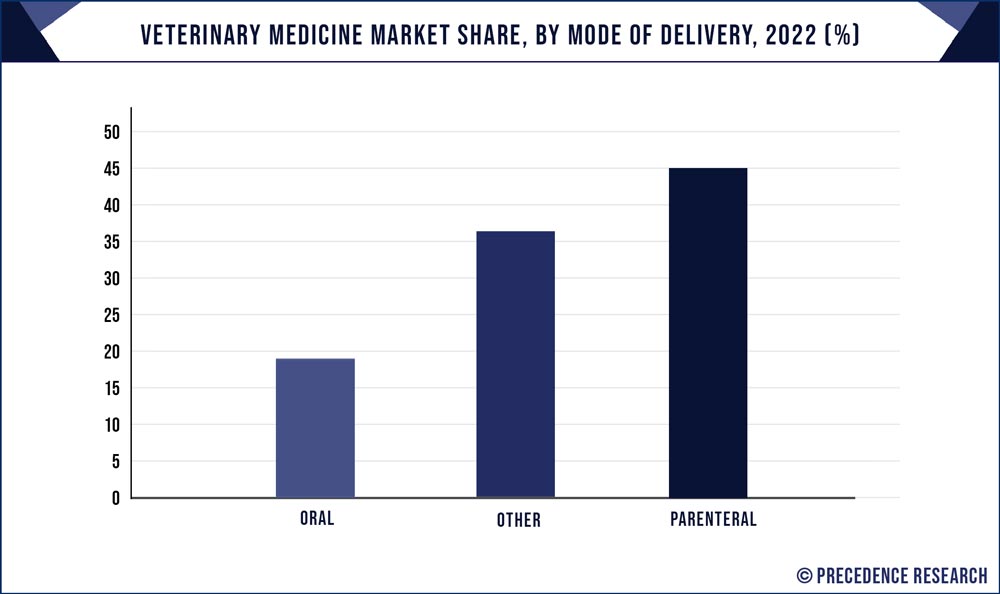 It is favored for speedier action because the therapeutic impact of parenteral medications is often realized an hour after delivery. Due to developments in the oral veterinary medication sector, such as chewable pills, the oral segment is anticipated to grow at the quickest CAGR between 2023 and 2032.
Additionally, the frequency of chronic diseases in dogs is anticipated to fuel market expansion. For instance, Merck expanded its product line when the U.S. FDA approved Bravecto monthly chews for dogs and pups in July 2020. Powder and pills are further divided into categories for the oral method of delivery. Suspension, topical application, and carrier are further administration methods.
Because it is widely used to treat animal skin infections, the topical segment is anticipated to account for the greatest market share among these. But, due to improvements made in the segment by market players, the carrier category is anticipated to develop at the quickest CAGR from 2023 to 2032.
End-User Insights
By end-user, the segment of veterinary hospitals and clinics has emerged as a dominant market and generated more than 73% of revenue share in 2022. The availability of innovative therapeutics, laser diagnostics, nuclear and regenerative medicines, and specialist surgery in veterinary hospitals & clinics can be credited with the growth.
Over the course of the projection period, reference laboratories are anticipated to grow at the quickest CAGR due to their ability to evaluate numerous infections, hazardous chemicals, & chronic diseases in animal specimens.
These tests include both standard laboratory testing and unique tests. Point-of-care testing & in-house testing are also anticipated to experience substantial expansion because of their practicality, accuracy in symptomatic testing, simplicity of use, and speed of analysis. Companies' strategic moves are anticipated to support market expansion. For instance, AAD announced an investment of USD 7.0 million to develop the company's platform for swift judgments in the field of animal and human health.
Regional Insights
The market for veterinary medicine has been dominated by North America and generated more than 27% of the revenue in 2022. The rising incidence of zoonotic infections, favorable reimbursement policies, and rising costs for companion animals are major contributors to the domination. According to the American Pet Products Association's (APPA) 2021–2022 National Pet Owners Survey, almost 70% of American households—or 90.5 million households—have pets.
The identical source claimed that for the year 2021, the cost of normal visits for dogs was USD 242, compared to USD 178 for cats. The number of Americans who own pets & livestock is rising, and with it, so is their awareness of the animals' welfare. The American Pet Products Association reports that American pet spending is also increasing, which might fuel industry expansion. Therefore, the market is anticipated to have significant expansion in the future due to growing awareness of and spending on animal health.
A Management of Canada paper on reported diseases in animals was updated in 2022 and includes some diseases that affect animals, including pets in the area. Pullorum disease, Vesicular stomatitis, equine infectious anemia, and Newcastle disease are further conditions on the long list of illnesses. All of these advancements are predicted to further fuel market expansion.
Recent Developments
In June 2022 – As the initial therapy for delaying the onset of congestive heart failure in canines with Stage B2 preclinical myxomatous mitral valve disease, the FDA approved Vetmedin-CA1 (pimobendan) chewable tablets (MMVD).
In October 2021 – Zoetis made an investment in a new manufacturing and development facility in Ireland to increase its capability for producing monoclonal antibodies (mAbs). Its portfolio of veterinary therapeutic biopharmaceuticals should improve as a result.
Key Market Players
Ceva Sante Animale
Vetoquinol S.A.
Zoetis
Biogenesis Bago
Neogen Corp.
Hester Biosciences
Phibro Animal Health
Ceva Sante Animale
Vetoquinol S.A.
Dechra Pharmaceuticals PLC
Segments Covered in the Report
(Note*: We offer report based on sub segments as well. Kindly, let us know if you are interested)
By Animal Type
Production

Poultry
Swine
Cattle
Sheep & Goats
Fish

Companion
By Product
Biologics

Vaccine
Live Attenuated Vaccines
DNA Vaccines
Recombinant Vaccines
Inactivated Vaccines
Others

Others
Pharmaceuticals

Parasiticides
Anti-infectives
Anti-inflammatory
Analgesics
Others

Medicated Feed Additives
By Mode of Delivery
Oral
Parenteral

Suspension
Topical
Carrier

Other
By End-User
Reference Laboratories
Point-of-care Testing/In-house Testing
Veterinary Hospitals & Clinics
Others
By Geography
North America
Europe
Asia-Pacific
Latin America
The Middle East and Africa