The global orthopedic devices market size is expected to reach around US$ 58.89 bn by 2032 from US$ 48.08 billion in 2022, growing at a noteworthy CAGR of 2.10% from 2023 to 2032.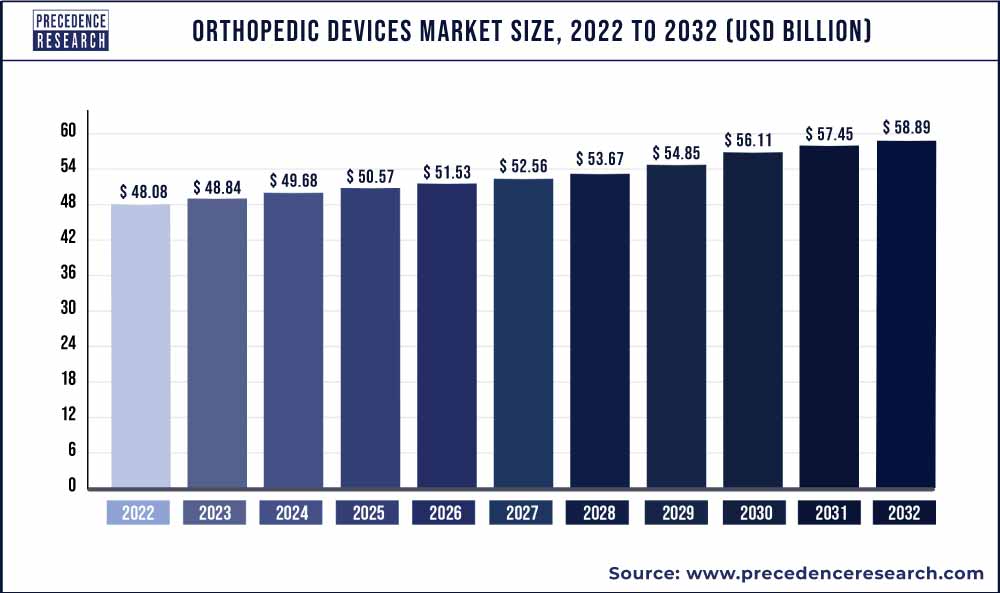 Key Takeaway:
By application, the knee orthopedic devices segment has held revenue share of over 29.51% in 2022.
By products, the surgical devices segment has captured 56% revenue share in 2022. However, the accessories segment is growing at a CAGR of 3.5% from 2023 to 2032.
North America region has accounted highest revenue share for 48% in 2022.
Asia Pacific is poised to grow at a fastest CAGR from 2023 to 2032.
Growth Factors
Global orthopedic devices industry will remain favorable area in the global medical technology sector, and is anticipated to follow market growth after cardiology and in-vitro diagnostics by the end of 2022. High occurrence of orthopedic conditions like degenerative bone disease plus growing elderly population and the amount of road calamities are estimated to fuel the growth of global orthopedic devices market. Furthermore, the early onset of musculoskeletal conditions caused by sedentary lifestyle and obesity are projected to lift the growth of the market. Budding awareness concerning the obtainability of pioneering products is insisting hospitals to continuously advance their services and devices. Additionally, compensation coverage of orthopedic treatments has further propelled the acceptance of orthopedic surgeries. These factors permitclients to opt for cutting-edge and high-prices devices, thereby adding to market revenue produced.
The introduction of cutting-edge orthopedic devices lessens the costs of older versions considerably. This aids in growing their acceptance across emerging countries like Asia Pacific and Middle East, where none to partial medical reimbursement is accessible. The collective effect of these happenings is anticipated to result in growing procedural volume and growth of the market growth during years to come.
The orthopedic device market has emerged has multi-billion-dollar industry with stable growth in both established and budding nations on account of widespread R&D accomplishments and numerous improvements. The global orthopedic device market is compelled by the rising government focus on plummeting disease charge burden due to rising incidence of aged population. Expanding occurrence of arthritis and osteoporosis is projected to fuel marvelous growth in the near future. Developing economies are supposed to observe greater growth than the established ones, primarily due to growing acceptance of in emerging nations and market saturation in the developed nations.
Report Scope of the Orthopedic Devices Market
| | |
| --- | --- |
| Report Highlights | Details |
| Market Size | USD 58.89 Billion by 2032 |
| Growth Rate | CAGR of 2.10% from 2023 to 2032 |
| Largest Market | North America |
| Fastest Growing Market | Asia Pacific |
| Base Year | 2022 |
| Forecast Period | 2023 to 2032 |
| Segments Covered | Product, End User, Region Type |
| Companies Mentioned | Medacta, DePuySynthes, Smith & Nephew, Stryker, Medtronic, Zimmer Biomet, DJO Global, ConforMIS, NuVasive, Globus Medical |
Market Dynamics:
Drivers
Increasing Incidence of Bone Cancer:
The orthopedic devices sector is expanding as a result of the increased rates of bone cancer in the world. It is still entirely unknown if bone cancer (BC), a highly aggressive and varied group of uncommon tumors, followed a standard or unique epidemiological trend throughout this process. Orthopedic devices play a significant role during such surgeries since patients with bone cancer frequently need a variety of bone surgeries and bone replacement treatments.
For instance, chondrosarcoma is the most typical primary bone cancer in adults. Osteosarcoma and Ewing's tumors are substantially more frequent in kids and teenagers. According to the American Cancer Society's projections for 2023, there will be around 3970 new instances of bone and joint cancer diagnosed, 2,160 in males and 1,810 in females, and there will be about 2140 deaths.
Restraints
Product Recalls:
Product recalls brought on by defective products or manufacturing errors affect the rate of adoption of these devices by surgeons and patients, affecting manufacturers' earnings. It is anticipated that issues with fits and other adverse effects of the devices will impede market expansion. Almost all orthopedic surgery subspecialties use medical devices, and the frequency of adverse events is rising, which should not be overlooked. For instance, due to the potential for higher endotoxin levels, Zimmer Biomet recalled an undisclosed quantity of polyethylene orthopedic implants throughout Europe.
There are a number of reasons for manufacturers recall knee replacement products. Simple examples include defective packaging for knee replacement parts. Or they can involve faulty components that put people at risk for severe injury. The proper marketing of knee implant manufacturers' products is their duty. Companies must alert customers and medical professionals about the hazards associated with their equipment. Almost 90% of patients exhibit excessive sedentary behavior after a total knee replacement. After five years, nearly half of the patients report clinically significant weariness, according to a research study published in July 2022.
Opportunity
Increasing Musculoskeletal Conditions in Obese People:
General bone wellness and orthopedics are becoming more related to increased obesity and the population's average weight. Numerous comorbidities, such as hypertension, coronary artery disorder, osteoarthritis, and type 2 diabetes, are made more likely by obesity.
Obesity has been related to the pathophysiology of numerous soft tissue conditions, such as fractures, osteoarthritis, osteoporosis, etc. It has been correlated to the production of cytokines that cause inflammation and decreased bone mass. These elements increase the probability of developing musculoskeletal diseases in obese patients.
Some serious perioperative consequences include elevated cardiovascular risks, problems using specialist equipment, patient placement, medicine modifications, and surgical methods. Over the forecast period, the market for orthopedic devices is anticipated to grow as patients play an increasingly interactive role.
Segmental Insights
Product Insights
Among different product segments, the joint reconstruction dominated the global orthopedic devices space on account of expanding demand of orthopedic devices amid consumers. However, this segment is projected to drop market share over spinal devices segment near the end of the estimate period due to severe FDA regulations for approvals and great investments. Spinal device segment is projected to show strong CAGR due to ageing population and intensifying demand for support that is not invasive.
The rise in technological developments in spine surgery, the adoption rate of minimally invasive spinal operations, and the rise in obesity and degenerative spinal disorders are propelling the segment for spinal surgery devices. Also, the rising popularity of minimally invasive spinal procedures and a spike in technological developments in the field of spine surgery are the primary factors of this segment's expansion.
For instance, Centinel Spine, LLC released the continuous extension of the prodisc Cervical Total Disc Replacement (TDR) portfolio's accessibility in October 2022. This portfolio enables the disc to be matched to the patient's anatomy. Furthermore, Nexus Spine announced the introduction of its PressON posterior lumbar fixation system in August 2022. Instead of utilizing set screws to attach, PressON rods press onto spinal screws.
Additionally, the rising prevalence of obesity supports market expansion. For instance, according to the World Obesity Atlas 2022, 1 billion people will be obese globally by 2030, including 1 in 5 women and 1 in 7 males. The need for spinal operations among this age group is projected to rise in the near future, eventually propelling the expansion of the spinal surgical equipment market, as the obese population with a higher Body Mass Index (BMI) was more susceptible to spine-related illnesses and back discomfort.
End user Insights
Different end-users of orthopedic devices include orthopedic clinics, hospitals and ambulatory surgical centers. Hospital segment dominated the global orthopedic devices market with majority of revenue share of the total market in 2022.
The easy availability of sophisticated healthcare infrastructure in developed nations and the rising demand for high-quality healthcare services can be attributed to the hospital and clinic segment's success. In contrast to alternative surgical locations, hospitals guarantee intensive care during and after the surgery due to the abundance of trained surgeons and medical professionals.
Furthermore, many patients receive hospital care primarily due to hospitals' effective reimbursement processes. For instance, Dr. YSR Aarogyasri's health insurance program is beneficial for low-income families in the states of Andhra Pradesh and Telangana to get high-quality healthcare services.
According to the 2022 World Highways survey, traffic accidents increased in Norway and Ireland in 2022. In Norway, there were 118 traffic accidents in 2022, up 38% from 2021, while there were 155 road fatalities in Ireland in 2022, a 13% increase. Thus, the rate of hospitalization has increased dramatically as a result of the frequency of traffic accidents. The need for orthopedic equipment in hospitals is also fueled by the expansion of healthcare settings, other sports injuries, and better treatment of traumatic injuries by trained specialists.
Regional Insights
The North American region is estimated to grow at a rapid pace. The geriatric population and an increase in on and off-road accidents also drive the number of orthopedic surgeries performed in the North American region. For instance, the Ontario Provincial Police reports that over 400 people died in automobile and marine accidents in 2022 in Ontario, Canada, both on and off-road. 29 fatalities were caused by boating and marine accidents in 2022. In off-road vehicles, 27 persons died.
The high prevalence of orthopedic disorders and the overall use of advanced treatment approaches are anticipated to drive market development in the United States. Furthermore, The presence of industry leaders, a well-developed healthcare infrastructure, and payment coverage are projected to fuel the area market's high demand for sophisticated healthcare services.
Fractures are a serious public health issue, and their prevalence is rising significantly around the globe. In North America, osteoporosis poses a severe threat to the public's health. For instance, a survey estimates that 44 million Americans, or more than half of those 50 and older, fall into this category. More than 3 million men and women in New York State have osteoporosis or poor bone mass. Osteoporosis causes roughly one in every two Caucasian or Asian women over 50 in the United States to break a bone. Other ethnic men and women have a marginally reduced but significant fracture risk.
As more people become aware of the availability of cutting-edge technologies in countries like Canada and the US and hospitals continue to enhance their facilities and offerings, the market for orthopedic devices in North America is set to grow. In addition, the range of orthopedic treatment reimbursement is encouraging the usage of orthopedic surgery. Thus, these factors are propelling the orthopedic device market in North America.
Asia Pacific is projected to record fastest growth rate in the global orthopedic devices market during years to come. India and China are anticipated to occupy maximum amount of elderly population pool in the world. Thus, the demand from these nations is anticipated to grow enormously in the nearby future. Additionally, the flourishing medical tourism business due to the availability of forward-looking healthcare treatments at economical rates is anticipated to fascinate the target patient population. Japan has a huge number of implant companies plus great healthcare spending than other countries in this region. Moreover, the great adaptation of novel technology is anticipated to further impel market growth in this region.
Recent Developments
In February 2023, Globus Medical and the pioneer in spine technology, NUVASIVE, announced they had reached a legally binding agreement to combine their companies in an all-stock exchange. The deal brings together two prominent technology companies in the musculoskeletal industry with a shared goal of innovation and a tireless pursuit of unmet clinical requirements to improve patient care.
In January 2023, for $155 million at close and around a supplementary $120 million subject to meeting commercial milestones and future regulations over three years, Zimmer Biomet Holdings, Inc., a pioneer in worldwide medical advances, will acquire the privately held medical device company Embody, Inc., which specializes in soft tissue healing. The investment is predicted to slightly erode adjusted earnings per share in 2023 while boosting total sales growth.
In January 2023, Enovis Corporation revealed the launch of the DynaClip Quattro and DynaClip Delta bone staples, the latest cutting-edge additions to the Business's increasing ankle and foot portfolio, as well as the DynaClip clan of bone fixation devices.
In May 2022, according to Johnson & Johnson MedTech, the U.S. Food and Drug Administration (FDA) approved the INHANCE Shoulder System by DePuy Synthes, the Orthopaedics Company, 510(k) authorization for application in reverse total shoulder arthroplasty procedures. This authorization expands the system's existing authorized use in anatomic shoulder arthroplasty and offers surgeons more interoperative freedom.
Key Companies & Market Share Insights
Different players are focusing on constant product development and proposing orthopedic devices at viable prices particularly in emerging countries. Minimally invasive orthopedic devices that do not need repeat procedures are projected to lift the number of procedures in established as well as emerging regions. Some of the significant players in the orthopedic devices market include:
Medacta
DePuySynthes
Smith & Nephew
Stryker
Medtronic
Zimmer Biomet
MicroPort Scientific Corporation (Wright Medical Group)
DJO Global
ConforMIS
NuVasive
Globus Medical
Segments Covered in the Report
This research report includes complete assessment of the market with the help of extensive qualitative and quantitative insights, and projections regarding the market. This report offers breakdown of market into prospective and niche sectors. Further, this research study calculates market revenue and its growth trend at global, regional, and country from 2016 to 2027. This report includes market segmentation and its revenue estimation by classifying it on the basis of end-use and region as follows:
By Product Type
Joint Reconstruction

Knee Replacement

Revision Knee Replacement Implants
Total Knee Replacement Implant
Partial Knee Replacement Implant

Elbow & Shoulder Replacement
Hip Replacement

Hip Resurfacing Implant
Total Hip Replacement Implant
Partial Hip Replacement Implant
Revision Hip Replacement Implant

Others

Orthopedic Prosthetics

Upper Extremity Orthopedic Prosthetics
Lower Extremity Orthopedic Prosthetics

Spinal Devices

Spinal Non-fusion Devices
Spinal Fusion Devices

Trauma Fixation

Nails and Rods
Metal Plates & Screws
Pins/Wires
Others

Arthroscopy Devices
Orthopedic Accessories

Removal systems
Bone cement
Casting system

Orthopedic Braces and Supports

Upper Extremity Braces and Supports
Low Extremity Braces and Supports

Others
By End-user
Ambulatory Surgical Centers
Hospitals
Orthopedic Clinics
Others
By Regional Outlook
North America
Europe
Asia Pacific

China
India
Japan
South Korea

Middle East & Africa
Latin America