The global orthopedic devices market size is expected to reach around US$ 56.23 bn by 2030 from US$ 47.37 billion in 2021, growing at a noteworthy CAGR of 2.31% from 2022 to 2030.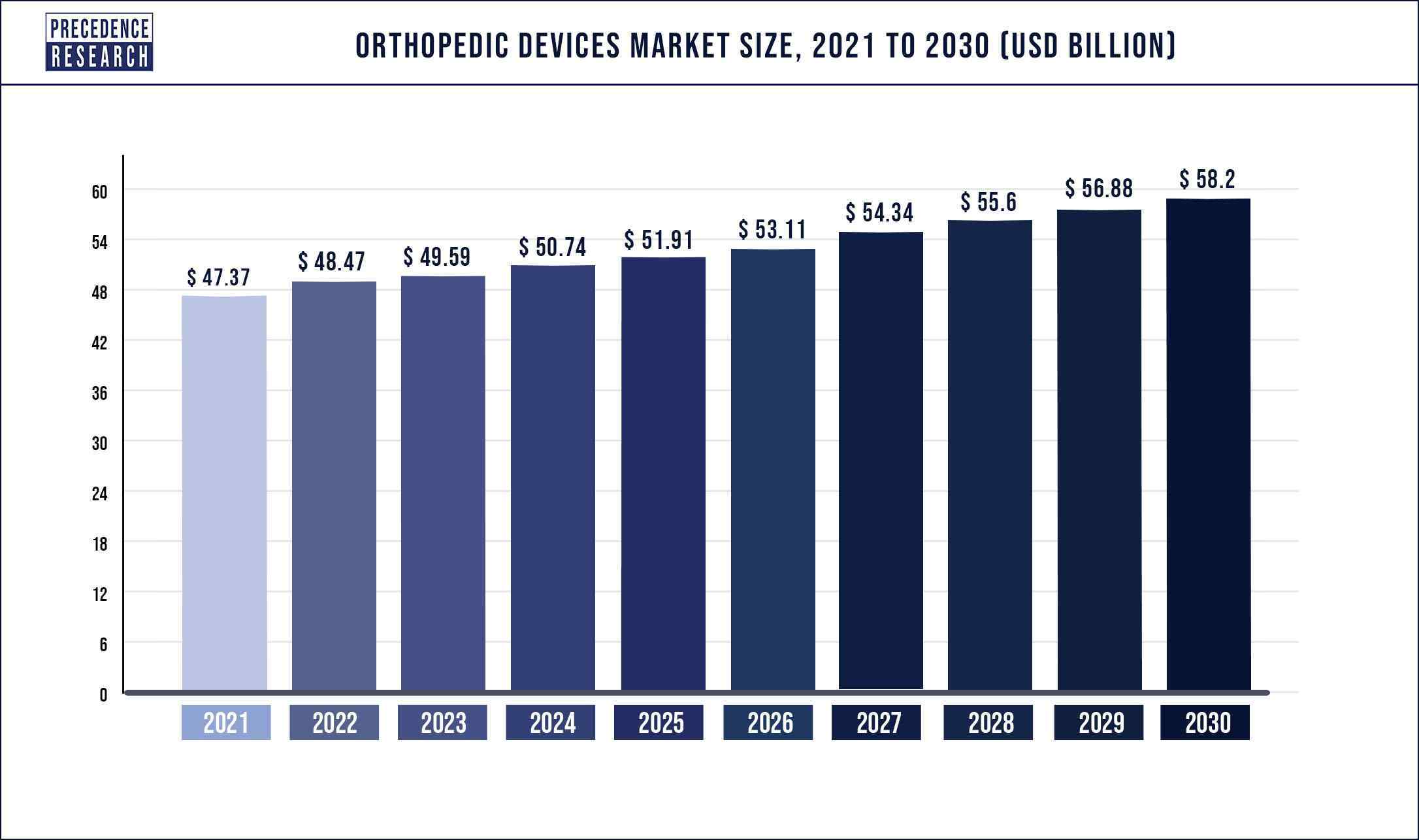 Growth Factors
Global orthopedic devices industry will remain favorable area in the global medical technology sector, and is anticipated to follow market growth after cardiology and in-vitro diagnostics by the end of 2020. High occurrence of orthopedic conditions like degenerative bone disease plus growing elderly population and the amount of road calamities are estimated to fuel the growth of global orthopedic devices market. Furthermore, the early onset of musculoskeletal conditions caused by sedentary lifestyle and obesity are projected to lift the growth of the market. Budding awareness concerning the obtainability of pioneering products is insisting hospitals to continuously advance their services and devices. Additionally, compensation coverage of orthopedic treatments has further propelled the acceptance of orthopedic surgeries. These factors permitclients to opt for cutting-edge and high-prices devices, thereby adding to market revenue produced.
The introduction of cutting-edge orthopedic devices lessens the costs of older versions considerably. This aids in growing their acceptance across emerging countries like Asia Pacific and Middle East, where none to partial medical reimbursement is accessible. The collective effect of these happenings is anticipated to result in growing procedural volume and growth of the market growth during years to come.
The orthopedic device market has emerged has multi-billion-dollar industry with stable growth in both established and budding nations on account of widespread R&D accomplishments and numerous improvements. The global orthopedic device market is compelled by the rising government focus on plummeting disease charge burden due to rising incidence of aged population. Expanding occurrence of arthritis and osteoporosis is projected to fuel marvelous growth in the near future. Developing economies are supposed to observe greater growth than the established ones, primarily due to growing acceptance of in emerging nations and market saturation in the developed nations.
Product Insights
Among different product segments, the joint reconstruction dominated the global orthopedic devices space on account of expanding demand of orthopedic devices amid consumers. However, this segment is projected to drop market share over spinal devices segment near the end of the estimate period due to severe FDA regulations for approvals and great investments. Spinal device segment is projected to show strong CAGR due to ageing population and intensifying demand for support that is not invasive.
End user Insights
Different end-users of orthopedic devices include orthopedic clinics, hospitals and ambulatory surgical centers. Hospital segment dominated the global orthopedic devices market with majority of revenue share of the total market in 2021
Regional Insights
North America is estimated to top the global market throughout the estimate period. Growing elderly population, established medical infrastructure, and existence of vital companies are anticipated to fuel growth of global orthopedic devices market in this region. Cumulative implementation of forward-looking orthopedic solutions and enhanced healthcare groundworkis further stimulating the business growth. Expanding R&D funding to progress groundbreaking products is also supporting industry expansion. The existence of sophisticated healthcare infrastructure, implementation of innovative healthcare skills and augmented research in the field of arthroscopic and orthobiologics devices further complements the industry expansion.
Asia Pacific is projected to record fastest growth rate in the global orthopedic market during years to come. India and China are anticipated to occupy maximum amount of elderly population pool in the world. Thus, the demand from these nations is anticipated to grow enormously in the nearby future. Additionally, the flourishing medical tourism business due to the availability of forward-looking healthcare treatments at economical rates is anticipated to fascinate the target patient population. Japan has a huge number of implant companies plus great healthcare spending than other countries in this region. Moreover, the great adaptation of novel technology is anticipated to further impel market growth in this region.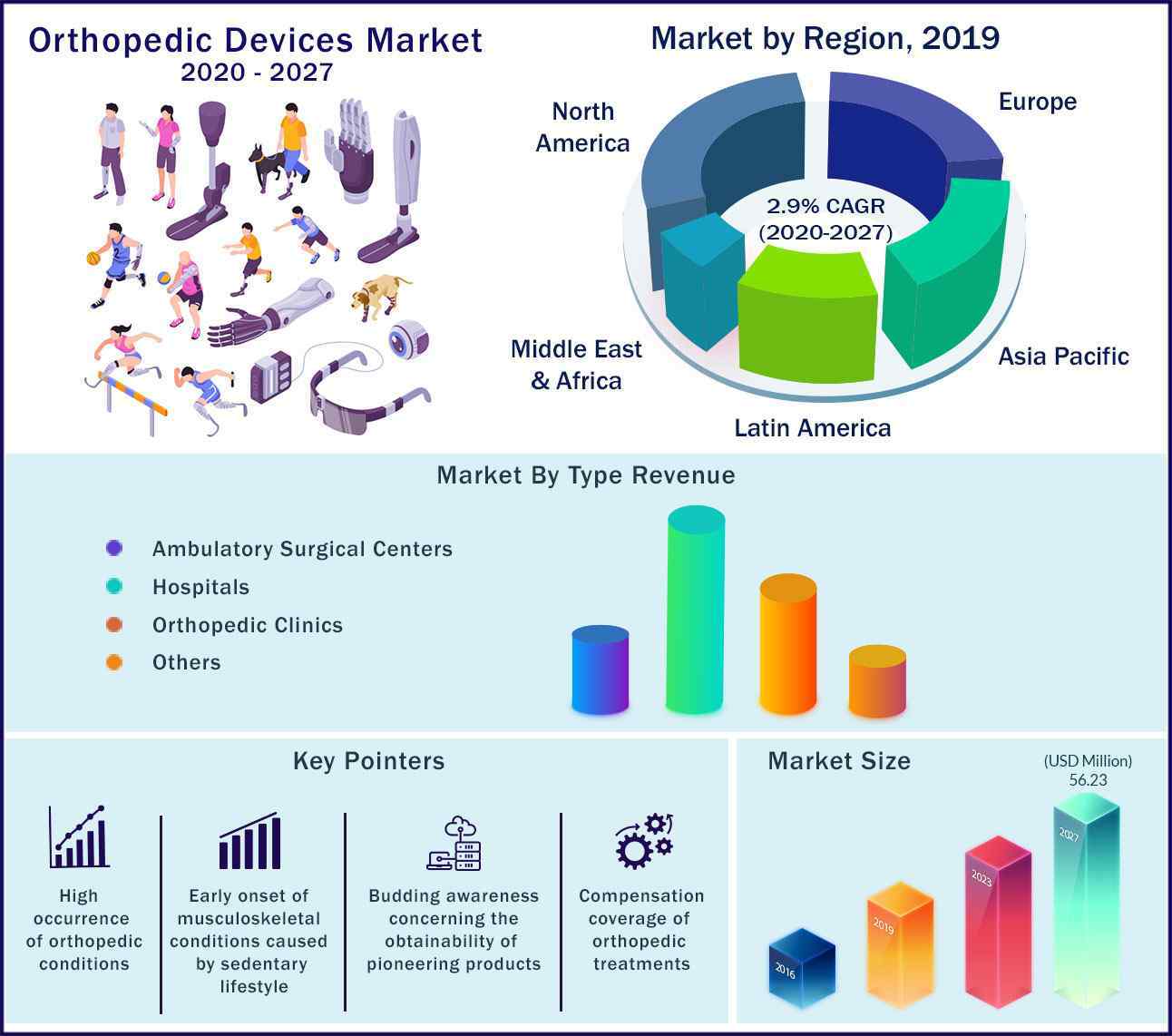 Key Companies & Market Share Insights
Different players are focusing on constant product development and proposing orthopedic devices at viable prices particularly in emerging countries. Minimally invasive orthopedic devices that do notneed repeat procedures are projected to lift the number of procedures in established as well as emerging regions. Some of the significant players in the orthopedic devices market include:
Medacta
DePuySynthes
Smith & Nephew
Stryker
Medtronic
Zimmer Biomet
MicroPort Scientific Corporation (Wright Medical Group)
DJO Global
ConforMIS
NuVasive
Globus Medical
Report Scope of the Orthopedic Devices Market
| | |
| --- | --- |
| Report Highlights | Details |
| Market Size | USD 58.2 Billion by 2030 |
| Growth Rate | CAGR of 2.31% from 2022 to 2030 |
| Largest Market | North America |
| Fastest Growing Market | Asia Pacific |
| Base Year | 2021 |
| Forecast Period | 2022 to 2030 |
| Segments Covered | Product, End User, Region Type |
| Companies Mentioned | Medacta, DePuySynthes, Smith & Nephew, Stryker, Medtronic, Zimmer Biomet, DJO Global, ConforMIS, NuVasive, Globus Medical |
Segments Covered in the Report
This research report includes complete assessment of the market with the help of extensive qualitative and quantitative insights, and projections regarding the market. This report offers breakdown of market into prospective and niche sectors. Further, this research study calculates market revenue and its growth trend at global, regional, and country from 2016 to 2027. This report includes market segmentation and its revenue estimation by classifying it on the basis of end-use and region as follows:
By Product Type
Joint Reconstruction

Knee Replacement

Revision Knee Replacement Implants
Total Knee Replacement Implant
Partial Knee Replacement Implant

Elbow & Shoulder Replacement
Hip Replacement

Hip Resurfacing Implant
Total Hip Replacement Implant
Partial Hip Replacement Implant
Revision Hip Replacement Implant

Others

Orthopedic Prosthetics

Upper Extremity Orthopedic Prosthetics
Lower Extremity Orthopedic Prosthetics

Spinal Devices

Spinal Non-fusion Devices
Spinal Fusion Devices

Trauma Fixation

Nails and Rods
Metal Plates & Screws
Pins/Wires
Others

Arthroscopy Devices
Orthopedic Accessories

Removal systems
Bone cement
Casting system

Orthopedic Braces and Supports

Upper Extremity Braces and Supports
Low Extremity Braces and Supports

Others
By End-user
Ambulatory Surgical Centers
Hospitals
Orthopedic Clinics
Others
By Regional Outlook
North America
Europe
Asia Pacific

China
India
Japan
South Korea

Middle East & Africa
Latin America