The global predictive analytics market size was valued at USD 10.2 billion in 2022, and it is expected to hit at around USD 67.86 billion by 2032 with a registered compound annual growth rate (CAGR) of 21.4% during the forecast period 2023 to 2032.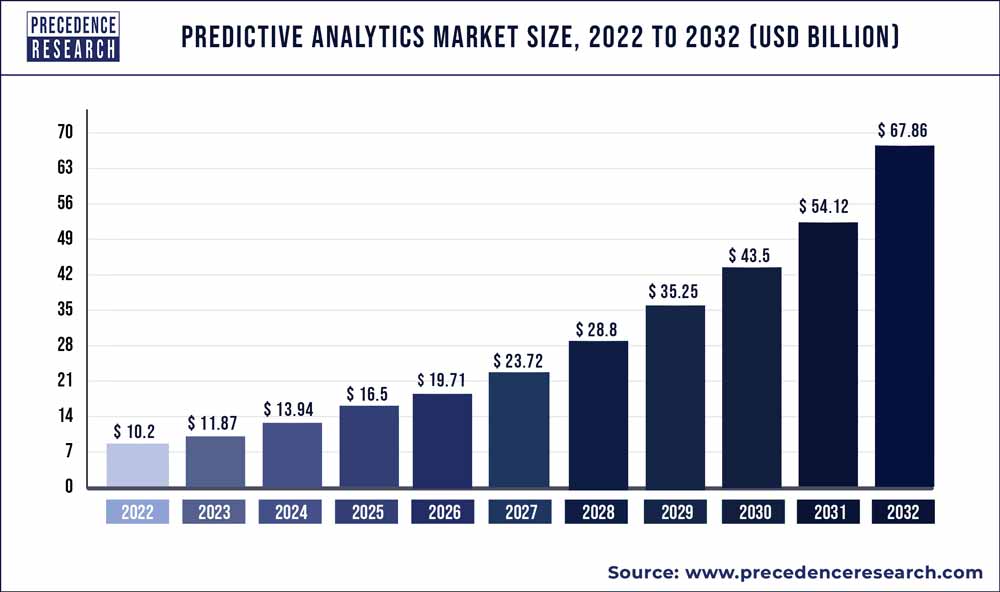 Access our Premium Real Time Data Intelligence Tool, Visit: Precedence Statistics
Key Takeaways:
North America has registered for 46% of the total revenue share in 2022.
Asia Pacific is projected to reach at a CAGR of 23.4% from 2023 to 2032.
The large enterprise size segment has captured 59% revenue share in 2022.
By component, the solution segment has accounted 63% revenue share in 2022.
The BFSI segment is expected to reach at a CAGR of 15.9% from 2023 to 2032.
Predictive Analytics Market Overview
The predictive analytics market is expanding as a result of enterprises being more aware of the generated data that can be utilized to anticipate future events utilizing predictive analytic solutions. The amount of data collected has dramatically increased as a result of rising internet usage and the availability of several methods for obtaining it. High-speed internet services have increased and advanced as a result all over the world. Additionally, as integrated and linked technologies become more widely used, manufacturers of predictive analytics solutions now have a platform on which to capitalize on the internet's extraordinary expansion. Globalization, along with economic development in other nations, is a major factor in the increased production of data worldwide.
Companies are increasingly using teams of analysts and data scientists to handle and analyses the data that has been acquired as a result of the exponential growth in organizational data. As a result, businesses are increasingly implementing predictive analytics solutions to make the best use of the data that is now accessible for forecasting future trends. Furthermore, the rapid adoption of these solutions is being fueled by their great revenue-generating potential. Customers' conventional purchasing experiences have been enhanced by e-commerce. The main elements enhancing a company's sales include targeted online/social media advertising, email marketing, and consumer perception research. Retailers now concentrate on real-time research of consumer buying behavior due to the growing popularity of connected gadgets. The results of real-time analytics may also be used to create tailored offers to improve client experience.
Growth Factors
The expansion of the worldwide predictive analytics market is being driven by the need for sophisticated analytics for operational efficiency. Data now serves as a valuable resource for improving operations, production, and efficiency. Enterprises may gain a competitive edge by using predictive analytics to make strategic choices in an efficient, precise, and timely manner. Process optimization, scam detection, failure point identification, client retention techniques, fraud prevention, and strategic decision-making are a few of the crucial use cases for predictive analytics. Operational and cost-reduction benefits are offered by predictive analytics systems. During the anticipated term, all of these elements will fuel market expansion.
Scope of the Predictive Analytics Market
Report Coverage
Details
Market Size in 2023
USD 11.87 Billion
Market Size by 2032
USD 67.86 Billion
Growth Rate from 2023 to 2032
CAGR of 19.27%
Largest Market
North America
Fastest Growing Market
Asia Pacific
Base Year
2022
Forecast Period
2023 to 2032
Segments Covered

By Solution
By Service
By Enterprise Size
By Component
By Deployment Type
By End-Use
By Geography

Key Market Drivers
Big data and other related technologies are being more widely used - Utilizing cutting-edge technologies, such the cloud, the Internet of Things, big data analytics, mobile, and social media, has sparked innovation and change, which has fueled the development in the commercial ecosystem. A new method to doing business has replaced the traditional approach thanks to digital technology. For instance, online services are now widely used in the banking and finance industry, which has led to an increase in online endeavors and websites. Usabilla (Netherlands) said in a blog post from June 2020 that the top 100 companies are 50% more likely to treat consumer empowerment as a crucial factor in company success. According to the blog, 92% of executives had used cutting-edge digital transformation techniques to improve their consumers' experiences.
The growing use of predictive modeling tools - Interactive visualization and automation has helped to accelerate the use of predictive tools in recent years. The methods of creating and analyzing predictive models used by enterprises to execute operations like customer analytics, risk reporting, threat management, and product innovation are accelerated by these technologies. A growing number of businesses are also automating their sales funnel from lead generation to client base by doing predictive analyses on vast amounts of customer data. The use of predictive modeling techniques for email marketing, social media advertising, and consumer cognitive analysis has maintained growth in revenue and improved customer retention over time.
Key Market Challenges
Modifications to regional data laws necessitating a time-consuming redesign of prediction models - Predictive analytics provides decision-makers with a clear data interpretation and a wider picture to enhance overall business performance. The predictive model modification enables interaction with both software and services, depending on the level and kind of study. It takes specialized knowledge to customize already-available analytics solutions that are designed for certain data sets. There is a scarcity of competent professionals since predictive analytics is still in its infancy. This is yet another important factor that restricts industry growth.
Key Market Opportunities
The growing use of linked and integrated technology and increased internet usage - The amount of data created has greatly increased as a result of the internet's widespread use and the accessibility of several methods to obtain it. The development and growth of high-speed internet services would be aided by this. Global data creation is being accelerated by factors including globalization and economic expansion. Every contact a customer makes has now turned into a significant data point that can be analyzed to disclose user behavior due to the increase in touchpoints and the requirement for data collection to understand consumer behavior. Businesses are now using data scientists and analysts to process the data they have been collecting due to the exponential growth in personal and organizational data.
Increasing adoption of the cloud - It is a significant trend that is gaining traction in the predictive analytics industry. Organizations should utilize the cloud if they want to cut expenses, minimize risk, and achieve database scalability. The usage of the cloud is widespread in business and serves as a vital conduit for digital empowerment, fostering innovation and expansion for an organization. A platform for acting as a storage hub and delivering computing is provided by cloud strategies.
Segments Insight
Solution Insights
Solutions for predictive risk analytics are essential to the market's overall expansion. In 2022, the market sector dominated the whole world. The increased use of various risk analytics systems for predicting dangers and taking precautions may be credited with the segment's rise. Additionally, the need for data integration, growing emphasis on creating sophisticated risk strategies, and growing data volume all work together to support sector growth. Over the projection period, the consumer analytics segment is expected to have the greatest CAGR. Consumer intelligence is a systematic and sophisticated analytical method that businesses are increasingly using to analyse customer behavior. Businesses utilize this information to improve their total income creation and make critical business decisions. Additionally, customer analytics, which includes methods like predictive modeling and data visualization, aids businesses in boosting customer lifetime value (CLV), gaining customer loyalty, and keeping hold of current clients.
Service Insights
Over the projection period, a significant CAGR is expected in the service category. Predictive analytics solutions are increasingly being deployed across a variety of business verticals, which is projected to raise the need for pre-and post-deployment services. This is the key factor driving the growth of the service market.
Over the projection period, it is expected that the deployment/installation services category would see a substantial CAGR. This is due to the increasing use of predictive analytics tools on cloud platforms.
Over the course of the projection period, the training and consulting category is expected to experience phenomenal market growth. Transferring sufficient knowledge about how the solution works to employees is facilitated by training and consulting services. It aids businesses in overcoming the difficulty of finding skilled workers. As a result, these services assist firms in improving their overall performance and revenue creation, fueling the segment's rise throughout the anticipated term.
Enterprise Size Insights
In 2022, Large enterprises controlled the world market. These businesses are employing predictive analytics solutions more frequently to forecast future trends using current historical data. Large businesses are also creating long-term business plans based on forecasted results. Additionally, the predictive analysis of enormous historical data gives businesses a competitive edge and aids in improving their overall performance.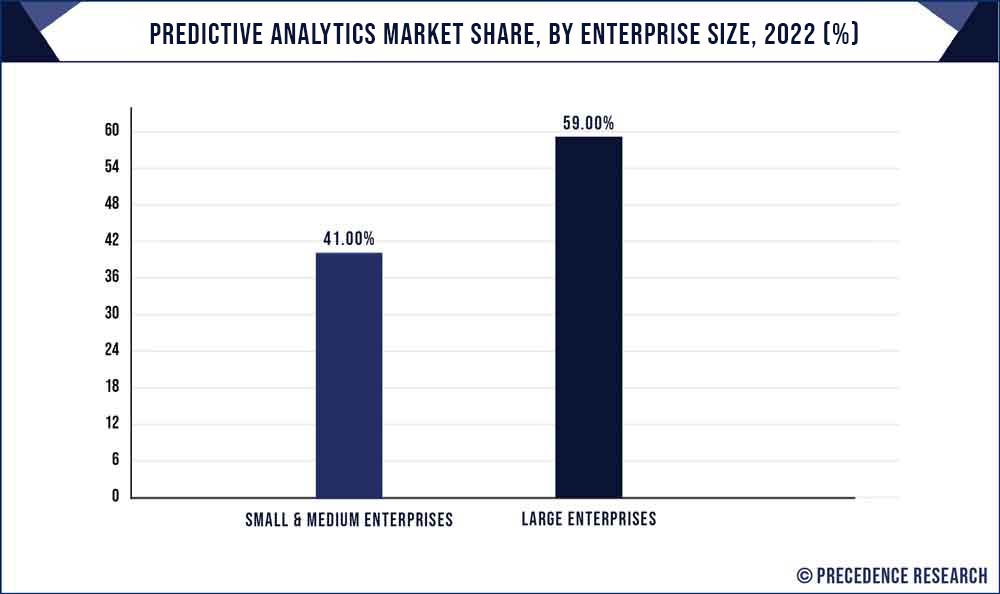 The category for small and medium-sized businesses is anticipated to have the greatest CAGR between 2023 and 2032. The segment's growth is greatly attributed to small and medium-sized businesses increased use of cloud computing and predictive analytics. These businesses need predictive analytics solutions to improve operational performance while lowering overall operating expenses. Increased funding for the creation and expansion of small and medium-sized businesses throughout the world is also considering boosting the segment's growth.
End-Use Insights
According to estimates, the BFSI industry will significantly contribute to the expansion of the predictive analytics market. Due to improved regulatory compliance procedures, major businesses in the BFSI sector are increasingly adopting advanced financial analytics solutions. The demand for predictive analytics products from the BFSI vertical is expected to increase during the projected period as a result of the global regulatory environment becoming more complicated. Additionally, due to regulatory obligations, risk management practices including credit risk management, capital planning, and insurance risk management are becoming more and more significant. Additionally, BFSI organizations are undergoing a digital transformation thanks to the use of predictive analytics technologies. It provides a better customer experience and aids in adjusting to shifting consumer behavior.
The worldwide market is expected to develop fastest in the retail and e-commerce segment. Predictive analytics solutions are in high demand in the retail and e-commerce sectors due to consumer preferences for a customized and personalized purchasing experience. In addition, the market is anticipated to rise as a result of developments in technologies like artificial intelligence (AI), augmented reality (AR), and machine learning. Additionally, the demand for predictive analytics technology has increased due to the quick uptake of social media, expanding internet penetration, and increased usage of data-intensive platforms.
Predictive Analytics Market Share, By Region, 2022 (%)
| | |
| --- | --- |
| Regions | Revenue Share in 2022 (%) |
| North America | 47% |
| Asia Pacific | 19% |
| Europe | 27% |
| Latin America | 4% |
| MEA | 3% |

Regional Insights
The market as a whole is dominated by North America. This can be linked to developments in technology and the prominence of market participants, notably in the United States. Additionally, venture capitalists' investment of new competitors is expected to lessen competitiveness in the industry. Growing advancements in the processes and techniques used to create predictive analytics solutions are predicted to present significant business prospects for established businesses. Additionally, there is a high demand for these solutions due to growing knowledge of predictive analytics techniques and their significance.
Over the projection period, Asia Pacific is anticipated to have the greatest CAGR. The rapid implementation and use of advanced predictive analytics solutions are responsible for the regional market's rapid expansion. Additionally, the Asia Pacific market's greater potential encourages solution and service providers to increase their presence there. Additionally, it is anticipated that the market in the area would be driven by rising attention to and investments in emerging technologies like artificial intelligence, IoT, and machine learning
Recent Developments
Teradata announced in September 2021 that Tesco PLC is enhancing its partnership with Teradata by integrating Vantage into its data platform. Vantage can help Tesco break down data silos and query all of their data in real time, whether it's on-premises, in the cloud, on several clouds, or any combination of those, to get a complete picture of their business.
In August 2021, Altair revealed that it had acquired S-FRAME Software, a platform for structural analysis that is used by engineers all around the world to assess a structure's capacity to withstand outside loads (including wind, water, and snow) and adhere to design code requirements.
Key Market Players
BM Corporationn
SAP ERP
Microsoft Corporation
Siemens AG
General Electric Company
Schneider Electric SE
NTT Data Corporation
Oracle Corporation
SAS Institute, Inc
Tableau Software, Inc
Segments Covered in the Report
(Note*: We offer reports based on sub-segments as well. Kindly, let us know if you are interested)
By Solution
Customer Analytics
Financial Analytics
Marketing & Sales Analytics
Network Analytics
Risk Analytics
Supply Chain Analytics
Web & Social Media Analytics
Others
By Service
Deployment/ Installation
Support & Maintenance
Training & Consulting
By Enterprise Size
Small & Medium Enterprises
Large Enterprises
By Component
By Deployment Type
By End-Use
Aerospace & Defense
Automotive & Transportation
BFSI
Healthcare
IT & Telecommunication
Media & Entertainment
Retail & Ecommerce
Others
By Geography
North America
Europe
Asia-Pacific
Latin America
Middle East & Africa (MEA)