The global generative AI in pharmaceutical market is surging, with an overall revenue growth expectation of hundreds of millions of dollars during the forecast period from 2023 to 2032.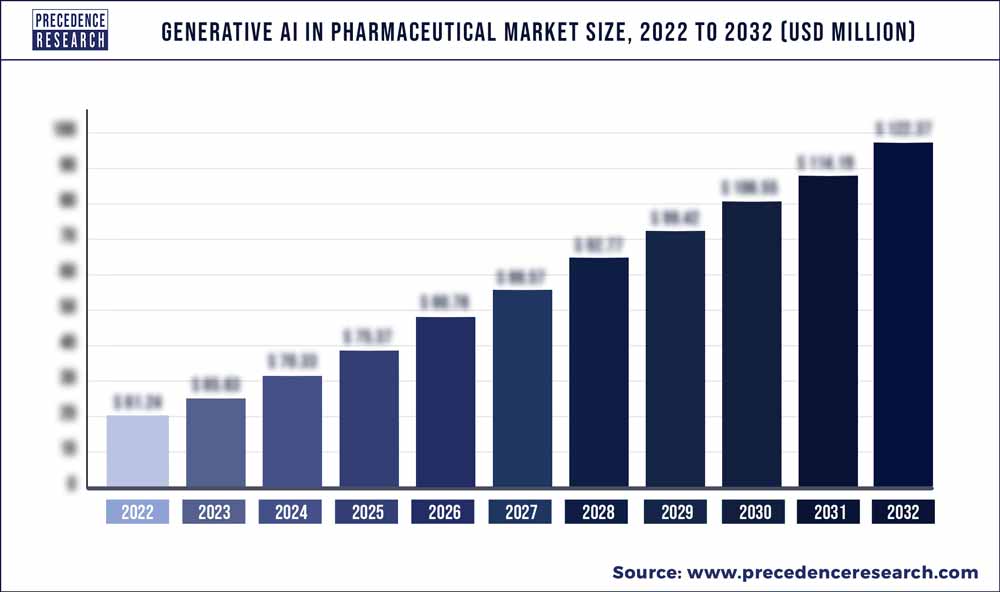 Key Takeaways:
By region, North America holds the largest share of the market, the region is expected to sustain the growth during the forecast period.
By technology, the deep learning segment is expected to dominate the market over the forecast period.
By drug type, the small molecule segment is expected to hold the largest market share over the forecast period.
By application, the drug discovery segment is expected to dominate the market growth during the forecast period.
Market Overview:
Generative AI is a subset of AI that employs formulas to generate data that is comparable to training data. The original data might be anything, including images, written text, or even molecular structure. Generative AI employs what is known as neural networks as a component of machine learning to recognize patterns in the original data and generate new data that resembles it. When it comes to finding and creating novel medications, this technology offers enormous potential in the pharmaceutical sector. Generative AI can speed up the drug development process, assisting pharmaceutical companies in developing novel medications more quickly and efficiently by producing new molecules with certain properties.
The numerous kind of generative AI tools used in the pharmaceutical industry includes generative adversarial networks, recurrent neural networks, variational autoencoders, deep reinforcement learning, and transformer models. GANs are utilized in pharmacy research to produce compounds and develop novel drugs. The generator network in GANs creates synthetic samples, while the discriminator network determines whether or not these samples are real. New molecules with the appropriate properties are produced as a result of this procedure.
Recurrent Neural Networks are utilized to generate sequential data that may be used to develop novel chemical structures or enhance the characteristics of medications. RNNs can create new sequences with the appropriate properties by learning the patterns in sequential data.
Variational Autoencoders aids in the development of new drugs. These tools are capable of producing new molecules with specified properties and are aware of the dispersion of chemical structures. They are incredibly helpful in exploring the chemical universe and developing a variety of substances.
According to the National Institutes of Health, Genomic data production is rapidly nearing 40 billion gigabytes annually. Findings that will expand knowledge of human health and promote precision medicine depend on the ability to exchange, analyze, and interpret genetic data.
Growth Factors:
The generative AI market in pharmaceuticals is poised for substantial growth, driven by the need for faster, more cost-effective drug discovery and development. The integration of generative AI technologies has the potential to transform the pharmaceutical industry by accelerating innovation, improving success rates, and delivering more targeted and effective therapies to patients.
Report Scope of the Generative AI in Pharmaceutical Market:
| | |
| --- | --- |
| Report Coverage | Details |
| Largest Market | North America |
| Base Year | 2022 |
| Forecast Period | 2023 to 2032 |
| Segments Covered | By Technology, By Drug Type, and By Application |
| Regions Covered | North America, Europe, Asia-Pacific, Latin America, and Middle East & Africa |

Market Dynamics:
Driver:
Cost saving method offered by AI for drug development
Generative AI can assist in reducing labor-intensive processes throughout the drug development process, which might help cut prices. Automation can also lessen the demand for physical work and lower the incidence of human mistakes. However, cost reductions will depend on balancing efficiency benefits with AI implementation expenses, which may differ between businesses and projects. Multiple generative AI algorithms offer analysis and predictive solutions during drug development, this is intended to save the cost as well as time consumed by the drug development process. Thus, the cost-saving advantage of implementing generative AI in the pharmaceutical industry is expected to flourish the market expansion during the forecast period.
Restraints:
Lack of standardization
The successful application of generative AI in drug development may be hampered by the absence of strict, established standards and best practices. This characteristic may make it challenging to compare the outcomes of several research and may cause inconsistent results. Collaboration with researchers, other pharma partners, and regulatory agencies can help organizations investigating generative AI create and improve standards. Without such guidelines, it would continue to be challenging to create clear, accurate, and trustworthy models for creating new chemical structures and testing hypotheses. Thus, the lack of standardization is expected to act as a major restraint for the market growth during the forecast period.
Opportunities:
Increasing collaborative activities
The generative AI market in pharmaceuticals provides opportunities for partnerships and collaborations between pharmaceutical companies, AI startups, research institutions, and technology providers. Collaborations can leverage the expertise of different stakeholders to drive innovation, develop robust generative AI platforms, and validate the efficacy and safety of generated molecules. For instance, in May 2023, the Australian affiliate of the South Korean pharmaceutical business Pharos iBio, Pharos Therapeutics, and the University of Sydney signed a memorandum of understanding (MoU). Pharos and the University will work together to employ artificial intelligence to find promising chemicals that can be developed into cancer and rare disease medicines quickly. The MoU will also give the University's Drug Discovery Initiative access to Pharos iBio's exclusive artificial intelligence (AI) drug development platform, Chemiverse. Pharos will gain from collaborating with the University's top-notch research team and cutting-edge drug-discovery infrastructure. Thus, this is expected to offer an attractive opportunity for market growth over the forecast period.
Segments Insight:
Technology Insights:
Based on the technology, the global generative AI in the pharmaceutical market is segmented into deep learning, natural language processing, querying method, context-aware processing and others. The deep learning segment is expected to dominate the market over the forecast period. Deep learning algorithms are excellent at discovering patterns and removing significant representations from huge datasets.
To understand the connections between molecular traits and desired attributes, deep learning models are trained using databases of chemical structures, biological data, and drug-target interactions in the pharmaceutical industry. The algorithms can create novel compounds or forecast specific medicinal qualities due to this learning process.
Additionally, models learned on a large dataset in one domain may be fine-tuned and applied to a related domain with a smaller dataset due to these learning techniques for transfer learning. In pharmaceutical applications where data availability may be constrained, this capacity of deep learning technology is advantageous. On pharmaceutical-specific datasets, trained models may be fine-tuned to produce compounds or predict characteristics relevant to drug development or optimization.
Drug Type Insights:
Based on the drug type, the global generative AI in pharmaceutical market is segmented into small molecules and large molecules. The small molecule segment is expected to hold the largest market share over the forecast period. The segment growth is attributed to the growing collaboration between the key players to develop small molecule candidates in oncology and immunology. For instance, in January 2022, Sanofi and Exscientia signed a license and research partnership deal to develop up to 15 new small molecule candidates encompassing cancer and immunology diseases using Exscientia's AI-based platform. These developments by market leaders are projected to propel the segment's expansion throughout the forecast period.
Application Insights:
Based on the application, the global generative AI in the pharmaceutical market is divided into clinical trial research, drug discovery, research and development and others. The drug discovery segment is expected to dominate the market growth during the forecast period. Large datasets can be analyzed, innovative drug candidates can be predicted, and chemical structures can be optimized with the help of AI when applied for drug development. Several businesses are already saving considerable amounts of time with the technology for drug development. For instance, scientists published their findings in the journal Chemical Science in January and described how they utilized the AI-powered protein folding prediction model AlphaFold to identify a new CDK20 small molecule inhibitor in 30 days.
Regional Insights:
North America is expected to dominate the market during the forecast period. The regional growth is driven by several factors including increasing AI usage in pharmaceutical clinical trials, rising drug discovery and development, rising prevalence of chronic diseases, and technical breakthroughs in the pharmaceutical sector. Moreover, the presence of major market players and growing business activities such as product launch, partnerships and collaboration are the key factors that propel the market growth in the region.
For instance, in March 2022, Insilico Medicine and EQRx formed a strategic partnership to combine their respective capabilities in de novo small molecule creation, clinical development, and commercialization.
Asia Pacific is expected to witness a noticeable growth in generative AI in pharmaceutical market owing to the ongoing substantial growth in the drug development sector. Countries such as China, South Korea, Japan and India are actively adopting artificial intelligence-based advanced solutions for multiple sectors, pharmaceutical being one of them.
Moreover, as the pharmaceutical as well as biotechnology industries in the Asian countries are on the path of acceleration, the adoption of generative AI-solutions in the industries is prone to grow in the upcoming period.
Recent Developments:
In June 2023, Eli Lilly & Company and XtalPi Inc. launched an AI drug development partnership worth up to $250 million in upfront and milestone payments. The partnership will make use of XtalPi's robotics platform and integrated AI capabilities to create and deliver medication candidates from scratch for an unnamed target. In a partnership with the Lilly team, XtalPi will offer a novel chemical using their effective one-stop AI drug discovery solution, which Lilly will then pursue clinical and commercial development.
In June 2023, the functioning of a conversation tool utilizing generative AI was disclosed by Sumitomo Pharma Co., Ltd. The Tool is an interactive online tool that performs duties similar to "ChatGPT" offered by OpenAI Inc. Although OpenAI's AI engine is utilized, the parameters prevent OpenAI from using the data in any other way. All workers of the company are expected to utilize the tool.
In January 2023, Conduent Incorporated, a worldwide technology-led business process solutions provider, introduced the IntelliHealth module for healthcare provider interaction. This new module is an end-to-end solution to assist pharmaceutical businesses in improving access to and engagement with, healthcare professionals to generate targeted pharmaceutical sales and marketing. With powerful analytics, multichannel communication, and seasoned sales professionals and medical science liaisons, IntelliHealth allows pharma enterprises to power quicker and more effective product commercialization. The platform's robustness enables pharma businesses to decrease risk, control expenses, and gain competitive advantages while delivering ROI over the entire life cycle of medicinal treatment.
Key Market Players:
Bayer AG
Insilico Medicine Inc.
Atomwise Inc.
BenevolentAI Ltd.
Numerate Inc.
XtalPi Inc.
Berg Health LLC
Conduent Incorporated
Fujitsu
OKRA.ai
Segments Covered in the Report:
(Note*: We offer reports based on sub-segments as well. Kindly, let us know if you are interested)
By Technology
Deep Learning
Natural Language Processing
Querying Method
Context-aware Processing
Others
By Drug Type
Small Molecule
Large Molecule
By Application
Clinical Trial Research
Drug Discovery
Research And Development
Others
By Geography
North America
Europe
Asia-Pacific
Latin America
Middle East and Africa