The global microplates market size was estimated at USD 992.7 million in 2022 and is projected to attain around USD 1,541.7 million by 2032, poised to grow at a CAGR of 4.53% during the forecast period 2023 to 2032. North America is predicted to dominate the market between 2023 and 2032.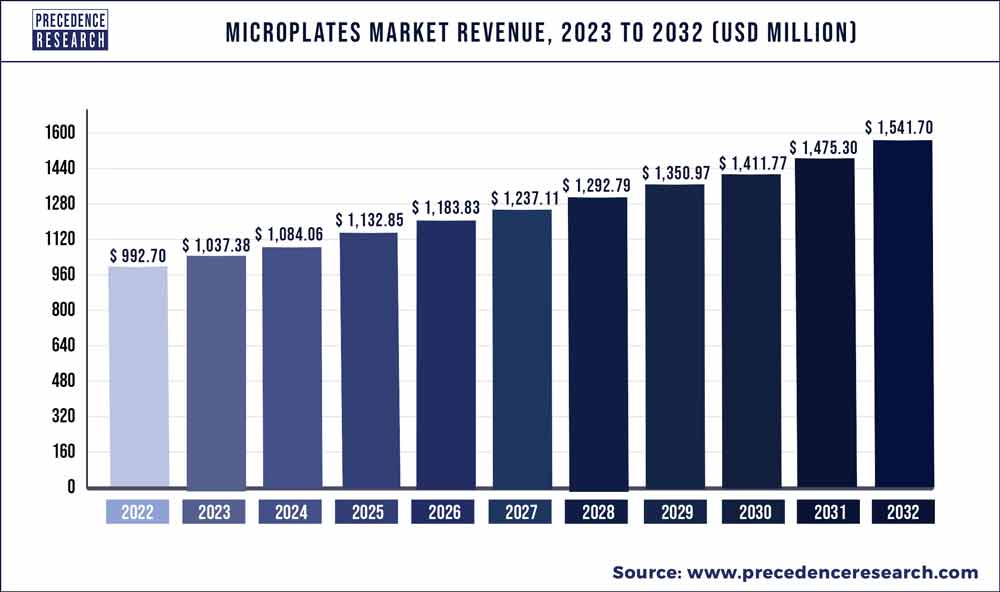 Access our Premium Real Time Data Intelligence Tool, Visit: Precedence Statistics
Key Takeaways:
Asia Pacific is growing at the largest CAGR between 2023 and 2032.
By Product, the microplate readers segment is expected to expand at a remarkable CAGR between 2023 and 2032.
By Application, the drug discovery segment is projected to dominate the market between 2023 and 2032.
By End User, the hospital & diagnostic laboratories segment is predicted to capture a notable market share between 2023 and 2032.
Market Overview:
A flat plate with numerous wells that function as tiny test tubes are called a microplate also referred to as a microtiter plate. It is a commonly used instrument in both diagnostic and research centres. Microplates are typically used in Enzyme-Linked Immunosorbent Tests. They come in a variety of sizes and well densities, including 6, 24, 96, 384, and 1536 wells.
The most common types of microplates are those with 96 wells. Microplates and microplate equipment are essential tools for cell culture and other types of study. These tools are now more commonly used in the diagnosis of various diseases, whereas earlier they were only used in laboratory settings for research.
As a result, they play an essential role in medical facilities and scientific research. Microplates are used in many studies to better comprehend biological responses, drug development, and other types of research. Microplates are therefore crucial to testing procedures and are also used in production. They are in great demand in research because they can evaluate many samples at once.
The market is driven by numerous factors which include a growing geriatric population, growing product launches by the key players, and increasing prevalence of chronic and infectious diseases across the globe.
Report Scope of the Microplates Market:
| | |
| --- | --- |
| Report Coverage | Details |
| Market Size in 2023 | USD 1,037.38 Million |
| Market Size by 2032 | USD 1,541.7 Million |
| Growth Rate from 2023 to 2032 | CAGR of 4.53% |
| Largest Market | North America |
| Base Year | 2022 |
| Forecast Period | 2023 to 2032 |
| Segments Covered | By Product, By Application, and By End User |
| Regions Covered | North America, Europe, Asia-Pacific, Latin America and Middle East & Africa |

Market Dynamics:
Driver:
Growing geriatric population
The growing geriatric population across the globe is expected to propel the market expansion during the projected period. The geriatric population is more vulnerable to disease which includes cardiovascular disease, infectious disease, chronic disease, and others. As older people continue to die from cardiovascular disease more frequently than any other cause. According to the World Health Organization, one in six individuals on the globe will be 60 or older by 2030.
Currently, there will be 1.4 billion people over the age of 60, up from 1 billion in 2020. The number of people in the globe who are 60 years or older will double by 2050 which is around 2.1 billion. Between 2020 and 2050, there will be 426 million more individuals who are 80 years of age or older. Thus, the growing geriatric population is expected to drive market growth over the forecast period.
Restraints:
A small volume of the sample
The small quantity of samples that can be accommodated in the sample wells of the microplate scintillation analyzer is a limitation. Approximately 10 mL of an aqueous sample and 10 mL of an appropriate liquid scintillation cocktail can be placed in a 20-mL liquid scintillation vial. However, a 24-well microplate's largest sample well only has a 1.5 mL (1500 L) capacity, of which 0.75 mL at most can be an aqueous sample and 0.75 mL a suitable cocktail.
The sample sizes for the two analysis techniques are 13-fold different. Therefore, greater sample activities or longer counting times are needed for microplate scintillation counting. Thus, this is expected to be a major restraining factor for the market growth over the forecast period.
Opportunities:
Increasing pharmaceutical industry
Particularly in emerging nations, the number of pharmaceutical companies has substantially expanded during the past ten years. As of 2019, there were 1,131 publicly listed biotechnology and pharmaceutical companies in the Asia Pacific, indicating that the region has a sizable presence from both domestic and foreign businesses.
According to the Pharmaceutical Research and Manufacturers Association (PhRMA), American-based pharmaceutical firms conduct the majority of global R&D and hold the intellectual property rights to most new medications. Additionally, the biopharmaceutical industry has developed more than 5,000 unique medicines globally, with the United States leading all other countries with approximately 3,400 molecules currently under study. It is anticipated to create new growth prospects for those involved in the microplate industry.
Impact of COVID-19:
The pandemic of COVID-19 had an enormous impact on the market's expansion. Due to the growing need for efficient detection, more microplate products are being developed for the diagnosis of COVID-19 among patients. For instance, four EIA microplate assays for the detection of COVID-19 antibodies in human serum and plasma were introduced by Dia. Pro Diagnostics Bioprobes SRL in July 2020.
Over the forecast period, these product advancements are anticipated to have a significant impact on market growth. Nevertheless, it is anticipated that the post-pandemic era will see a rise in the market due to the resumption of numerous research initiatives and drug discovery methods.
Segments Insight:
Product Insights:
Based on the product, the global microplates market is segmented into microplate readers, microplate pipetting systems and dispensers, microplate washers, microplate accessories & software. The microplate readers segment is expected to grow at a significant rate over the forecast period. Microplate readers are long-lasting and require little maintenance. Even though lamps are the most fragile part of these readers, more highly advanced alternatives like Deuterium, Halogens, Xenon Flash Lamps and LEDs have been introduced recently.
As a result of these advancements, microplate readers now last longer, which is anticipated to increase the use of these tools, which in turn, drives the segmental growth over the forecast period. On the other hand, the microplate washers segment is expected to grow significantly during the forecast period. Microplate washers are lab tools made to regulate the washing process for experimental materials setup in plate-based formats. Microplate washers quickly dispense, soak aspirate liquid from loaded plates after users fill them and choose a program.
Microplate washers significantly increase the speed and accuracy of numerous washing processes when compare to their manual counterparts, and are especially beneficial for enzyme-linked immunosorbent assays (ELISAs). As part of DNA purification procedures, it is used to clean beads, western blots, protein assays, cell cultures, and protein array arrays. Thus, these benefits are expected to drive segment growth over the forecast period.
Application Insights:
Based on the application, the market is bifurcated into drug discovery, clinical diagnostic, genomics and proteomics research. The drug discovery segment is expected to dominate the market over the forecast period because this technology maximizes throughput and reproducibility to give researchers more answers and greater insights faster. Moreover, the growth in the segment is also due to the demand for high-throughput screening during the early drug discovery process. Besides, the genomics and proteomics research segment is expected to grow at the highest CAGR during the forecast period owing to the growing government initiatives and the growing cases of the COVID-19 pandemic.
For instance, the UK government released Genome UK-the future of Healthcare in September 2020, outlining its 10-year plan to establish the most cutting-edge genomic healthcare system in the world that will provide improved health outcomes at lower costs. To boost private sector investment, the strategy also outlines a version for the UK as the World's top location for genomics research and the development of new genomics healthcare companies.
End User Insights:
Based on the end user, the market is segmented into biotechnology & pharmaceutical companies, hospital & diagnostic laboratories, and academic & research institutes. The hospital & diagnostic laboratories segment is expected to capture a significant market share over the forecast period.
The growth in the segment is attributed to the growing prevalence of various diseases such as chronic, infectious and other diseases. For instance, globally, there were 17.0 million new cases of cancer and 9.5 million cancer related deaths in 2018, according to the figures from the International Agency for Research on Cancer (IARC). Simply because of population increase and ageing, it is anticipated that by 2040 there will be 16.3 million cancer deaths and 27.5 million new cases worldwide. This is due to the growing smoking, poor diet, physical inactivity, and fewer pregnancies in developing nations. Thus these facts support the growth of the segment during the forecast period.
Regional Insights:
North America is expected to dominate the market during the forecast period owing to an increase in drug discovery and laboratories. Moreover, the growth of the market in this region is anticipated to be aided by several factors such as governmental initiatives for biotechnology research, increasing acceptance of personalized medicines, rising academic and governmental investments in diagnostic research and increasing emphasis on drug discovery and development. For instance, in September 2022, the United States declared new investments and resources to progress the national biotechnology and biomanufacturing initiative.
The Department of Health and human services will spend USD 40 million on this project to increase its biomanufacturing position in society. Furthermore, the growing innovative product launch by the key players is expected to offer a lucrative opportunity for market growth over the forecast period.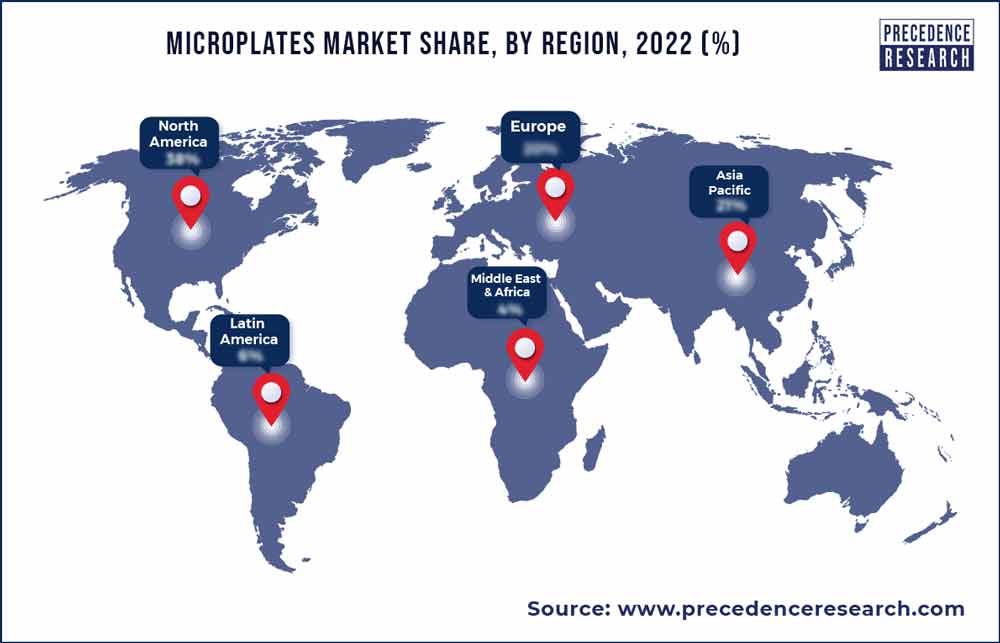 For instance, in January 2022, Thermo Fisher Scientific introduced a compressor-free plate sealer, developed to alleviate the maintenance burden on operators, while offering unparalleled process customization capabilities, intuitive operation and significant work efficiency. Thus, the growing innovative product launch in the microplates industry is expected to propel market revenue during the projected period.
The Asia Pacific is growing at the highest CAGR during the forecast period. The growing prevalence of cancer in countries like India and China is expected to drive market expansion in the region. For instance, as per the US Department of Health and Human Services (HHS), 14,61,427 incident cases of cancer were determined to be the projected total in India for 2022. In India 1 out of 9 people has a lifelong risk of developing cancer.
The most common cancer in men and women were lung and breast cancer. According to the estimates, there will be 12.8% more cancer instances in 2025 than there were in 2020. Moreover, the growing investment in healthcare infrastructure is among the key factor that propels the market growth.
Recent Developments:
In April 2022, Molecular Devices, LLC, a pioneer in high-performance life science solutions introduced the microplate reader "SpectraMax". This product is a compact and economical solution developed to save researchers benchtop space and budgets. These products provide numerous advantages to consumers such as flexibility, extended wavelength range, ease of use and superior software.
In April 2022, a new product line of coated microplates called Sero Krystal PDL has been introduced by Porvair Sciences to provide improved cell attachment, growth, and proliferation for a variety of cell types in serum-free culture.
In February 2022, Zeon Corporation acquired Aurora Microplates, a leading manufacturer and supplier of high-performing microplates. The Zeon Corporation Strategy of providing the best tools and products to users engaged in research and diagnostics to enhance human health is how the Aurora Microplates business comes in. Zeon will assist front-line researchers in their effort to comprehend the complex indicators involved in both animal and human health through Aurora Microplates.
Key Market Players:
BMG LABTECH
Corning Incorporated
Porvair Sciences
Agilent Technologies
REPROCELL Inc.
PerkinElmer Inc.
Berthold Technologies GmbH & Co.KG
Tecan Trading AG
BrandTech Scientific, Inc.
Thermo Fisher Scientific Inc.
Eppendorf SE
RayBiotech Life, Inc.
Microplate Dx
LTEK
Byonoy Gmbh
Biomat Srl
R&D Systems, Inc.
Segments Covered in the Report:
(Note*: We offer report based on sub segments as well. Kindly, let us know if you are interested)
By Product
Microplate Readers
Multi-mode Microplate Readers

Filter-based Readers
Monochromator-based Readers
Hybrid Readers

Single-Mode Microplate Readers

Fluorescence Plate Readers
Absorbance Plate Readers
Luminescence Plate Readers

Microplate Pipetting Systems and Dispensers
Microplate Washers
Microplate Accessories & Software
By Application
Clinical Diagnostics
Drug Discovery
Genomics and Proteomics Research
Others
By End User
Biotechnology & Pharmaceutical Companies
Hospital & Diagnostic Laboratories
Academic & Research Institutes
By Geography
North America
Europe
Asia-Pacific
Latin America
Middle East and Africa