The global pharmacy market was estimated at US$ 1,073.23 billion in 2021 and is expected to hit around US$ 1,627.74 billion by 2030, poised to grow at a CAGR of 4.7% during the forecast period 2022 to 2030.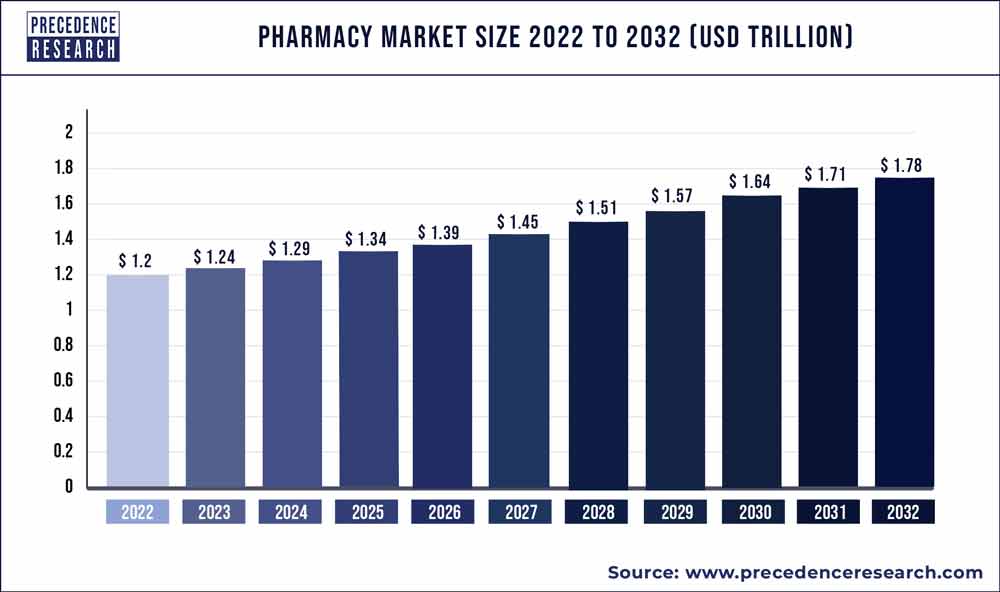 Key Takeaway:
By product, the prescription product type segment has held highest revenue share of around 82.9% in 2022.
By pharmacy type, the retail pharmacy segment has held largest revenue share of around 56.5% in 2022.
By Region, the North America region has accounted revenue share of around 52.6% in 2022.
The increasing rate of consumers being affected by diseases, increasing elderly people, and growing variety of prescriptions are few among the major parameter driving the global pharmacy market. In respect to the Countrywide Health Services, the price of prescribed medicines in the FY 2020-21 increased by 3.46% as compared to FY 2019-20 in UK. As mentioned by the Centre for Disease Handle and Prevention, 45.7% of the consumers in U.S. used at least prescription drug for the minimum of at least one from the year 2015 to 2018, while more than 20% of the people consumed more than three prescription drugs in the same period.
India is the greatest generic drugs provider worldwide. Also, Indian sector of pharmaceutical supplies 40% of generic demand in the US, more than 50% of demand for various vaccines globally, and more than 20% of all medicine in the UK. Worldwide, India ranks third in terms of the production of pharmaceutical in terms of volume and fourteenth in terms of value. Furthermore, the domestic industry of pharmaceuticalcompriseof a network of 3,000 drug producing companies and 10.5 hundred manufacturing units. In addition, India has an essential position in the pharmaceuticals sector worldwide. This country of Asia-Pacific further has a large pool of engineers and scientists with a potential to steer the market ahead to the greater heights.
Amidst the COVID-19 pandemic, organizations all across the country have reduced hours, staff or closed down businesses altogether. Services like those provided by pharmacies were deemed to only essential and still operated amid the outbreak. Pharmacists also stuck to the frontline, just like health care personnel. The stores in which they worked also operated as a useful resource for essential goods a number of grocery stores were experiencing a shortfall of. Pharmacies were experiencing shortages of their own too for drugs and medical items. In addition, owing to the anticipation of being quarantined,various patient flooded in front of the pharmacies by requesting regarding the early refills, bringing about disadvantages for necessary medicines. As customer volume continues to increase for medical stores, so will the need for employees which keeps businesses moving.
Report Scope of the Pharmacy Market
| | |
| --- | --- |
| Report Coverage | Details |
| Market Size | USD 1,627.74 Billion by 2030 |
| Growth Rate | CAGR of 4.7% from 2021 to 2030 |
| Base Year | 2021 |
| Largest Market | North America |
| Fastest Growing Market | Asia Pacific |
| Forecast Period | 2022 to 2030 |
| Segments Covered | Product, Pharmacy, Application, Region |
| Companies Mentioned | CVS Health, Boots Walgreens,Well Pharmacy, Cigna, Walmart, Kroger, Rite Aid Corp., Lloyd Pharmacy, Humana Pharmacy Solutions, Matsumoto Kiyoshi |
Product Type Insights
On the basis of product type the pharmacy market is divided into prescription and OTC. The prescription product type segment accounted for the biggest income share of more than 82.9% in 2022. The increasing problem of chronic diseases and the growing aging population is driving the necessity for prescription medications. Based on the International Diabetes Relationship, 463 million grown-ups were suffering from diabetes in 2019. The amount of grown-ups enduring from diabetes is estimated to increase to 700,000,000 by 2045. Based to the United States Heart Association, 126.9 million U.S. citizens were suffering from cardiovascular disease between 2015 and 2018. Moreover, the global aging population is also increasing quickly.
Based on the United Nations, there were more than 703,000,000 grown-ups above 65age globally. This number is believed to increase to 1.5 billion by 2050. Improving demand for prescribed drugs for remedies, such as diabetic, cardiovascular disease, respiratory system diseases, antibiotics, bloodstream disorders, and oncology, is driving the expansion of the prescription segment. The OTC segment is estimated to see the quickest CAGR throughout the forecast period. A rise in demand for OVER-THE-COUNTER medications for diseases, such as top respiratory medications, mouth analgesics, and heartburn symptoms medications, is boosting the segment development.
Pharmacy Type Insights
On the basis of pharmacy type the market is divided into ePharmacy and retail. The retail pharmacy sub-segment held the largest earnings share of more than 56.5% in 2022. The growing volume of independent medical stores and chains, access to medications in supermarkets & size retailers is driving the retail pharmacy segment. The occurrence of large chains, such as CVS Overall health, Boots Walgreens, Customers Drug Mart, Lloyd, and Well chemist, in a few countries, including the U.S., Nova Scotia, Australia, and Italy, is supporting the segment growth. In addition, the rapid use of automation solutions, such as chemist robots, dispensing, and packaging systems, is driving the segment growth.
Numerous E-pharmacies witnessed a rise in income growth in 2022 during the outbreak. For instance, online sales of Boots U.K. grew by 105% during the lockdown. E-pharmacies have benefits, such as personal privacy & confidentiality, free shipping, discounts, decrease in purchase time, and an array of offers. Moreover, the high adoption of digital technologies by the healthcare industry, increasing penetration of mobile phones, and growing quantity of retailers presenting online channels are estimated to push the segment growth.
Regional Insights
In the year 2022, North America accounted for the largest market share in the global pharmacy market. This is mainly because of the presence of large-scale international chains, such as CVS Health,Kroger, Boots Walgreens, UnitedHealth Group, Cigna, Walmart, and Rite Help Corp. These players are adopting various initiatives and software technologies to increase market share. For example, Rite Aid Corp. introduced its Wellbeing + rewards program, which offers considerable discounts and rewards to its customers. Moreover, the quickly growing aging populace is supporting market growth.
Based on the statement published by the U.S. Census Bureau in 06 2020, the geriatric population (aged above 65 years) increased by 34.2% from 2010 to 2019. Moreover, the rapidly growing trend of OVER-THE-COUNTER alongside prescription medications is driving market development potential. Asian countries Pacific is expected to be the fastest-growing regional market throughout the forecast period. Rapid growth of the industry in developing countries such as India and China alongside with rising demand for general medications is propellingthe demand for pharmacies demand in the region.
Moreover, rapid growth plans undertaken by key pharmacies are supporting market development. For instance, in March 2021, Common Aadhar, a drug-store retail chain in India, launched its software to get generic medications promote them in the outlet. In March 2020, Chemist Factory, Australian Pharmacy, launched their new store in Christchurch, Down under. Growing disease stress and increasing health-related spending are also supporting the market growth. Moreover, the increasing geriatric inhabitant in Parts of Asia, such as Japan, is further augmenting the market growth.
AmerisourceBergen and Walgreens Boots Alliance popular pharmacy companies formed a strategic alliance in January 2021. AmerisourceBergen purchased Walgreens Boots Alliance Healthcare Business, allowing it to focus more on building its retail pharmacy business. The two companies are extending and increasing their commercial partnerships through this strategic cooperation.
In another instance, in November 2020, Amazon.com launched an online pharmacy known as Amazon Pharmacy for selling prescription drugs in the U.S.
Some of the major players operating in the pharmacy industry are:
CVS Health
Boots Walgreens
Cigna
Walmart
Kroger
Rite Aid Corp.
Lloyd Pharmacy
Well Pharmacy
Humana Pharmacy Solutions
Matsumoto Kiyoshi
Segments Covered in the Report
By Product Type
By Pharmacy Type
By Application
Hospital-grade
Personal Use
By Geography
North America
Europe
Asia-Pacific

China
India
Japan
South Korea
Malaysia
Philippines

Latin America

Brazil
Rest of Latin America

Middle East & Africa (MEA)

GCC
North Africa
South Africa
Rest of the Middle East & Africa