The global pharmacy management system market size was estimated at USD 22.8 billion in 2021 and is expected to hit around USD 50.6 billion by 2030 with a registered CAGR of 9.26% from 2022 to 2030.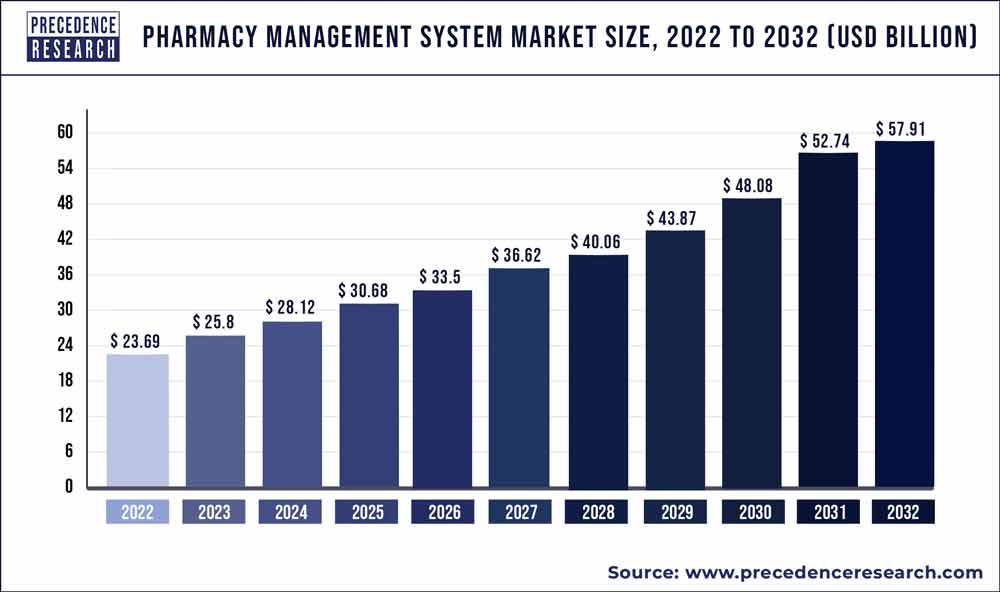 An essential tool that offers extremely user-friendly and effective organization is a pharmaceutical management solution. These systems aid pharmacists in handling challenging duties like inventory control, medication dispensing, and sales operations. The use of a worldwide pharmacy management system enables pharmacists to provide expert treatment depending on patients' needs. The expansion of pharmacists, the medical IT sector, and improvements in the healthcare system are all contributing factors to the industry growth for pharmacy management system. The procedure in the medicinal industry has grown during the last several years. As a result, the advantages that medications provide to users are very advantageous.
The pressure of handling a rising number of treatments is being placed on pharmacies, which will encourage the use of involuntary explanations to manage the pharmaceutical industry. Small, intermediate, and big pharmacies can all benefit from the autonomous computer solutions provided by pharmacy management system. Governing and agreement data, stock restraint organization record control, and administration performance represent the majority of solutions. By mechanizing reorganization, increasing efficiency, improving finish date chasing, and using progressive rulers to fulfill pharmaceutical needs, the system for pharmacy management also reduces the cost of inventory.
The expansion of the medication management equipment market is being driven by an increase in the number of major pharmaceutical companies using it for better administration in pharmacies. As a consequence, the market players have created a large number of apps, greatly expanding the IT sector. The size of the market for pharmaceutical management systems is growing as a result. To enhance health services, several different solutions have been proposed. Organizations can run their businesses more successfully by utilizing the pharmacy management program. The system aids in the day-to-day operation of the company.
Growth Factors
An essential instrument with strong, user-friendly pharmaceutical management systems is a pharmacy management solution. The pharmacist management system helps pharmacists navigate the complexity of managing drug stocks, point-of-sale operations, and medication delivery. Additionally, it helps handle, track, and dispense prescribed medications with greater accuracy, security, and efficiency. The development of healthcare IT is credited with the rise of the medication management equipment market, and over time, it is anticipated that the expansion of chemists everywhere in the world will further increase market development. But in the upcoming years, the market's expansion is probably going to be negatively impacted by the shortcomings of pharmacy management solutions.
Medication that is in the inventory stage till it expires or slow-moving inventory can wind up costing significantly more than the retail value. Major pharmacies employ software supported by medication management systems to maintain drug inventory at current levels to avoid such situations. The pharmacy management system gets significant openness with the exchange by integrating analytical tools. A pharmacy management system's adoption also increases visibility and offers careful monitoring of inventory purchase and administration. These programs assist in increasing inventory turns by up to 35% and reducing losses from unserviceable returns by up to 25%.
Report Scope of the Pharmacy Management System Market
| | |
| --- | --- |
| Report Coverage | Details |
| Market Size in 2022 | USD 24.91 Billion |
| Market Size by 2030 | USD 50.6 Billion |
| Growth Rate from 2022 to 2030 | CAGR of 9.26% |
| Base Year | 2021 |
| Forecast Period | 2022 to 2030 |
| Segments Covered | Solution Type, Component, Deployment Modem, End-User, and Geography |
| Companies Mentioned | ACG Infotech Ltd, Allscripts Healthcare Solution Inc., Alphabet Inc., Arterys Inc., Becton Dickinson and Co., Cerner Corporation (US), Clanwilliam Health (Ireland), Datascan (DCS Pharmacy Inc.), Dickinson and Company (CareFusion), Epicor Software Corporation, General Electric Company, GlobeMed Group (Lebanon), Health Business Systems (US), Idhasoft Ltd, Intel Corporation, Johnson & Johnson Services, Inc., Koninklijke Philips N.V., Liberty Software (US), LS Retail (Iceland), McKesson Corporation, MedHOK (US), Microsoft, Mobile MedSoft (US), Nuance Communications, Inc., NVIDIA CORPORATION, Octal IT Solution LLP (US), Omnicell Inc., QuadraMed Affinity Corporation, Safe care Technology (UAE), ScriptPro (US), Siemens Healthineers AG, Talyst, LLC. |
Key Market Drivers:
Adoption of automated methods in the operation of pharmacies globally
The main elements that contribute to the market's expansion are drivers. Numerous factors are boosting market demand in the medication management system sector. By 2021, the American College for Pharmaceutical Sciences predicts that five billion medications will be filled. The load on chemists will rise as a consequence of the increasing number of treatments, which will encourage the use of computerized solutions for managing pharmacies globally and accelerate the expansion of the global pharmacy management system market.
In addition, the market's members are cooperating with important IT companies to progress explanations that drive make it easier to control the roadmap in the pharmaceutical industry. Large corporations are making significant investments in the formation of real results, which will drive the market for pharmacy management system. The business for chemist's organization schemes will upsurge as more persons converted conscious of the advantages of these systems as well as the high investment return of pharmaceutical management services.
Electronic prescription implementation
Prescribers and pharmacists, among other end users, have embraced the advantages of automation. The use of IT remedies has made it possible to store patient records properly and to regularly implement electronic prescriptions, which has reduced the amount of paper used in management and drug dispensing processes and automated the handling of medications throughout the supply chain. In the end, it has assisted in enhancing patient safety and offering top-notch treatment to help patients make the most of the medications.
Key Market Challenges:
Absence of qualified professionals: The medication management provided based has several numbers of obstacles to overcome. The lack of qualified specialists is one of the main problems. The pharmaceutical administration organization can be complicated; therefore, it won't function well without a professional's assistance. In addition, the management system is now known in developing nations, which poses a difficulty for the medication management system sector. Main companies and industry drivers are working hard to stun these obstacles and increase market demands.
Strict regulatory requirements: The degree of regulatory scrutiny varies from one area to another and is determined by the category to which a given gadget belongs. The use of pharmacy automation devices in medical settings is subject to a variety of state boards of pharmacy standards. These boards are state organizations in charge of overseeing and regulating pharmacy practice and issuing state licenses to pharmacists. As a result, producers of automated pharmacy systems must follow several numbers of rules; doing so is time-consuming and might delay the release of new products.
Key Market Opportunities:
Government efforts to improve pharmaceutical industry productivity: It is anticipated that the development of pharmacy management services would present commercial prospects for the suppliers of pharmaceutical management systems. Aside from that, the market will benefit from the government's efforts to improve pharmaceutical workflow, which will also create new chances for the medication management system industry.
Undiscovered emerging markets: The population of Eastern and South-eastern Asia is predicted to age twice as quickly as the rest of the world, with the number of people 65 and older estimated to rise in 2019 to approximately 572.5 million by 2050, according to a UN report on Global Population Ageing. In several Asian nations, this demographic trend is anticipated to increase the number of patients and fuel the demand for high-quality patient care and effective pharmaceutical delivery. As a result, it is anticipated that in the upcoming years, demand for pharmaceutical automated systems would rise in several Asian nations.
Segments Insight:
Type Insights
A barcode digital scanner, an automated inventory procedure, accounting, warehousing, restocking, and other features are all included in the pharmacy inventory-management system. The customer retention rates, reaction times, spending patterns, and prescription waste rates are all addressed by the pharmacy information management system.
The findings of the numerous clinical trials were produced with cost-effective designs and strategies thanks to the pharmacy compounding software system. Insurance verification, prior authorization, claims processing, mitigation techniques, and many other things are handled by the pharmaceutical revenue cycle administration system.
Components Insights
Programs for hospital security and protection are included in the software. Computers, video conferencing equipment, and high-tech mobile phones are examples of hardware. Services are provided to provide support and results. An internal server is unnecessary with cloud-based systems. Computing experts from the company are used on-site. In 2021, the cloud-based service market was dominant and held a 57.8% revenue share.
Demand for available commercial cloud services is most likely to be significantly influenced by the ease with which information may be accessed in remote areas to use such solutions. Additionally, the market is projected to grow in the next years due to the focus on client data privacy and the development of regulations related to it. Due to several security flaws in web-based as well as on deployment, cloud-based technology deployment is getting a lot of popularity. Providers of cloud services do provide services that address different threats and protect protection against information loss and theft. As a result, this segment of the market accounts for a sizeable portion of the market. The market for medication management systems has the second-largest share of web-based options in 2021. This can be linked to doctors increasingly favoring web-based solutions over cloud-based ones because they are more affordable.
End-User Insights
The largest market share for pharmacy management system is held by inpatient pharmacies. The sector with the fastest growth is an outpatient pharmacy.
Region Insights
North America has the largest industry shares for pharmaceutical management systems due to the presence of key players there. Europe maintains the second-highest market share due to pharmacies in this region using IT solutions.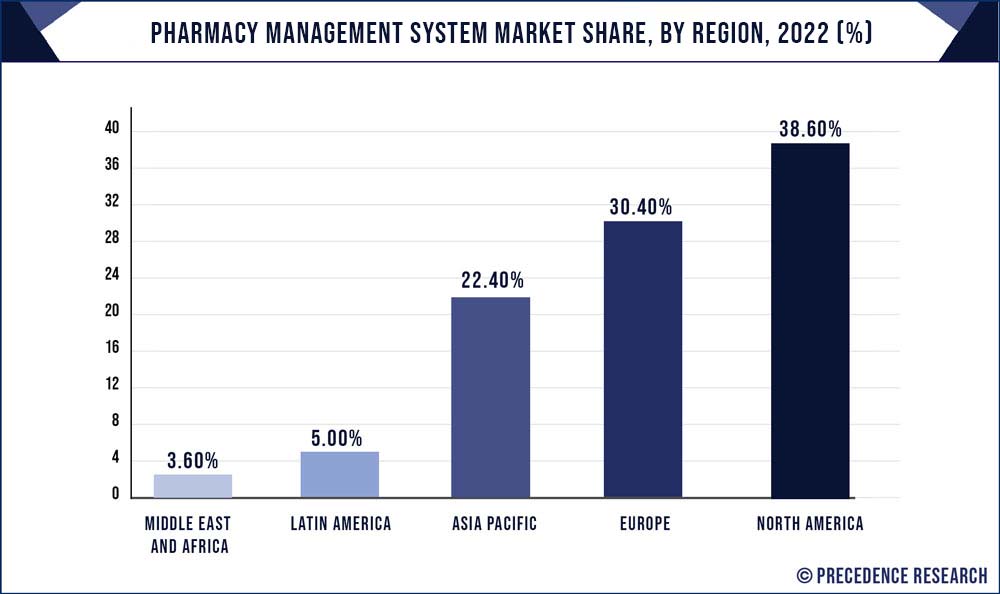 Over the forecast period, Asia Pacific is expected to have the greatest CAGR of any region. This region will expand significantly as agreements and partnerships grow. Africa and the Middle East have always had the lowermost markets because of their limited access to healthcare.
Recent Developments:
In June 2018, Becton Dickinson & Companies collaborated with Hearts to Heart International and the National Organization of Charitable and Humanitarian Clinics to provide good healthcare in charitable clinics.
June 2022, GE Healthcare offers state-of-the-art imaging techniques and solutions that simplify and broaden access to precision medicine and theragnostic to assist improve patient outcomes in a variety of care settings, including prostate cancer. Theranostics integrates treatment and diagnosis in one program, delivering a more targeted and individualized therapy than ever before, in contrast to conventional medical medicines, which are created with the typical patient in mind.
April 2022, Pfizer-supported Biovac is the most recent producer of pandemic vaccines to issue a supply-shortage alert due to a decline in worldwide demand. The Biovac Institute joined forces with Pfizer and BioNTech in July to produce Comirnaty, an mRNA-based vaccine, in South Africa. Pfizer claims that as part of the collaboration, Biovac's Cape Town facility would handle check and distribution network tasks as well as produce 100 million completed doses again for African Union annually.
CerTest Biotec and BD worked together to develop the Molecular Diagnostic Tests for Monkeypox in June 2022. The essay will use the BD Maximum open standard reagent package as part of the cooperation to evaluate a Cer Test VIASURE Monkey-pox IVD/CE biochemical testing on the BD MAX Platform. In less than three hours, the BD MAX System, a fully automated platform that combines real-time PCR and nucleic acid extraction, can produce results for up to 24 specimens across several syndromes.
May 2022, Zenovative, the development of a scientific and consultancy services-based company in Maryland, the USA, and Val Genesis Inc. a supplier of enterprise Verification Life cycle management Processes have joined forces to offer pharmaceutical companies all over the world special compliance-focused electronic verification remedies.
Segments Covered in the Report:
(Note*: We offer report based on sub segments as well. Kindly, let us know if you are interested)
By Solution Type
Pharmacy Inventory Management System
Pharmacy Data Management System
Pharmacy Compounding Software System
Pharmacy Benefits Management System
Pharmacy Revenue Cycle Management System
Others
By Component
Software
Hardware
Services
By Deployment Mode
Cloud/Web-Based
On-Premise
By End-User
Inpatient Pharmacies
Outpatient Pharmacies
By Geography
North America
Europe
Asia-Pacific
Latin America
Middle East & Africa (MEA)