The global healthcare cloud computing market size was valued at USD 11.27 billion in 2021 and is predicted to surpass around USD 62.47 billion by 2030 with a registered CAGR of around 21.4% during the forecast period 2022 to 2030.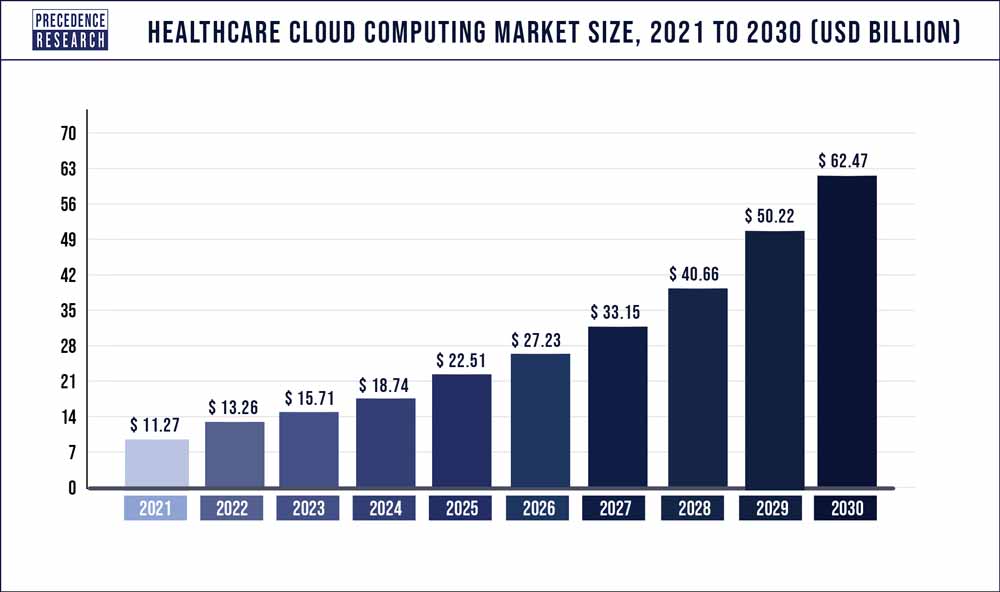 Access our Premium Real Time Data Intelligence Tool, Visit: Precedence Statistics
Key Takeaway:
The North America market has captured 45.5% of the revenue share of the total market in 2022.
Asia Pacific is expected to be poised to grow at a CAGR from 2022 to 2030.
By Cloud Deployment, private segment captured more than 52.5% of revenue share in 2022.
By Application, Non-clinical information system segment held the highest revenue share of 67.2% in 2022.
By Service, software as a service (Saas) segment contributed over 56.8% of revenue share in 2022.
By End Users, healthcare providers had the largest market share of 56.3% in 2022.
Regional Insights
The U.S. healthcare cloud computing market size accounted for USD 5.29 billion in 2022 and is estimated to reach around USD 26.2 billion by 2032, growing at a CAGR of 22.1% from 2022 to 2030.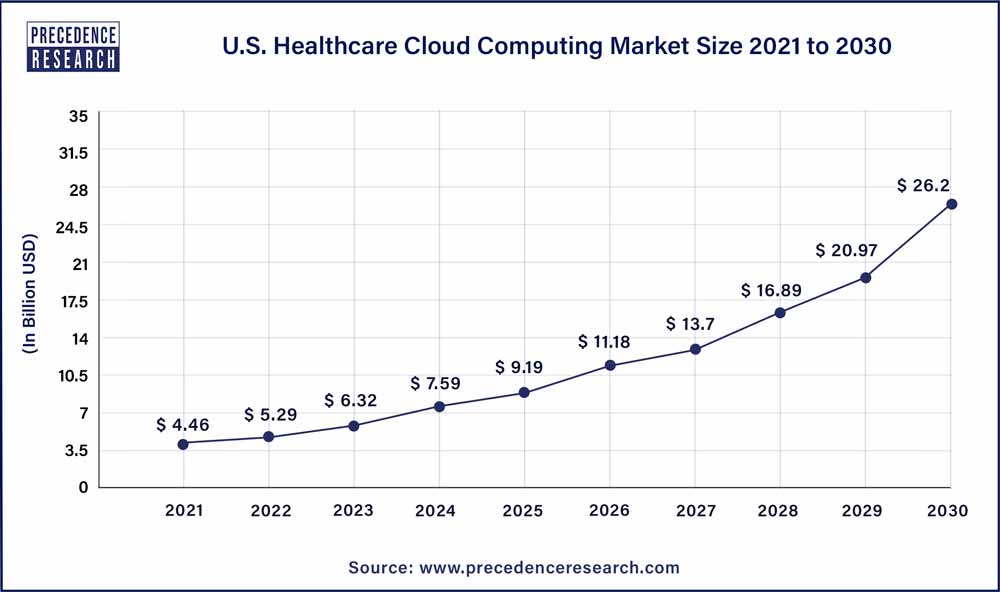 Geographically, North America is embrace a prevalent marketstake in the healthcare cloud computing sector and is estimated to mirror analogous trend during years to come deprived of considerable fluctuations. U.S is a front-runner in the healthcare cloud computing arena, majorly on account of its high acceptance rate of healthcare IT services and unceasing support from the government organization.
North America is predicted to portray the largest market share in the projected period. Patients are encouraged to use the patient portal by their healthcare provider access and use the site more frequently than those least encouraged. An online gateway for patients provides quick, round-the-clock access to their personal health information from any location with a network connection. Patients can take charge of their health and care with the help of the patient portal. Patient portals can also assist care between visits, facilitate communication with the doctor, and save time. More patients than ever are using portals. For instance, around 77% of health executives are spending money on improved smartphone websites and applications. According to a survey by Intrado Healthcare on patient management trends for 2022, more than 50% intend to invest in systems to communicate with patients via messaging.
Furthermore, in Canada, the panorama of health insurance is evolving. The Canadian healthcare system would experience less strain as a result of the use of modern telehealth, which will also result in shorter wait times. The province-specific availability of several telehealth resources for Canadians varies. For instance, Telehealth Ontario offers anonymous, free medical guidance and data. Day or night, seven days a week, a healthcare professional would answer the phone.
Also, the region's ageing population, which is more likely to suffer chronic conditions including neurological diseases, hypertension, diabetes, and cardiovascular disease, is projected to raise demand for mobile health, which will help the market expand. For instance, the United Nations Population Fund's 2022 data show that 65% of Canada's population will be living in 2022 and primarily composed of people aged 15 to 64. Also, according to the same source, 19% of the population will be 65 or older in 2022.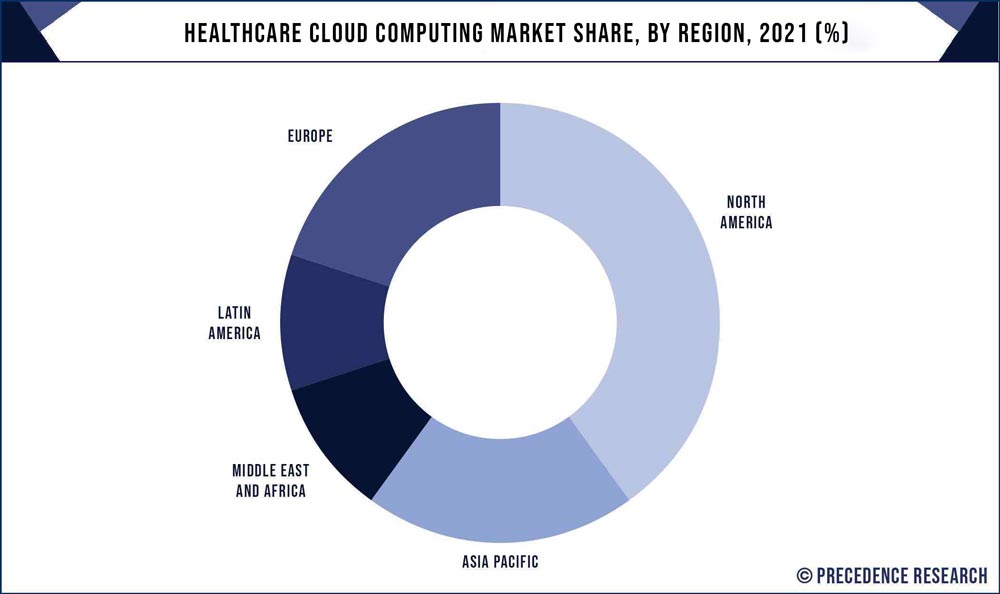 On the other hand, healthcare cloud computing market in Europe is also expected to show robust growth throughout the prediction period. This is on account of growing awareness associated with obtainability of higher quality cloud computing solutions for healthcare. Besides, budding elderly population which is highly vulnerable to numerous diseases upsurges the amount of hospital admissions. All these aspects together are considered to have positive outlook on demand of healthcare cloud computing software in the Europe.
Growth Factors
Several healthcare establishments can harness the advantages of the cloud more than ever due to recent technological advancement and augmented security. With the technological advancement such as remote monitoring, natural language processing APIs and telehealth cloud technology will endure to advance to fit novel digital health settings in multiple important means during years to come. As per Analytics Survey of HIMSS, more than 83% of healthcare organizations are now making use of cloud services.
Numerous healthcare facilities desire to take these cloud computing solutions to the next level by implementing groundbreaking technology. Instead of gathering and transferring data to the cloud, the system examines and works on it at the point of gathering. The propagation of high-speed internet and execution of promising controlling acts are also predictable to deliver growth prospects to the healthcare cloud computing market across the world. Yet, concerns connected to data portability obstacles, data privacy, and increasing number of cloud data breaches are curtailing the advancement of healthcare cloud computing market worldwide. Further, deficiency of accomplished IT professionals has decelerated implementation of this technology. Competent specialists are in great demand on account of the struggle in finding professionals with HIPAA expertise. This aptitude drought will expected to decelerate the shift to cloud computing systems.
Report Scope of the Healthcare Cloud Computing Market
| | |
| --- | --- |
| Report Highlights | Details |
| Growth Rate from 2022 to 2030 | CAGR of 21.4% |
| Market Size in 2022 | USD 13.26 Billion |
| Market Size by 2030 | USD 62.47 Billion |
| Largest Market | North America |
| Fastest Growing Market | Asia Pacific |
| Base Year | 2021 |
| Forecast Period | 2022 to 2030 |
| Segments Covered | Product, Cloud Deployment, Application, Service, End User, Region |
| Companies Mentioned | CareCloud Corporation, Athenahealth, Inc., Carestream Health, IBM Corporation, Dell Inc., Siemens Healthineers and Oracle Corporation |
Market Dynamics
Market Driver
A Rise in the Industry's Delivery of Emergency Medical Services:
There are various ways in which the pandemic has been unprecedented. To combat the pandemic and construct new facilities, set up a secure method of mass screening, or get the vaccine on the market, time was of the essence. It is possible to rely on cloud technology to accelerate the release of critical tech solutions in the industry.
For instance, Spoedtestcorona, a network of testing facilities offering Covid-19 quick diagnostic tests, had a hurdle when attempting to create a cross-platform web application on time while aiming to provide safe and inexpensive testing in the Netherlands and Belgium. The software was supposed to reduce face-to-face contact and make testing secure for patients and medical professionals.
By selecting Amazon Web Application services, they could meet both the stringent regulatory requirements involved with managing medical and personal data and execute the app in the record-breaking two-week time frame.
Market Restraints
Increasing Provider Lock-in:
Organizations might encounter significant obstacles while attempting to migrate from one cloud platform to another owing to differences in vendor platforms. Programs from the current cloud service could experience setup difficulties, reliability issues, and increased expenses if they were hosted and operated on a different site. The company data could be exposed to security risks as a result of potential translation issues.
Growing Possibility of Threat:
Since every component of company data is accessible in the cloud, keeping data could pose serious problems with data theft. Even the majority of organizations have encountered safety lapses, so it is possible that cloud computing could encounter one. Even if the cloud is equipped with advanced security measures, it might still be problematic to maintain private information there. As a result, attack vulnerability is considered.
Market Opportunity
Cloud Computing's Expanding Use in Healthcare Provides Access to Big Data Applications:
There are greater prospects for big data applications to improve patient outcomes due to the expanding espousal of cloud-based data storehouse techniques in the healthcare industry. For instance, medical professionals in the US previously maintained patient records on paper. The amount of potentially valuable data in EMRs of the patient has always been enormous. This data could be utilized to forecast when a pandemic could start, find minute patterns in patient sicknesses that might indicate the disorder's origins, or determine which treatments were most successful for a particular symptomatic group.
All data previously locked away in filing storerooms can now be scoured via and analyzed by the most sophisticated computer algorithms owing to the use of cloud computing in hospitals and medical practices. Healthcare professionals will soon be able to identify and address hazards to the public's health that could previously go undetected until far in their life cycles.
Product Insight
The mission of healthcare provider solutions is to support the growth of hospice organizations and home care across the country. The resources enable healthcare providers to improve operations in all areas of the revenue cycle, including OASIS review, clinical compliance, and coding and billing, as well as optimize refunds. Among the top concerns for healthcare systems is the implementation of clinical information systems (CIS), such as PACS systems, CPOE, and electronic patient records (EPR). The clinical information system's objectives include:
Incorporating the caring process.
Raising the degree of care that is provided to patients.
Enhancing doctors' efficiency levels.
Furthermore, the need for the SaaS model has expanded due to considerable growth in hospital connections over cloud infrastructure. These systems have benefits such as safe off-site data management and storage and the simplicity of outsourcing IT solutions and services, reducing the need for internal IT staff. Advanced computing systems and solutions' flexibility, improved data management, and scalability, along with ongoing technological developments in this area, are anticipated to drive the segment's expansion in the upcoming years.
Application Insights
Clinical information system segment involves telehealth solution, computerized physician order entry, population health management (PHM) solutions, electronic medical records, pharmacy information system, radiology information system, others.
Over the past two decades, clinical information systems (CIS) have proliferated and are currently present in every environment where healthcare is provided. CIS is everywhere, from modest facilities to major tertiary care facilities, pharmacies, and blood banks. These systems could be made up of standalone software programs or intricately interconnected modules that come together to form a more complicated approach. The software mainly provides a wide range of healthcare functions that once-simple medical devices are now minicomputers that must be connected to the more extensive electronic health record.
Since encrypted messaging has become a viable option for provider-patient communication, telehealth enables care delivery outside of an organization's physical boundaries. Health information exchanges allow communication between providers and organizations. Records use the patient information gathered to better track problems and the services provided for prevention and treatment. Due to the development of these systems, new developments are possible that will advance healthcare technology significantly.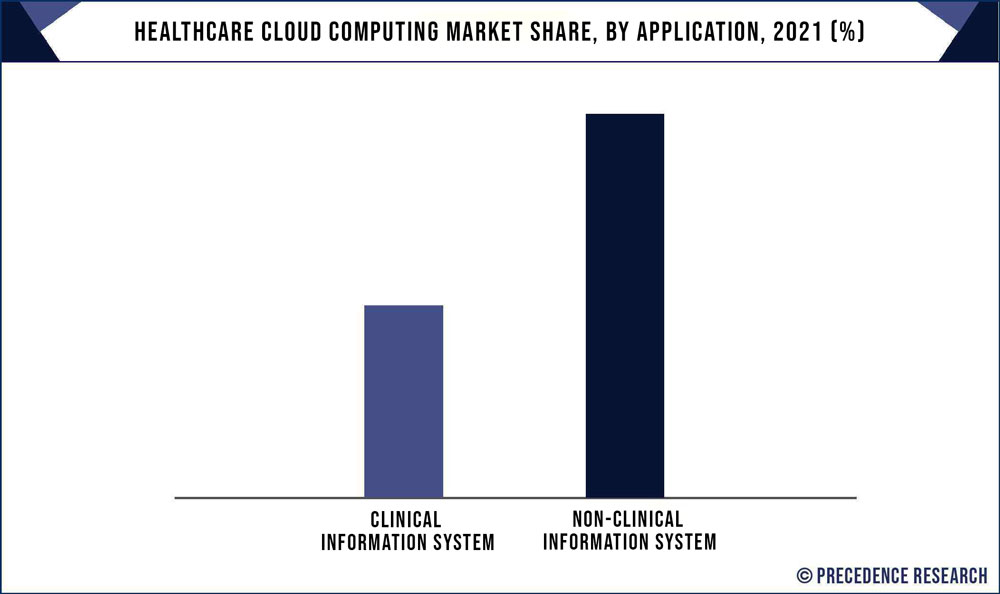 Clinical information systems segment gathered sizable market share in terms of revenue in 2022 credited to snowballing demand for maintaining raw data produced from physicians and doctors. This information involves notes made by pharmacists, physicians, doctors and prescriptions. Meanwhile, massive clinical data is produced every year which creates radical need for laboratory information management and health information system. All these factors contribute toward the growth of this segment.
Healthcare Cloud Computing Market Value (USD Mn), By Application, 2022-2030
| | | | | |
| --- | --- | --- | --- | --- |
| By Application | 2022 | 2023 | 2027 | 2030 |
| Clinical Information System | 4,355.1 | 5,020.9 | 9,408.8 | 16,065.3 |
| Non-clinical Information System | 8,907.0 | 10,692.4 | 23,745.5 | 46,405.9 |
Cloud Deployment Insights
Healthcare cloud computing market is classified based upon the deployment into hybrid cloud, private cloud and public cloud. The private cloud segment accounted for the considerable revenue stake in 2022. This is due to need for storage of extremely sensitive patient data in a protected way to evade data privacy breach which might emerge legal ramifications.
A strategy that is gradually moving up in healthcare is the hybrid cloud. The hybrid cloud combines on-premises infrastructure with public and private cloud services, enabling businesses to shift workloads across virtual servers rapidly and safely to meet changing demands for IT resources.
The transition of healthcare organizations' IT assets to modern, adaptable infrastructures must be accelerated. By combining the advantages of public cloud and on-premises infrastructure, a hybrid cloud enables business apps and information to be more agile and scalable. All components of the healthcare ecosystem, including healthcare providers and payers, life sciences, and consumer health, can benefit from switching to a hybrid cloud architecture.
In addition, over the past five years, players in the healthcare and life sciences industries have adopted hybrid cloud or made substantial headway in doing so, and they're currently moving into the next stage with increased ambition, investments, and interest. For instance, In a recent IBM Global C-suite analysis, 82 % of healthcare and life sciences leaders identified as pioneers who mainly integrate data into their operations, strategies, and culture anticipated making sizable investment opportunities in the hybrid cloud.
Healthcare Cloud Computing Market Value (US$ Mn), By Cloud Deployment, 2022-2030
| | | | | |
| --- | --- | --- | --- | --- |
| By Cloud Deployment | 2022 | 2023 | 2027 | 2030 |
| Public | 4,350.7 | 5,049.3 | 9,693.0 | 16,780.7 |
| Private | 6,967.3 | 8,275.6 | 17,581.8 | 33,147.3 |
| Hybrid | 1,944.2 | 2,388.4 | 5,879.5 | 12,543.2 |
Services Insights
Different types of services assessed in this market study are infrastructure-as-a-service, software-as-a-service and platform-as-a-service. In 2022, the SaaS services of the market occupied leading revenue share on account of multiple benefits delivered by this model including safety, quicker deployment time, less total charge of ownership, and lower up-front capital expenditures.
Several SaaS products are self-learning and autonomous; fortunately, healthcare businesses and organizations are increasingly interested in AI. The most successful IT companies more than 81% of them have started working on AI technologies, which are transforming corporate operations, boosting productivity, and complementing human talents while automating monotonous chores.
Many healthcare organizations will work to improve their capacity to store, handle, analyze, and safeguard crucial healthcare data as they get more experience using a variety of cloud providers. As a result, such coherent techniques will spread more widely in place of employing different cloud providers for distinct applications or disaster recovery.
Recently, firms have been able to approach big data differently thanks to APIs like Google Health. Therefore, the number of companies utilizing cloud-based apps is anticipated to rise by 19.6%. Presently valued at nearly $18 billion, the healthcare cloud computing market is expected to grow by 18.7% between 2023 and 2025.
Healthcare Cloud Computing Market Value (US$ Mn), By Service, 2022-2030
| | | | | |
| --- | --- | --- | --- | --- |
| By Service | 2022 | 2023 | 2027 | 2030 |
| Platform as a Service (Paas) | 3,861.2 | 4,497.1 | 8,814.9 | 15,639.9 |
| Infrastructure as a Service (Iaas) | 1,865.2 | 2,113.8 | 3,672.2 | 5,877.1 |
| Software as a Service (Saas) | 7,535.7 | 9,102.3 | 20,667.2 | 40,954.2 |
End User Insight
The healthcare payers are predicted to experience sustainable growth in the projected period. Insurance firms, health plan sponsors (employers and unions), and third-party payers are all examples of healthcare payers. Payers are quickly implementing cloud computing solutions for fraud protection, insurance claim settlement, secure data collecting and storage, and risk assessment. Insurers have traditionally had difficulty managing high-risk patient populations and high use. To reduce the increase in healthcare costs, payers are implementing these cutting-edge technology systems and solutions. Cloud computing also enables payers to grow their businesses, raise reliability, lower administrative costs, and enhance services.
Alliances that distinguish, collect payments, service prices, manage claims, and pay provider claims, are known as payers in the healthcare sector. Instances of payers are Medicare, health program providers, and Medicaid. For instance, there are numerous payers across the market, With around 900 health insurance providers operating across the country. These companies supply 34.4% of public health care and 67.3% of private health care through their health plans.
Healthcare Cloud Computing Market Value (US$ Mn), By End User, 2022-2030
| | | | | |
| --- | --- | --- | --- | --- |
| By End User | 2022 | 2023 | 2027 | 2030 |
| Healthcare Providers | 7,467.5 | 8,982.0 | 20,248.9 | 40,344.4 |
| Healthcare Payers | 5,794.6 | 6,731.2 | 12,905.3 | 22,126.8 |
Key Companies & Market Share Insights
Rising public responsiveness and escalating need for rigorous regulatory compliance, upward venture from healthcare participants like GE Healthcare, IBM, Cisco, and government organizations are projected to generate a need for this system throughout the exploration period. Crucial industry performers have launched services and software that permits to collect and assimilate massive healthcare information that proves favorable for industry progression. Furthermore, such software also delivers stress-free access to patient information that aids healthcare professionals to takeprecise decisions. Along with the aforementioned drivers, high implementation rate of cloud computing software to advance hospital administration and empower fraud inhibitionis also creating optimistic avenue for the growth of healthcare cloud computing industry growth.
Recent Developments
In January 2023, AWS in Melbourne, the second Amazon Web Services infrastructure region in Australia, has been inaugurated, according to Amazon Web Services, a subsidiary of Amazon.com, Inc. There will be more options for startups, developers, enterprises, and businesses, as well as for nonprofits, educational institutions, and the government, to host their apps and provide end-user services from Australian AWS data centers.
In October 2022, Oracle offered specific supply chain solutions for the healthcare sector to assist healthcare businesses in fostering a more connected patient experience. The latest sector-specific solutions that form a part of Oracle Fusion Cloud SCM support the particular requirements of healthcare firms and aid them in delivering better care to patients by streamlining planning, enhancing accessibility throughout the supply chain, and automating procedures.
In September 2022, To deploy Airtel's edge computing platform in India, which will contain 120 network data facilities spread over 20 locations, Bharti Airtel, a leading provider of communication services with approximately 358 million active users in India and IBM, declared their intention to collaborate.
Healthcare Cloud Computing Market Players
Cisco Systems Inc
Allscripts Healthcare Solution Inc
Microsoft Corp
Iron Mountain Inc
Qualcomm Inc
AthenahealthInc
GNAX Health
Dell Inc
EMC Corp
IBM Cor
VMware Inc
Oracle Corp
Others
Segments Covered in the Report
This research study comprises complete assessment of the market by means of far-reaching qualitative and quantitative perceptions, and predictions regarding the market. This report delivers classification of marketplace into impending and niche sectors. Further, this research study calculates market size and its development drift at global, regional, and country from 2017 to 2030. This report contains market breakdown and its revenue estimation by classifying it on the basis of end-use and region as follows:
By Product
Healthcare Provider Solutions

Clinical Information Systems

EHR/EMR
Telehealth Solutions
PACS/VNA
PHM Solutions
LIS
PIS
RIS

Non-clinical Information Systems

RCM Solutions
HIE Solutions
Financial Management Solutions
SCM Solutions
Billings and Account Management Solutions

Healthcare Payer Solutions

Claims Management Solutions
Payment Management Solutions
Provider Network Management Solutions
Fraud Management Solutions
CMR Solutions
By Cloud Deployment
By Application
Clinical Information System

Telehealth Solutions
Computerized Physician Order Entry
Population Health Management (PHM) Solutions
Electronic Medical Records
Pharmacy Information System
Radiology Information System
Others

Non-clinical Information System

Revenue Cycle Management (RCM)
Billing & Accounts Management Solutions
Claims Management
Others
By Service
Platform as a service (Paas)
Infrastructure as a service (Iaas)
Software as a service (Saas)
By End Users
Healthcare Providers
Healthcare Payers
By Regional Outlook
North America
Europe
Asia Pacific

China
India
Japan
South Korea

Middle East & Africa
Latin America