The global healthcare cloud computing market size was valued at USD 35.61 billion in 2022 and predicted to surpass around USD 127.04 billion by 2030 with a registered CAGR of around 17.2% during the forecast period 2022 to 2030.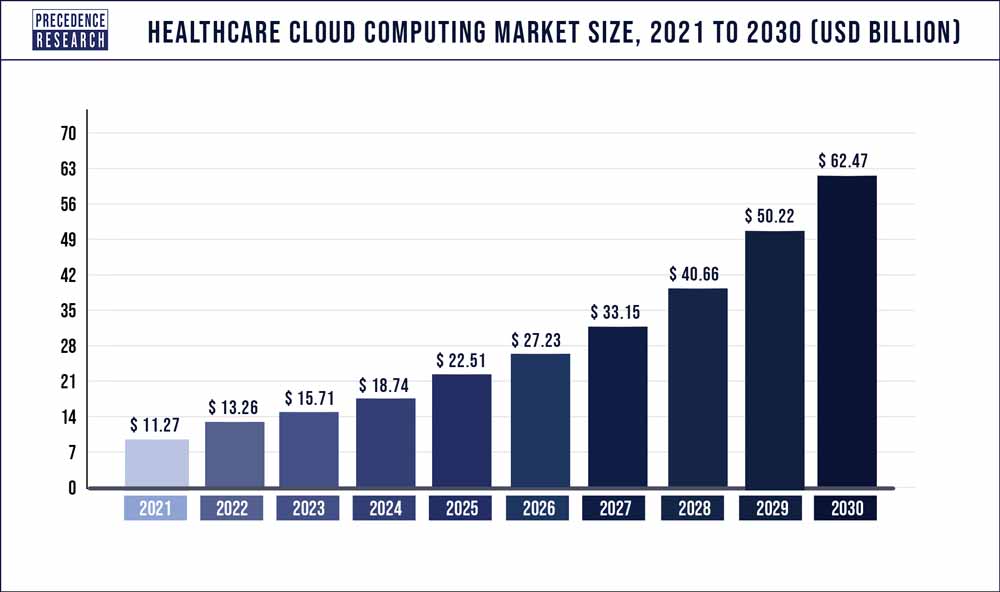 Key Takeaway:
North America market has captured 35.6% of the revenue share of the total market in 2022.
Asia Pacific is expected to poised to grow at a CAGR of 21.8% from 2022 to 2030.
Healthcare provider solutions is growing at a CAGR of 21.4% from 2022 to 2030.
Service model segment revenue share was 47% in 2022.
Hospital end-use segment revenue share was 25% in 2030.
Clinical information system segment will reach at a CAGR of 14.3% from 2022 to 2030.
Growth Factors
Several healthcare establishments can harness the advantages of the cloud more than ever due to recent technological advancement and augmented security. With the technological advancement such as remote monitoring, natural language processing APIs and telehealth cloud technology will endure to advance to fit novel digital health settings in multiple important means during years to come. As per Analytics Survey of HIMSS, more than 83% of healthcare organizations are now making use of cloud services.
Numerous healthcare facilities desire to take these cloud computing solutions to the next level by implementing groundbreaking technology. Instead of gathering and transferring data to the cloud, the system examines and works on it at the point of gathering. The propagation of high-speed internet and execution of promising controlling acts are also predictable to deliver growth prospects to the healthcare cloud computing market across the world. Yet, concerns connected to data portability obstacles, data privacy, and increasing number of cloud data breaches are curtailing the advancement of healthcare cloud computing market worldwide. Further, deficiency of accomplished IT professionals has decelerated implementation of this technology. Competent specialists are in great demand on account of the struggle in finding professionals with HIPAA expertise. This aptitude drought will expected to decelerate the shift to cloud computing systems.
Report Scope of the Healthcare Cloud Computing Market
| | |
| --- | --- |
| Report Highlights | Details |
| Market Size | USD 127.04 Billion by 2030 |
| Growth Rate | CAGR of 17.2% from 2022 to 2030 |
| Largest Market | North America |
| Fastest Growing Market | Asia Pacific |
| Base Year | 2021 |
| Forecast Period | 2022 to 2030 |
| Segments Covered | Cloud Deployment, Application, Service, End User, Region |
| Companies Mentioned | CareCloud Corporation, Athenahealth, Inc., Carestream Health, IBM Corporation, Dell Inc., Siemens Healthineers and Oracle Corporation |
Application Insights
Clinical information system segment involves telehealth solution, computerized physician order entry, population health management (PHM) solutions, electronic medical records, pharmacy information system, radiology information system, others.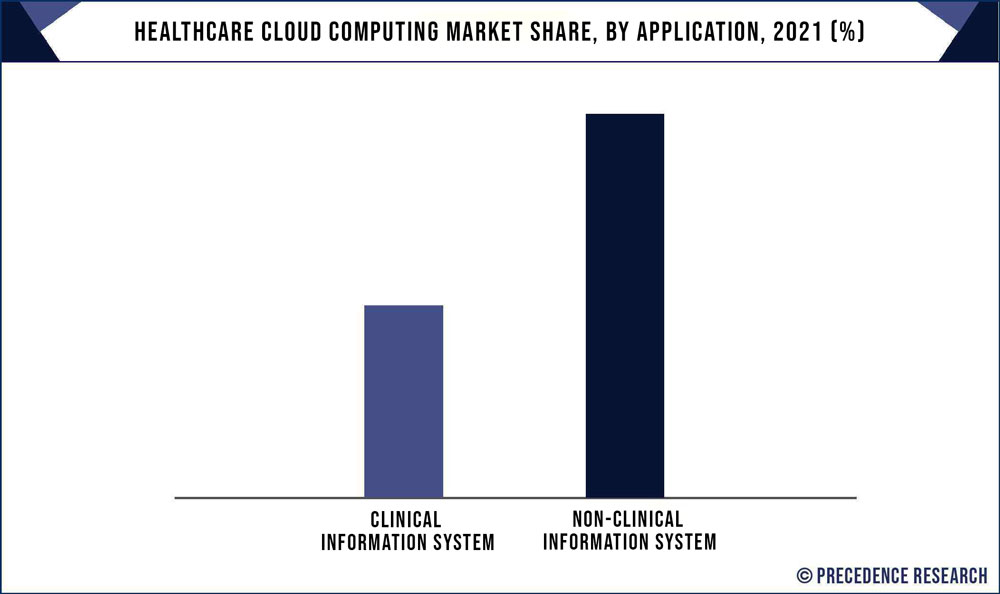 Clinical information systems segment gathered sizable market share in terms of revenue in 2022 credited to snowballing demand for maintaining raw data produced from physicians and doctors. This information involves notes made by pharmacists, physicians, doctors and prescriptions. Meanwhile, massive clinical data is produced every year which creates radical need for laboratory information management and health information system. All these factors contribute toward the growth of this segment.
Cloud Deployment Insights
Healthcare cloud computing market is classified based upon the deployment into hybrid cloud, private cloud and public cloud. The private cloud segment accounted for the considerable revenue stake in 2022. This is due to need for storage of extremely sensitive patient data in a protected way to evade data privacy breach which might emerge legal ramifications.
Services Insights
Different types of services assessed in this market study are infrastructure-as-a-service, software-as-a-service and platform-as-a-service. In 2022, the SaaS services of the market occupied leading revenue share on account of multiple benefits delivered by this model including safety, quicker deployment time, less total charge of ownership, and lower up-front capital expenditures.
Regional Insights
Geographically, North America is embrace a prevalent marketstake in the healthcare cloud computing sector and is estimated to mirror analogous trend during years to come deprived of considerable fluctuations. U.S is a front-runner in the healthcare cloud computing arena, majorly on account of its high acceptance rate of healthcare IT services and unceasing support from the government organization.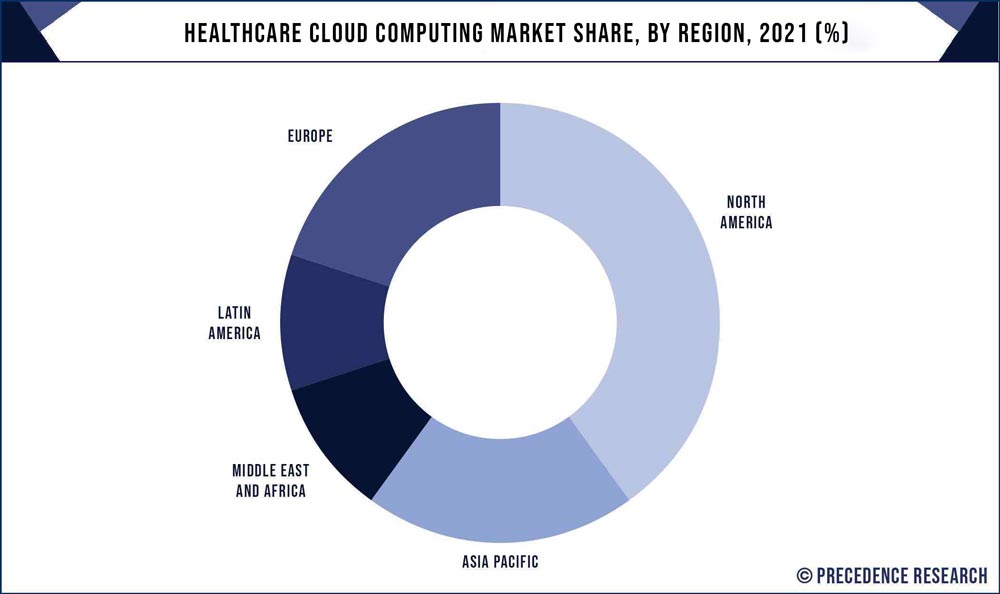 On the other hand, healthcare cloud computing market in Europe is also expected to show robust growth throughout the prediction period. This is on account of growing awareness associated with obtainability of higher quality cloud computing solutions for healthcare. Besides, budding elderly population which is highly vulnerable to numerous diseases upsurges the amount of hospital admissions. All these aspects together are considered to have positive outlook on demand of healthcare cloud computing software in the Europe.
Key Companies & Market Share Insights
Rising public responsiveness and escalating need for rigorous regulatory compliance, upward venture from healthcare participants like GE Healthcare, IBM, Cisco, and government organizations are projected to generate a need for this system throughout the exploration period. Crucial industry performers have launched services and software that permits to collect and assimilate massive healthcare information that proves favorable for industry progression. Furthermore, such software also delivers stress-free access to patient information that aids healthcare professionals to takeprecise decisions. Along with the aforementioned drivers, high implementation rate of cloud computing software to advance hospital administration and empower fraud inhibitionis also creating optimistic avenue for the growth of healthcare cloud computing industry growth.
Prominent players functioning in the healthcare cloud computing sector are as follows:
Cisco Systems Inc
Allscripts Healthcare Solution Inc
Microsoft Corp
Iron Mountain Inc
Qualcomm Inc
AthenahealthInc
GNAX Health
Dell Inc
EMC Corp
IBM Cor
VMware Inc
Oracle Corp
Others
Segments Covered in the Report
This research study comprises complete assessment of the market by means of far-reaching qualitative and quantitative perceptions, and predictions regarding the market. This report delivers classification of marketplace into impending and niche sectors. Further, this research study calculates market size and its development drift at global, regional, and country from 2016 to 2027. This report contains market breakdown and its revenue estimation by classifying it on the basis of end-use and region as follows:
By Cloud Deployment
By Application
Clinical Information System

Telehealth Solutions
Computerized Physician Order Entry
Population Health Management (PHM) Solutions
Electronic Medical Records
Pharmacy Information System
Radiology Information System
Others

Non-clinical Information System

Revenue Cycle Management (RCM)
Billing & Accounts Management Solutions
Claims Management
Others
By Service
Platform as a service (Paas)
Infrastructure as a service (Iaas)
Software as a service (Saas)
By End Users
Healthcare providers
Healthcare payers
By Regional Outlook
North America
Europe
Asia Pacific

China
India
Japan
South Korea

Middle East & Africa
Latin America