The global castor oil market volume was evaluated at 879.04 KMT in 2022 and it is projected to hit around 1,253.21 KMT by 2032, expanding at a CAGR of 3.61% over the forecast period from 2023 to 2032.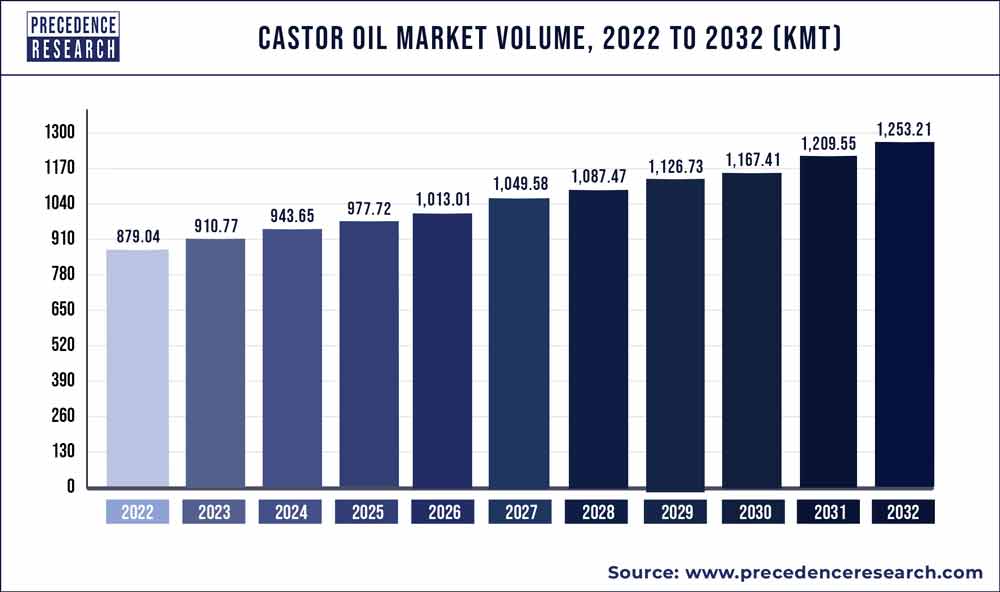 Access our Premium Real Time Data Intelligence Tool, Visit: Precedence Statistics
Key Takeaways:
The asia-Pacific region is predicted to dominate the global market from 2023 to 2032.
By Product Type, the hydrogenated castor oil segment generates for the major share in 2022.
By End-user, the personal care & beauty segment capture for the largest share in 2022.
By Distribution Channel, the direct distribution segment register for the maximum share in 2022.
Castor oil is just a form of plant oil extracted from castor beans. Castor oil is colorless to very light yellow in color and has a distinct flavor and fragrance. The oil is also used to promote skin and hair growth. Castor oil is a multi-functional substance that is often used in the manufacture of cosmetics, food, pharmaceuticals, polymers & resins, chemicals, polymers, and lubricants, and others. Due to the existence of fatty acid structure, castor oil has major advantages over vegetable oils such as soybean, coconut, sunflower, and others. Castor oil has natural, non-toxic, renewable, and adaptable physio-chemical qualities that make it widely employed in a variety of end-use industries such as automotive, electric, paint and varnishes, aerospace, and others.
The oil's use in the production of bio-based plastic packaging, lubricants, surface coating, skincare, hair care, and medicinal products, as well as the increased demand for the oil in traditional medicines due to its capability to treat skin conditions, stools, headaches, and inflammatory problems, all contribute to the growth of the castor oil market. Furthermore, the high utilization of various goods increased usage as raw resources in the manufacturing of chemicals, and development of end-user industries, contributing to the growth of the castor oil market.
Growth Factors:
The significant factors which are leading to the growth of the castor oil market are the attributes of being multi-functional with a variety of usage and being easily affordable. The various advantage by the use of castor oil for kids have pushed the demand of the castor oil market.
Report Scope of the Castor Oil Market:
| | |
| --- | --- |
| Report Coverage | Details |
| Market Volume in 2023 | 910.77 KMT |
| Market Volume by 2032 | 1,253.21 KMT |
| Growth Rate from 2023 to 2032 | CAGR of 3.61% |
| Largest Market | Asia Pacific |
| Base Year | 2022 |
| Forecast Period | 2023 to 2032 |
| Segments Covered | By Product Type, By End User, and By Distribution Channel |
| Regions Covered | North America, Europe, Asia-Pacific, Latin America, and Middle East & Africa |

Key Market Drivers:
Increased usage of castor oil as an animal feed: The cattle feed business is experiencing rapid growth and the milk producers have started replacing their traditional cattle feed with nutritionally balanced compound feed, as they have realized the tangible benefits of nutritional feed in terms of yield improvement. Castor oil is used as cattle feed as it has high levels of ricinoleic acid, which has antimicrobial. Castor oils have been used as an anti-coccidial for broilers and have been tried in some ruminants as it is a good protein source and helps in improving dairy cattle performance. Livestock production in the Asia Pacific region has been growing faster than any other agricultural subsector mainly due to the substantial growth of pig, livestock, and poultry industries, as the livestock industry is the most crucial part of agricultural development. Livestock products contribute to around 40% of the total agricultural output in global sales. There has been an increase in the consumption of animal products due to population growth and increasing living standards. This is expected to boost the growth of the castor oil market.
Growth of the cosmetics industry boosts the market for castor oil: Green cosmetics provide developing countries with a competitive advantage. The term "green" has evolved to mean organic, healthy, or sustainable. It has been noticed that the notion of becoming green has gained traction as a result of the threats of changes in the climate, global warming, and environmental challenges. Castor oil is natural, non-toxic, and promotes skin hydration. Castor is one of the best green raw materials that are used in cosmetics. Consumers' purchasing habits are shifting as their attitudes toward healthy living and environmental stewardship shift. Consumers desire healthy, safe, chemical-free products, and the destruction of the environment has undoubtedly helped consumers realize the value and necessity of purchasing green products. Due to the concerns about the environment, animal welfare, health, and hygiene, there is a growing concern and interest in green cosmetics around the world. Green cosmetics are growing in popularity owing to the increase in the sensitive population and are expected to increase the sales of the castor oil market.
Key Market Challenges:
Wavering prices of raw materials to restrain growth: Castor oil is a primary source for the manufacturing of its by-products and raw materials used in many industries to manufacture products. Warmth, sunlight, precipitation, soil properties, latitude, and altitude are all factors that influence castor oil output. Water requirements for the use of high-quality seeds that generate good oil range from 2500 to 3000 kg/ha under cultivation and 700 to 1000 kg/ha under rain-fed conditions. Farmers are finding it tough to continue farming due to a lack of water. As a result, the price of castor oil is determined by yield, and owing to insufficient irrigation, the price of castor beans rises rapidly. The fluctuating prices have an impact on downstream production and demand for castor oil, lowering profit margins. However, the growing adoption of new farming methods supported by government legislation will boost the oil industry in the upcoming years.
Oxidation in castor oil limits the shelf life of the product: Castor oil does not oxidize unless exposed to extreme temperatures, however, its lipid structure contains double bonds, which frequently undergo an unfavorable process known as lipid oxidation. Lipid oxidation occurs when fatty acid double bonds react with oxygen to generate peroxides, altering the chemical composition of the oil. The pace of oxidation in food and other products is determined by a number of variables. The presence of antioxidants, pro-oxidants, radiant energy or the visibility of UV radiation, oxygen content, temperature, free fatty acids vs the corresponding acylglycerols, and fatty acid composition are among the parameters. The occurrence of lipid oxidation makes it difficult for producers to employ castor oil and seek alternatives, limiting market development.
Key Market Opportunities:
To make most of the opportunity's vendors are advised to focus on growth prospects in the fastest-growing segments while being rigid in the slow-growing segment.
Rise in government initiatives as well as investments for castor bean cultivation.
Technological advancement in castor oils.
Segments Insight:
Product Type Insights:
On the basis of product type, castor oil is segmented into cold-pressed castor oil, hydrogenated castor oil, Jamaican black castor oil, dehydrated castor oil, and others. Hydrogenated castor oil accounts for the major share of the castor oil market in 2022 and is expected to retain its dominance during the forecast period. Hydrogenated castor oil is extremely important in the cosmetic and chemical industries. The objective of hydrogenating castor oil is not simply to improve its keeping properties, taste, and odor, but also to raise its melting point. The increased use in the cosmetics industry is boosting the demand for hydrogenated castor oil.
End User Insights:
On the basis of end-user, it is divided into pharmaceuticals, personal care & beauty care, lubricants, paints & varnishes, food & beverages, animal feed, and others. Personal care & beauty accounts for the major share of the castor oil market in 2022 and is expected to retain its dominance during the forecast period. Personal care & beauty care products play a major role in the daily healthcare regimen of individuals. Presently, a rise in awareness about beauty and consciousness are the prominent factors that drive demand for personal care products. The rise in urbanization and increase in disposable income highly influences the sales of cosmetic products. Therefore, the use of castor oil in cosmetics is increasing to speed up the production process to meet consumer demand.
Distribution Channel Insights:
On the basis of distribution channel, it is divided into direct distribution, hypermarkets/supermarkets, convenience stores, traditional grocery stores, pharmacies & drug Stores, discount stores, specialty stores, online retail, and others. Direct distribution accounts for the major share of the castor oil market in 2022 and is expected to retain its dominance during the forecast period. Direct distribution is the largest distribution channel as different sector procures castor oil direct from the producers. The growth of the commercial sector is boosting the demand for castor oil, hence, the growth of direct distribution is also increasing.
Regional Insights:
On the basis of geography, the castor oil market has been expected to experience major market growth from Asia-Pacific during the forecast period. Asia-Pacific is serving as the most dominating region among others as China is the key market for the castor oil market. Market growth in this region is faster than in any other region like the European, MEA, and South American regions. The rise in awareness about the benefits of castor oil for both skin and gut among individuals is making them focus on using products infused with castor oil, which will push the demand for the castor oil market in this region.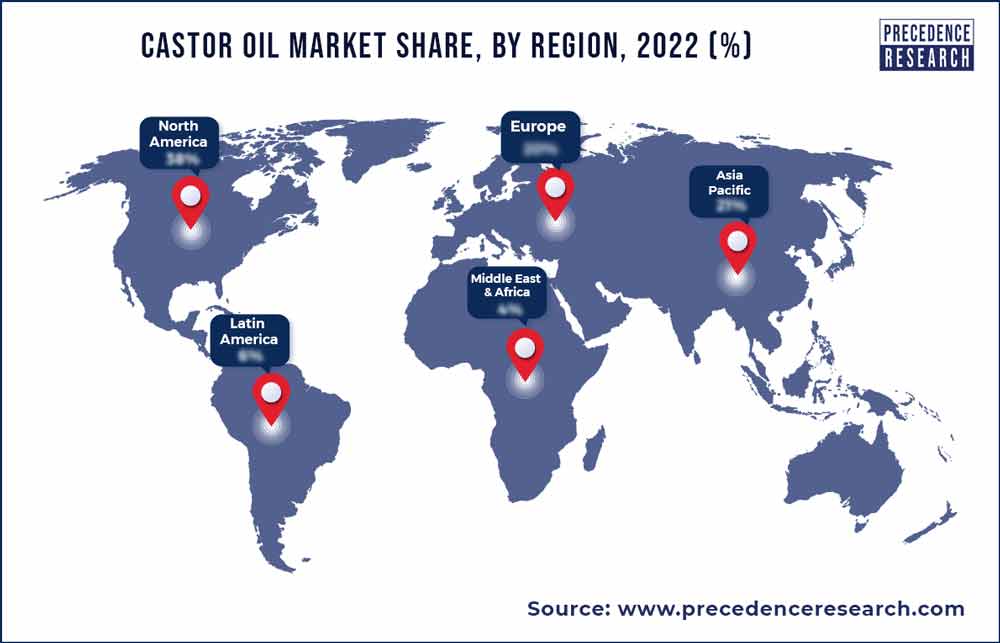 Furthermore, the high utilization of castor oil in different products, significant usage as a raw resources in the manufacturing of chemicals, development of end-user industries, and use in skin and hair care all have a favourable impact on the castor oil market in Asia-Pacific, particularly in South Korea.
Recent Developments:
In August 2020, BASF SE introduced Lamesoft Balance, a hydrogenated castor oil-based product used to stabilize components in hair and skin-washing formulations. It helps to provide uniform rheology in washing formulations, which is sometimes difficult to obtain. By piquing customers' attention, such activities stimulate the expansion of the cosmetics business. The growing popularity of castor oil-infused goods is raising market demand for the commodity.
Key Market Players:
NK Industries
Hokoku Corporation
Kanak castor Products
Girnar Industries
Jayan Agro Organics Ltd.
Gokul Agri International
Vertellus
Xingtai Lantian Fine Chemicals Ltd.
Kokura Gosei Kogyo Ltd.
ITOH Oil Chemical Ltd.
Adani Wilmar
Krishna Antioxidants Pvt. Ltd.
Thai Castor Oil Industries Ltd.
Arvalli Castor Derivatives Pvt. Ltd.
Sebacic India Pvt. Ltd.
Hengshui Jinghua Chemical Co., Ltd.
Jayant Agro-organics Limited
Ambuja Solvex Pvt LTD.
Adya Oils & Chemicals Ltd.,
Taj Agro Products
Girnar Industries
Kisan Agro
Itoh Oil Chemicals Co., Ltd.
Segments Covered in the Report:
(Note*: We offer reports based on sub segments as well. Kindly, let us know if you are interested)
By Product Type
Cold Pressed Castor Oil
Hydrogenated Castor Oil
Jamaican Black Castor Oil
Dehydrated Castor Oil
Others
By End User
Pharmaceuticals
Personal Care and Beauty Care
Lubricants
Paints and Varnishes
Food & Beverages
Animal feed
Others
By Distribution Channel
Direct Distribution
Hypermarket/Supermarket
Convenience Stores
Traditional Grocery Stores
Pharmacies & Drug Stores
Discount Stores
Specialty Stores
Online Retail
By Geography
North America
Europe
Asia-Pacific
Latin America
Middle East and Africa