The global cartilage repair market size accounted for USD 1.47 billion in 2022 and it is expected to touch around USD 4.62 billion by 2032 with a noteworthy CAGR of 12.13% from 2023 to 2032. Cartilage repair is performed to heal damaged cartilage surrounding joints, ease pain and stiffness, and regain joint mobility and function. Additionally, it can postpone or stop the development of arthritis.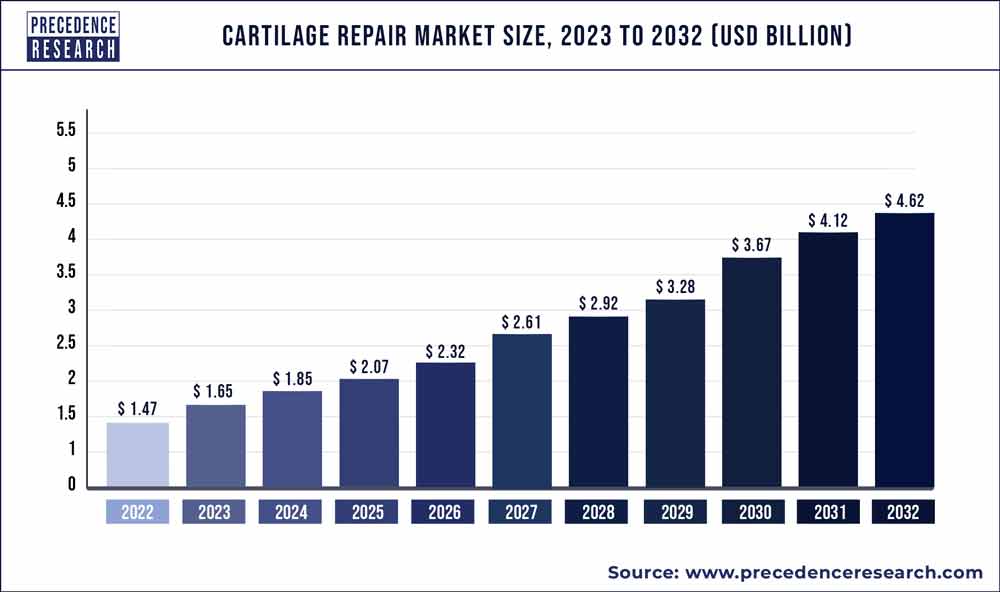 Access our Premium Real Time Data Intelligence Tool, Visit: Precedence Statistics
Key Insights:
By geography, North America generated more than 51% of the revenue share in 2022.
By type, the cell-based segments dominated the global market in 2022.
By application, the hyaline segment is predicted to dominate the market from 2023 to 2032 and captured more than 54% of the revenue share in 2022.
By treatment type, the intrinsic repair stimulus segment hold the largest market in 2022.
By site, the knee cartilage repair segment is projected to dominate the market from 2023 to 2032
Growth Factor
Osteoarthritis is becoming more common as a result of an aging population and associated variables like obesity that are on the rise. This ailment impacted over 20.0 million Americans in 2012, and it is expected that that figure will increase to 40.0 million over the following ten years. Currently, the illness affects more than 30.0 million individuals in the United States.
Additionally, over 12.0 million Americans seek medical attention for knee discomfort. Additionally, around 15.0 million people in India and 10.0 million in the UK have arthritis yearly, contributing to this business's expansion.
The projected period is expected to see a slowdown in the market growth for cartilage repair due to the rising incidence of diabetes and obesity worldwide. Diabetes accelerates the loss of cartilage. Additionally, it is anticipated that there will be an increase in the proportion of obese (overweight) people throughout the projected period, especially in Latin America and the MEA region.
The American Heart Association (AHA) projects that by 2030, the worldwide elderly population, prone to chronic illnesses and likely to be a primary driver of the increase in cartilage repair treatments, will make up around 20.0% of the overall population. Throughout the projected period, this demographic is anticipated to boost the market.
The demand for cartilage repair products is expected to increase over the forecast period due to the number of traffic accidents and sports-related injuries that cause bone and joint injuries. According to statistics released by the World Health Organization in November 2016, 1.25 million people die on the world's roads yearly. In the United States, youth sports are played by over 30.0 million kids and teenagers each year.
The rise in athletic injuries caused by increased sports participation drives the need for repair items. Over 3.5 million athletes receive medical care each year for sports-related injuries, according to study findings by the American Orthopedic Society for Sports Medicine. Additionally, among American youth, sports and leisure activities contributed to around 21.0% of all traumatic brain injuries, and 50.0% of head injuries in sports and recreational activities occurred while skating biking, or skateboarding.
Across the past few decades, osteoarthritis has increased in prevalence all over the world, and this trend is pushing the cartilage repair industry.
Increased patient and doctor knowledge of cutting-edge medical procedures and technology
Significant government funding for medicines and technology for cartilage repair and regeneration
With the development of new surgical methods and regenerative medicine, more people are looking for solutions to restore or enhance the health of their cartilage.
Report Scope of the Cartilage Repair Market
| | |
| --- | --- |
| Report Coverage | Details |
| Market Size in 2023 | USD 1.65 Billion |
| Market Size by 2032 | USD 4.62 Billion |
| Growth Rate from 2023 to 2032 | CAGR of 12.13% |
| Base Year | 2022 |
| Forecast Period | 2023 to 2032 |
| Segments Covered | By Type, By Application, By Treatment Type and By Site |
| Regions Covered | North America, Europe, Asia-Pacific, Latin America and Middle East & Africa |

Key Market Drivers
Increased frequency of joint injuries
Young people who have suffered knee joint injuries such as meniscal or ligament tears are the most common patients with damaged cartilage and require knee cartilage repair surgery. Techniques like cell-based cartilage resurfacing and the implantation of autologous chondrocytes are used to repair damaged cartilage to hasten the creation of new cartilage in joints. By improving and regenerating cartilage, which also dramatically decreases joint pain and enhances joint mobility, arthritis can be postponed or prevented.
The prevalence of osteoarthritis is rising
Osteoarthritis has increased in prevalence globally in recent years. Around 1 million knee and hip replacement surgeries are carried out annually in the United States, according to research done by the University of North Carolina. In the United States, osteoarthritis costs 136.8 billion dollars a year.
According to the Arthritis Foundation, more than 130 million individuals will be affected by degenerative joint diseases like osteoarthritis globally by 2050. Two of the most popular treatments for osteoarthritis are scaffold implants and autologous chondrocyte implantation. As a result, it is anticipated that as osteoarthritis becomes more common, the demand for products that promote cartilage repair and regeneration will increase.
Key Market Challenges
Surgery to restore cartilage is quite expensive
The cost of these therapies is one of the main barriers keeping people from using them, even if they offer better and more durable results than total knee replacement surgery. The typical cost of a knee replacement process is around USD 16,000. In contrast, the average cost of a cartilage repair procedure ranges from USD 18,000 to USD 23,000, depending on the system's location.
Due to their high price, knee replacement surgeries are devalued in contrast to cartilage repair therapies, which leads to a lesser preference for these procedures.
Key Market Opportunities
Innovations in technology
The number of businesses concentrating on creating cartilage regeneration products has dramatically expanded over the past few years due to the expanding government investments in regenerative medicine for the study of cartilage regeneration. These reasons have led to a rise in clinical trials and the creation of novel technology for cartilage regeneration. Major market participants are investing heavily in R&D, creating a robust pipeline of medicines based on several methods of cartilage repair.
Segments Insight
Type Insights
In 2022 the cell-based sector dominated the market and was predicted to increase profitably over the following years. The need for autologous chondrocyte transplants to treat arthritic articular cartilage (chondral and osteochondral lesions) surgically is expected to rise.
Tissue scaffolds and cell-free composites are other subcategories of non-cell-based materials. When implanted into the knees and other joints, tissue scaffolds can accelerate the formation of bone and cartilage, which is why they are utilized more frequently than cell-free composite.
Application Insights
Hyaline and fibro are included in the application section. Due to the increasing number of physical trauma incidences worldwide, which might result in patients developing osteochondral and chondral lesions, the hyaline segment is anticipated to dominate this market over the forecast period and generated more than 54% of revenue share in 2022. For instance, the Centers for Disease Control and Prevention (CDC) reports that around 199,800 Americans pass away from fatal injuries each year.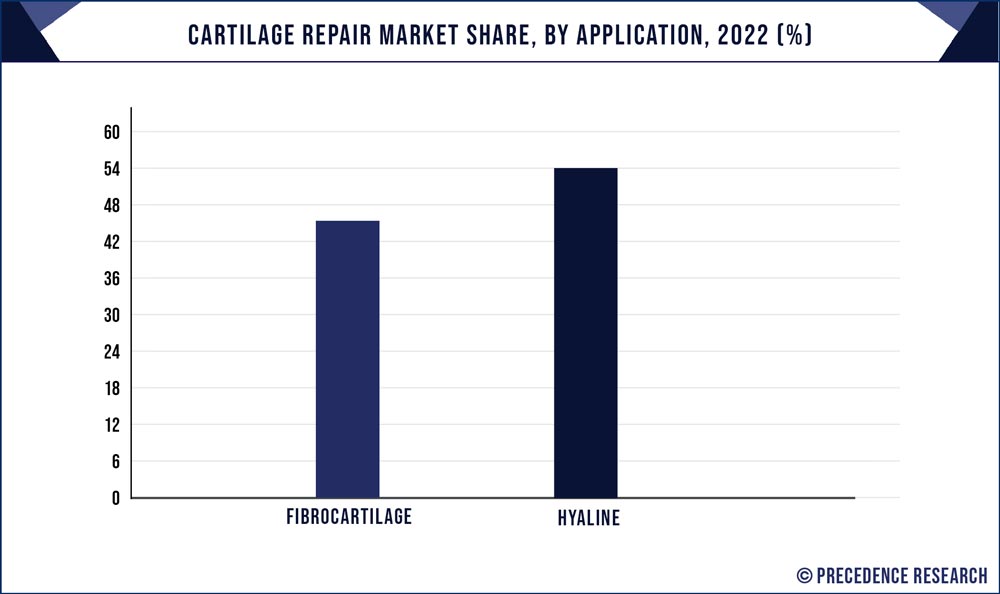 According to the CDC, around 2.5 million people were admitted to hospitals, and 26.9 million received nonfatal injury treatment in emergency rooms in 2014. In addition, over 33,700 people died in car accidents (a leading cause of mortality), and 325,000 children, as well as 2,791,000 elderly patients, were treated for fall injuries in emergency departments in the United States in the same year. This rise in fatal and nonfatal injuries is anticipated throughout the projection period to promote market expansion.
Due to hyaline cartilage's high vulnerability to damage in the event of cartilage-related accidents, the hyaline sector is likewise anticipated to have the quickest growth throughout the projected period. Additionally, the rise in sports-related injuries causes knee and other joint articular cartilage abnormalities, which is expected to promote sector expansion.
Treatment Type Insights
There are two categories of treatment: palliative care and intrinsic repair stimulation. Due to the widespread usage of the microfracture method during cartilage repair procedures, the intrinsic repair stimulus sector grew to become the most significant section in 2022. Microfracture and drilling procedures are intrinsic healing stimuli that draw Mesenchymal Stem Cells (MSC) to the location of damaged cartilage to produce repair tissue.
Debridement & lavage, and viscosupplementation are other categories under the palliative category. When treating OA of the thumb, toe, or other minor joints, viscosupplement involves injecting hyaluronic acid into a joint to replenish or supplement the synovial fluid. Due to the rise in OA-related pain and the increasing desire for cartilage regeneration that resembles hyaline, the viscosupplementation market sector is predicted to acquire market share throughout the projection period.
Site Insights
Due to its greater utilization in repair operations, the knee cartilage repair sector is anticipated to dominate the market over the projected period. During the projected period, market growth is expected to be fueled by the rising incidence of accident injuries and the increasing prevalence of OA.
The hip, shoulder, finger, elbow, foot and ankle, and spine make up the other section. Due to the growing number of athletes and sports-related injuries, this market is anticipated to increase favorably over the following years.
Cartilage Repair Market Share, By Region, 2022 (%)
| | |
| --- | --- |
| Region | Revenue Share In 2022 (%) |
| Asia Pacific | 20% |
| North America | 51% |
| Europe | 22% |
| Latin America | 5% |
| MEA | 2% |

Regional Insights
Due to the rising incidence of musculoskeletal disorders, the existence of the target demographic, and the shifting lifestyles of people in the United States and Canada, North America controlled approximately 51% of the global cartilage repair market in 2022. It is anticipated that the increasing incidence of osteoporosis in the U.K., Germany, and France will have a significant impact on the European market.
According to a National Health Service (NHS) report, more than 3.0 million people in the UK are affected yearly by osteoporosis. According to estimates from the National Osteoporosis Society (NOS), 1 in 2 women and 1 in 5 men over the age of 50 will break a bone due to osteoporosis each year.
According to the International Diabetes Federation (IDF), China has 109.6 million cases of diabetes. Additionally, Japan recorded 7.2 million cases of diabetes, while Australia reported 1 million patients. The Asia Pacific region is expected to have a higher CAGR throughout the projection period than other areas. Additionally, the rising incidence of cartilage injury in Australia and New Zealand due to osteoporosis is expected to foster the development of this vertical. Over 1.0 million Australians are estimated to have osteoporosis, according to estimates from Osteoporosis Australia.
According to data provided by the Burden of Osteoporosis in New Zealand (BONZ), 84,000 fractures at various sites in the skeleton were caused by osteoporosis in 2007. It is predicted that this number will rise to 116,000 by 2020.
Recent Developments
In April 2020, Eisai Co., Ltd. and Seikagaku Corporation signed a co-development and commercialization agreement for SI-613, a therapeutic agent for the treatment of osteoarthritis. Diclofenac conjugated sodium hyaluronate makes up SI-613. Companies would jointly develop SI-613 in China in accordance with the agreement.
In April 2018, Stryker and AlloSource announced the availability of ProChondrixCR, a cryopreserved osteochondral allograft. It aims to provide patients in need of articular cartilage restoration with better solutions.
Key Market Players
Smith+ Nephew
Stryker
Zimmer Biomet
B. Braun Melsungen AG
The Future of Biotechnology
MEDIPOST
Vericel Corporation,
CONMED Corporation
Medical Devices Business Services (DePuy Synthes)
Meril Life Sciences Pvt. Ltd.
Arthrex, Inc.
Medacta International
Teijin Nakashima Medical Co., Ltd.
BioTissue SA
ISTO Technologies, Inc.
CartiHeal, Inc.
Mathys AG Bettlach
Waldemar Link GmbH & Co.KG
JRI Orthopaedics
Regentis Biomaterials Ltd.
Auxein Medical.
EVOLUTIS INDIA PVT. LTD.
Japan MDM, Inc.
Segments Covered in the Report
(Note*: We offer report based on sub segments as well. Kindly, let us know if you are interested)
By Type
Cell-Based

Chondrocyte Transplantation
Growth Factor Technology

Non-Cell-Based

Tissue Scaffolds
Cell-Free Composites
By Application
By Treatment Type
Palliative

Viscosupplementation
Debridement & Lavage

Intrinsic Repair Stimulus
By Site
Knee Cartilage Repair

Arthroscopic Chondroplasty
Autologous Chondrocyte
Osteochondral Grafts Transplantation
Cell-based Cartilage Resurfacing
Microfracture
Other

Other
By Geography
North America
Europe
Asia-Pacific
Latin America
The Middle East and Africa