The global nerve repair and regeneration market size was estimated at USD 7 billion in 2022 and is projected to hit around USD 15.47 billion by 2032 with a registered CAGR of 8.3% during the forecast period 2023 to 2032.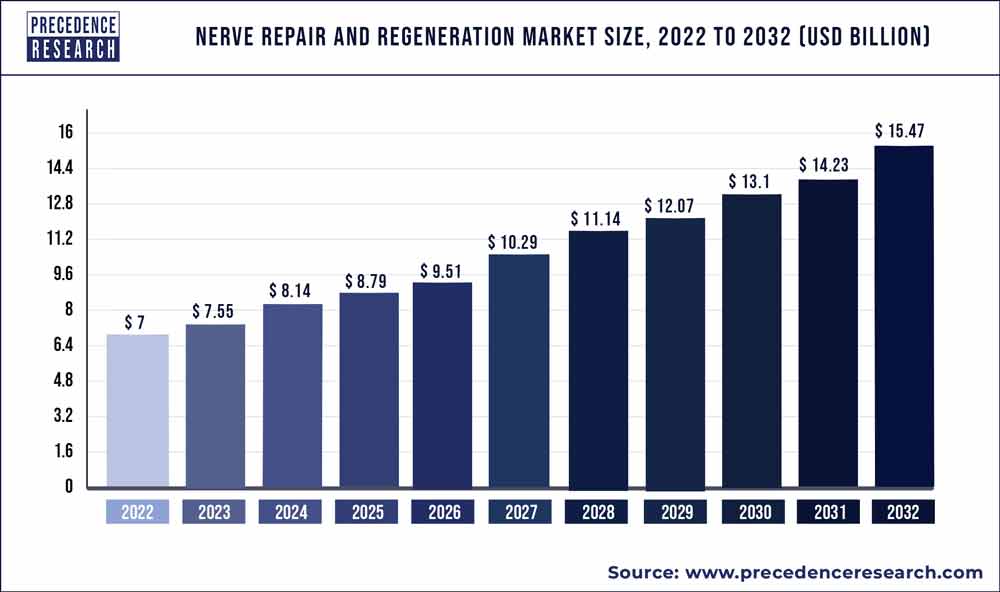 Access our Premium Real Time Data Intelligence Tool, Visit: Precedence Statistics
Key Takeaways:
North America region accounted for 33.6% of revenue share in 2022.
The Asia Pacific market is expected to reach a CAGR of 7.6% from 2023 to 2032.
The nerve conduits segment is growing at a CAGR of 11.8% over the forecast period.
By product, the neurostimulation and neuromodulation devices segment has captured 65.6% of the total revenue in 2022.
By application, the surgeries segment accounted for 36% of revenue share in 2022.
The leading firms' strong product pipelines and the increasing prevalence of neurological illnesses are what are propelling the market. Multiple technical advances that have improved the effectiveness of treating neurological illnesses are also anticipated to fuel market expansion.
The neurological operations of outpatient clinics were interfered with as a result of different government containment efforts during the pandemic. Social restriction measures put patients, such as people who had Parkinson's disease and dystonic patients receiving DBS, at a greater risk of chronic stress, and their motor and mental symptoms reportedly got worse. More options for effective neurological healthcare delivery are emerging as a result of rising investments in research in the area of nerve repair and regeneration. Over the course of the forecast period, ongoing research and development initiatives as well as private investments in the healthcare industry for improvements in surgery devices are anticipated to have a beneficial influence on market revenue growth.
Additionally, it is anticipated that market growth would trend upward as people's awareness of mental illnesses rises. In addition, rising Central Nervous System (CNS) disease instances and healthy living trends are two other important aspects anticipated to support market expansion in the future. However, during the course of the prediction period, the revenue growth of the worldwide nerve repair and regeneration market would be significantly constrained by the high cost of nerve repair and regeneration devices and unfavorable government policies.
Growth Factors
Due to rising healthcare spending, especially in emerging nations, the market opportunity regarding nerve repair and regeneration is expanding. Market expansion is anticipated to be aided by the general rise in the knowledge of the use of nerve repair and regeneration technologies to treat neurological illnesses.
Report Scope of the Nerve Repair and Regeneration Market
Report Coverage
Details
Market Size in 2023
USD 7.55 Billion
Market Size by 2032
USD 15.47 Billion
Growth Rate from 2023 to 2032
CAGR of 8.3%
Largest Market
North America
Fastest Growing Market
Asia Pacific
Base Year
2022
Forecast Period
2023 to 2032
Segments Covered

By Product
By Application

Regions Covered

North America
Europe
Asia-Pacific
Latin America
Middle East & Africa

Key Market Drivers
Increase in a number of studies around the world - Emerging nations like China, India, and Brazil present attractive new potential to the businesses operating in this market due to their substantial population bases, rising occurrences of neurological disorders, and expanding healthcare infrastructure and spending. The growing stem cell technologies provide tremendous opportunities for market growth, especially given the numerous stem cell treatment research for nerve repair and regeneration now underway. The last few years have seen a growth in the amount of research being done in neurology.
Accumulative cases of nerve injuries - Products for nerve regeneration and healing are in great demand since neurological diseases and nerve injuries are becoming more often. The number of elderly people is increasing everywhere. The huge elderly population and the high frequency and prevalence of nerve disorders among them are driving the market's expansion. Government financing for neurological disease research aids healthcare institutions in advancing their research efforts and enhancing the effectiveness of goods and treatments for nerve repair and regeneration.
Key Market Challenges
Lack of skillful healthcare specialists - A variety of challenges the market is facing are reducing the rate of growth. Due to the huge gap between the need and supply of neurologists globally, there is a scarcity of skilled specialists who are needed for neurological treatments. Donors' nerves are commonly affected by tissue morbidity, which is a significant concern. Nerve conduits are difficult to use to close neural gaps larger than 3 cm. Depending on the application, devices for neurostimulation and neuromodulation, for instance, may fall under Class 2 or Class 3 medical devices and need premarket notification.
Key Market Opportunities
New markets, improvements in stem cell treatment for nerve repair and regeneration, and expanding neurology research projects
With their large populations, growing rates of neurological illnesses, improved healthcare infrastructure, and rising healthcare spending, emerging nations like India, China, and Brazil present attractive market opportunities. With several stem cell therapy research being tested for nerve repair & regeneration reasons; the new stem cell therapy technologies also present the industry with enormous potential prospects. The past several years have seen an upsurge in the amount of neurology research being done.
The growing advancement in technology
Due to technological advancements in the healthcare industry, the market for nerve repair and regeneration is growing. Numerous technical advancements in stem cell treatment and the introduction of fresh neuromodulation devices are additional growth-promoting factors. For the efficient repair and replacement of damaged tissues in the central nervous system, endogenous stem cells are frequently employed in neurogenesis, neural repair, and exogenous neural stem cell transplantation. A number of other reasons, such as increased consumer healthcare expenditure and major advancements in medical infrastructure, particularly in emerging nations, are likely to boost the market.
Clinical trials are also being carried out by organizations with support from the public and commercial sectors in an effort to provide a safe and effective remedy for a variety of neurological diseases. Examples include the use of polyethylene glycol (PEG) medication in Phase I to assist the axonal fusion approach to treat human peripheral nerve injuries and the use of stem cells in umbilical blood infusion for cerebral palsy (Phase II). For instance, the Australian government plans to invest $21.8 million in research in 2020 in an effort to identify treatments for a number of neurological disorders, including autism and early Alzheimer's disease.
Segments Insight
Product Insights
With a sales share of nearly 65.6% in 2022, the neurostimulation and neuromodulation devices market became the biggest segment. Deep brain stimulation, spinal cord stimulation, vagus nerve stimulation, sacral nerve stimulation, and gastric electric stimulation devices are further divided into this section. With a revenue share of more than 41%, the spinal cord stimulation devices category was the biggest sub-segment in 2022. The expansion of the category was attributed to the abundance of commercially accessible spinal cord goods and the variety of uses.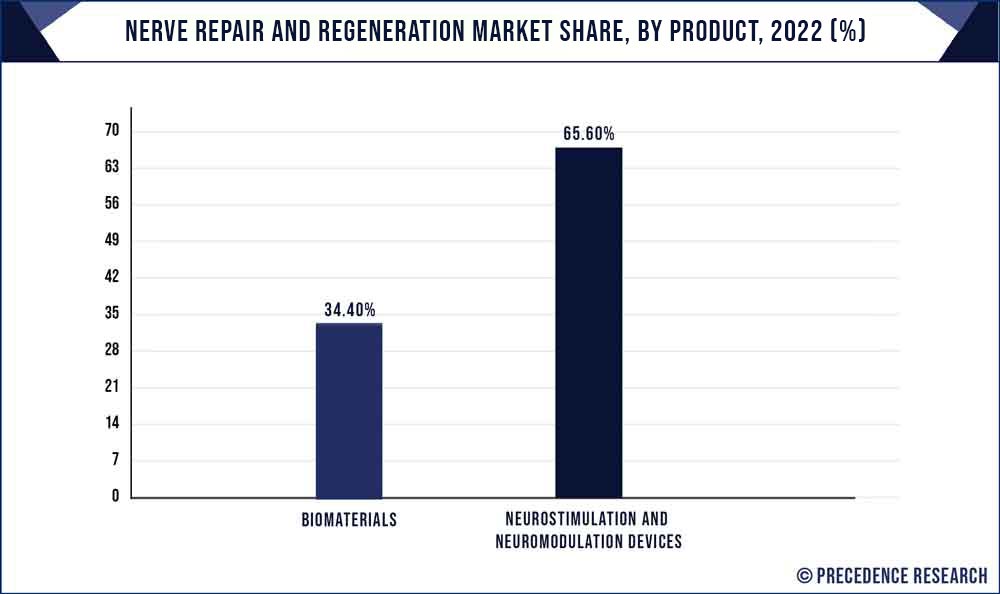 The market has been divided into two categories based on product: biomaterials and neurostimulation & neuromodulation devices. In the upcoming years, market growth is projected to be fueled by investments made by major corporations in the creation of more efficient gadgets. For instance, Boston Scientific's Precision Montage MRI Spinal Cord Stimulator System obtained FDA clearance in May 2016. According to the business, this technology reduces back discomfort by 70% more.
Due to technical improvements, a broad range of uses, government financing for innovations, and biocompatibility, the biomaterials category is expected to grow at the fastest CAGR between 2023 and 2032. Modern materials, such as biodegradable polymers, are anticipated to improve fracture healing and spinal stability while decreasing hospitalization.
Application Insights
In 2022, procedures using neurostimulation and neuromodulation accounted for more than 36% of total surgical revenue. The fastest CAGR over the anticipated years is anticipated for stem cell treatment. The market is expected to increase as a result of several government efforts and permissions to perform clinical studies of biomaterials. In the United States, there are now 570 clinics offering stem cell therapy, and this number is anticipated to expand, promoting segment growth.
The market is segmented based on surgery into direct nerve repair, also known as neurorrhaphy, nerve grafting, stem cell treatment, and neurostimulation and neuromodulation surgery. The market expansion is also projected to be boosted by the anticipated commercialization of the items in the upcoming years as a result of investments made by businesses and research institutions. For instance, Axonics Modulation Technologies' sacral nerve modulation device received CE mark clearance in the European Union in June 2016. After a further post-market clinical trial, the business intended to commercialize it.
Due to the availability of several products and technical breakthroughs for the treatment of chronic pain, neurostimulation and neuromodulation procedures are anticipated to continue their dominance during the forecast period. For instance, St. Jude introduced the Axium Neurostimulator System in the United States and authorized the implants for Dorsal Root Ganglion in April 2016. (DRG).
Nerve Repair and Regeneration Market Share, By Region, 2022 (%)
| | |
| --- | --- |
| Regions | Revenue Share in 2022 (%) |
| North America | 33.6% |
| Asia Pacific | 23.5% |
| Europe | 29.9% |
| Latin America | 8% |
| MEA | 5% |

Regional Insights
Due to the region's favorable health insurance coverage environment and rising prevalence of neurological illnesses, North America held the majority of the market in 2022 with a share of over 33.6%. Due to the existence of significant market participants, technologically improved equipment is readily available in this area, which is a primary driver of its development. For instance, Reclaim DBS therapy was introduced by Medtronic plc in February 2016 to treat obsessive-compulsive disorder (OCD). Additionally, in May 2016, the FDA approved Boston Scientific's Precision Montage MRI-safe SCS for treating chronic pain.
Due to its expanding target market, growing patient awareness, encouraging government initiatives, the existence of unmet medical needs, and the introduction of cutting-edge technologies, the Asia Pacific region is anticipated to experience the fastest rate of growth in the region during the forecast period. China, India, Japan, Australia, and Singapore are the principal nations fostering regional development. The Australian Therapeutics Good Administration (TGA) approved clinical trials for the testing of a Parkinson's disease therapy technique based on human parthenogenetic stem cells (ISC-hpNSC) in December 2015. The market for stem cell treatment in the area was propelled by this permission.
Recent Developments
In 2022, the FDA approved Medtronic's Vanta and Intellis neurostimulators for the treatment of persistent pain brought on by diabetic peripheral neuropathy (DPN).
In 2022, the FDA approved Boston Scientific's Verse Neural Navigator with Stimview XT image-guided software for deep brain stimulation therapy in Parkinson's patients.
Abbott introduced its NeuroSphere Virtual Clinic in 2021 for the remote treatment and administration of patients undergoing neuromodulation.
Key Market Players
Medtronic, plc. (Ireland)
Boston Scientific Corporation (US)
Abbott Laboratories (US)
Axogen Corporation (US)
Baxter (US)
LivaNova PLC (UK)
Integra LifeSciences (US)
Neuronetics Inc. (US)
Nevro Corp (US)
NeuroPace Inc. (US)
Polyganics (Netherlands)
Soterix Medical Inc (US)
Synapse Biomedical Inc. (US)
Aleva Neurotherapeutics SA (Switzerland)
Collagen Matrix Inc. (US)
KeriMedical
(Switzerland), BioWaveGO USA (US)
NeuroSigma Inc. (US)
tVNS Technologies GmbH (Germany)
GiMer Medical (Taiwan)
Checkpoint Surgical Inc.
(US), Renishaw PLC (UK)
Alafair Biosciences, Inc. (US)
electroCore, Inc. (US).
Segments covered in the report
(Note*: We offer reports based on sub-segments as well. Kindly, let us know if you are interested)
By Product
Biomaterials

Nerve Conduits
Nerve Wraps

Neurostimulation and Neuromodulation Devices

Spinal Cord Stimulation Devices
Sacral Nerve Stimulation Devices
Deep Brain Stimulation Devices
Vagus Nerve Stimulation Devices
Gastric Electric Stimulation Devices
By Application
Direct Nerve Repair/Neurorrhaphy

Epineural Repair
Perineural Repair
Group Fascicular Repair

Stem Cell Therapy
Nerve Grafting

Autografts
Allografts
Xenografts

Neurostimulation and Neuromodulation Surgeries
By Geography
North America
Europe
Asia-Pacific
Latin America
Middle East & Africa (MEA)