The global hernia repair devices market size surpassed USD 4.86 billion in 2022 and it is expected to hit around USD 7.97 billion by 2032, growing at a CAGR of 5.07% between 2023 and 2032.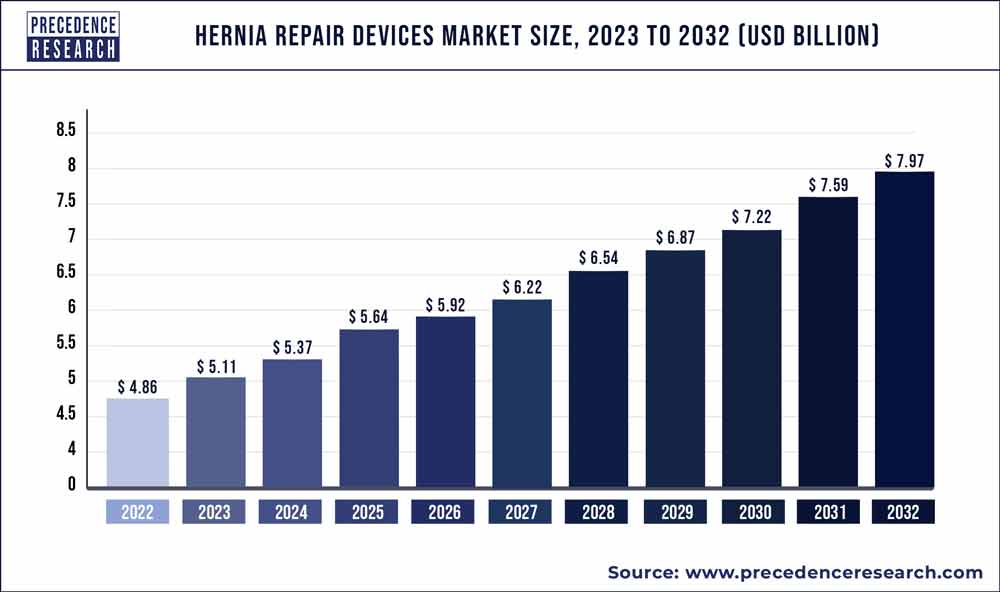 Key Takeaways:
By geography, North America dominated the market and generated more than 51% of the revenue share in 2022.
By product type, the hernia mesh segment led the market and captured more than 77% of the revenue share in 2022.
By procedure type, the inguinal hernia segment has generated more than 67% of the revenue share in 2022.
By surgery type, the open surgery segment captured more than 77% of revenue share in 2022 and is expected to maintain its dominance between 2023 and 2032.
An organ or collection of organs that protrude is called a hernia. It happens when an organ or other biological part protrudes past the muscle or tissue wall that encloses it and becomes visible. While engaging in specific activities like jogging or walking, one may experience hernia symptoms such as vomiting, discomfort, and constipation in addition to others.
Abdominal wall hernias include diaphragmatic hernias, inguinal hernias, umbilical hernias, femoral hernias, incisional hernias, Spigelian hernias, obturator hernias, Hiatal hernias, and epigastric hernias. Most hernias are insignificant and can be surgically fixed to prevent further problems.
The rising prevalence of hernias, benevolent reimbursement practices, and technological developments in repair devices are essential drivers for market expansion.
The increased rate of hernias is fueling an increase in demand for practical repair tools, which is anticipated to support market expansion. Over a million operations for hernia repair are performed yearly in the United States alone, according to the U.S. FDA. The rising frequency of hernias is fueling the need for an effective remedy, which is anticipated to drive market expansion.
One of the main factors encouraging the expansion of the sector is the increasing prevalence of hernias worldwide. A hernia is a medical problem that typically develops when an internal organ within the human body pushes through a weak area in the abdominal muscles. According to clinical studies, physical issues like obesity, excessive coughing, straining while urinating, genetics, and physically demanding tasks like heavy lifting may cause hernias.
Over 20 million hernias are operated upon each year, making up 15% to 18% of all surgical procedures, according to a 2020 article in the BMJ Journal. The number of hernia repair surgeries has significantly increased due to the rising hernia incidence. The need for hernia repair devices is developing throughout the healthcare sector due to the increasing need to repair and strengthen sick hernia tissue.
Report Scope of the Hernia Repair Devices Market
| | |
| --- | --- |
| Report Coverage | Details |
| Market Size in 2023 | USD 5.11 Billion |
| Market Size by 2032 | USD 7.97 Billion |
| Growth Rate from 2023 to 2032 | CAGR of 5.07% |
| Base Year | 2022 |
| Forecast Period | 2023 to 2032 |
| Segments Covered | By Product Type, By Surgery Type and By Procedure Type |
| Regions Covered | North America, Europe, Asia-Pacific, Latin America and Middle East & Africa |

Key Market Drivers
Geriatric population's healthcare burden fuelling innovations in hernia repair devices - High patient morbidity is linked to hernias. As a result, med-tech companies in the market for hernia repair devices are expanding R&D spending on new tools and solutions. Manufacturers have been forced to create effective hernia mesh, biologic materials, and endoscopy equipment, among other things, to enhance medical outcomes due to the growing load of the senior population in the healthcare system.
A hernia is more common in people over the age of 55 years because of the greater risk of health problems and naturally occurring muscle deterioration. The forecast term is expected to witness a positive CAGR for the worldwide hernia repair device market. Hernia prevalence is increasing, which can be due to the aging population growth, quick lifestyle changes, and high obesity rates.
Increasing prevalence of hernia - Hernias require medical and surgical interventions as treatment options. A hernia results when an internal body part pushes through a weakness in the surrounding muscle or tissue wall. Due to the rise in the prevalence of hernia types such as inguinal and femoral, there is a strong need for hernia repair equipment, which is anticipated to propel market expansion. One of the crucial surgical treatments that the World Health Organization prioritizes is inguinal hernia repair (WHO).
It also ranks among the most widespread surgical disorders, impacting 220 million globally. Inguinal hernia problems result in over 40,000 fatalities each year and a loss of 3,500,000 DALYs (disability-adjusted life years). Additionally, 20 million hernia repairs are conducted worldwide, representing less than a tenth of hernia prevalence.
A rise in the number of obese people - With the prevalence of hernias and the number of obese patients rising, managing these individuals has taken center stage in hernia treatment. Being overweight or obese puts extra strain and pressure on the abdominal muscles, which weakens them and raises the risk of hernias.
Additionally, individuals who do not follow the advised lifestyle changes and who continue to move heavy objects after having surgery to correct hernias run a greater risk of getting recurrent hernias. Particularly umbilical hernias, and hernia recurrence, is more likely to occur in obese patients, both in male and female populations.
Key Market Challenges
Strict legal approval procedure - Additionally, the high cost of hernia repair device R&D is anticipated to restrain market expansion. Before releasing a hernia repair device, a producer must meet several clinical and regulatory conditions. Medical equipment manufacturers are compelled to maintain the initial high cost of hernia repair devices due to the lengthy development and approvals phases. High product costs prevent people from having proper access to numerous technical breakthroughs, which hinders their uptake.
Key Market Opportunities
Increase in the use of minimally invasive surgery - Because it has fewer risks, less discomfort, and a shorter hospital stay, it is more popular. Due to the increased patient demand for minimally invasive procedures and their advantages over open surgeries, which carry risks of wound infection, among other things, hernia minimally invasive surgeries are becoming more common.
The use of surgical devices has expanded due to new technical developments and the demand for minimally invasive surgical procedures, which has boosted market growth and is anticipated to present opportunities for the industry.
Segments Insight
Product Type Insights
The hernia mesh category led the market in 2022 with a revenue share of 77%. The main factors contributing to this market segment's growth are the capacity to give tensile strength in the long term to stop a recurrence and increase infection resistance. Synthetic and Biologic mesh is further divided into the hernia mesh category. Due to its high availability, ease of access to raw materials, and affordability, the synthetic mesh segment dominated the market in 2022.
During the projected period, the hernia fixation devices market is anticipated to experience the quickest revenue CAGR growth. The portion is divided into applicators of sutures, tacks, and glue. In 2022, tack applicators ruled the market due to the expensive nature of the equipment and the ease with which merchandise was accessible.
Due to their widespread use in numerous surgical procedures, sutures held a sizeable market share in 2022. Due to benefits including fewer post-operative issues, the glue applicators market is anticipated to increase throughout the forecast period.
Procedure Type Insights
Due to advantages including cheap cost and reduced complications after the surgery, open surgery had a revenue share of 77% in 2022 and is predicted to maintain its dominance over the market for the forecast period. To do open hernia surgery, the abdomen must be extensively incised, and a surgical mesh is used to cover the healed hernia to strengthen the tissues.
The prevention of hernia recurrence, affordable operation, and reduced risk of complications are all advantages of open surgery. However, the segment's growth is expected to be hampered by available surgical side effects, including excessive blood loss, blood clots forming, and other organs that could be damaged.
Due to its widespread acceptance as a hernia treatment option, laparoscopic surgery is anticipated to experience the quickest revenue generation growth throughout the projection period. Due to benefits including short hospital stays, speedier healing, lesser cuts, and lower infection rates, these minimally invasive surgeries are advised.
Surgery Type Insights
The inguinal hernia has accounted revenue share of over 67% in 2022. Due to factors including patient acceptability because of tension-free techniques and widespread use of these surgical procedures, inguinal hernias dominated the market. The FDA estimates that more than 800,000 inguinal repair procedures are carried out annually in the United States. As a result, there is a significant need for hernia repair equipment due to the frequency of these operative procedures.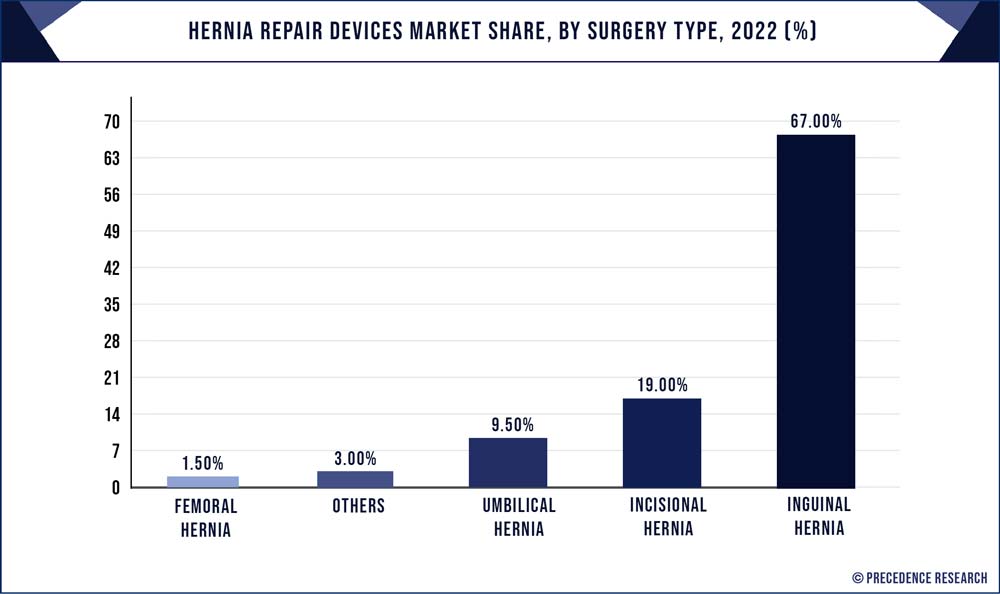 In the form of revenue growth throughout the forecast period, the incisional hernia segment is anticipated to experience the fastest CAGR growth. The incision on the abdominal wall or surgical wounds that have not fully healed can result in an incisional hernia. After inguinal surgery, this procedure is the second most often performed procedure.
Hernia Repair Devices Market Share, By Region, 2022 (%)
| | |
| --- | --- |
| Region | Revenue Share In 2022 (%) |
| Asia Pacific | 20% |
| North America | 51% |
| Europe | 23.5% |
| Latin America | 4% |
| MEA | 1.5% |

Regional Insights
With a revenue share of 51% in 2022, North America dominated the market owing to extensive treatment research and development activities. For instance, the British Medical Research Council and North American Nocturnal Oxygen Therapy conducted studies to establish the efficacy of long-term therapy. The increasing usage of topical wound hernia repair devices (TWO) and hyperbaric hernia repair devices in this region also impacts market demand. Due to urbanization and occupational risks, this region also has a higher risk of developing respiratory ailments, which is anticipated to fuel market growth throughout the projected period.
Due to the higher adoption rates of new technology, these systems also promote research and development in these nations, which attracts international players to the U.S. and Canada. Additionally, the presence of significant vital players in this region is anticipated to fuel market expansion. Thus, the above elements will likely fuel market expansion in this area during the projection year.
Recent Developments
In April 2022 - The United States Food and Medication Administration granted Ariste Medical permission to market its synthetic hernia mesh with drug embedding in the country under the 510(k) exemption.
In June 2021 - Manufacturer and distributor of the 21st Century SURGIMESH Platform B.G. Medical announced it would support Hernia Awareness Month by teaming up with CQInsights to develop a novel strategy that improves patient outcomes as part of a larger initiative to spread sustainable solutions that advance healthcare for all.
In July 2021 - Becton, Dickinson, and Company (B.D.) revealed that it has acquired Tepha, Inc., a top producer, and developer of specialized resorbable polymer technology. For B.D.'s current Phasix Mesh products, the acquisition of Tepha enables strategic vertical integration of a crucial supply chain element. Included in the transaction is Tepha's GalaFLEX portfolio, which is likewise based on the brand-new P4HB polymer.
Key Market Players
B Braun Melsungen AG
Cook Medical
Medtronic Plc
W.L. Gore & Associates
Ethicon Inc.
C.R Bard Inc.
Atrium
LifeCell Corporation
Baxter International
Hernia mesh S.R.L.
Segments Covered in the Report
(Note*: We offer report based on sub segments as well. Kindly, let us know if you are interested)
By Product Type
Hernia Mesh

Biologic Mesh
Synthetic Mesh

Hernia Fixation Devices

Sutures
Tack Applicators
Glue Applicators
By Surgery Type
Inguinal Hernia
Umbilical Hernia
Incisional Hernia
Femoral Hernia
Others
By Procedure Type
Open Surgery
Laparoscopic Surgery
By Geography
North America
Europe
Asia-Pacific
Latin America
The Middle East and Africa