The global smart packaging market size was estimated at USD 35.92 billion in 2022 and is expected to reach around USD 60.49 billion by 2032 with a registered CAGR of 5.4% from 2023 to 2032.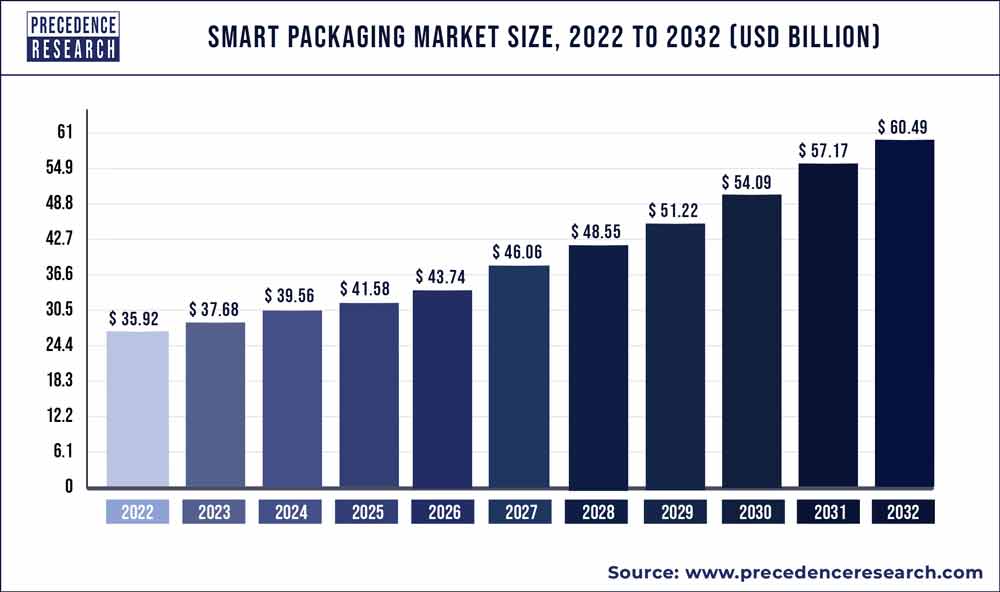 Smart packaging is a kind of device that boosts the engine's effectiveness and power. The term "smart packaging" refers to a particular kind of sensor-equipped packaging system used for a variety of goods, including food and pharmaceuticals. The smart packaging technology contributes to improving product quality, shelf life, freshness monitoring, and customer and product safety. These intelligent systems offer information on the product's quality and freshness when it is packaged with intelligent technology.
Due to restrictions on industrial operations during the COVID-19 epidemic, which also impeded the installation of new smart packaging systems, the market for smart packaging was hindered. Additionally, during the lockdown, the smart packaging solutions could not be efficiently sold through OEMs. The main drivers propelling the growth of this market are the increased need for sophisticated packaging solutions from the food processing and pharmaceutical industries, rising consumer concern for reducing food waste, and rising demand for smart & functional packaging. Additionally, the expanding E-commerce industry, increased industrialization, and high demand for excellent supply chain management are projected to provide up attractive potential for market participants.
The costs of the sensors and radio frequency identification (RFID) utilized for packaging applications, which are leading to the failures over the mass applications for packaging systems, make better packaging more expensive than traditional forms of packaging. Additionally, it results in the gathering of client data, which, in the manufacturers' opinion, might eventually create manipulative and tense situations that constrain the market.
Additionally, the COVID-19 epidemic had a significant impact on the hotel, tourist, industrial, and construction sectors. Manufacturing operations were suspended or limited. Globally, supply networks for the construction and transportation industries were disrupted. This reduced the production of smart packaging as well as the market's demand for them, which hindered the market's expansion for smart packaging. On the other hand, businesses gradually began providing their usual goods and services. The smart packaging businesses were able to resume operations at full capacity as a result, which assisted in the market's recovery by the end of 2021.
Report Scope of the Smart Packaging Market
| | |
| --- | --- |
| Report Coverage | Details |
| Market Size in 2023 | USD 37.68 Billion |
| Market Size by 2032 | USD 60.49 Billion |
| Growth Rate from 2023 to 2032 | CAGR of 5.4% |
| Base Year | 2022 |
| Forecast Period | 2023 to 2032 |
| Segments Covered | Type, Application, Material, and Geography |
| Companies Mentioned | 3M, Avery Dennison Corporation, Ball Corporation, BASF SE, Crown, International Paper, R.R. Donnelley & Sons Company, Stora Enso, Sysco Corporation, Zebra Technologies Corp. (Temptime Corporation). |

Key Market Drivers
The changing lifestyle of customers

- The rapid urbanization and increased consumer usage of single-use personal products with cutting-edge integrated innovation are driving the growth of the smart packaging market. Additionally, the global packaging market business depends on untapped geographic regions that provide enormous open doors for market competitors.

Exploration of nanotechnology

-The market is expanding as a result of research into various F&B uses for nanotechnology, the desire from retailers and manufacturers for shelf-stable and sustainable packaging options, and rising packaged food product consumption.

The developments in the printing processes

- Other market drivers include improvements in printing technologies across a range of sectors. In the processing and display of information on paper and other surfaces, printed technologies have demonstrated their usefulness. As a result, there has been a lot of recent scientific study on printed electronics and RFID technology, which establishes the foundation for future development of applications for smart packaging.
Key Market Challenges
Cost of Capital

-The market's expansion is hindered and challenged by factors such as the high cost of capital for installation, security concerns, new methods for manufacturing sensors and indications that are compliant with existing packaging regulations, and consumer awareness.

The Lack of awareness-

The lack of consumer awareness, which is causing a lack of desire for these smart solutions, is anticipated to further slow the market's development pace, creating difficulties for the market's expansion.

ncorporating expensive technologies-

The biggest difficulties facing businesses in the smart packaging sector are finding ways to incorporate pricey new technology into the packaging while maintaining or lowering customer pricing. The creation of innovative manufacturing processes for technologically sophisticated sensors that can adhere to current packaging regulations and teaching customers about the advantages of this kind of packaging are additional hurdles.
Key Market Opportunities
Intelligent Packaging in Healthcare Industry

-

Smart packaging is essential in the healthcare sector. Special packing and temperature-controlled shipping are needed for some pieces of equipment and medications. This has caused the need for smart packaging to increase. Additionally, the prevalence of chronic illnesses and the growing senior population have boosted the need for over-the-counter medicines, which has resulted in an increase in the use of smart packaging services.

Lucrative Market

- The market's higher CAGR is encouraging for several businesses in the smart packaging sector. They are further lured in by the market's general profitability. In order to create a new generation of technologies that would enable them to create and commercialize smart packaging that is environmentally friendly, they are substantially investing in research and development. This is predicted to significantly increase future demand for this kind of packaging. Future packaging produced by these businesses will be more hygienic and safer thanks to improved printing technology.

Demand for Temperature Controlled Packaging solutions-

Due to their temperature-sensitive contents, the food, beverage, and pharmaceutical sectors are increasingly demanding temperature-controlled packaging solutions. This is fueling the market's expansion. Additionally, businesses in this industry today use labels for part identification and branding, which boosts demand for the market. The high initial costs of manufacture and execution, however, will impede the market's rate of expansion.
Segmental Insights
Application Insights
The sub-segment for food and drinks is probably going to have the highest market share for smart packaging. This is due to a few factors. The first is that more people desire to consume food that they are aware is healthy across the world. The second is that people like to consume food that is guaranteed to be fresh. Smart packaging makes this promise. Additionally, they prefer to purchase food that is constantly accessible, readily available, and has a lengthy shelf life. Once more, intelligent packing may ensure this. The majority of businesses in the food and beverage sub-segment are motivated to employ smart packaging since it makes it simpler for them to adhere to the most current and strict food safety regulations. Additionally, consumers want the information on their packaging to be as clear as possible. Smart packaging, according to businesses, enables them to do this while also safeguarding their brands. For reasons of sanitation and transparency, the world may already be trending toward preferring that food goods be wrapped in smart packaging. However, COVID-19 significantly sped up this process.
Type Insights
According to type, the intelligent packaging segment is anticipated to develop at the greatest CAGR throughout the forecast period, while the modified atmosphere packaging segment held the market's largest revenue share in 2022. According to end users, the food and beverage sector dominated the smart packaging market in 2022. However, the others category is anticipated to grow at the fastest rate over the next few years. In terms of revenue, the solid category dominated the market in 2020 and is predicted to experience the greatest CAGR throughout the projected period. North America generated the most revenue regionally in 2020, while LAMEA is predicted to have the best CAGR over the projection period.
Material Insights
Based on material, the solid category commanded more than two-thirds of the market in 2022, and it is anticipated that it would maintain its dominance during the projected period. Additionally, from 2023 to 2032, the liquid category is anticipated to have the greatest CAGR of 6%.
Geography Insights
For the period that this research covers, the smart packaging market is anticipated to develop at the greatest rate in the Asia-Pacific region. This is due to a few factors. The first is that Asians nowadays are, on the whole, significantly better educated than Asians in past generations. The second is that they are becoming lot more health-conscious as a result of the first reason. They are curious about the packaging of the meals they eat. Additionally, they inquire about the packaging these goods come in. The widespread consensus is that hygienic packaging results in safer food as well. In this area, people are likewise getting wealthy. As a result, people are able to afford to purchase products (food, pharmaceuticals) that are packed in clever packaging. Asians' growing desire for their food and medications to be wrapped in ecologically friendly packaging is another factor in this.
For the time frame covered, the North American region is anticipated to have the largest market share for smart packaging. People's concern over food waste is one factor for this. Many Americans want to ensure that as little food is wasted as possible due to the fact that many Americans are hungry and that hunger is an increasing concern in America. If extra food is wrapped well to keep it fresh for as long as possible, this is achievable.
Recent Developments
Tetra Pak introduced a linked packaging platform in April 2019 that would turn milk and juice cartons into interactive information channels, substantial data carriers, and technological instruments. Greater supply chain visibility for retailers will make it possible for distributors to follow stock movements and gain real-time information.
Why Sealed Air purchased MGM's flexible packaging division in February 2019. MGM is a well-known packaging firm that offers flexible food packaging materials for consumer packaged goods markets in Southeast Asia. Increasing its foothold in Asia-Pacific and increasing its printing and laminating skills are the two main goals of the purchase.
Key market players
3M
Avery Dennison Corporation
Ball Corporation
BASF SE,
Crown
International Paper
R.R. Donnelley & Sons Company
Stora Enso
Sysco Corporation
Zebra Technologies Corp. (Temptime Corporation).
Segments Cover in the Report
(Note*: We offer report based on sub segments as well. Kindly, let us know if you are interested)
By Type
By Application
Food & beverage

Personal care

Automotive

Healthcare

Others
By Material
By Geography
North America
Europe
Asia-Pacific

China
India
Japan
South Korea
Malaysia
Philippines

Latin America

Brazil
Rest of Latin America

Middle East & Africa (MEA)