The global printed electronics market was valued at USD 12 billion in 2022 and expected to surpass around USD 64.69 billion by 2032, poised to grow at a compound annual growth rate (CAGR) 18.40% during the forecast period 2023 to 2032.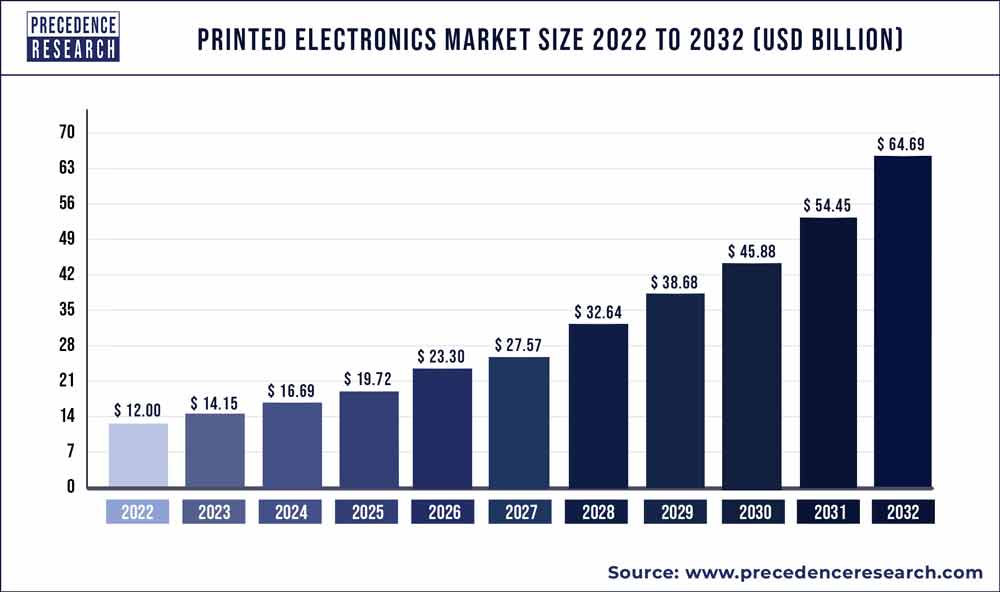 Access our Premium Real Time Data Intelligence Tool, Visit: Precedence Statistics

Printed Electronics Market Size in the U.S. 2023 To 2032
The Asia Pacific printed electronics market reached USD 5.52 billion in 2022 and projected to grow around USD 29.76 billion by 2032, growing at a CAGR 18.40 between 2023 to 2032.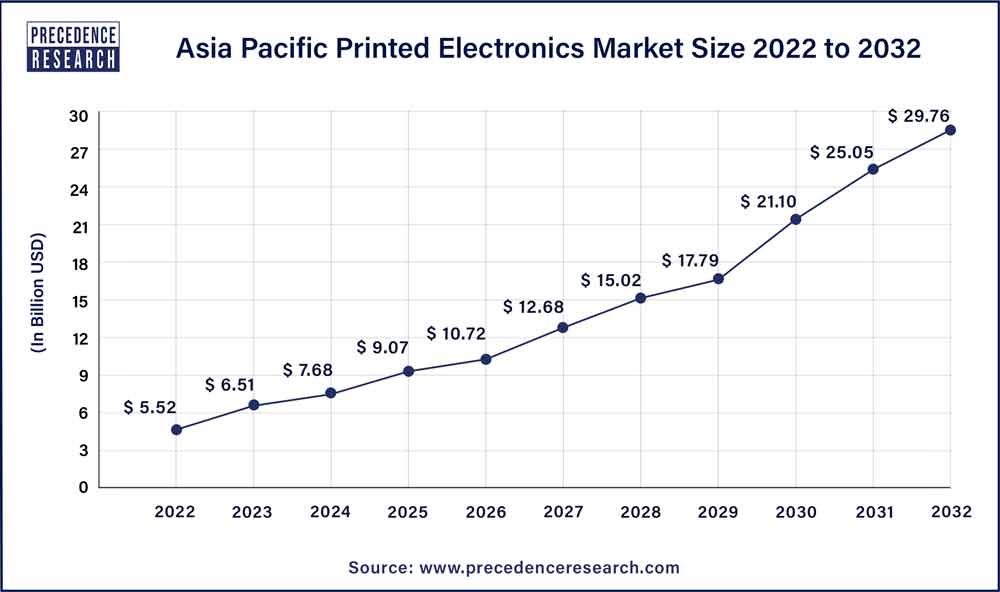 Asia Pacific is expected to account for the highest proportion of the global printed electronics market by 2022. During the projected period, the Asia Pacific market is anticipated to grow at the fastest CAGR. The Asia Pacific region is a major producer of electrical gadgets and components. The expansion of the printed electronics market in Asia Pacific can be due to increased investments in R&D activities connected to printed electronics in the region, as well as large-scale manufacture of electronic components. China, Japan, South Korea, and Australia are all key contributors to the Asia Pacific printed electronics market's expansion. The expansion of the printed electronics market in this area is being driven by factors such as the acceptance of novel technologies and the rising popularity of advanced consumer electronics.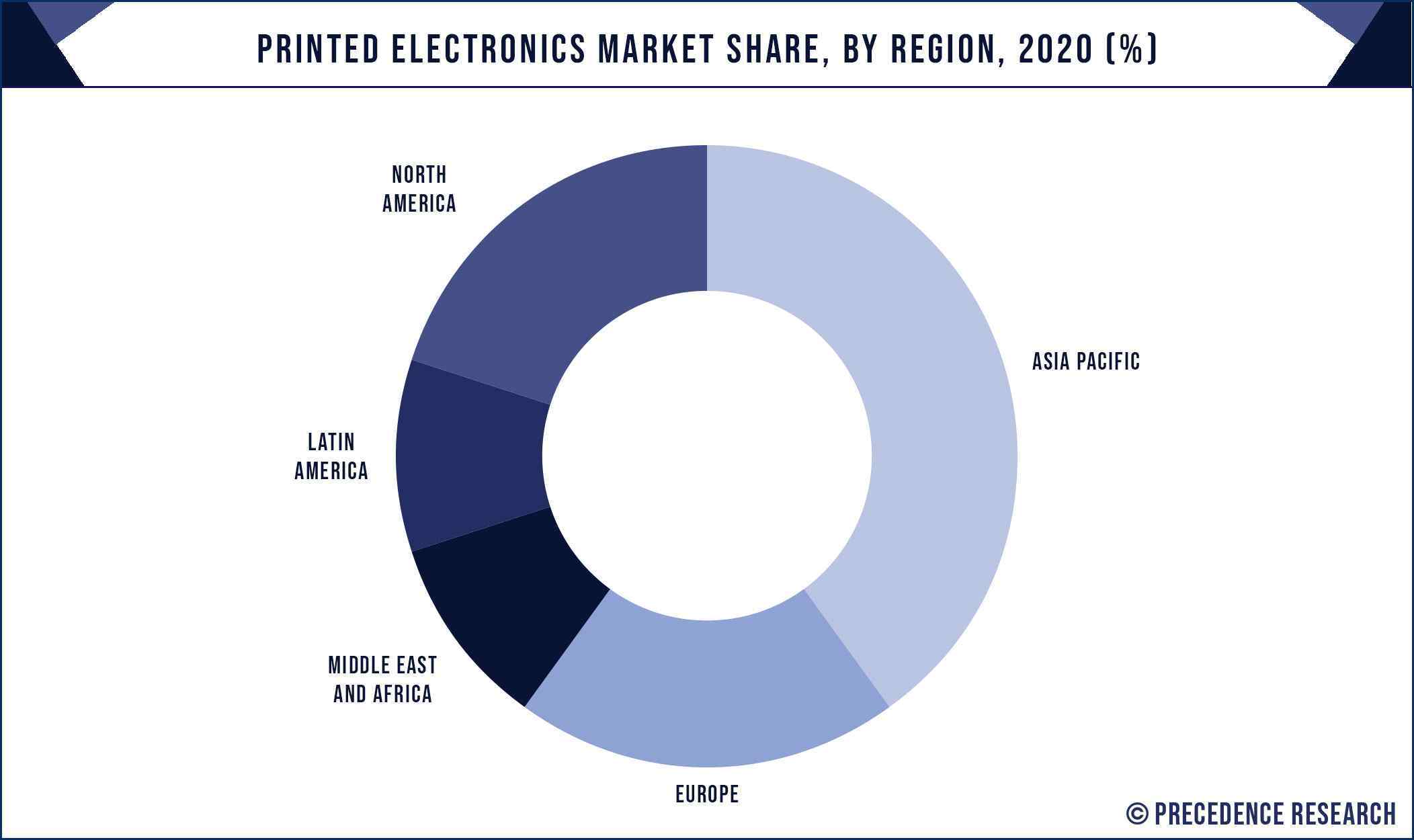 Due to increased R&D investments and expanding acceptance of the technology in various industrial applications such as photovoltaic, lighting, and RFID devices, this technology is expected to gain momentum in the North American and European regions as well. Over the projection period, the regions are expected to rise steadily in terms of CAGR. For instance, On 28th September 2021, Molex, a global electronics leader and connectivity inventor, today announced the Molex Flex-to-Board RF mmWave Connector 5G25 series. This innovative Molex micro connector enables RF antenna module manufacturers and mobile device designers to optimize high-speed 5G components while reducing space constraints on increasingly packed printed circuit boards.
Growth Factors
The growing use of IoT is opening up a slew of new growth prospects for printed electronics applications across the board. Furthermore, rising demand for improved OLED displays and printed RFID devices is paving the way for greater use of the technology due to its high efficiency, low power consumption, and low production cost.
Printed electronics has been a major research area, with an emphasis on ongoing improvements and improvisations to improve existing capabilities and explore new applications in a variety of disciplines. Several benchmarking advancements and technological developments have resulted from increased R&D investments by numerous groups, organizations, and corporations over the previous few decades. All these attributes are anticipated to fuel the market growth.
Consumer product makers, such as IoT devices, smartphones, display devices, and other communication devices, make up the majority of end-product manufacturers. Manufacturers incorporate technology into a variety of items based on customer demand and distribute them to distributors or retailers for sale. To get a foothold in expanding markets like Asia Pacific, major players in the sector are relying on mergers and acquisitions or distribution agreements.
Material Insights
Based on the material, the printed electronics market is divided into ink and substrate. The inks material segment accounted for the largest portion of the market in 2022.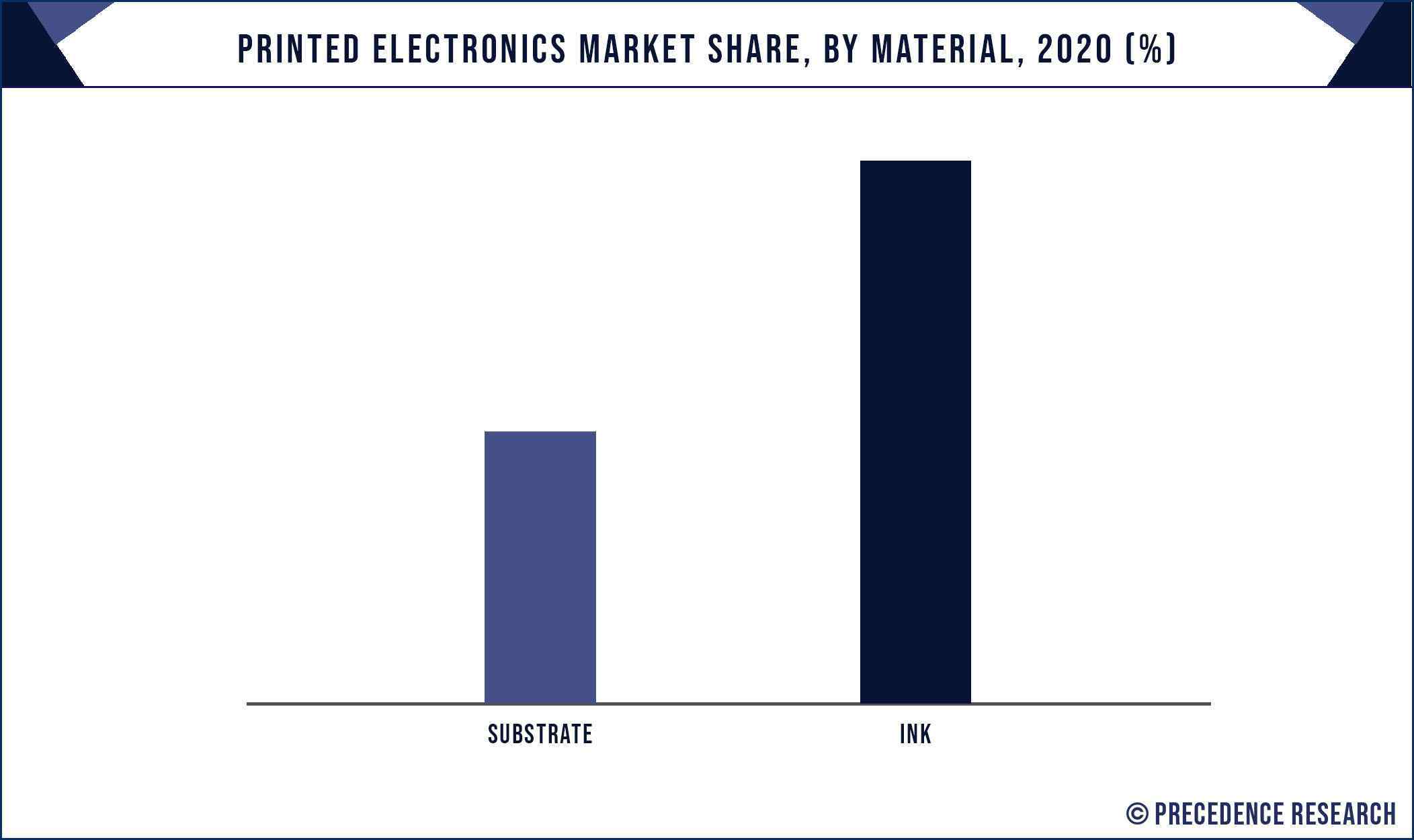 Moreover, throughout the projection period, the category is expected to develop at a faster CAGR. One of the most important materials utilized in the production of printed electronics is ink. The rising need for sophisticated printing technologies, better quality conductive inks, and compact devices are estimated to contribute positively towards the market growth. Graphene ink, for example, is being developed to create low-cost, flexible, water-resistant, and highly conductive electrical circuits.
Technology Insights
Based on the technology, the screen-printing technology segment accounted for contributing the largest market share in 2022 and is expected to grow significantly during the forecast period. Screen printing is one of the world's oldest and most versatile printing methods. This printing process is used to create printed sensors and batteries, as well as posters, labels, signs boards, textiles, and electronic circuit boards.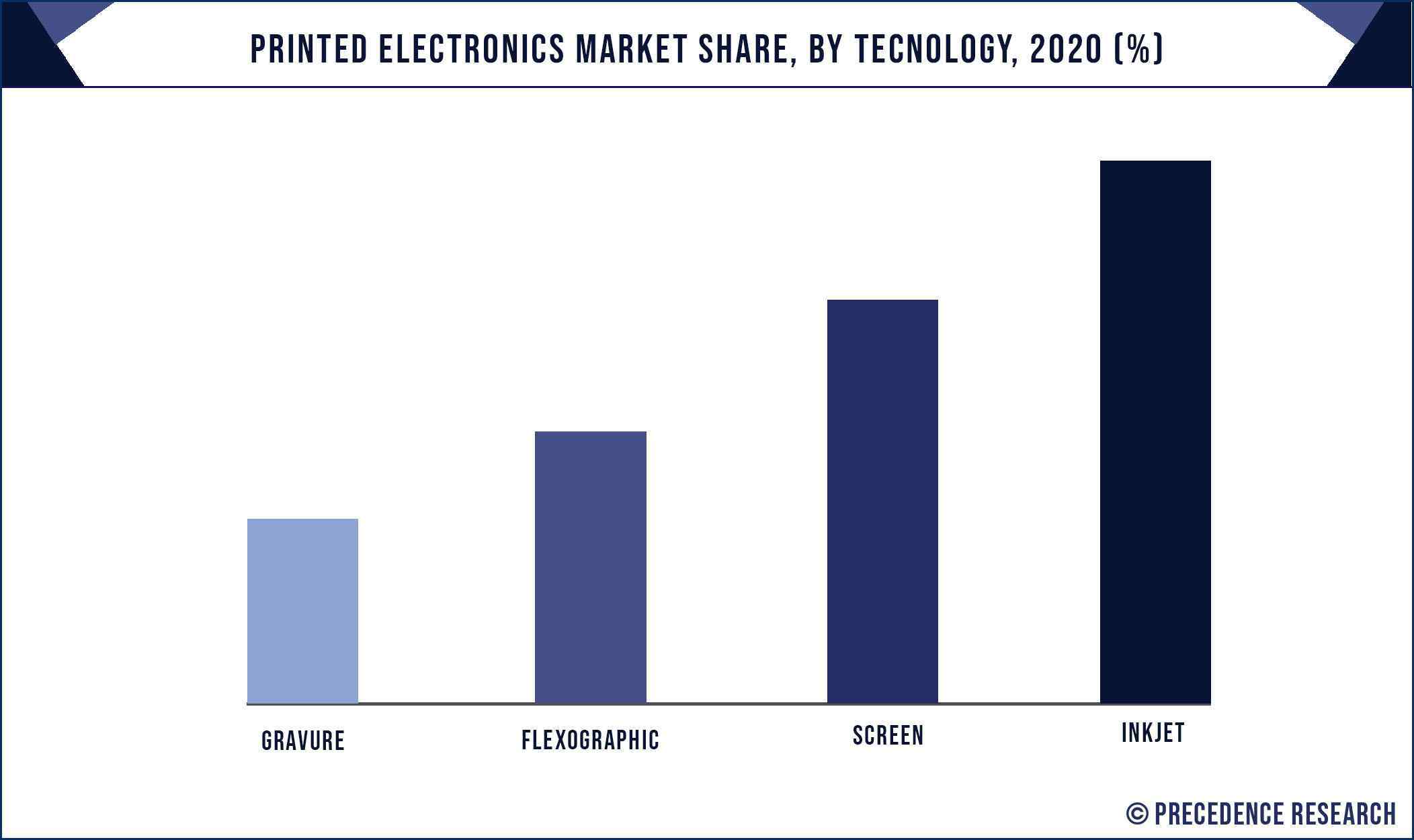 Electrodes and electrical wires for LED panels, touch panels, and solar cells are printed via screen printing. In addition, the technology allows for the creation of huge graphics and the application of heavier inks to substrate surfaces. All these attributes drive the market growth. For instance, On 3rd March 2021, NovaCentrix announced a transparent security system based on inkjet printed material displays multiple touch point operation of a transparent capacitive type sensor. The device's active touch component uses high transmittance values, making it difficult for the human eye to discern where the sensing part is located and increasing the device's security level. The method can be used on both rigid (used in windows, exhibitions, and displays) and flexible glass substrates (used in door lockers, and other curved surfaces). The demonstrator employs both stiff and flexible non-organic and printed technology.
Device Insights
Based on the Device, in 2020, display devices and photovoltaic devices accounted for the biggest market shares, and this dominance is expected to continue over the projection years because of its growing application in the burgeoning packaging business. The RFID device segment is also attracting a lot of attention around the world. Because of the precision, authenticity, dependability, and cost-effectiveness provided, printed electronics RFID devices are in high demand in the packaging industry. As a result, from 2023 to 2032, the RFID device segment is predicted to increase at a significant rate, with the highest CAGR.
End-use Industry Insights
Based on the End-use industry, the aerospace and defense segment is predicted to grow at the fastest rate. Because of their low weight, relative simplicity, and great reliability, printed electronics are widely used in the aerospace and defense industries, resulting in low maintenance requirements. Furthermore, the printing of electronic circuits on 3D surfaces allows market participants to produce aircraft wings, innovative materials for missiles, rockets, and other defense equipment.
Key Companies Profiled
The global Printed Electronics Market is characterized by the presence of various small and big players. The major market player includes Samsung Electronics Co., Ltd., LG Display Co., Ltd., Molex LLC, Agfa-Gevaert Group, Palo Alto Research Center Incorporated (PARC), DuPont de Nemours, Inc., Nissha Co., Ltd., BASF, NovaCentrix, and E Ink Holdings Inc. As the market is competitive in nature, the players are indulged in rapid adoption of advanced technologies to improve the performance of the electronics devices and in raising their competitive share by means of strategic initiatives like mergers, new product and acquisitions.
Scope of the Printed Electronics Market
Report Highlights
Details
Market Size
USD 64.69 Billion by 2032
Growth Rate
CAGR 18.40% From 2023 to 2032
Largest Market
Asia Pacific
Fastest Growing Market
North America
Base Year
2022
Forecast Period
2023 to 2032
By Technology

Inkjet
Screen
Gravure
Flexographic

By Device

Display
Photovoltaic
Lighting
RFID
Others

Companies Mentioned
Samsung Electronics Co., Ltd., LG Display Co., Ltd., Molex LLC, Agfa-Gevaert Group, Palo Alto Research Center Incorporated (PARC), DuPont de Nemours, Inc., Nissha Co., Ltd., BASF, NovaCentrix, and E Ink Holdings Inc.
Segments Covered in the Report
By Material
By Technology
Inkjet
Screen
Gravure
Flexographic
By Device
Display
Photovoltaic
Lighting
RFID
Others
By End Use
Automotive & Transportation
Healthcare
Consumer Electronics
Aerospace & Defense
Construction & Architecture
Retail & Packaging
Other End-use Industries
By Geography
North America
Europe

U.K.
Germany
France
Russia
Italy
Spain
Rest of Europe

Asia Pacific

China
India
Japan
South Korea
Rest of Asia-Pacific

LAMEA

Latin America
Middle East
Africa