The MEA printed circuit board market size was valued at USD 2.47 billion in 2022 and is expected to surpass around USD 3.60 billion by 2032, poised to grow at a CAGR of 3.9% during the forecast period from 2023 to 2032.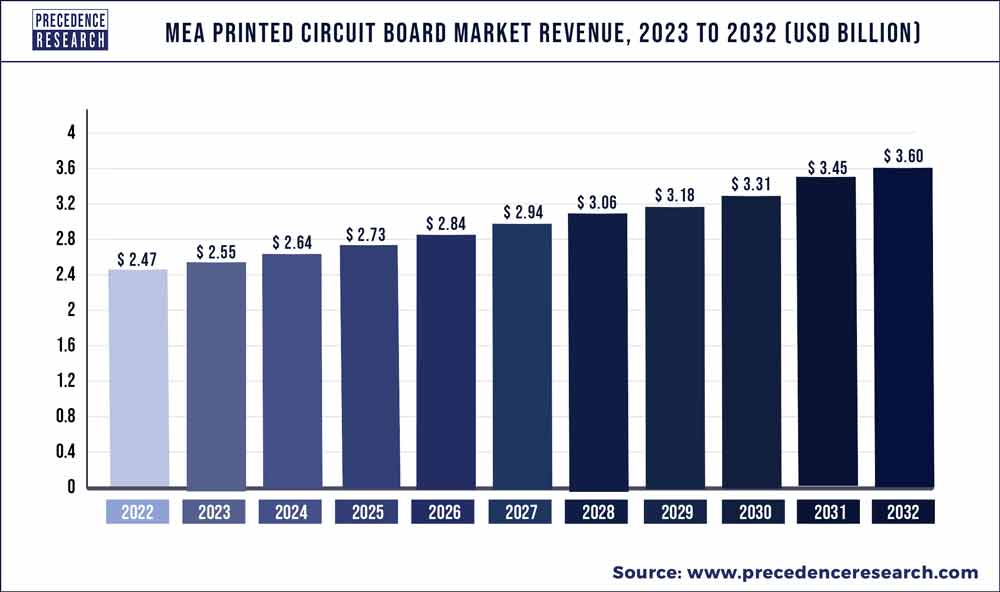 Access our Premium Real Time Data Intelligence Tool, Visit: Precedence Statistics
Key Takeaways:
By Type, the double-sided segment is expected to expand at the fastest CAGR between 2023 and 2032.
By Substrate, the rigid segment is predicted to grow at a remarkable CAGR between 2023 and 2032.
By End-User, the consumer electronic segment is expected to expand at the fastest CAGR from 2023 to 2032.
Market Overview:
The printed circuit board (PCB) market in the Middle East and Africa (MEA) region has been steadily growing in recent years. Printed circuit boards are essential components used in electronic devices to connect and support electronic components, providing electrical connectivity and mechanical support. The printed circuit board market is anticipated to grow due to the increasing expansion of the Internet of Things (IoT) as well as rising demand for healthcare and surgical robots. Additionally, the increasing need for electric vehicles is also propelling market growth.
Furthermore, there is a growing focus on renewable energy and smart grid infrastructure in the MEA region, which is also driving the demand for PCBs. Solar power, wind power, and other renewable energy sources are being increasingly adopted in the region to diversify energy sources and reduce dependency on fossil fuels. PCBs are critical in the production of electronic components used in renewable energy systems, such as solar inverters, wind power converters, and smart grid infrastructure, which are driving the demand for PCBs in MEA.
Report Scope of the MEA Printed Circuit Board Market:
| | |
| --- | --- |
| Report Coverage | Details |
| Market Size in 2023 | USD 2.55 Billion |
| Market Size by 2032 | USD 3.60 Billion |
| Growth Rate from 2023 to 2032 | CAGR of 3.9% |
| Base Year | 2022 |
| Forecast Period | 2023 To 2032 |
| Segments Covered | By Type, By Substrate, and By End-User |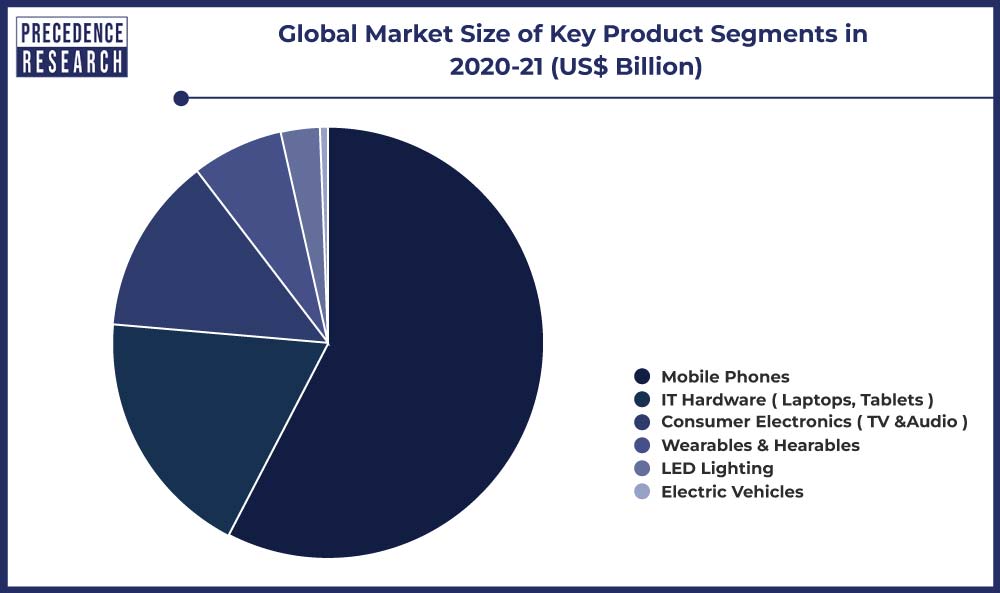 Market Dynamics:
Drivers:
Consumer electronics
The demand for consumer electronics, such as smartphones, tablets, televisions, and home appliances, is on the rise in the MEA region due to increasing disposable incomes. Additionally, the increasing urbanization and changing lifestyles are also expected to propel the market in MEA. PCBs are critical components used in these electronic devices for interconnecting electronic components and providing electrical pathways. The growing consumer electronics market in the MEA region is consequently boosting the demand for PCBs.
Rising government initiatives
Many governments in the MEA region have been implementing various initiatives to support the growth of the PCB market. These initiatives include policies, regulations, and incentives aimed at attracting investments, promoting local manufacturing, and fostering innovation in the electronics industry. One of the key government initiatives in the MEA region is the establishment of industrial parks and free zones with favorable policies for electronics manufacturing. These industrial parks and free zones provide infrastructure, tax incentives, and other advantages to attract companies involved in PCB manufacturing and related electronic manufacturing activities.
For instance, countries such as the United Arab Emirates (UAE) and Saudi Arabia have established free zones with specialized facilities for electronics manufacturing, including PCB manufacturing, to attract foreign investment and promote local production. Another government initiative in the MEA region is the development of research and innovation centers focused on electronics manufacturing, including PCB technology.
These centers aim to promote research and development in PCB manufacturing processes, materials, and technologies, and provide support for local companies to develop new products and technologies. For example, research institutes, universities, and innovation hubs in countries like Israel and South Africa have been actively involved in PCB research and development, supported by government funding and initiatives.
Restraints:
Rising environmental concerns
Printed circuit boards consist of hazardous materials and components that are difficult to dispose of and hence are dangerous to the environment. PCB waste comprises plastic, metal, copper, and ceramic materials. Along with this, the PCBs use epoxy resins which contain chlorine in large amounts.
Limited domestic PCB manufacturing capacity
The MEA region has a relatively low domestic manufacturing capacity for PCBs, leading to a higher dependency on imports from other regions. This results in higher costs due to import duties, logistics, and lead times, which impact the competitiveness of locally produced electronics. Limited domestic manufacturing capacity also makes it challenging to cater to the increasing demand for customized and specialized PCBs, which require quick turnaround times.
Opportunity:
The increasing adoption of advanced technologies, such as 5G, the Internet of Things (IoT), and smart devices are anticipated to provide an opportunity for the PCB market. These technologies require sophisticated and high-performance PCBs to enable reliable and high-speed data communication, which presents a significant chance for PCB manufacturers in the region. Additionally, the automotive industry in the MEA region is also driving the demand for PCBs. Modern vehicles are becoming more electronic and connected, requiring advanced PCBs for various applications such as infotainment systems, advanced driver-assistance systems (ADAS), and electric vehicle components. The growing automotive production and sales in the MEA region are expected to boost the demand for PCBs in the automotive sector.
Impact of COVID-19:
The COVID-19 pandemic had mixed effects on worldwide industries. The supply chain was disrupted due to restrictions on migration and international trade. Additionally, the decrease in demand for flexible PCBs due to the cancellation of numerous cargos impacted the PCB market.
Furthermore, the widespread use of IoT technologies as well as HDI techniques has increased the emphasis on producing PCB components that support the stay-at-home initiative. The need for medical electronics like fog generators, ventilators, respiratory support systems, and monitors.
The Russia-Ukraine war hampered the worldwide recovery from the COVID-19 pandemic. The conflict between these two countries has resulted in economic sanctions against a number of countries, a rise in prices for commodities, and supply chain interruptions, generating inflation in goods and services and hurting numerous markets throughout the world.
Segments Insight:
Type Insights:
On the basis of type, the double-sided printed circuit boards are anticipated to grow at the highest CAGR from 2023 to 2032. The growth of the segment is due to the wide utilization of double-sided PCBs in electronics and other applications. The double-sided PCBs consist of conducting layers that comprise dielectric layers on each side. These double-sided PCBs are mainly utilized by manufacturers for circuit boards that require a high degree of complexity. They serve as cost-effective alternatives. Vendors for double-sided PCBs are Ibiden, ATS, Nippon Mektron, Shinko Electric, Unimicron, and Sumitomo Electric.
Furthermore, the multi-layer PCB segment is anticipated to grow at the fastest CAGR from 2023 to 2032. The expansion is due to technological advancement in electronic design automation and electromagnetic shielding. The multi-layered PCBs are mainly utilized in the automotive sector such as audio systems and vehicle infotainment. They consist of three layers that include a double layer of PCBs with a conductive material in the middle. Multilayer PCBs are mainly used in medical and electronic equipment like GPS, computers, X-ray machines, handheld devices, heart monitors, etc.
Substrate Insights:
The rigid PCB sector is anticipated to grow at the highest CAGR from 2023 to 2032. The demand for rigid PCB is due to its property to withstand high stress and temperature. They have high endurance against harsh chemicals, corrosive lubricants, and UV radiation. This led to their application in a wide range of products such as MRI systems, consumer electronics, EMG machines, and others. The demand is also growing due to the rising number of electronic industries using circuit boards that are of high quality, cost-effective and durable.
Rigid-flex circuits are expected to grow at a remarkable pace from 2023 to 2032. Rigid-flex circuits are the hybrid structure of flexible and rigid PCBs. The most common material used in rigid-flex circuits is polyimide. Polyimide is used for the flexible circuit portion and FR4 is used for the rigid portion.
End-User Insights:
The consumer electronic sector is expected to grow at the highest CAGR from 2023 to 2032. Consumer electronics include smartphones, tablets, and wearable devices. The growth of the sector is due to the rapidly increasing living standards of the people in MEA as well as rising disposable income. The expansion is also due to the growing demand for wearables and smart devices. The changing consumer preferences for advanced electronic devices are driving the demand for consumer electronics in the region, which in turn is initiating a demand for PCBs.
The automotive sector is anticipated to grow at the fastest CAGR from 2023 to 2032. The automotive industry in MEA is witnessing significant growth as the automotive sector increasingly adopts electronic systems for safety, infotainment, and connectivity. The MEA region has seen a surge in automobile production, with many global automotive manufacturers setting up production facilities in the region to cater to the growing demand. This has resulted in an increased demand for PCBs for use in various automotive electronic applications.
Recent Developments:
In February 2023, 0603 RF Components for Power Amplifiers and 5G Transceivers was introduced by TTM Technologies, Inc.
In December 2022, an agreement was signed between TTM Technologies, Inc. and Raytheon Missiles & Defense.
A contract was made between Samsung C&T Corporation and Sumitomo Electric Industries, Ltd. in February 2022.
Key Market Players:
Elmatica AS
Amitron Corporation
Eurocircuits
TTM Technologies
Fineline Global
Falcon PCB Group
Zestron
Rush PCB
Sierra Circuits
Sanmina Corporation
Segments Covered in the Report:
(Note*: We offer report based on sub segments as well. Kindly, let us know if you are interested)
By Type
Double-Sided
Single-Sided
Multi-Layer
High-Density Interconnect
By Substrate
Rigid
Flexible
Rigid-Flex
By End-User
IT & Telecommunication
Consumer Electronics
Industrial Electronics
Automotive
Aerospace and Defense
Others