The global smart sensors market size was estimated at USD 38.97 billion in 2022 and it is expected to hit around USD 231.04 billion by 2032, growing at a remarkable CAGR of 19.48% during the forecast period 2023 to 2032.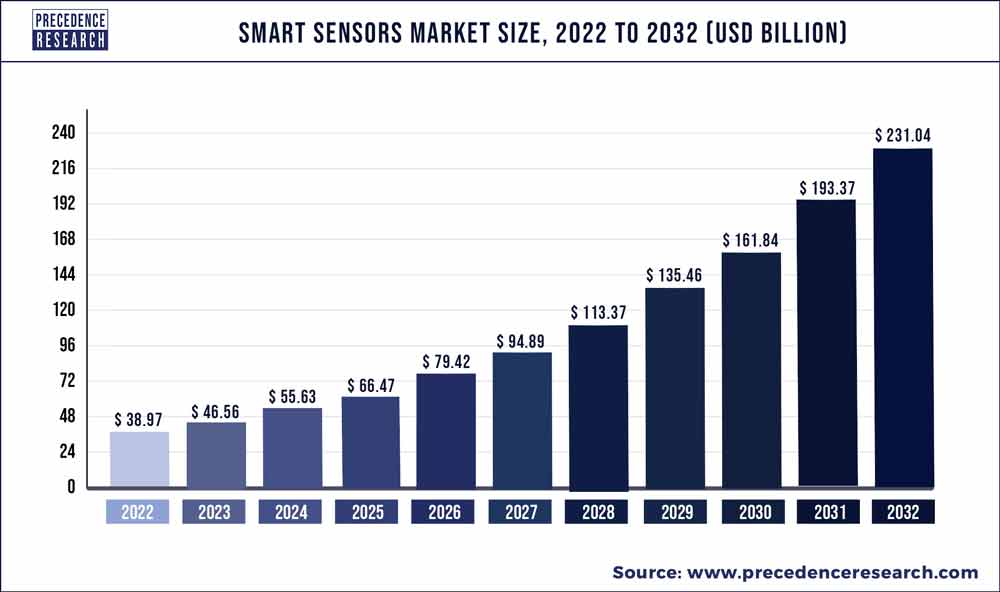 Access our Premium Real Time Data Intelligence Tool, Visit: Precedence Statistics
Key Takeaways:
Asia Pacific is predicted to capture a remarkable revenue share from 2023 to 2032.
North America is expected to expand at the fastest CAGR between 2023 and 2032.
By Sensor Type, the image sensors segment is expected to account the maximum market share from 2023 to 2032.
By Sensor Type, the touch sensor segment is expected to expand at the fastest CAGR between 2023 and 2032.
By Technology, the MEMS technology is predicted to dominate the market from 2023 to 2032.
Market Overview:
A smart sensors is a device that collects data from the outside world, analyzes it before sending it, and uses internal computer power to perform predetermined activities when particular inputs are recognized. Smart sensors allow for the more accurate and automatic collection of the environmental data, with less erroneous noise interfering with the information that is accurately collected. The smart sensor is a crucial part of the Internet of Things (IoT), an increasingly popular environment in which almost everything imaginable can be supplied with a unique identity and the ability to transmit data via the Internet or a similar network. One way that smart sensors are utilized is as a component of a wireless sensor and actuator network (WSAN), which consists of nodes that can number in the thousands and are individually connected to one or more other sensors. The market of smart sensors is driven by various factors including the adoption of Industry 4.0, the growing aerospace sector, increasing automotive industries and rising smart cities projects across the globe.
According to the India Brand and Equity Foundation, in India, the 'Smart City Mission' was given a total investment budget of US$28.31 billion in 2020. As of 2020, 5,331 projects totaling US$24.31 billion—or 86% of the total investments—had been solicited. As of 2020, 2,122 projects totaling US$ 4.83 billion (68% of the total) had been finished, while 4,540 projects totaling US$ 19.33 billion (68% of the total) had work orders filed for them.
As per CEIC Data, Australia's motor vehicle sales increased by 1.8% in February 2023 as compared to 11.9% the previous month.
Report Scope of the Smart Sensors Market:
| | |
| --- | --- |
| Report Coverage | Details |
| Market Size in 2023 | USD 46.56 Billion |
| Market Size by 2032 | USD 231.04 Billion |
| Growth Rate from 2023 to 2032 | CAGR of 19.48% |
| Largest Market | Asia Pacific |
| Fastest Growing Market | North America |
| Base Year | 2022 |
| Forecast Period | 2023 to 2032 |
| Segments Covered | By Sensor Type, By Technology, By Component, and By Industry Vertical |
| Regions Covered | North America, Europe, Asia-Pacific, Latin America and Middle East & Africa |

Market Dynamics:
Driver:
The increasing adoption of smart wearables
The increasing adoption of smart wearables is expected to drive the growth of the market during the forecast period. The main component and key selling point of many wearable gadgets are sensors. To allow users to interact with their surroundings, virtual augmented and mixed reality (VR/AR/MR) systems rely on a wide range of sensors, including motion sensors, biological sensors, and environmental sensors. For virtual content to achieve human-environment interaction, a core set of sensors are needed.
The power supply, wireless communication, sensors, actuators, and processor and memory are the five modules that make up smart wearable technology. The sensor is the most cutting-edge component of the five modules and the hub of inter-object communication. Wearable technology has advanced to the point that it can now offer more precise data monitoring.
Restraints:
High installation and maintenance cost
Due to the expensive component and battery costs associated with smart sensors, their deployment has been constrained. Batteries with a shorter life duration are depleted more quickly due to the sensors' and wireless network's energy requirements. In addition, the usage of technologies created for short-range applications and restricted battery life is related to the energy requirements of the sensors and wireless link, as well as the low radio range. Potential integration of sensing technologies with a network or intelligence for signal processing is included in the costs of implementation.
Opportunities:
Growing smart cities projects spur the demand for sensors
The growing smart city projects across the globe are one of the significant factors that propel the market growth over the forecast period. Data centers, wireless devices, sensor networks, and camera networks make up a critical component of a smart city's infrastructure. Intelligent infrastructure is built on sensing, and sensors are crucial components of intelligent control systems. The urban environment has numerous, but hidden, sensors.
In addition to temperature and humidity sensors, sensor networks can also use acoustic, lidar, radar, 3D cameras, ambient, flow, gas, and humidity sensors. Programs and centralized platforms can communicate with each other without difficulty due to integrated sensing systems. Several connected applications, including environmental monitoring and public safety, can be made possible by a sensor network built with a specific goal in mind. This centralized network will help to reduce ongoing investment costs and eliminate the need for multiple distinct sophisticated networks. Thereby, driving market growth.
Segments Insight:
Sensor Type Insights:
Based on the sensor type, the global market is bifurcated into pressure sensors, temperature and humidity sensors, flow sensors, touch sensors, image sensors, motion & occupancy sensors, water sensors, position sensors, light sensors, ultrasonic sensors and others. The image sensors segment is expected to hold the largest market share over the forecast period.
The growth in the segment is attributed to the various application of image sensors in different fields including medical imaging, thermal imaging and electronic imaging. In medical imaging, these sensors are used to identify the internal structures hidden by the bones and skin of the body. Moreover, the growing prevalence of various disease need the use of numerous medical imaging devices such as X-ray, ECG and EEG and these devices use image sensors to analyze the disease. Thus, the various application of image sensor in different fields is expected to propel the growth of the image sensor segment.
The touch sensor segment is expected to grow exponentially during the forecast period. A touch sensor may record and capture an object or device physical contact or embrace. It enables touch or proximity detection, typically from a human user or operator, allowing a machine or object to perceive touch or proximity. The possibilities for unique interaction methods are endless with touch sensing input devices, which can also be used to replace mechanical switches and buttons and prevent mechanical wear and tear. For simple sliders, rotary wheels, or touch pads for user interfaces, these can be set. Thus, driving the segment growth.
Technology Insights:
Based on the technology, the global smart sensors market is divided into MEMS, CMOS, and others. The MEMS technology is expected to dominate the market over the forecast period. By enabling the sensor to store a sizable amount of data in the blink of an eye, this technology enables the sensor to operate intelligently. The microprocessor processes the typical data collected by the sensor before either erasing it or storing it based on an intricate calculation. Reduced energy and material consumption improved reproducibility, increased precision, and increased sensitivity and selectivity are among the main advantages of MEMS technology. Thereby, driving the segment growth over the forecast period.
Regional Insights:
The Asia Pacific is expected to hold a significant revenue share over the forecast period owing to the rapid expansion of various end-use sectors such as automotive, healthcare, and consumer electronics. For instance, the growth rate of China's electronics output volume increased from 10% in 2016 to 14.5% in April 2017, which is the greatest level in more than five years, according to China Information Technology Industry. The sector helps China's industrial development by increasing value-added output by 13.9% annually.
The technological advances in China's information and communication technology (ICT) business and rising consumer demand for drones, smart devices, and virtual reality are both credited with the industry's rapid growth. From 237.2 million units in 2012 to 901.2 million units in 2017, the number of smartphones produced alone increased. As was to be expected, the figures significantly decreased in 2020 as China's share of global smartphone production fell from 74% in 2017 to 68% in 2020, allowing other nations to catch up with China's smartphone production. Therefore, the aforementioned facts justify the growth of the end-user industry, which in turn, propels the market growth in the region.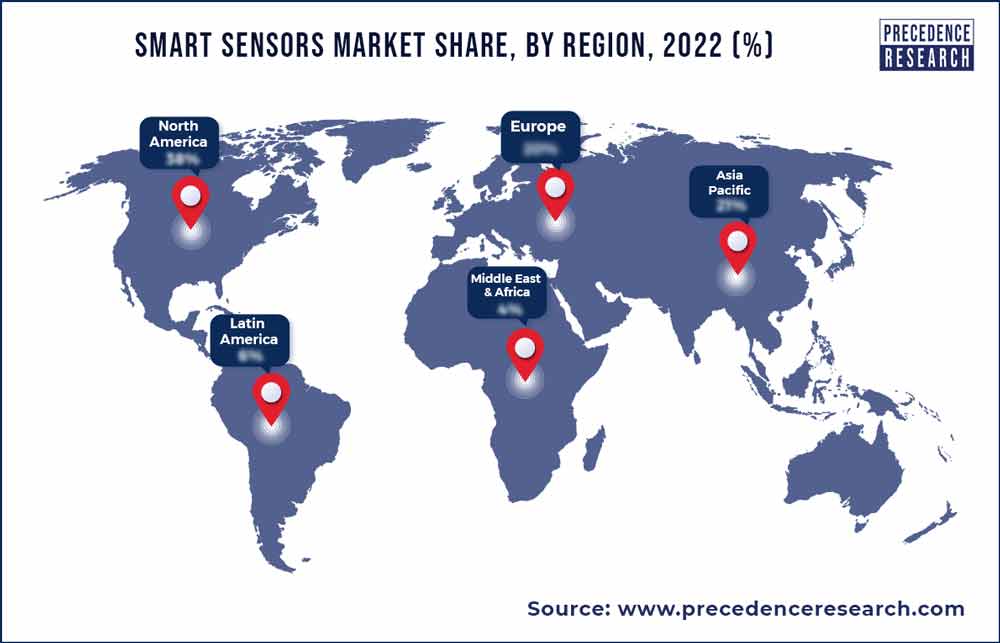 North America is expected to grow at a constant rate over the forecast period. The growth in the region is attributed to the early adoption of advanced technology and growing per capita income. Moreover, the growing demand for smart sensors from various industries in the region which includes oil & gas, transportation and others is expected to drive the regional market growth. For instance, as per the US Energy Information Administration report published in January 2023, the agency forecasted that the crude oil production in the US will average 12.4 million barrels per day in 2023 and 12.8 million b/d in 2024, surpassing the previous year record of 12.3 million b/d in 2019. Thus, the increasing exploration and production activities in the oil & gas industry will rise in demand for smart sensors over the projected period.
Europe is expected to grow significantly during the forecast period owing to the rapid adoption of smart sensors by the automotive industry. The increasing production and sales of vehicles in the region are anticipated to rise the demand for smart sensors as modern vehicles are equipped with the advanced sensor for security purposes. For instance, as per International Energy Agency, after a boom in sales in 2020, the number of electric car sales in Europe increased by more than 65% year over year to 2.3 million in 2021.
Recent Developments:
In January 2023, Elliptic Labs, a global AI software company and the world leader in AI Virtual Smart Sensors introduced AI Virtual Distance Sensor, the recent addition to its AI Virtual Smart Sensor Platform. With the help of the AI Virtual Distance Sensor, which is a software-only solution, devices may dynamically measure their distance from one another and provide relative location detection.
In March 2023, the PCB-less pressure sensor line of Melexis, a multinational microelectronics engineering company, now includes two additional products. Relative pressure sensors, such as the MLX90823 (analogue output) and MLX90825 (digital SENT output), can be employed in gauge mode (with two changeable pressure levels). They measure the pressure difference between the two sides of the sensor, as opposed to absolute pressure sensors. These factory-calibrated instruments were made to measure pressure between 0.1 and 1.5 bars.
In February 2023, Henkel, a leading provider of material technologies worldwide, introduced a cutting-edge sensor experience kit designed specifically for IoT engineering across industries. Four different printed electronics technologies are available in the unique Henkel Qhesive Solutions Sensor INKxperience Kit, which comes pre-configured with hardware and software for prototype and engineering ideation. The kit, which was created for professional engineers, enables them to investigate and experiment with the technology of printed electronics for the creation of IOT sensor solutions rapidly and effectively.
Key Market Players:
Siemens AG
Honeywell International
Texas Instruments
ABB
STMicroelectronics
NXP Semiconductors
Robert Bosch GmbH
Infineon Technologies AG
GE Measurement & Control Solutions
Panasonic Corporation
TE Connectivity
Analog Devices
Fujitsu Limited
Omron Corporation
Schneider Electric
Murata Manufacturing Co., Ltd.
Mitsubishi Electric Corporation
Broadcom Limited
Hitachi, Ltd.
Amphenol Corporation
Ericsson
Rockwell Automation, Inc.
First Sensor AG
Yokogawa Electric Corporation
Segments Covered in the Report:
(Note*: We offer report based on sub segments as well. Kindly, let us know if you are interested)
By Sensor Type
Pressure Sensors
Temperature and Humidity Sensors
Flow Sensors
Touch Sensors
Image Sensors
Motion & Occupancy Sensors
Water Sensors
Position Sensors
Light Sensors
Ultrasonic Sensors
Others
By Technology
By Component
Analog-to-Digital Converters (ADC)
Digital-to-Analog Converters (DAC)
Transceivers
Amplifiers
Microcontrollers
Others
By Industry Vertical
Aerospace & Defense
Automotive
Biomedical & Healthcare
Industrial Automation
Building Automation
Consumer Electronics
Others
By Geography
North America
Europe
Asia-Pacific
Latin America
Middle East and Africa