The global drug formulation market size was estimated at USD 1.64 trillion in 2022 and is expected to hit around USD 2.95 trillion by 2032 with a noteworthy CAGR of 6.05% from 2023 to 2032.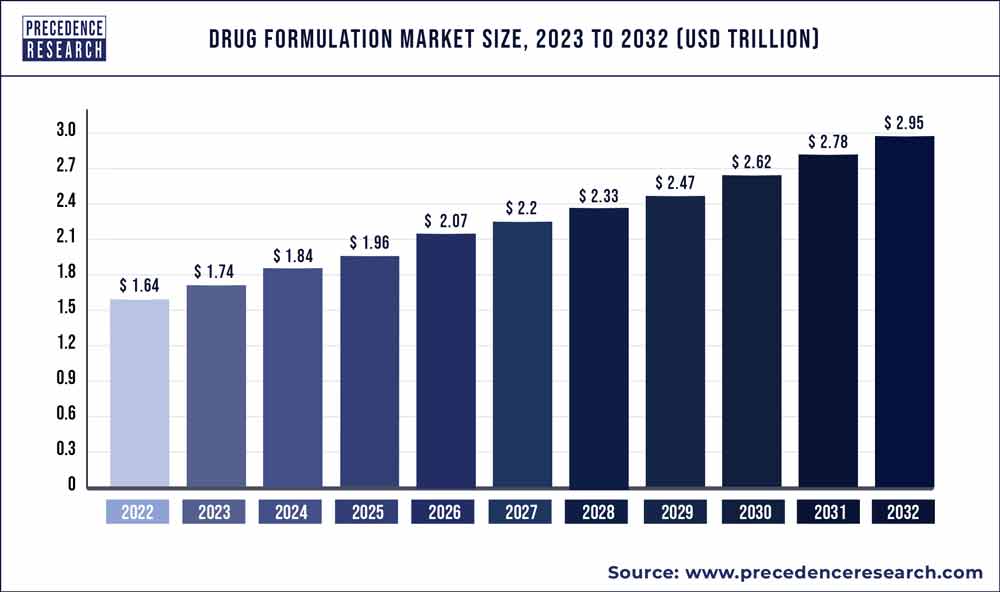 Introducing new technology and more economical, effective manufacturing techniques have drastically altered the pharmaceutical industry. An increase in investment flow in this sector has positively impacted the market growth. Robotics and artificial intelligence are used to decrease product waste and manufacturing floor downtime (AI).
Additionally, single-use disposable products have gained popularity in this sector and have supplanted open-transfer manufacturing methods. The paradigm changes towards integrated, intelligent, and data-rich paperless operations have led to accurate and error-free production. Drug production has accelerated as a result of these continuous developments.
A pharmaceutical formulation combines active chemical ingredients (APIs) mixed with suitable excipients and technological processes to create a pharmaceutical product. Each inactive component employed to develop the formulation serves a specific function. The increasing need for biologics to treat chronic diseases like cancer, Alzheimer's, diabetes, arthritis, and dementia will be responsible for the market's investment trend.
Key Points:
By geography, the North America contributes the highest share in 2022.
By geography, the Asia Pacific is expected to experience the quickest growth from 2023 to 2032.
By formulation, the tablets segment dominated the market in terms of revenue in 2022.
By routes of administration, the oral segment dominated the market in 2022.
By therapy area, the other illnesses segment dominated the market and would continue to hold the top spot from 2023 to 2032.
By end-user, the retail segment held the maximum revenue share in 2022.
Market Growth
The advent of cutting-edge technologies and more accessible and economical manufacturing techniques has resulted in a significant shift in the pharmaceutical sector. To reduce production waste and downtime on the factory floor, robotics and artificial intelligence are rapidly being deployed in the pharmaceutical business.
By providing several opportunities to treat a wide range of medical diseases, personalized medicine ongoing advancements have also made it possible to create patient-centric models. Additionally, the prevalence of chronic diseases in the population is rising, and the amount of investment flowing into this industry is increasing, which is helping to fuel market expansion. The growing global population, which recently has aided the drug formulation industry's growth, is also impacting the consumption of medicines.
Report Scope of the Drug Formulation Market
| | |
| --- | --- |
| Report Coverage | Details |
| Market Size in 2023 | USD 1.74 Trillion |
| Market Size by 2032 | USD 2.95 Trillion |
| Growth Rate from 2023 to 2032 | CAGR of 6.05% |
| Base Year | 2022 |
| Forecast Period | 2023 to 2032 |
| Segments Covered | By Formulation, By Routes of Administration, By Therapy Area and By End-User |
| Regions Covered | North America, Europe, Asia-Pacific, Latin America and Middle East & Africa |

Market Dynamics
Drivers
The trend of critical pharmaceuticals' patent protection expiring more frequently and the rise in pharmaceutical and biopharmaceutical businesses outsourcing their services are the two main drivers of the market's expansion. The expansion of the market is being driven by the rising trend of essential medications' patent protection expiring.
For instance, the Korean Ministry of Food and Drug Safety (MFDS) announced that 158 pharmaceutical product patents were anticipated to expire in 2021, in accordance with a 2021 update by the Generics and Biosimilar Initiative, as part of ongoing action to improve the quality of generics and ensure an effective and competitive generics market.
According to the same source, 44 patents are listed suitable for rapid generics entrance. They do not have any additional patents on the items in question on the MFDS's Green List, comparable to the FDA's (US Food and Drug Administration) Orange Book. This consequently drives up the need for formulation development outsourcing among emerging candidates, fueling market expansion.
Restraints
Pharmaceutical compositions are currently created through trial and error methods. This approach is labor-intensive, expensive, and takes a lot of time. It also requires a lot of labor to develop and maintain. However, the complexity of adhering to regulatory values would influence the medication development process, as repeating the drug development process would have a significant negative economic impact on the pharmaceutical business.
The pharmaceutical industry is under pressure to provide new active pharmaceutical ingredients and reduce healthcare expenses (APIs). As a result, this issue is anticipated to limit the involvement of pharmaceutical firms in the medication development process, which is expected to hamper market expansion. Another factor that is anticipated to restrain the growth of the drug formulation market is supply-chain complexity.
Most pharmaceutical companies have a convoluted supply chain that needs to be more utilized or efficient. The supply chain's cost-effectiveness or lack of flexibility is to blame for its complexity. The profitability of major players has been hurt, though, and this tendency is anticipated to persist over time.
Opportunities
The amount of money pharmaceutical companies invest in research, and development depends on several factors, including the anticipated revenue from a new drug, the predicted cost of developing that drug, and legislation influencing the drug supply and demand (R&D). For instance, pharmaceutical companies spent, on average, roughly 25% of their revenue on research and development, according to Federal Government Statistics.
Top R&D spenders in 2019 allocated nearly one-fifth of their income to R&D in 2021. The pharmaceutical sector is international; even if companies with US headquarters sometimes spend the most on R&D. over the projected year, such circumstances are predicted to produce profitable opportunities for local businesses to strengthen their positions and boost their market shares.
Segments Insight
Formulation Insights
In 2022, tablets dominated the market in terms of revenue, holding a share owing to the availability of various tablets available, including film- and enteric-coated, effervescent, and orally disintegrating ones. Introducing 3D-printed pills created for specific requirements is another factor driving market expansion.
The injectables segment is expected to expand during the projected period at the second-fastest CAGR. The expansion of the market is linked to an increase in the number of prefilled syringes and auto-injector approvals. Additionally, a movement in consumer preferences toward larger dosage quantities has led to a rise in demand for 2.25-mL needle syringes, which considerably boosts the segment's income.
Subcutaneous injections have become incredibly popular recently among patients, device manufacturers, and medicine developers. These injections have the following advantages: self-administration, simplicity, dependability, accuracy, prefilled syringes used for fixed doses, small design, compliance, and excellent patient comfort. The introduction of subcutaneous injections is anticipated to boost the injectables market's growth further.
Routes of Administration Insights
In 2022, the oral segment dominated the global market. Oral dose forms are inexpensive, simple, and accommodating to patients. Orally given medications are now more widely available on the market because of developments in drug delivery technology like sustained-release dose formulations and tailored drug delivery.
The parenteral category is anticipated to grow at the quickest CAGR over the projected period due to a significant increase in automated systems, barrier systems, including controlled access barrier systems, and isolators being used in parenteral manufacturing. Many package designs, including ready-to-fill syringes, cartridges, and vials, have significantly changed the parenteral manufacturing industry.
The growing desire for novel medication delivery systems that better suit patients' "mobile lifestyles" paves the way for the widespread use of pens and auto-injectors, further accelerating the segment's growth. Additionally, a rise in drug developers' outsourcing of fill-finish manufacturing services increases the parenteral market's income creation.
Therapy Area Insights
In 2022, the other illnesses category dominated the market, which would continue to hold the top spot over the forecasted years. For R&D spending in this sector, the COVID-19 pandemic is expected to be the primary motivator. Additionally, the development of medicines to treat essential illnesses in women, like irregular menstruation, has attracted much operational player attention due to increased awareness of women's health.
According to several studies, the cost of cancer treatment in the healthcare system has increased by half recently. Additionally, the segment is growing due to the massive number of immuno-oncology clinical trials being conducted worldwide. There are several potential opportunities for the diabetes industry due to an increase in the incidence rate of diabetes worldwide and the number of marketed branded anti-diabetic treatments.
End-User Insights
The highest revenue share in 2022 came from the retail sector. More people choose self-medication as a treatment for minor health conditions since medical costs and health insurance have increased. OTC medications have also become more well-liked as a convenient and affordable alternative. These reasons cause a high rate of drug purchases through retail outlets, which raises the segment's market share. Specialty pharmaceuticals are now widely available at retail pharmacies as a result of specialty pharmacies' tremendous rise in recent years, contributing to the segment's growth.
To improve clinical outcomes and compete with other businesses in the market, retail pharmacists also engage in partnerships and collaboration models with healthcare providers and facilities. Due to the introduction of electronic information transfer, there will likely be a wide range of opportunities in primary care. By doing this, difficulties with poor communication between primary and secondary care can be resolved.
Regional Insights
The US market contributes significantly to the support of the global pharmaceutical industry. FDA approvals have accelerated owing to rising R&D expenditures, and they are anticipated to stabilize through 2022. The government approved 50 novel pharmaceuticals in 2022, roughly on par with the approval of 53 drugs the previous year. Due to the ongoing global immunization campaign and the need for necessary and elective medical treatments in 2023, US pharmaceutical output and sales are anticipated to remain high.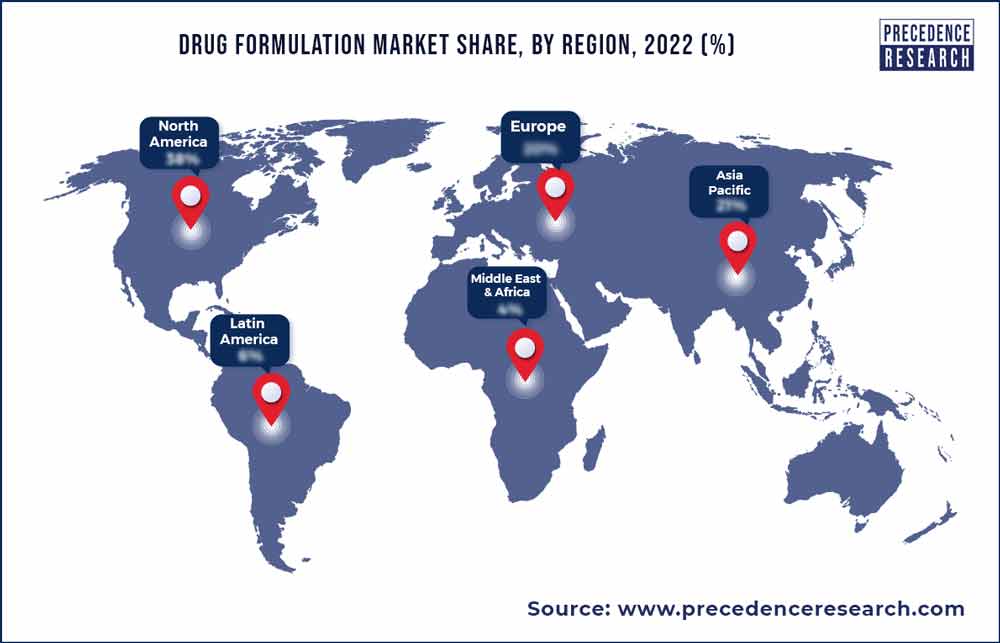 Due to its sizable customer base, rising healthcare costs, increasing disease incidence, and supportive legislative frameworks, Asia Pacific is expected to experience the quickest growth among all regions throughout the projection period. The area has also undergone a digital revolution to provide sustainable patient care in recent years.
Several national-level programs have encouraged the use of big data and artificial intelligence (AI) in Asia. The Chinese State Council released guidelines to promote the growth of big data and AI in healthcare, focusing on its use in that field. Additionally, several western businesses are building new facilities in this region because of the lower costs.
Recent Development
On June 20, 2022, Bristol Myers Squibb and Turning Point Therapeutics inked a definitive merger agreement. Because Turning Point Therapeutics is a precision oncology firm still in clinical development, this acquisition will increase BMS's selection of oncology medications.
On March 20, 2022, AstraZeneca made the Evusheld long-acting antibody combination available to the general population. It has been authorized in Europe for a substantial population's pre-exposure prophylaxis (prevention) of COVID-19.
Key Market Players
Bristol-Myers Squibb
Eli Lilly and Company
Gilead Sciences, Inc.
Merck & Co., Inc.
Novartis AG
Pfizer Inc.
AbbVie Inc.
Boehringer Ingelheim International GmbH
F. Hoffmann-La Roche AG
Johnson & Johnson
3M Company
Bayer AG
Teva Pharmaceuticals Industries Ltd.
Amgen, Inc.
Sanofi SA
GlaxoSmithKline plc
Boston
Segments Covered in the Report
(Note*: We offer report based on sub segments as well. Kindly, let us know if you are interested)
By Formulation
Tablets
Capsules
Injectable
Sprays
Suspensions
Powders
Other Formulations
By Routes of Administration
Oral
Topical
Parenteral
Inhalations
Other Routes of Administration
By Therapy Area
Cardiovascular Diseases (CVDs)
Pain
Diabetes
Cancer
Respiratory Diseases
Other Diseases
By End-User
By Geography
North America
Europe
Asia-Pacific
Latin America
The Middle East and Africa