The global active pharmaceutical ingredients market size is expected to reach USD 355.94 billion by 2030 from at USD 191.19 billion in 2021, expanding growth at a CAGR of 7.1% over the forecast period 2022 to 2030.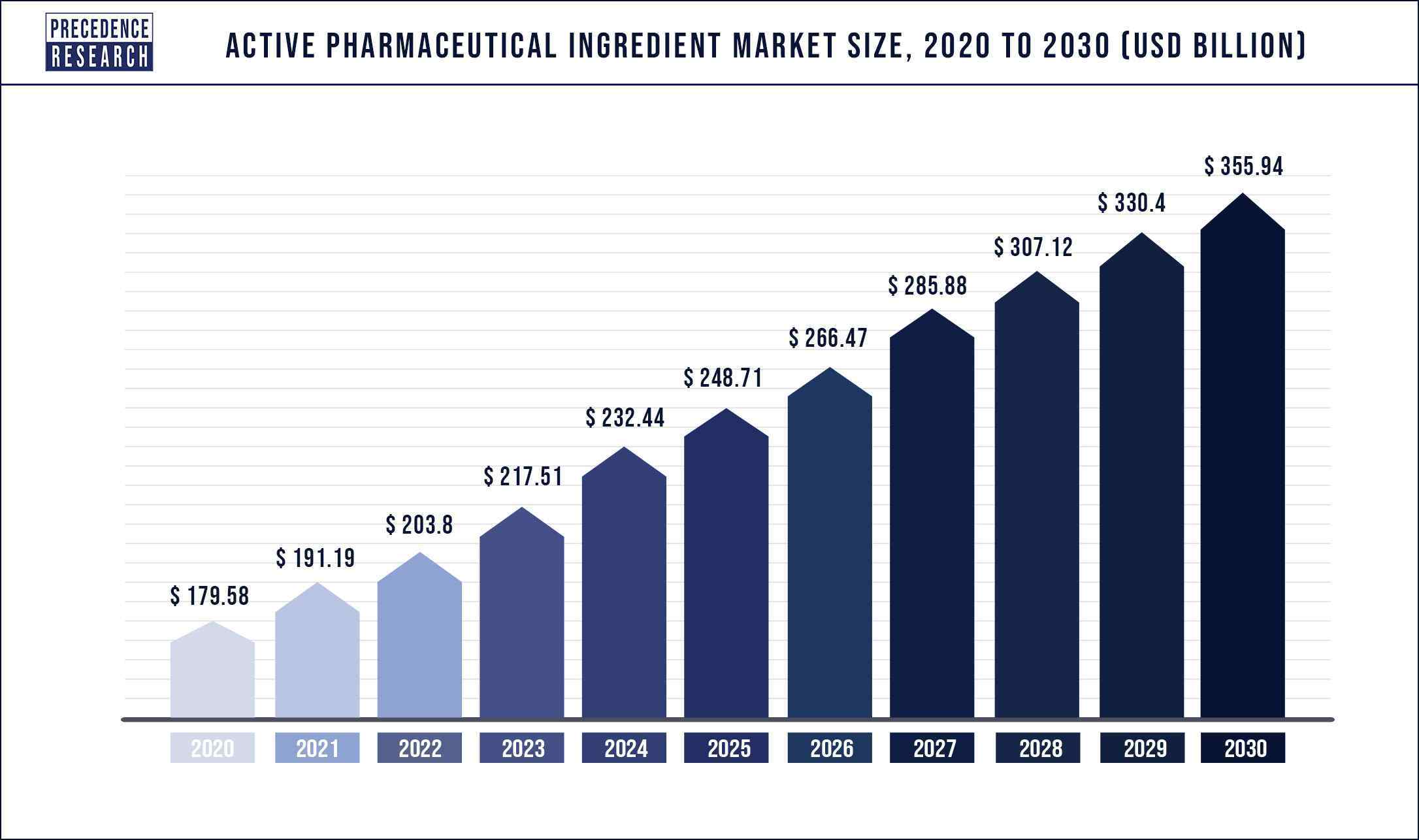 Key Takeaway
By type of manufacturer, the captive API segment has garnered highest revenue share of over 59.5% in 2021.
By type, the innovative APIs segment accounted 66.4% revenue share in 2021.
By application, the cardiovascular diseases segment exhibited 19.7% revenue share in 2021. However, the oncology segment is growing at a CAGR of 8.5% over the forecast period.
By type of synthesis, synthetic API segment accounted 73% market share in 2021. However, the biotech segment is growing at a CAGR of 7.4% over the forecast period.
North America region hit revenue share of over 39.5% in 2021
Asia Pacific region is growing at a highest CAGR of around 7.4% from 2022 to 2030.
Growth Factors
Global active pharmaceutical ingredients market is estimated to be influenced by a great number of ground-breaking drugs going off patent during coming years. There is forthcoming need for technological inventions to preserve the viability in high volume and a small value environment. In the event of outsourcing, APIs are facing rigorous guidelines and oversight from the nation they are shipped to. For instance, API manufacturing plants abroad still go over scrutiny by the U.S. Food & Drug Administration.
Rising acceptance of quality standards in API manufacturing including Good Manufacturing Practices (GMP), and the worldwide implementation of International Conference on Harmonisation (ICH) guidelines have aided recover the safety criterions. Conversely, the API industry is coming across the issues including plunging the cost of development, curbing the development time, refining the process design and addressing the quality standard deprived of compromising on the cost-effectiveness.
Report Scope of the Active Pharmaceutical Ingredients Market
| | |
| --- | --- |
| Report Coverage | Details |
| Market Size | USD 355.94 Billion by 2030 |
| Growth Rate | CAGR of 7.1% from 2022 to 2030 |
| Largest Market | North America |
| Fastest Growing Market | Asia Pacific |
| Base Year | 2021 |
| Forecast Period | 2022 to 2030 |
| Segments Covered | Type of Manufacturer, Type, Type of Synthesis, Application, Regional Outlook |
| Companies Mentioned | Albemarle Corporation, AurobindoPharma, Reddy's Laboratories Ltd., AbbVieInc, Teva Pharmaceutical Industries Ltd, Mylan N.V., CiplaInc, Merck & Co., Inc, Sun Pharmaceutical Industries Ltd, Bristol-Myers Squibb Company |
Type of Synthesis Insights
Global active pharmaceutical ingredient market has been classified depending on type of synthesis into synthetic and biotech. Biotech has further been categorized into vaccines, recombinant proteins, and monoclonal antibodies. In 2019, synthetic segment conquered the global API market due to the stress-freeobtainability of raw materials and easier processes for the synthesis of APIs. Growth of biotech segment is recognized due to technological innovations in the manufacturing method and a high level of competence of these molecules.
Type Insights
On the basis of type, the API market is categorized into generic and innovative APIs. In 2019, innovative APIs lead the global market on account of existence of promising government guidelines, recognized R&D facilities, and augmented subsidies for innovative drug development. Due to widespread research in this field, numerous novel ground breaking products are in the pipeline and are estimated to be introduced during years to come.
Type of manufacturers Insights
Among different types of manufacturers involved in the API market, Captive API occupied majority of the revenue shares because of stress-free obtainability of raw materials and thorough capitalization of foremost key companies for the progress of high-end manufacturing facilities. Merchant API is projected to be the fastest-growing sector during years to come. The segment development is compelled by influences like high cost of in-house engineering of these molecules and increasing demand for biopharmaceuticals.
Application Insights
APIs find widespread application in CNS and neurology, oncology, orthopedic, cardiology, pulmonology, ophthalmology, gastroenterology, endocrinology and nephrology among others. In 2021, cardiology occupied major share of the market due to escalating commonness of target diseases internationally. As per the WHO, cardiovascular diseases may result in about 17.9 million deaths per year, worldwide, where 85.% of these deaths are instigated by heart attacks and strokes.
Regional Insights
Geographically, North America dominated the global API market closely trailed by Europe. The foremost influences motivating the whole growth of the market in this are budding incidence of chronic diseases, cumulative government emphasis on generic drugs, intensifying demand for specialty drugs and biologics, and technological progressions in the manufacturing processes of APIs. Asia Pacific is expected to record fastest growth in the market throughout the estimate period. This growth is attributed to efforts of foremost corporations in the market for setting up API business plants in emerging nations such as India and China.
Key Companies & Market Share Insights
Pfizer is one of the foremost players in the global API marketplace. This prominent position of the corporation is majorly accredited to its comprehensive product offerings. The company has a robust brand imagethat offers it a competitive edge over other companies. To endure competitive position and reinforce its market position, the firmlargely focuses on implementing both organic and inorganic growth approaches including partnerships, agreements, collaborations, product endorsements, and acquisitions. In accordance with this, Pfizer acquired Anacor Pharmaceuticals, Inc. (US), a principal biopharmaceutical corporation developing small molecule therapeutics in June 2016.
Increasing numbers of players are subcontracting to curtail costs on employees, costly equipment, and infrastructure. However, there is sustained anxiety regarding the quality of these APIs manufactured abroad. Particularly, AstraZeneca Pharmaceuticals used to operate numerous manufacturing hubs in the U.S. Currently, only 15% of their APIs are generated in the U.S. and there are plans to end that small fraction and subcontract all manufacturing abroad.
Some of the noteworthy companies in the active pharmaceutical ingredient market include:
Albemarle Corporation
AurobindoPharma
Reddy's Laboratories Ltd.
AbbVieInc
Teva Pharmaceutical Industries Ltd
Mylan N.V.
CiplaInc
BoehringerIngelheim International GmbH
Merck & Co., Inc
Sun Pharmaceutical Industries Ltd
Bristol-Myers Squibb Company
Segments Covered in the Report
This research report includes complete assessment of the market with the help of extensive qualitative and quantitative insights, and projections regarding the market. This report offers breakdown of market into prospective and niche sectors. Further, this research study calculates market revenue and its growth trend at global, regional, and country from 2016 to 2027. This report includes market segmentation and its revenue estimation by classifying it on the basis of Type of synthesis, type, application, type of manufacturer, and region as follows:
By Type of Manufacturer
Merchant APIs

By Type

Generic APIs
Innovative APIs

By Type of Synthesis

Captive APIs
By Type
Generic APIs
Innovative APIs
By Type of Synthesis
Biotech APIs Market, By Type

By Type

Generic APIs
Innovative APIs

By Product

Monoclonal Antibodies
Hormones
Cytokines
Recombinant Proteins
Therapeutic Enzymes
Vaccines
Blood Factors

Synthetic

By Type

Generic APIs
Innovative APIs
By Type of Drug
Prescription Drugs
Over-the-counter Drugs
By Application
Anti-infective
Orthopedic
Pulmonology
Gastroenterology
Endocrinology
Cardiology
Oncology
CNS & Neurology
Nephrology
Ophthalmology
Others
By Regional Outlook
North America
Europe
Asia Pacific

China
India
Japan
South Korea

Middle East & Africa
Latin America