The global active pharmaceutical ingredients market size was accounted for USD 204.04 billion in 2022 and it is expected to surpass around USD 363.68 billion by 2032 and expanding at a CAGR of 6.1% over the forecast period 2023 to 2032. U.S. active pharmaceutical ingredients market size was valued at USD 34.90 billion in 2022.
The active elements in a pharmaceutical medicine that have the desired impact on the body to treat a condition are known as active pharmaceutical ingredients (APIs). Chemical substances are processed to create APIs. The active component of a biologic medication is referred to as a bulk process intermediate. Due to the rising incidence of chronic diseases including diabetes, asthma, and cancer, the API market has seen some appealing potential despite high manufacturing costs, rigorous regulatory laws, and policies in many countries restricting medicine prices.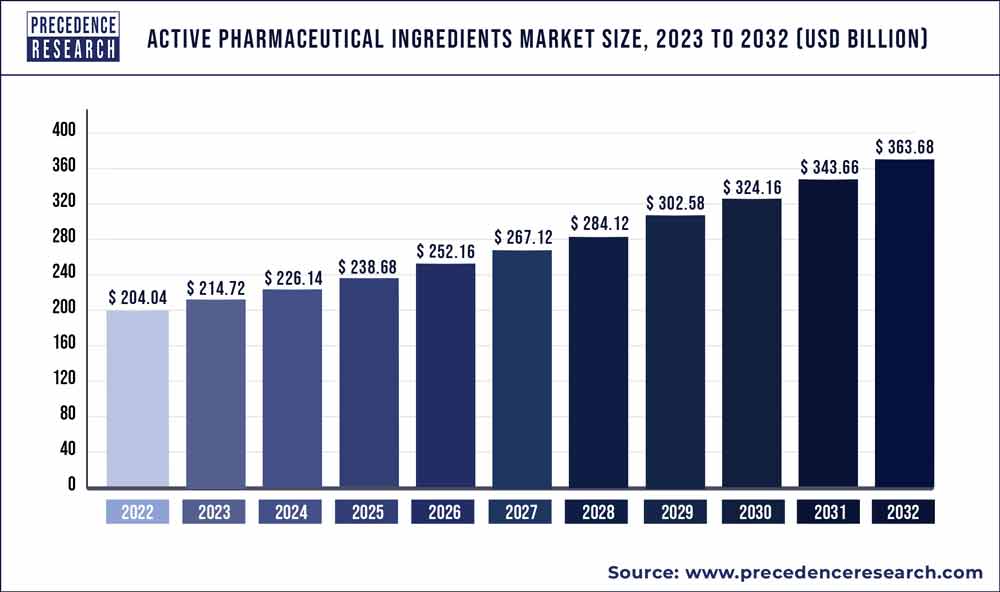 Access our Premium Real Time Data Intelligence Tool, Visit: Precedence Statistics
Key Takeaway
North America region hit revenue share of over 38.26% in 2022.
Asia Pacific region is growing at a highest CAGR of around 6.3% from 2022 to 2030.
By type of manufacturer, the captive API segment has garnered highest revenue share of over 57.32% in 2022.
By type, the innovative APIs segment accounted 65.40% revenue share in 2022.
By application, the cardiovascular diseases segment exhibited 20.96% revenue share in 2022. However, the oncology segment is growing at a CAGR of 6.1% over the forecast period.
By type of synthesis, synthetic API segment accounted 71.79% market share in 2022. However, the biotech segment is growing at a CAGR of 5.9% over the forecast period.
Growth Factors
Global active pharmaceutical ingredients market is estimated to be influenced by a great number of ground-breaking drugs going off patent during coming years. There is forthcoming need for technological inventions to preserve the viability in high volume and a small value environment. In the event of outsourcing, APIs are facing rigorous guidelines and oversight from the nation they are shipped to. For instance, API manufacturing plants abroad still go over scrutiny by the U.S. Food & Drug Administration.
Rising acceptance of quality standards in API manufacturing including Good Manufacturing Practices (GMP), and the worldwide implementation of International Conference on Harmonisation (ICH) guidelines have aided recover the safety criterions. Conversely, the API industry is coming across the issues including plunging the cost of development, curbing the development time, refining the process design and addressing the quality standard deprived of compromising on the cost-effectiveness.
Market Dynamics
Driver: Rising requirement for personalized medicine
Personalized medicine requires the development and production of customized drugs tailored to the specific needs of individual patients. Active pharmaceutical ingredients are the essential components of pharmaceutical drugs and are responsible for their therapeutic effects. As personalized medicine requires specific drug formulations, there is an increasing need for customized active pharmaceutical ingredients to match the unique requirements of patients. Personalized medicine relies heavily on genetic testing and biomarkers to identify the most effective treatment options for individual patients. As the use of genetic testing becomes more widespread, there is an increased need for active pharmaceutical ingredients to develop and produce drugs that can be matched to patients based on their genetic profiles.
| | | | |
| --- | --- | --- | --- |
| Nation | No. of People Dying from CVD (latest year) | No. of People Under 75 Years Old Dying from CVD | Estimated Number of People Living with CVD |
| England (2021) | 1,36,616 | 38,481 | 64,00,000 |
| Scotland (2021) | 17,639 | 5,345 | 7,00,000 |
| Wales (2021) | 9,503 | 2,864 | 3,40,000 |
| Northern Ireland (2020) | 4,102 | 1,179 | 2,25,000 |
Restraint: Complicated production methodology
Many active pharmaceutical ingredients have complex molecular structures, requiring multi-step synthesis routes. Each step must be carefully optimized and validated, which can be time-consuming. The availability and sourcing of raw materials can also affect production timelines, especially if there are supply chain disruptions or quality issues with raw materials. Consistency in active pharmaceutical ingredients production is crucial to ensure uniform drug efficacy and safety. Extensive testing and adjustments between batches can slow down production. The active pharmaceutical ingredients manufacturing industry may face limitations in production capacities, resulting in longer lead times for meeting market demand.
Opportunity: Rising requirements for oncology therapies
Pharmaceutical companies and research institutions continually strive to develop new and more effective oncology treatments. These efforts lead to the discovery of potential active pharmaceutical ingredients candidates, providing active pharmaceutical ingredients manufacturers with opportunities to collaborate and supply active pharmaceutical ingredients for clinical trials and drug development. Many blockbuster oncology drugs are coming off-patent, leading to the rise of generic versions. Generic drug manufacturers need active pharmaceutical ingredients to produce these generic oncology drugs at a lower cost. This presents a significant opportunity for active pharmaceutical ingredients suppliers to cater to the growing demand for generic oncology drugs. As the complexity of oncology therapies rises, pharmaceutical companies often outsource the manufacturing of active pharmaceutical ingredients to specialized Contract Manufacturing Organizations (CMOs). CMOs can leverage their expertise in API synthesis to serve multiple pharmaceutical companies, leading to an increased demand for active pharmaceutical ingredients in the market.
Challenge: Quality concerns and contamination issues
The primary concern in pharmaceutical manufacturing is patient safety. Contaminated or impure active pharmaceutical ingredients can lead to adverse reactions, reduced efficacy, or even severe health risks for patients consuming the medications. Ensuring the highest quality standards are met is crucial to avoid such risks. Detecting trace amounts of contaminants in active pharmaceutical ingredients can be difficult using conventional analytical methods. The development and validation of sensitive and specific testing techniques to identify impurities is a constant challenge. Active pharmaceutical ingredients production often involves multiple manufacturers, suppliers, and distributors located in different countries. Coordinating quality control measures across the entire supply chain can be difficult, and the risk of contamination or quality issues increases as the product passes through multiple hands. Thus, the quality concerns and contamination issues create a challenge for the market.
COVID-19 LANDSCAPE: PRE-COVID ANALYSIS
Before the COVID-19 pandemic began, the healthcare industry was growing at an exponential level all over the world. The IDF Diabetes Atlas 9th edition indicated a continuous global rise in diabetes prevalence. According to this Report, around 463 million adults in the age group of 20-79 years were living with diabetes in 2019. This count is anticipated to increase to approximately 643 million by the end of 2030 and 783 million by 2045. Diabetes alone amounted to at least $ 966 billion in health expenditure, which is a rise of 316 % in the last 15 years. In 2019, as per the World Malaria Report by the World Health Organization (WHO), 229 million cases of malaria were recorded all over the world. The WHO African Region recorded around 215 million malaria cases in 2019, which accounted for approximately 94% of the cases. API such as Hydroxychloroquine sulfate is useful to reduce inflammation in treating rheumatoid arthritis and lupus. Dihydroartemisinin is preferred as an intermediate in the preparation of many artemisinin-derived antimalarial drugs. Thus, even before the COVID-19 pandemic, the requirement for various active pharmaceutical ingredients was increasing owing to the increasing prevalence of diseases and propelling count of affected individuals across the globe.
POST COVID-19 ANALYSIS
The pandemic of COVID-19 impacted the global APIs market positively. The pharmaceutical sector proved to be an epicenter for treatment of symptoms related to COVID-19, including cough, high fever, and cold. Active pharmaceutical ingredients (API) prices of certain basic pain and fever relief drugs almost doubled as high as to 130% and major life-saving drugs have witnessed a rise of around 120% recently. As per Gaurav Kaushik, Managing Director, Meteoric Biopharmaceuticals Pvt Ltd., expressed that the price hike has resulted in total dependency on imports from China. As of July 2021, raw material prices for essential drugs such as APIs saw a drastic rise of 140%.
In India in May 2021, the production capacity of Remdesivir was increased from 3,800,000 vials per month to nearly 11,900,000 crore vials per month, as per the Ministry of Chemicals and Fertilizers. According to the Ministry of Health and Family Welfare, Government of India, around 2,19,97,17,471 COVID-19 vaccine doses were administered in India. As of December 7, 2022, around 392 million doses of the Pfizer-BioNTech COVID-19 vaccine were administered in the United States of America. Owing to the increased popularity of the pharmaceutical sector during the pandemic, overall, the active pharmaceutical ingredients (API) market experienced growth during the period.
COVID-19 IMPACT: GLOBAL MAJOR GOVERNMENT POLICY
The American Rescue Plan planned to allocate funding of $ 350 billion due to emergency for eligible local, state, tribal, and territorial governments to respond to the COVID-19 situation and bring back the lost jobs. As part of the 2020 Annual Capital Expenditures Survey (ACES), it was found that 6.0 percent of companies canceled, 8.2 percent decreased, 9.7 percent postponed, and 1.5 increased some of their budgeted capital expenses in the midst of the coronavirus pandemic.
On 31st January 2020, a Public Health Emergency (PHE) Declaration was issued by the Health and Human Services Secretary due to the COVID-19 pandemic. During such public health emergency, drug manufacturers were mandated to review the current good manufacturing practice (CGMP) regulations and recommendations with respect to the restriction of sick employees from operation areas. Drug manufacturers were also required to review CGMP recommendations and requirements related to equipment and facility cleaning and sanitation. Companies were also needed to ensure that materials, drug product containers and closures, components, active pharmaceutical ingredient (API), drug products, and in-process materials are safe and meet the mandatory quality requirements. The Food and Drug Administration (FDA) issued directions for cleaning and sanitizing non-production areas such as elevators, offices, changing rooms, break rooms, and restrooms from time to time. According to The Economic Times, the Government of India restricted the export of various hormones, antibiotics, and vitamins, anticipating a shortfall of these medicines with a rapid increase in the number of COVID-19 cases.
MARKET TRENDS AND OPPORTUNITIES IN THE COVID-19 LANDSCAPE
Scientists found a list of respective compounds that target COVID-19. There were around 45 molecules in preclinical development and 155 compounds in clinical trials for combating COVID-19. 4 vaccines have been repurposed for treatment against COVID-19, including Hydroxychloroquine, Chloroquine, Remdesivir, and Lopinavir & Ritonavir. Based on the projections, Pfizer Inc. estimated that it will produce around 50 million COVID-19 vaccine doses in 2020 and approximately 1.3 billion doses in 2021. Such high production of COVID-19 vaccines created lucrative opportunities for the pharmaceutical market during the pandemic. India had the opportunity to supply vaccines to various countries of the world. Among the 'Made-in-India' vaccines that impacted the healthcare industry, the Serum Institute of India's (SII) Covishield accounted for approximately two-thirds (66.63%) of the total supplies. Thus, the pandemic of COVID-19 had created lucrative opportunities for the active pharmaceutical market in various countries.
Report Scope of the Active Pharmaceutical Ingredients Market
| | |
| --- | --- |
| Report Coverage | Details |
| Market Size | USD 363.68 Billion by 2032 |
| Growth Rate | CAGR of 6.1% from 2023 to 2032 |
| Largest Market | North America |
| Fastest Growing Market | Asia Pacific |
| Base Year | 2022 |
| Forecast Period | 2023 to 2032 |
| Segments Covered | Type of Manufacturer, Type, Type of Synthesis, Application, Regional Outlook |
| Companies Mentioned | Albemarle Corporation, AurobindoPharma, Reddy's Laboratories Ltd., AbbVieInc, Teva Pharmaceutical Industries Ltd, Mylan N.V., CiplaInc, Merck & Co., Inc, Sun Pharmaceutical Industries Ltd, Bristol-Myers Squibb Company |
Regional Insights
Geographically, North America dominated the global API market closely trailed by Europe. The foremost influences motivating the whole growth of the market in this are budding incidence of chronic diseases, cumulative government emphasis on generic drugs, intensifying demand for specialty drugs and biologics, and technological progressions in the manufacturing processes of APIs. Asia Pacific is expected to record fastest growth in the market throughout the estimate period. This growth is attributed to efforts of foremost corporations in the market for setting up API business plants in emerging nations such as India and China.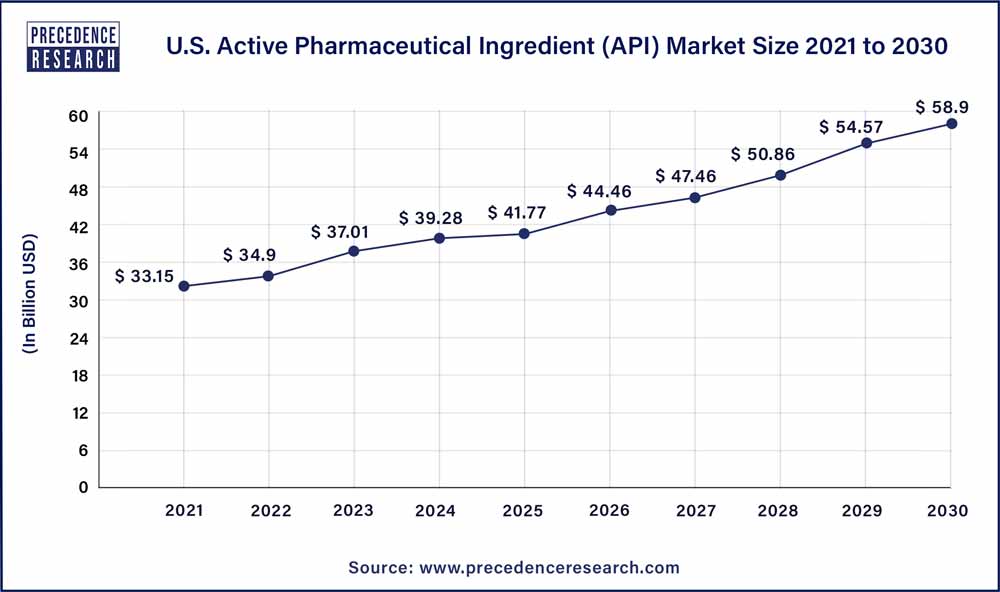 North America held largest share in the global active pharmaceutical ingredient (API) market. The U.S. held largest share followed by Canada and Mexico. The development in the active pharmaceutical ingredient (API) market is attributable to the rising expenditure on healthcare across the region. The rising prevalence of chronic diseases along with increasing government initiatives supports the creation of novel medicines and is also expected to accelerate the development of active pharmaceutical ingredients in North America.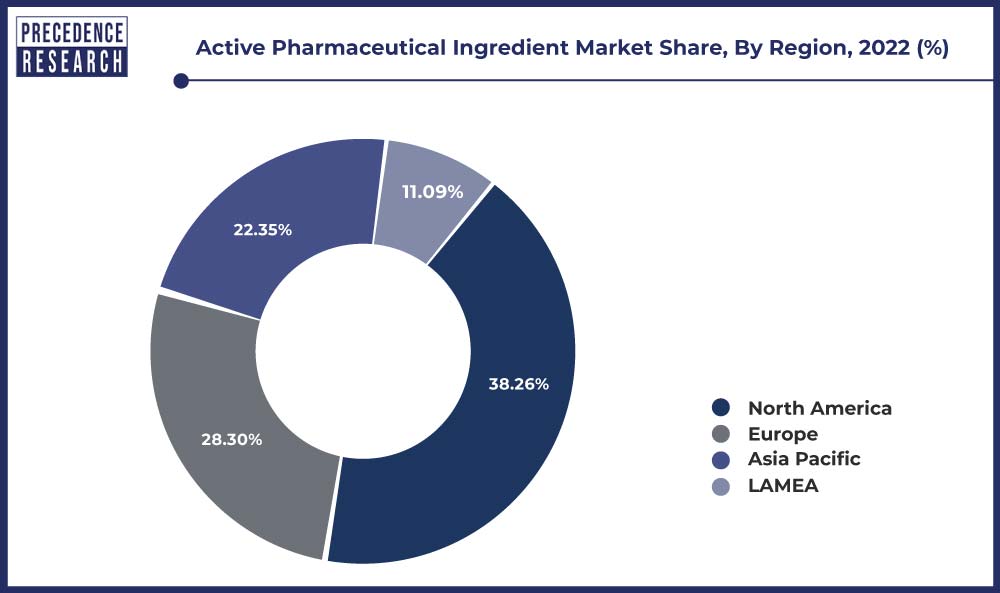 The growing demand for biologic active pharmaceutical ingredients (API) in the region due to the patients' quick adoption of biologic medications for the treatment of various chronic illnesses is also driving the regional growth of the market. For instance, the Alzheimer's Association estimates that 6.2 million Americans over the age of 65 already have Alzheimer's disease, and the count will rise to 12.7 million by the year 2050. This boosts the demand for donepezil, a synthetic active pharmaceutical ingredient that can be utilized in pharmaceutical preparation for treating Alzheimer's disease. As a result, the prevalence of this chronic disease issue has augmented the growth of this market in the North American continent. The rising obesity rates across the U.S. are creating major market opportunities for the growth of the market. As per the 2021 National Health Statistics Report, the prevalence of obesity was 19.7% between 2017 to March 2020 among children and adolescents aged 2–19 years. The age-adjusted prevalence of obesity was 41.9% among adults aged 20 and over, severe obesity was 9.2%, and diabetes was 14.8%. Among adults aged 18 and over, the age-adjusted prevalence of hypertension was 45.1%. This has resulted in an increase in demand for active pharmaceutical ingredients which in turn has resulted in the growth of the active pharmaceutical ingredient (API) market in the region.
The active pharmaceutical ingredient (API) market in Canada is expected to grow owing to the presence of companies that are involved in the development and manufacturing of inventive medicines and generic medications, as well as over-the-counter drugs. Additionally, an increase in the prevalence of chronic diseases among Canadians and the comorbidities linked to the illnesses are projected to have a beneficial effect on the expansion of the active pharmaceutical ingredient (API) market during the forecast period. For instance, according to the Public Health Agency of Canada analysis, among the top chronic diseases and conditions most prevalent among Canadians are hypertension, ischemic heart diseases (IHD), osteoporosis, asthma, diabetes, chronic obstructive pulmonary diseases, and cancer. This will increase the demand for pharmaceutical products and is further likely to support the growth of the active pharmaceutical ingredient (API) market.
North America active pharmaceutical ingredients market size was valued at USD 78.07 billion in 2022 and will reach at a CAGR of 6.1% from 2021 to 2030.
Europe active pharmaceutical ingredients market was valued at USD 57.75 billion in 2022 and it will reach at a CAGR of 5.8% from 2021 to 2030.
Asia Pacific active pharmaceutical ingredients market size was estimated at USD 45.60 billion in 2022 and it is expected to hit around USD 74.27 billion by 2030.
LAMEA active pharmaceutical ingredients market size was accounted for USD 22.62 billion in 2022 and it is predicted to surpass around USD 34.26 billion by 2030.
Asia Pacific is projected to grow at the fastest with a CAGR of 6.3% during the forecast period. China dominated the Asia Pacific region followed by India and Japan. The pharmaceutical and contract manufacturing industries are expanding in various countries, including China and India, and this is projected to fuel the growth in the Asia Pacific market. Due to factors such as accessibility of production- ready raw materials and cheaper labour costs, these countries are emerging as desirable locations to outsource the manufacturing of active pharmaceutical ingredients as well. Additionally, the region's favourable regulatory framework is enticing many manufacturers to increase their production capacity which is expected to fuel the market's growth in the region. Further, organizations are undergoing digital transformation through Manufacturing 4.0 with capabilities to ensure good manufacturing practice (GMP) compliance. Additionally, the rising life expectancy along with lifestyle and dietary changes contribute to more non-communicable diseases and are expected to increase in demand for pharmaceutical drugs and hence active pharmaceutical ingredients in the region.
Also, the Made in China 2025 initiative emphasizes on the biotechnology and pharmaceutical sectors to help China become a high value-add economy. China has completely redesigned its healthcare system with the Volume-based Procurement (VBP) policy and National Reimbursement Drug List (NRDL). The major objective is to give consumers more widespread access to high-quality medications at less cost. The need for higher-quality medications will also increase with rising consumer wealth in the future years. The government places more emphasis on the increased production of copyrighted medicines and increased innovation. The above- mentioned factors are expected to fuel the active pharmaceutical ingredient demand across the economy.
The Indian active pharmaceutical ingredient (API) market is expected to grow owing to a surge in generic drug exports. India emerged as one of the most attractive locations not only for investments but also for doing business. India jumped 79 positions from 142nd in 2014 to 63rd in 2019 in the 'World Bank's Ease of Doing Business Ranking 2020'. India is one of the largest providers of generic drugs. The increasing percentage of heart disease and the growing pharmaceutical industry are anticipated to drive industry growth and competitiveness in the country. Further, the pandemic spurred Indian drug producers to significantly increase their R&D expenditure. In order to reduce their reliance on Chinese deliveries, Indian drug producers worked towards increasing the local production of Active Pharmaceutical Ingredients (APIs). These factors are likely to augment the growth of the active pharmaceutical ingredient (API) market.
Type of Synthesis Insights
The global active pharmaceutical ingredient market has been classified depending on type of synthesis into synthetic and biotech. Biotechnology has further been categorized into vaccines, recombinant proteins, and monoclonal antibodies.
In 2022, synthetic segment conquered the global API market due to the stress-freeobtainability of raw materials and easier processes for the synthesis of APIs. Growth of biotech segment is recognized due to technological innovations in the manufacturing method and a high level of competence of these molecules. The growing demand for generic drugs is one of the key factors driving the segmental growth of the market. Companies that manufacture synthetic APIs see significant revenue from APIs for generic drugs. Wide-ranging opportunities are now being created for CDMOs operating in the segment. With corporations looking to maximise profitability by lowering production costs, the opportunity in the market for synthetic APIs for CDMOs has grown even more profitable. The market's growth is also related to the low cost of manufacturing associated with small molecules and their great effectiveness. Around 78% of all APIs, which make up the vast majority of the drugs, are small molecules. This increases the demand for finished products and API formulation, which fuels the growth of the synthetic API segment.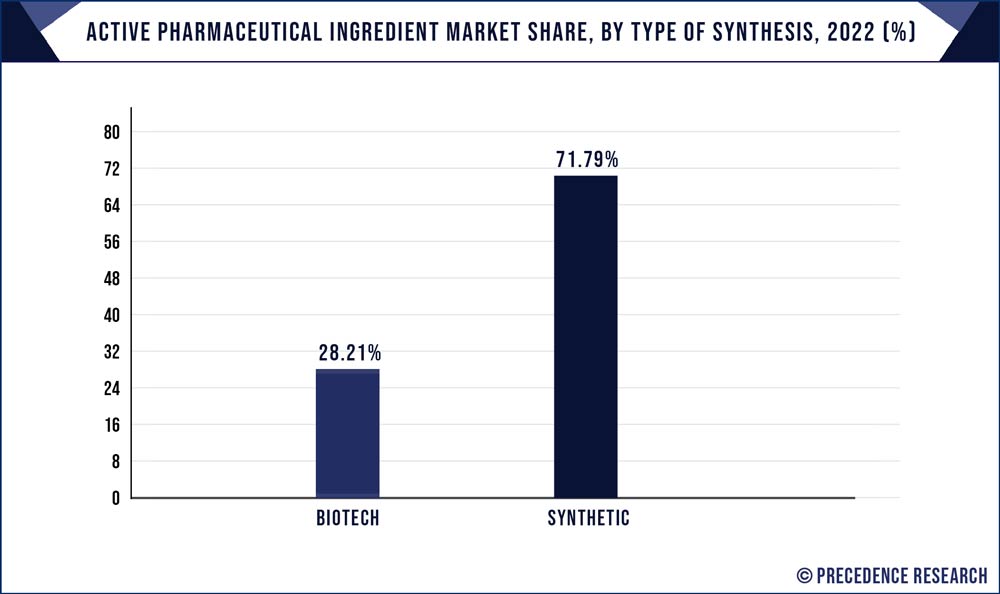 Further, the growth of the biotech segment is anticipated to augment due to the rising demand for biopharmaceuticals and their capacity to treat diseases that were previously incurable. Five medications, including galantamine, rivastigmine, donepezil, memantine, and memantine in combination with donepezil (Namzaric), have been approved by the FDA for the treatment of Alzheimer's disease, as per the Alzheimer's Association 2021 report. Additionally, it also anticipated that by the year 2050, 13.5 million Americans aged 65 and older will be living with Alzheimer's disease, up from an estimated 6.2 million in 2021. In the upcoming years, it is expected that the patient population's demand for biotech APIs would increase as a result of the increasing prevalence of these diseases.
Global Active Pharmaceutical Ingredient (API) Market Revenue, By Type of Synthesis, 2021-2030 (US$ Billion)
| | | | | |
| --- | --- | --- | --- | --- |
| Type of Synthesis | 2021 | 2022 | 2030 | CAGR (%) |
| Biotech | 54.77 | 57.56 | 92.98 | 6.2% |
| Synthesis | 139.79 | 146.48 | 231.18 | 5.9% |
| Total | 194.56 | 204.04 | 324.16 | 6.0% |
Type Insights
On the basis of type, the API market is categorized into generic and innovative APIs.
Innovative APIs
In 2022, innovative APIs lead the global market on account of existence of promising government guidelines, recognized R&D facilities, and augmented subsidies for innovative drug development. Due to widespread research in this field, numerous novel ground breaking products are in the pipeline and are estimated to be introduced during years to come. Ongoing research and development in the field of innovative APIs are exhibiting a large number of innovative products in the pipeline that is expected to be marketed in the upcoming years. For instance, Glenmark is currently engaged in R&D with a new molecule named Ryaltris- GSP 301 intended for the treatment of allergic Rhinitis. Satisfactory regulatory guidelines for R&D innovation centers as well as increased expenditure are propelling the growth of the innovative APIs segment. The introduction of emerging market players and increasing regulatory agency support for new medication clearance is expected to aid market expansion, which may be due to the government's increased attention on healthcare and pharmaceuticals as a result of COVID-19.
In addition to this, the extensive need for targeted treatments including high-potency API molecules, such as HPAPI, is expected to drive even more demand for customized medications. Such innovations in the development of pharmaceutical drugs are expanding the growth of innovative APIs. Furthermore, because of the requirement for low doses and fewer side effects, oncology is a major domain for high-potency novel API medicines. As a result, the majority of HPAPIs are found in anticancer medications. These APIs have also been utilized to treat hormonal imbalances, musculoskeletal, cardiovascular, and CNS medications, as well as glaucoma.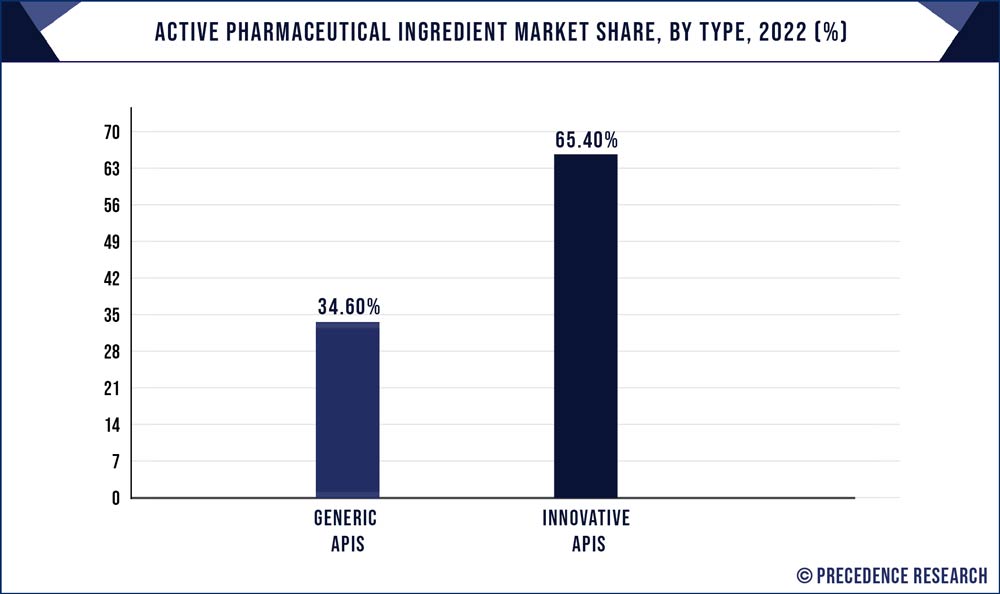 Generic APIs
Generic APIs are the same chemical substances used in drugs that were formerly covered by chemical patents. Generic APIs can be sold in the market only after the expiration of patented original drugs. The active pharmaceutical ingredient (API) in a generic medicine is identical to the original drug, but there are modifications in other aspects such as manufacturing method, formulation, taste, colour, excipients, and packaging. According to FDA, generic APIs are generic drugs that must be similarly effective as their branded medicines and hence they must be possessing similar risks and benefits associated with them.
The percentage of prescriptions for generic pharmaceuticals has increased as a result of the rising approval rates by Abbreviated New Drug Applications (ANDA). This is attributable to the introduction of generic players across therapies and the loss of exclusivity for patented drugs over the past 10 years. Additionally, rising demand for injectable generics is anticipated to promote market segment growth. Owing to the benefits that generic injectable provide in terms of quality, dosage, strength, and a more affordable R&D cycle, governments are funding their production. Other reasons influencing the market's growth include the increasing frequency of drug shortages, particularly in the US, an ageing population, and an increase in chronic and lifestyle disorders. The number of generic drug launches is also increasing. For instance, in March 2022, Natco Pharma in collaboration with Arrow International announced the launch of the first generic version of Celgene's Revlimid drug which is a top selling cancer drug in the US market.
Rising technological advancements in API manufacturing and rising awareness about the importance of generic APIs are some of the factors augmenting the growth of the generic API segment. Low costs associated with generic APIs along with the same quality and same way of consumption is some of the prominent factors propelling the growth of the generic API segment.
Global Active Pharmaceutical Ingredient (API) Market Revenue, By Type, 2021-2030 (US$ Billion)
| | | | | |
| --- | --- | --- | --- | --- |
| Type | 2021 | 2022 | 2030 | CAGR (%) |
| Generic APIs | 67.13 | 70.60 | 114.66 | 6.2% |
| Innovative APIs | 127.43 | 133.44 | 209.50 | 5.8% |
| Total | 194.56 | 204.04 | 324.16 | 6.0% |
Type of manufacturers Insights
Among different types of manufacturers involved in the API market, Captive API occupied majority of the revenue shares because of stress-free obtainability of raw materials and thorough capitalization of foremost key companies for the progress of high-end manufacturing facilities. Merchant API is projected to be the fastest-growing sector during years to come. The segment development is compelled by influences like high cost of in-house engineering of these molecules and increasing demand for biopharmaceuticals.
CAPTIVE APIS
The in-house manufacturing of the API molecules by some of the pharmaceutical companies is referred to as captive APls. Due to the simple accessibility of raw materials and large expenditures made by key players to establish high-end manufacturing facilities, the captive APIs segment is predicted to grow significantly in the next years. Further evidence that key firms are more focused on internal production than outsourcing comes from recent developments and initiatives. For instance, Novartis revealed in November 2019 that it had acquired CellforCure, a CDMO with offices in France, in order to produce molecules internally that had previously been contracted to CellforCure. It is projected that the segment growth will be fueled by these initiatives by important players.
Along with major companies, the Indian government also intends to support indigenous API production. For instance, in March 2020, the government of India announced a 9.4 billion package for the bulk drug industry, which will augment the domestic production and exports. Further, as part of the production-linked strategy for the pharmaceuticals industry, 35 active pharmaceutical ingredients that were previously imported have begun to be manufactured in India. 35 of these active pharmaceutical ingredients (APIs) are amongst the 53 for which India is 90% dependent on imports. These factors are anticipated to support the segmental growth of the market in the years to come.
Global Active Pharmaceutical Ingredient (API) Market Revenue, By Type of Manufacturer, 2021-2030 (US$ Billion)
| | | | | |
| --- | --- | --- | --- | --- |
| Type of Manufacturer | 2021 | 2022 | 2030 | CAGR (%) |
| Captive APIs | 111.64 | 116.95 | 184.23 | 5.8% |
| Merchant APIs | 82.92 | 87.09 | 139.93 | 6.1% |
| Total | 194.56 | 204.04 | 324.16 | 6.0% |
Application Insights
APIs find widespread application in CNS and neurology, oncology, orthopedic, cardiology, pulmonology, ophthalmology, gastroenterology, endocrinology and nephrology among others. In 2022, cardiology occupied major share of the market due to escalating commonness of target diseases internationally. As per the WHO, cardiovascular diseases may result in about 17.9 million deaths per year, worldwide, where 85.% of these deaths are instigated by heart attacks and strokes.
Cardiovascular Diseases
The cardiovascular diseases segment held largest revenue share in the active pharmaceutical ingredients industry. This is due to the widespread use of numerous CVD medications brought on by the increasing occurrence of cardiovascular disorders. Cardiovascular diseases (CVDs) are the leading cause of mortality worldwide due to rising tobacco and alcohol consumption, bad eating habits, obesity, and physical inactivity. According to the European Society of Cardiology 2019 Statistics, there are currently more than 6 million new cases of cardiovascular diseases (CVD) in the EU and more than 11 million in all of Europe each year. With about 49 million sufferers in the EU, the disease has a significant economic cost of EUR 210 billion annually. Further, as per the WHO statistics, 17.9 million deaths worldwide in 2019 were attributable to CVDs, contributing to 32% of all global deaths. Heart attack and stroke deaths accounted for 85% of these fatalities. Also, in 2019, noncommunicable illnesses caused 17 million premature deaths (before the age of 70), and 38% of those fatalities were attributable to CVDs.
Cardiovascular drugs are essential for treating and preventing CVD. Cardiovascular drugs were the second most commonly used class of medication in the non-hospital sector in 2008, according to data from 84 of the countries included by the World Medicines Situation Report. Branded cardiovascular drug sales generated over US$40 billion in revenue in 2017 and are projected to reach US$90 billion by 2024. The WHO Anatomical Therapeutic Chemical (ATC) classification list5 and the British National Formulary (77/2019) both list 400 active pharmaceutical ingredients (APIs) or API combinations for the treatment or prevention of CVDs. The 2019 WHO Essential Medicines List (EML) contains thirty-two active pharmaceutical ingredients. As a result, the demand for active pharmaceutical ingredients has increased with the prevalence of cardiovascular disorders.
Oncology
The oncology segment is also expected to grow at a fastest CAGR during the forecast period. This is owing to the increasing prevalence of cancer and a larger percentage of people are anticipated to be affected by the disease in the years to come. The primary chemicals of chemotherapy for different forms of cancer are active pharmaceutical ingredients. Most of the market players are continuously developing and investing in new APIs to cater to the need in the oncology segment globally. For instance:
In December 2019, a generic version of Velcade, manufactured by Millennium Pharmaceuticals, called Bortezomib for injection was introduced to the US market by Dr Reddy's Laboratories. Adult patients with multiple myeloma or mantle cell lymphoma who have undergone at least one prior therapy are treated with Bortezomib.
In June 2022, with the development of its plant in the USA, Merck's Life Science business segment has doubled its capacity to produce high-potency active pharmaceutical ingredients (HPAPI). To meet the need for essential cancer therapies, this new 70,000 square foot CDMO facility worth €59 million was built.
In June 2022, after the business announced the introduction of the first generic version of Nexavar (Sorafenib) tablets in the US market, Natco Pharma increased 3.09% to Rs 713.45. The medication will be released by the international pharmaceutical company Viatris, a Natco business partner. Unresectable advanced Renal Cell Carcinoma (RCC), Hepatocellular Carcinoma (HCC) and Differentiated Thyroid Carcinoma (DTC) are treated with Sorafenib. It is an oral multi-kinase inhibitor used to treat advanced liver, thyroid, and renal cell cancers.
In July 2022, a global development and commercialization agreement for Orion's experimental candidate ODM-208 and other medications that target the enzyme cytochrome P450 11A1 (CYP11A1), crucial in the manufacture of steroids, was announced by Merck and Orion Corporation. In a Phase 2 clinical trial, ODM-208, an oral, non-steroidal CYP11A1 inhibitor, is being tested for the treatment of individuals with metastatic castration-resistant prostate cancer (mCRPC).
Key Companies & Market Share Insights
Pfizer is one of the foremost players in the global API marketplace. This prominent position of the corporation is majorly accredited to its comprehensive product offerings. The company has a robust brand imagethat offers it a competitive edge over other companies. To endure competitive position and reinforce its market position, the firmlargely focuses on implementing both organic and inorganic growth approaches including partnerships, agreements, collaborations, product endorsements, and acquisitions. In accordance with this, Pfizer acquired Anacor Pharmaceuticals, Inc. (US), a principal biopharmaceutical corporation developing small molecule therapeutics in June 2016.
Increasing numbers of players are subcontracting to curtail costs on employees, costly equipment, and infrastructure. However, there is sustained anxiety regarding the quality of these APIs manufactured abroad. Particularly, AstraZeneca Pharmaceuticals used to operate numerous manufacturing hubs in the U.S. Currently, only 15% of their APIs are generated in the U.S. and there are plans to end that small fraction and subcontract all manufacturing abroad.
Some of the noteworthy companies in the active pharmaceutical ingredient market include:
Albemarle Corporation
AurobindoPharma
Reddy's Laboratories Ltd.
AbbVieInc
Teva Pharmaceutical Industries Ltd
Mylan N.V.
CiplaInc
BoehringerIngelheim International GmbH
Merck & Co., Inc
Sun Pharmaceutical Industries Ltd
Bristol-Myers Squibb Company
Segments Covered in the Report
This research report includes complete assessment of the market with the help of extensive qualitative and quantitative insights, and projections regarding the market. This report offers breakdown of market into prospective and niche sectors. Further, this research study calculates market revenue and its growth trend at global, regional, and country from 2023 to 2032. This report includes market segmentation and its revenue estimation by classifying it on the basis of Type of synthesis, type, application, type of manufacturer, and region as follows:
By Type of Synthesis
Biotech

Monoclonal Antibodies
Recombinant Proteins
Vaccines

Synthetic
By Type of Manufacturer
Captive APIs
Merchant APIs

Generic APIs
Innovative APIs
By Type
Generic APIs
Innovative APIs
By Type of Drug
Prescription Drugs
Over-the-counter Drugs
By Application
Cardiovascular Diseases
Oncology
CNS & Neurological Disorders
Orthopedic Disorders
Endocrinology
Pulmonology
Gastrointestinal Disorders
Nephrology
Ophthalmology
Others
By Regional Outlook
North America
Europe
Asia Pacific

China
India
Japan
South Korea

Middle East & Africa
Latin America