The global generic drugs market size was valued at USD 439.37 billion in 2022 and projected to hit around USD 670.82 billion by 2030, growing at a CAGR of 5.4% over the forecast period 2022 to 2030.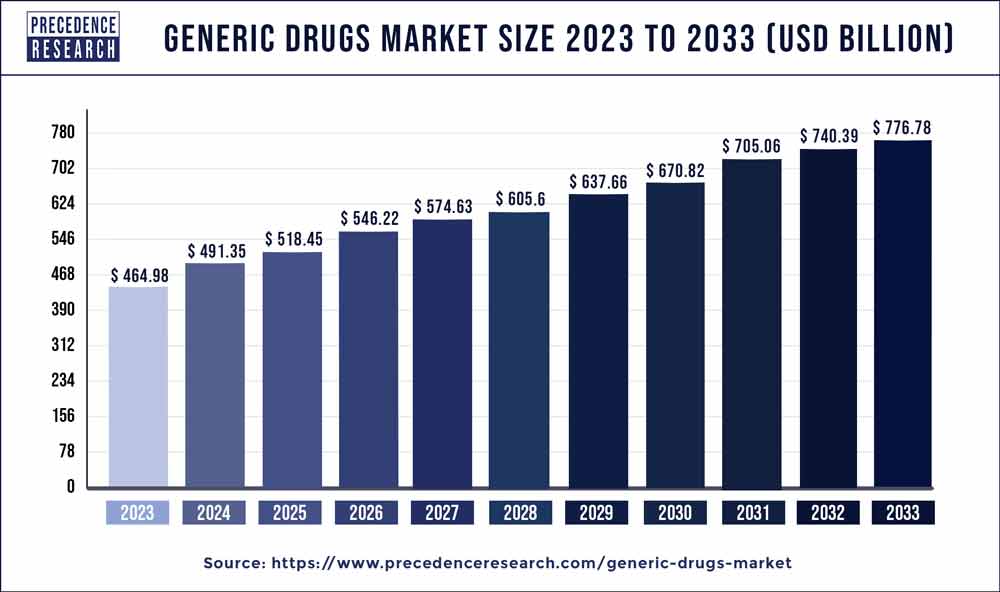 Access our Premium Real Time Data Intelligence Tool, Visit: Precedence Statistics
Key market Insights:
Global generic drugs market is expected to rise at substantial CAGR during the forecast era. The low cost of generics, as an alternative to branded drugs is major factor expected to fuel growth of the target industry in the near future. Additionally, increasing use of RPA to ensure regulatory and standards compliance can create lucrative growth opportunities for the key players operating in the global market.
The use of artificial intelligence (AI) technology to automate routine, rules-based processes is robotic process automation. Through this automation, key operating players in the target market are capable to devote more time, energy, and capitals to advanced value tasks. The use of RPA to ensure compliance with regulatory and standards is one of the major trends in the market for generic brands that will gain traction in the coming years. Company process automation systems such as RPA are commonly used by pharmaceutical firms to conduct high-volume R&D and production activities. RPA technology includes software that logs into programs, enters data, measures and completes the necessary activities, and logs out. It aims to ensure conformity with laws and requirements, to complete procedures at a faster speed and to reduce costs.
Generic companies are finding it more difficult to launch new medications as originator products that have gone off-patent become more difficult to develop, produce, and market. When comparing the status of generic firms to that of industrial or communications companies, it is clear that generic companies have a larger and more diverse range of options to pick from. Over $217 billion in original patents are set to expire shortly, and they cover everything from biologics to oral solids, injectable, and inhalers to over-the-counter (OTC) drugs.
By 2024, industry analysts predict that generics will have the luxury of generating $60 billion in net growth. Now is the moment for businesses to carefully consider where they should invest before deciding on their next product. As shown below, opportunities and obstacles differ substantially from one product category to the next.
One of the major restraints limiting the growth of generic drugs is stringent regulations, as the FDA examines the accuracy, side effects and other ingredients used in generic drugs. If the manufacturers fails to follow the regulatory guidelines, the drugs are usually recalled. Emerging economies such as India and China hold immense potential for the market growth due to the cost effectiveness of the generic drug in these countries. Purity, potency, stability, and drug release are the crucial factors that determine the quality of generic medications, and these should be controlled within a suitable limit, range, or distribution to achieve the required drug quality. Therefore, approval required for generic drugs due to the stringent governmental regulations, which is expected to obstruct market growth.
Crucial factors accountable for market growth are:
The low cost of generics as an alternative to branded drugs
Large number of patents expired branded drugs
Initiatives by governments and other regulatory bodies across the globe
Future of Global Generic Drugs Market
Major companies of the global industry including Abbott Laboratories and Teva Pharmaceutical Industries Ltd. are pointing towards commercial growth by adopting strategies like mergers and acquisitions, heavy investments in the manufacturing facilities that is predictable to flourish the global market growth in next few years. This trend is probable to continue and will augment growth of thetarget industry in the near future. For instance, in August 2016, Teva Pharmaceutical Industries Ltd. acquired Anda, a wholesale distributor of pharmaceutical products in the United States.
COVID-19 to Impact Pharma Supply Chain
As the COVID-19 pandemic continues to spread over the world, the global pharmaceutical supply chain is likely to be jeopardized in the coming months. The pharmaceutical business has been disrupted by widespread city lockdowns in China, as well as ongoing airfreight problems, particularly in countries that rely on Chinese raw supplies. These raw materials are known as Active Pharmaceutical Ingredients (APIs) in the pharmaceutical business, and they are chemical compounds that are used to build a final medication product. The US Food and Medicine Administration (FDA) confirmed the first occurrence of a drug shortage owing to an API manufacturer being affected by the COVID-19 outbreak in China on February 27, 2020, albeit particular facts about the drug in question were not revealed due to confidentiality concerns.
During the COVID-19 epidemic, raw materials were scarce due to manufacturing halts and labor constraints, exposing the pharma industry's reliance on China. The country contributes significantly to worldwide API production and intermediate manufacturing. China accounts for 20% of global API output, according to the World Health Organization, while many healthcare organizations believe the proportion is double. According to the FDA, between 2010 and 2019, the number of registered facilities manufacturing APIs for US pharmaceutical companies in China more than doubled, owing to labor availability and economic benefits.
While Shanghai is home to several large international pharmaceutical businesses including Bristol-Myers Squibb, Roche, and Ajinomoto, Zhejiang province, just south of Shanghai, is home to the most pharmaceutical manufacturing facilities that export to the US and EU markets. The following graph indicates that the FDA has more facilities approved in certain regions than the EU, although both organizations have similar regulatory standards. The claim is consistent with FDA records from August 2019, which claimed that 72% of API manufacturing facilities for the US market were located outside of the country, with 13% in China.
Resuming operations does not always imply a resumption of full production: some companies have reported capacity utilization rates of up to 80%. Raw material supply continues to be limited since suppliers have not yet completely ramped up operations. Furthermore, manufacturers face challenges due to a workforce scarcity, since some employees are still stranded in their hometowns due to travel restrictions between Wuhan and other cities, at least until April 8, when Wuhan is expected to remove its lockdown completely and resume all transit.
COVID-19 Impact on Global Generic Drugs Market
The outburst of COVID-19 has affected most of the world's main markets, generic drugs market is no exception. The Covid-19 pandemic has influenced leading countries across the world including China, India, the U.S., and other nations. Upsurge in the cost of raw materials and drugs owing to supply chain disruption, lockdown situations has affected growth of the generic drugs industry. This is due to; around 13% of brand and generic manufacturers are based in China and 24% of medicines and 31% of medicinal ingredients were imported from India.The pharmaceutical supply chain is easily broken and the impact of Covid-19 has taken it to the fore once again. The API plant for these is often overseas, with India and China dominating the API market. The API can be produced in a single plant and, at each level, has very little inventory. However, COVID-19 is gradually solving the problem, with most businesses starting their facilities at full capacity.
Report Scope of the Generic Drugs Market
| | |
| --- | --- |
| Report Highlights | Details |
| Market Size | US$ 670.82 Billion by 2030 |
| Growth Rate | CAGR of 5.4% From 2022 to 2030 |
| Base Year | 2021 |
| Historic Data | 2017 to 2021 |
| Forecast Period | 2022 to 2030 |
| Segments Covered | Drug, Brand, Route of Drug Administration, Therapeutic Application, Distribution Channel |
| Regional Scope | North America, Europe, Asia Pacific, Latin America, Middle East & Africa (MEA) |
| Companies Mentioned | Mylan N.V., Abbott Laboratories, ALLERGAN, Teva Pharmaceutical Industries Ltd., Eli Lilly and Company, STADA Arzneimittel AG, GlaxoSmithKline Plc., Baxter International Inc., Pfizer Inc., Sandoz International GmbH |
North America is estimated to be the Largest Market for Generic Drugs
North America acquired the largest revenue share in the year 2021. U.S. recorded the highest sale in Generics Drugs Market in the year 2021. While the region's primary healthcare emphasis remains on the pandemic as it moves through the 3rd year of its disruptive impacts and the death toll which approached to 1 million, other key dynamics are playing out with respect to health services utilization, the associated level of spending including patient costs out-of-pocket, and the use of prescription medicines. Understanding these factors of the health care system and how they may develop over the next few years remains critical to stakeholders and decision makers including patients. Spending and drivers for growth reflect the substantial differences in spending levels by stakeholders as rebates and discounts deforms these trends even as the most affecting driver has been the amount which is spent on COVID-19 therapeutics and vaccines.
Despite a rise in spending overall, costs per prescription generally are flat or a little declining.
Use of Prescription drug reached a record 194 billion daily doses in the year 2021 as new prescription starts for both acute and chronic care recovered from the slacking off in 2020.
Utilization of Health services returned to pre-pandemic stratum by the end of the year 2021 but still has to make up for the pandemic-lured backlog in screenings and diagnostics, missed patient visits, new prescription starts, and elective procedures.
Spending on medicines is likely to return to pre-pandemic trend lines by the year 2023.
The medicines use in the U.S. region based on definite daily doses has risen 9.6% over the last few years to nearly 194 billion days of therapy in both non-retail as well as retail settings in the year 2021.
Global generic drugs market revenue, by region, 2019-2021 (USD Billion)
| | | | |
| --- | --- | --- | --- |
| Region | 2019 | 2020 | 2021 |
| North America | 134.84 | 141.33 | 147.91 |
| Europe | 95.97 | 101.30 | 106.77 |
| Asia Pacific | 74.84 | 81.63 | 88.89 |
| CIS Countries | 24.03 | 25.44 | 26.90 |
| ROW | 37.73 | 40.87 | 44.08 |
| Total | 367.42 | 390.57 | 414.56 |
The growth is attributed to speedy increase in the prevalence of chronic disease in the countries of APAC owing to changing lifestyle which is creating demand for the generic drugs. Additionally, growing demand for the generic drugs for the end users in LATAM and the countries of Middle East and Africa is anticipated to propel industry growth in the next 10 years.
North America contributed revenue around USD 147.91 billion in 2021 and registering a CAGR of 4.0% from 2022 to 2030.
The Asia Pacific was valued at USD 88.89 billion in 2021 and growing at a CAGR of 8.2% over the forecast period 2022 to 2030.
Europe has generated revenue USD 106.77 billion in 2021 and registering a CAGR of 4.7% between 2022 to 2030.
Brand Insights
The pure generics segment accounted largest revenue share 53.13% in 2021. Emerging markets can be challenging for pharmaceutical companies that are more accustomed to operating in developed markets, but understanding the unique problems these markets present may distinguish winners from losers, especially as the competitive battlefield becomes more global. Emerging markets are home to more than 70% of the world's population, cover 46% of the planet's surface, and generate 31% of global GDP. As a result, they are the industry's next great growth engine.
In terms of revenue, the pure generics segment was contributed USD 220.26 billion in 2021 and registering a CAGR of 4.8% from 2022 to 2030.
Branded generics, on the other hand, are given names to increase consumer recognition and loyalty. Cryselle, for example, is a brand-name generic contraceptive pill. To improve the possibility of patients requesting it by name, it is referred to as Cryselle rather than its generic name (norgestrel and ethinyl estradiol). To achieve cost savings, formulary administrators must examine the drugs on their formularies regularly. Branded generics, like generics, offer a cost-effective alternative to branded medications. When it comes to ways that PBMs avoid complete disclosure of their revenues, there is some friction between formulary managers and PBMs. Some pharmacy benefit consultants believe that one of the ways pharmacy benefit managements hide revenue is through branded generics.
The branded generics segment was valued at US$ 194.30 billion in 2021 with a CAGR of 6.1% over the forecast period 2022 to 2030.
Route of Administration Insights
Oral formulations account for around 65.73% of the global market share of all pharmaceutical formulations intended for human use, according to current estimates. Orally administered pharmaceuticals account for about 84 percent of the top-selling pharmaceuticals.
According to the World Health Organization, between 2 and 3 million cases of non-melanoma skin cancer and 132,000 cases of melanoma skin cancer are detected each year. Furthermore, the global prevalence of psoriasis ranges from 0.09 percent to 11.43%, making it a severe global disease affecting at least 100 million people. The market for sophisticated topical products is likely to rise in the coming years, as topical drug administration is the first line of treatment for the majority of skin illnesses.
The oral segment was reached at USD 272.48 billion in 2021 with a CAGR of 5.1% over forecast period 2022 to 2030.
The injection segment was valued at USD 87.37 billion in 2021 with a CAGR of 5.7% from 2022 to 2030.
The cutaneous segment contributed at USD 32.27 billion in 2021 with a CAGR of 5.5% between 2022 to 2030.
Generic Drugs Market Share, By Route of Administration, 2020 (%)
| | |
| --- | --- |
| Segment | 2020 (%) |
| Oral | 65.7% |
| Injection | 21.2% |
| Cutaneous | 7.8% |
| Others | 5.2% |
The Simple Generic Drugs Segment Is Projected To Dominate the Drug Type Segment of Generic Drugs Market Revenue
On the basis of drug type simple generic drugs segment is dominant owing to its low cost over super generic drugs. These drugs also yield the same therapeutic effect and are prescribed in the same dosing, with the same quality, and same the way of consumption and usage. Super generics of drug type segment is expected to hold a share of more than 42.18% by 2030 in the global generic drugs market.
In terms of revenue, the simple generics was valued at USD 255.36 billion in 2021 and is expected to reach USD 387.90 billion by 2030, registering a CAGR of 4.7% from 2022 to 2030.
Oncology Therapeutic Application Is Predictable To Take over the Therapeutic Application Segment of Generic Drugs Market Revenue
On the basis of therapeutic application the global market is segmented into major types cardiovascular, oncology, central nervous system, respiratory, dermatology, others. The oncology therapeutic application segment is leading with major share owing to increasing demand for the treatment of oncology disorders worldwide. The cardiovascular segment is anticipated to grow at reasonable CAGR over the forecast period.
The oncology segment was valued at US$ 46.48 billion in 2021 with a CAGR of 6.8% over forecast period 2022 to 2030.
The respiratory segment was reached at US$ 28.47 billion in 2021 with a CAGR of 5.5% from 2022 to 2030.
The cardiovascular segment was valued at US$ 98.87 billion in 2021 with a CAGR of 5.6% between 2022 to 2030.
The central nervous system (CNS) segment generated revenue at US$ 78.03 billion in 2021 with a CAGR of 5.9% over forecast period 2022 to 2030.
Top Players contending in the Market:
The companies focusing on research and development are expected to lead the global generic drugs market. Leading competitors contending in global generic drugs market are as follows:
Mylan N.V.
Abbott Laboratories
ALLERGAN
Teva Pharmaceutical Industries Ltd.
Eli Lilly and Company
STADA Arzneimittel AG
GlaxoSmithKline Plc.
Baxter International Inc.
Pfizer Inc.
Sandoz International GmbH
For the better understanding the recent situation of the global generic drugs market and for most policies of the country, Precedence Research forecast the future evolution of the generic drugs industry. This research study offers qualitative and measureable insights on generic drugs market and valuation of market size and development trends for global market segments.
Key Market Developments:
In March 2019, Allergan acquired Envy Medical, a biotechnology company providing dermatology and medical aesthetics solutions
In September 2018, Allergan acquired Bonti Endurance Biotech, a biotechnology company based in Orange, California.
In 2018, Allergan has acquired Elastagen a leading player. This is order to increase the product portfolio which helps to maintain skin's elasticity.
Major Market Segments Covered:
By Brand
Pure generic drugs
Branded generic drugs
By Route of Drug Administration
Oral
Topical
Parental
Others
By Therapeutic Application
Central nervous system (CNS)
Cardiovascular
Dermatology
Oncology
Respiratory
Others
Key Distribution Channel
Hospitals Pharmacies
Retail Pharmacies
Others
By Geography
North America
Europe
Asia-Pacific

China
India
Japan
South Korea
Malaysia
Philippines

Latin America

Brazil
Rest of Latin America

Middle East & Africa (MEA)

GCC
North Africa
South Africa
Rest of the Middle East & Africa