The global generic drugs market size was valued at USD 387.92 billion in 2020 and projected to hit around USD 675.29 billion by 2030, growing at CAGR of 5.7% over forecast period 2021 to 2030.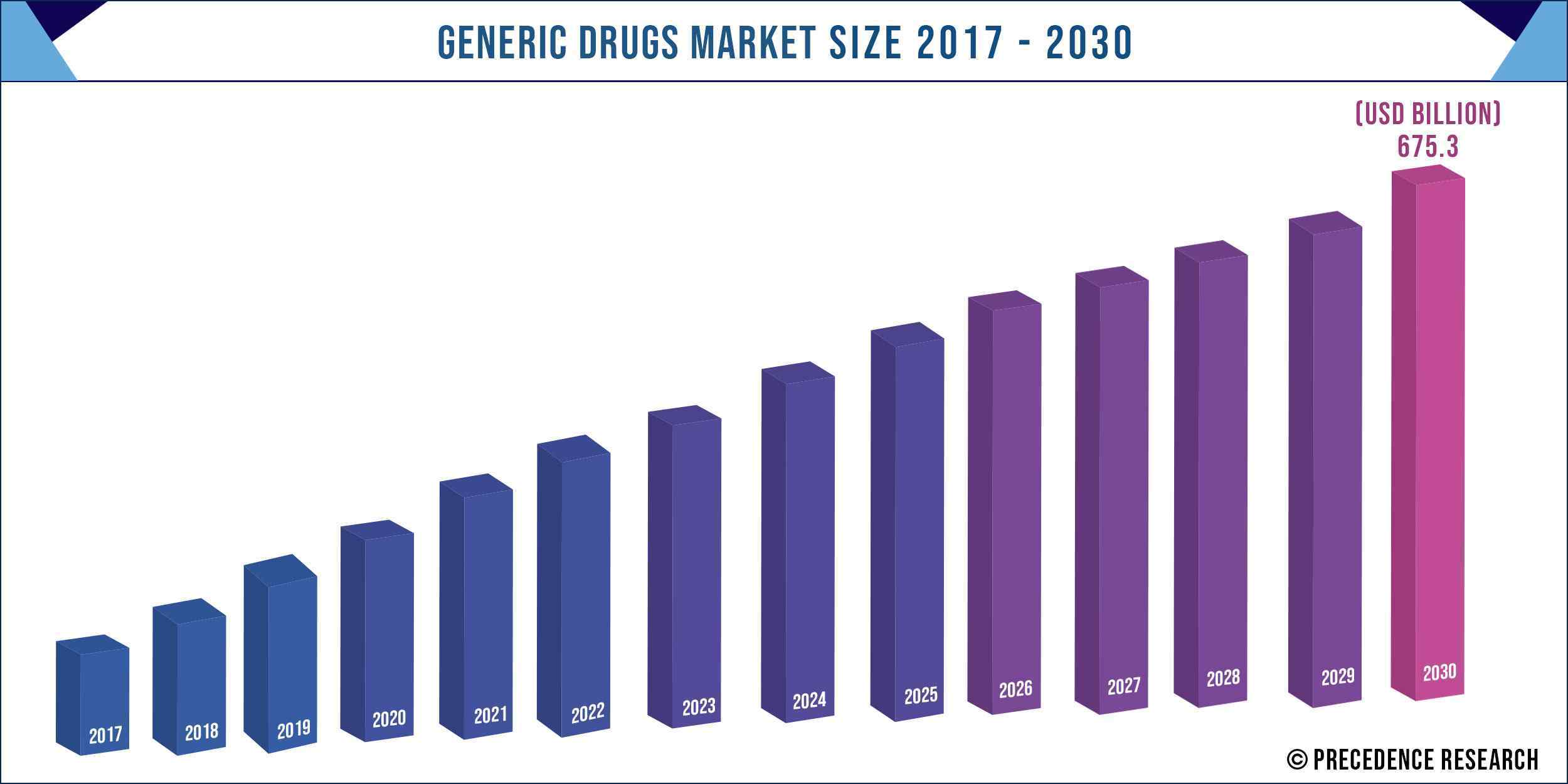 Key market Insights:
Global generic drugs industry is expected to rise at substantial CAGR during the forecast era. The low cost of generics, as an alternative to branded drugs is major factor expected to fuel growth of the target industry in the near future. Additionally, increasing use of RPA to ensure regulatory and standards compliance can create lucrative growth opportunities for the key players operating in the global market. The use of artificial intelligence (AI) technology to automate routine, rules-based processes is robotic process automation. Through this automation, key operating players in the target market are capable to devote more time, energy, and capitals to advanced value tasks. The use of RPA to ensure compliance with regulatory and standards is one of the major trends in the market for generic brands that will gain traction in the coming years. Company process automation systems such as RPA are commonly used by pharmaceutical firms to conduct high-volume R&D and production activities. RPA technology includes software that logs into programs, enters data, measures and completes the necessary activities, and logs out. It aims to ensure conformity with laws and requirements, to complete procedures at a faster speed and to reduce costs.
Crucial factors accountable for market growth are:
The low cost of generics as an alternative to branded drugs
Large number of patents expired branded drugs
Initiatives by governments and other regulatory bodies across the globe
COVID-19 Impact on Global Generic Drugs Market
The outburst of COVID-19 has affected most of the world's main markets, generic drugs market is no exception. The Covid-19 pandemic has influenced leading countries across the world including China, India, the U.S., and other nations. Upsurge in the cost of raw materials and drugs owing to supply chain disruption, lockdown situations has affected growth of the generic drugs industry. This is due to; around 13% of brand and generic manufacturers are based in China and 24% of medicines and 31% of medicinal ingredients were imported from India.The pharmaceutical supply chain is easily broken and the impact of Covid-19 has taken it to the fore once again. The API plant for these is often overseas, with India and China dominating the API market. The API can be produced in a single plant and, at each level, has very little inventory. However, COVID-19 is gradually solving the problem, with most businesses starting their facilities at full capacity.
Future of Global Generic Drugs Market
Major companies of the global industry including Abbott Laboratories and Teva Pharmaceutical Industries Ltd. are pointing towards commercial growth by adopting strategies like mergers and acquisitions, heavy investments in the manufacturing facilities that is predictable to flourish the global market growth in next few years. This trend is probable to continue and will augment growth of thetarget industry in the near future. For instance, in August 2016, Teva Pharmaceutical Industries Ltd. acquired Anda, a wholesale distributor of pharmaceutical products in the United States.
The Simple Generic Drugs Segment Is Projected To Dominate the Drug Type Segment of Generic Drugs Market Revenue
On the basis of drug type simple generic drugs segment is dominant owing to its low cost over super generic drugs. These drugs also yield the same therapeutic effect and are prescribed in the same dosing, with the same quality, and same the way of consumption and usage. Super generics of drug type segment is expected to hold share more than 25 % in global generic drugs market
Oncology Therapeutic Application Is Predictable To Take over the Therapeutic Application Segment of Generic Drugs Market Revenue
On the basis of therapeutic application the global market is segmented into major types cardiovascular, oncology, Central nervous system, respiratory, dermatology, others. The Oncology therapeutic application segment is leading with major share owing to increasing demand for the treatment of oncology disorders worldwide. The cardiovascular segment is anticipated to grow at reasonable CAGR over the forecast period.
North America is estimated to be the Largest Market for Generic Drugs
The study report covers key trends and prospects of generic drugs products across different geographical regions including North America, Europe, Asia-Pacific, Latin America, Middle East, and Africa. Geographically, generic drugs market is conquered by North America owing to initiatives by governments and other regulatory bodies, rising geriatric population, growing prevalence of the chronic diseases, and growth in the number of patent expired branded drugs. Asia Pacific generic drugs industry market is estimated to grow at noteworthy growth rate in the next 10 years. The growth is attributed to speedy increase in the prevalence of chronic disease in the countries of APAC owing to changing lifestyle which is creating demand for the generic drugs. Additionally, growing demand for the generic drugs for the end users in LATAM and the countries of Middle East and Africa is anticipated to propel industry growth in the next 10 years.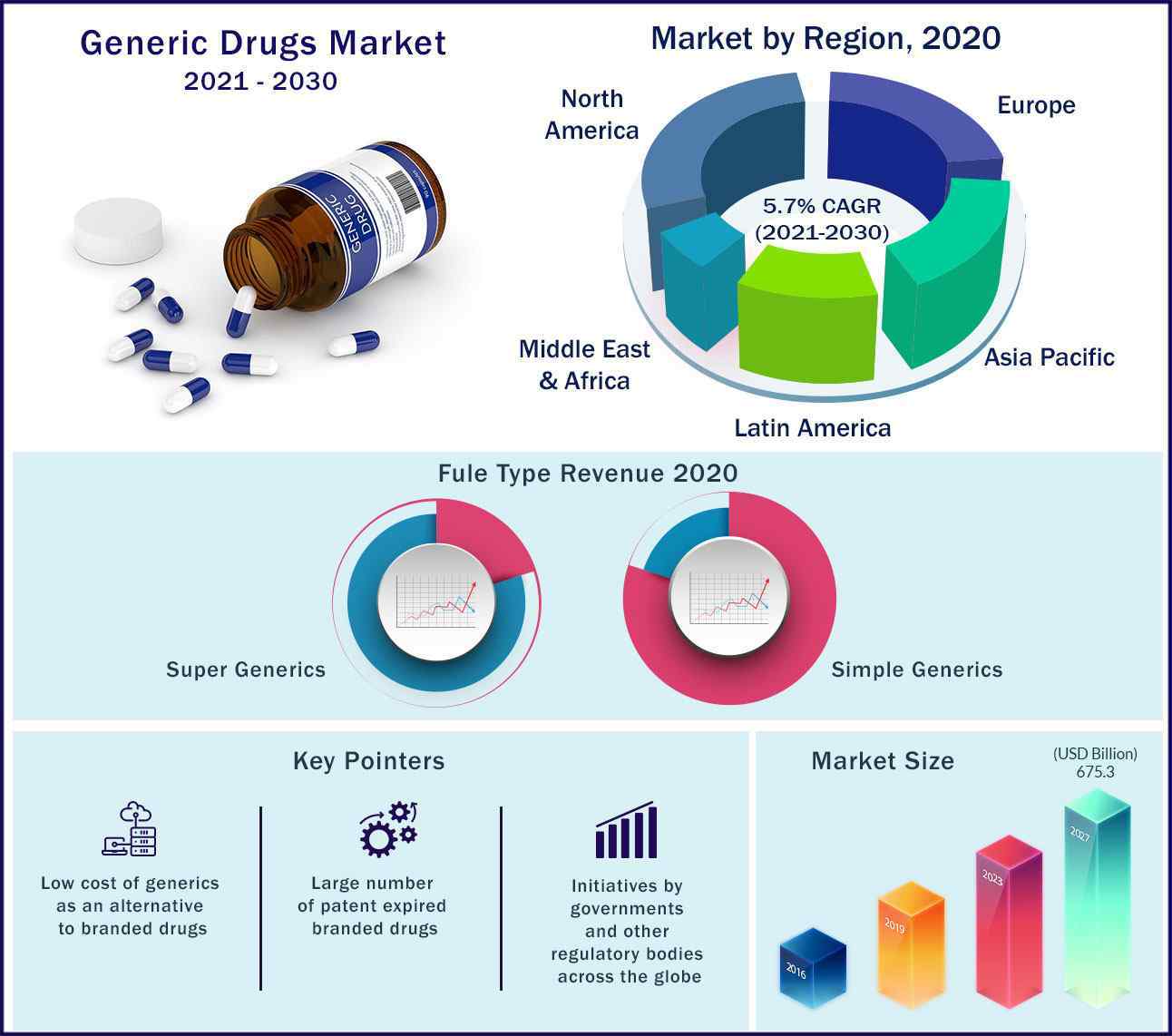 Top Players contending in the Market:
The companies focusing on research and development are expected to lead the global generic drugs market. Leading competitors contending in global generic drugs market are as follows:
Mylan N.V.
Abbott Laboratories
ALLERGAN
Teva Pharmaceutical Industries Ltd.
Eli Lilly and Company
STADA Arzneimittel AG
GlaxoSmithKline Plc.
Baxter International Inc.
Pfizer Inc.
Sandoz International GmbH
For the better understanding the recent situation of the global generic drugs market and for most policies of the country, Precedence Research forecast the future evolution of the generic drugs industry. This research study offers qualitative and measureable insights on generic drugs market and valuation of market size and development trends for global market segments.
Key Market Developments:
In March 2019, Allergan acquired Envy Medical, a biotechnology company providing dermatology and medical aesthetics solutions
In September 2018, Allergan acquired Bonti Endurance Biotech, a biotechnology company based in Orange, California.
In 2018, Allergan has acquired Elastagen a leading player. This is order to increase the product portfolio which helps to maintain skin's elasticity.
Major Market Segments Covered:
By Drug Type
By Brand
By Route of Drug Administration
By Therapeutic Application
Central nervous system (CNS)
Cardiovascular
Dermatology
Oncology
Respiratory
Others
Key Distribution Channel
Hospitals Pharmacies
Retail Pharmacies
Others
By Geography
North America
Europe

Germany
France
United Kingdom
Rest of Europe

Asia Pacific

China
Japan
India
Southeast Asia
Rest of Asia Pacific

Latin America

Brazil
Rest of Latin America

Middle East & Africa (MEA)

GCC
North Africa
South Africa
Rest of Middle East & Africa