The global prostate cancer market size was estimated at USD 12 billion in 2022 and it is expected to hit around USD 27.51 billion by 2032, growing at a noteworthy CAGR of 8.7% over the forecast period from 2023 to 2032.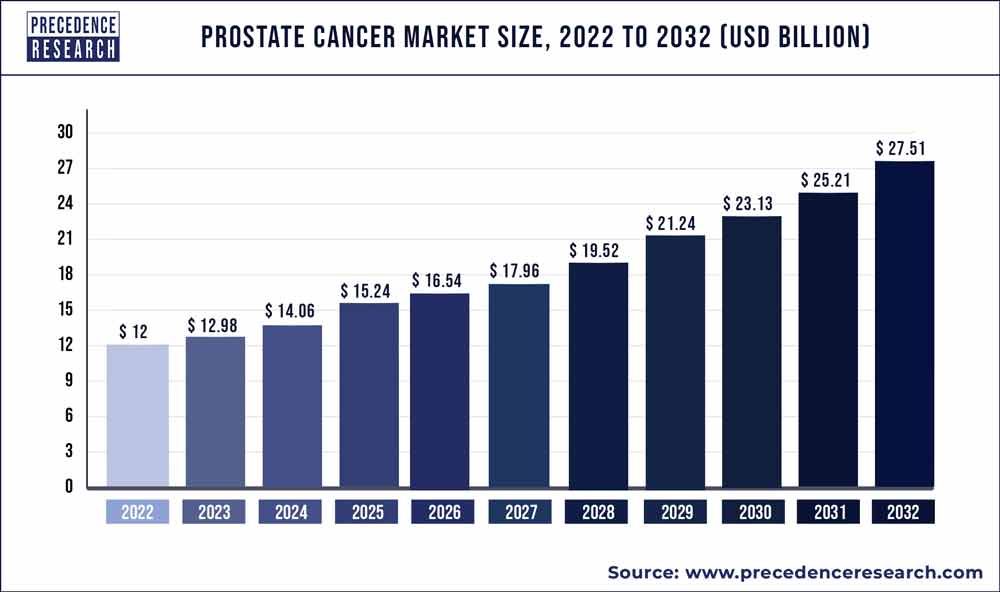 Access our Premium Real Time Data Intelligence Tool, Visit: Precedence Statistics
Key Takeaways:
North America dominated the global market and accounted for the largest revenue share in 2022.
The AR-directed therapies drug class segment is expected to remain the dominant drug class in 2032.
The hospital pharmacies distribution channel segment led the market in 2022.
Prostate cancer is the second leading cause of cancer worldwide. After only lung cancer, prostate cancer patients die in 1 out of every 41 men. Prostate cancer is a severe disease, but most men diagnosed with it do not die from it. Over 3.1 million men in the United States who were diagnosed with prostate cancer at some point in their lives are still alive. Prostate cancer is more observed in older men and non-Hispanic black men. About 6 out of 10 cases are diagnosed in men 65 and older, and it is rare in men under 40. According to findings, men are diagnosed with prostate cancer at an average age of 66.
According to WHO estimates, approximately 1.41 million prostate cancer cases will be present globally in 2022. The rising prevalence of cancer, the usage of diagnostic technologies and novel screening, and government initiative for new prostate cancer therapies influence the therapeutic market for prostate cancer. The adoption of diagnostic technologies is expected to increase therapeutic adoption. Recent therapeutic breakthroughs employ bioinformatics and computational biology technologies to help to achieve optimal treatment.
Additionally, key market players are developing successful techniques for developing new cures and treatments through a focused strategy that includes proteome profiling, exome sequencing, and whole-genome sequencing. Additionally, increased clinical trials for prostate cancer drugs boost the market growth in the forecast year. For Instance, in 2022, over 4,000 men will be enrolled in a phase III trial for Olaparib, in which tumor genomic testing will be used to identify patients.
Table 1: Estimate the Number of New Cancer Cases and Deaths in the United States in 2022
| | | |
| --- | --- | --- |
| Cancer | Estimated New cases (Male) | Estimated New Deaths (Male) |
| Prostate cancer | 2,68, 490 | 34,500 |
Covid 19 Impact:
Since December 2019, the number of people infected with the novel coronavirus (CoV) severe acute respiratory syndrome coronavirus 2 (SARS-CoV-2) causing coronavirus disease 2019 (COVID-19) has been increasing regularly and it caused a global health crisis. While this disease affects men of all genders, ages, and ethnicities, it is more lethal in older men, overlapping with the prostate cancer (PCa) population. Furthermore, along with other comorbidities, a cancer diagnosis may increase SARS-CoV-19 mortality. Every year, over 1.2 million new patients are added to the survivorship of PCa patients worldwide. Given the pandemic's global spread, millions of men with PCa are likely to become infected before the end of the year. Non-urgent procedures and treatments in hospitals were frequently postponed or canceled as the number of infected patients and who needed to be admitted increased. Furthermore, patients who feared becoming infected or wanted to relieve the healthcare system canceled appointments with their general practitioner (GP).
Report Scope of the Prostate Cancer Market:
| | |
| --- | --- |
| Report Coverage | Details |
| Market Size in 2023 | USD 12.98 Billion |
| Market Size by 2032 | USD 27.51 Billion |
| Growth Rate from 2023 to 2032 | CAGR of 8.7% |
| Largest Market | North America |
| Base Year | 2022 |
| Forecast Period | 2023 to 2032 |
| Segments Covered | By Drug Class and By Distribution Channel |
| Regions Covered | North America, Europe, Asia-Pacific, Latin America and Middle East & Africa |

Market Dynamics:
Rising prevalence of prostate cancer cases boosting demand for prostate therapies
Reduced morbidity rates in developed countries have resulted in an increase in the elderly population, which is more susceptible to prostate cancer. According to the Prostate Cancer Foundation, males over the age of 65 account for most prostate cancer cases. Thus, an increase in the geriatric population, sedentary lifestyles in developed countries, and childhood obesity all contribute to the global prevalence of prostate cancer. This increases both the need for and the demand for prostate cancer treatments. According to the National library of medicine, accounting for 2,68 490 new cases and 34,500 deaths (3.8% of all cancer deaths in men) in 2022. The global incidence and mortality rate of prostate cancer increase with age, with the average age at diagnosis being 66 years. It is noticeable that African American men have a higher incidence rate than White men, with 158.3 new cases diagnosed per 100,000 men. Their mortality rate is roughly twice that of White men. Differences in social, environmental, and genetic factors have been proposed as explanations for this disparity. Although 2,293,818 new cases are expected by 2040, mortality will vary slightly.
Pipeline drugs for prostate cancer in phase III trials
The prostate cancer phase III pipeline is diverse, with molecules in approved drug classes as well as drugs with novel mechanisms of action, such as radioligands targeting prostate-specific membrane antigen (PSMA), kinase inhibitors, and immune checkpoint inhibitors. In 2021, a Novel anti-B7-H3 protein proved to be a promising novel target for treatment with immunotherapy in prostate cancer. Additionally, FDA in October 2021 regarding its investigational therapeutic radiopharmaceutical product 177Lu-PSMA-I&T, allowing it to advance with the phase 3 ECLIPSE trial assessing the product in patients with mCRPC. Moreover, PARP inhibitors are one of the most promising drug classes in the phase III pipeline, based on the proven efficacy of Olaparib and rucaparib in prostate cancer. Talazoparib (Talzenna, Pfizer) and niraparib (Zejula, Janssen) are being developed in combination with an AR-directed therapy for first-line treatment of mCRPC, such as Olaparib and rucaparib (TALAPRO-2 and MAGNITUDE, respectively). Novartis announced in March 2021 that VISION met both primary endpoints, overall survival and radiographic progression-free survival (PFS), with US and European regulatory submissions expected in 2021. In May 2021, TLX591 (177Lu-DOTA-rosopatamab, Telix Pharmaceuticals), an antibody-based radiopharmaceutical targeting PSMA, will enter phase III development.
Table 2: Therapies in Phase III Pipeline for Prostate Cancer
| | | |
| --- | --- | --- |
| Product | Companies | Target or MOA |
| Talazoparib | Pfizer | PARP |
| Niraparib | Janssen | PARP |
| Lu-PSMA-617 | Novartis | PSM |
| TLX591 | Telix Pharmaceuticals | Telix Pharmaceuticals |
| Ipatasertib | Roche/Genentech | AKT |
| Capivasertib | AstraZeneca | AKT |
| Masitinib | AB Science | KIT |
| Cabozantinib | Takeda/Ipsen | TKI |
| Pembrolizumab | Merk. co. | PD1 |

Segments Insight:
Drug Class Insights:
Based on drug class the global prostate cancer market is categorized into Hormonal ADT, AR-Directed Therapies, Cytotoxic agents, Bone metastases, therapeutic vaccines, PARP inhibitors, Kinase inhibitors, AND PSMA-targeted radioligands. AR-directed therapies is expected to remain the dominant drug class in 2032, accounting for 58% of the total prostate cancer market ($17.4 billion). The apalutamide and enzalutamide will be the best-selling agents in the overall prostate cancer market by 2029, with sales totaling approximately $14.2 billion across the major markets. The rising uptake of apalutamide and enzalutamide in currently approved settings, in addition to anticipated label expansions in hormone-sensitive settings, will help drive the prostate cancer market.
PARP inhibitors are expected to be the second most lucrative drug class, accounting for 16% of total major-market sales. anticipate significant sales of niraparib in combination with abiraterone in the mHSPC setting by 2029 ($2.6 billion); its sales will reflect its high cost and long duration of treatment, rather than its high uptake. The anticipated approval of kinase inhibitors and PSMA-targeted radioligands should also increase major-market sales in 2029.
However, the biomarker defined populations and high costs of some therapies, as well as strong competition between current and emerging therapies across multiple patient populations, will most likely limit their sales.
Distribution Channel Insights:
Based on the distribution channel, the global prostate cancer therapeutics market is categorized into hospital pharmacies, Drug store & Retail pharmacies, and Online pharmacies. The hospital pharmacies segment dominated the market in 2022. Hospital pharmacies and pharmacists play an important role in the market because they manage pharmaceuticals in a critical hospital setting where quick access to drugs and supplies is required. Furthermore, these pharmacies offer both in-patient and out-patient services, allowing patients to treat a wide range of illnesses. Furthermore, these pharmacies strive to reduce clinical decision-making errors and focus on generating revenue from medicine purchases while aiming to reduce overall prescription costs.
The online pharmacy segment will grow in the forecast period due it is the most preferable platform during covid 19 pandemic as people are attracted to online modes of purchasing.
Regional Insights:
North America dominated the prostate cancer therapeutics market and accounted for the largest revenue share in 2022, Due to an increase in the disease's prevalence and a strong need for prostate cancer therapeutic products in this region. However, the emergence of promising new medicines in the biologics and hormone therapy divisions is attributed to North American expansion. The planned introduction of some pipeline drugs is expected to drive the market in the area during the projection period. For Instance, the US FDA approved an advanced accelerator application for Pluvicto drug in March 2022, which will be used to treat adult patients with prostate cancer. Additionally, the presence of a strong pipeline and government support for the innovation and key players offering therapeutics for prostate cancer majorly present in the North American region is anticipated to drive the market over the forecast period.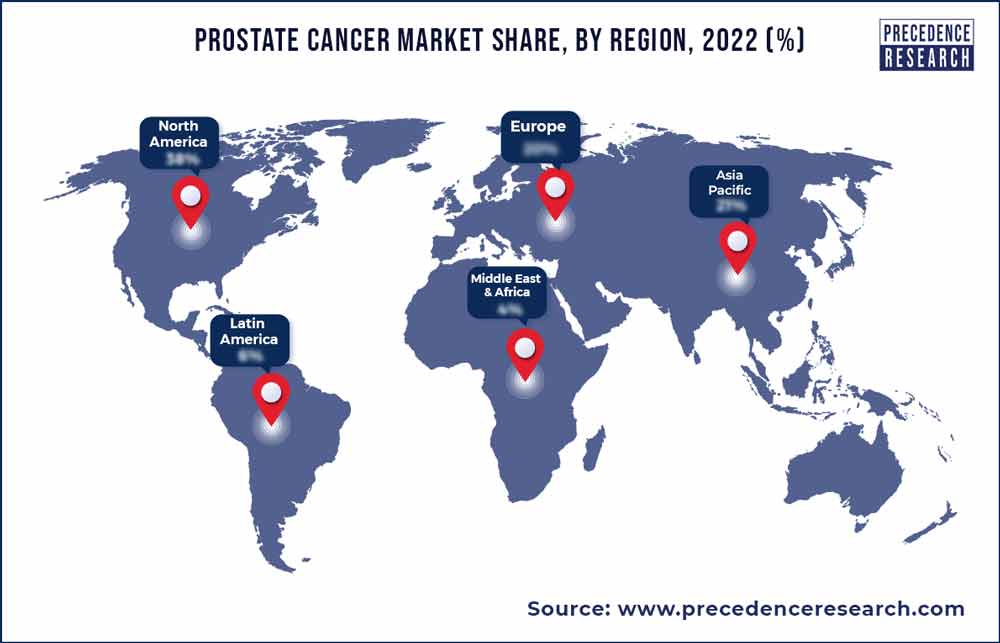 The Asia Pacific region is expected to grow the fastest during the forecast period. The market's expansion is due to cost-effective treatment, tailored medicines, technological advancements, the availability of numerous treatment options, and the rising incidence of prostate cancer. For example, Xtandi (enzalutamide), which is co-licensed by Astellas Pharma of Japan and Pfizer of the United States for the treatment of men with prostate cancer, is five times less expensive in Japan than in the United States. Such low-cost treatments and technological advancements in the market are expected to drive market growth during the forecast period.
Prostate cancer therapeutics market startups:
Technological advancements in therapeutics are allowing new companies to enter the prostate cancer therapeutics market and gain a competitive advantage. These companies continually invest in research and development to stay ahead of changing consumer preferences. The company strives to advance the market to improve its position in the prostate cancer market
Cancer Targeted Technology (CTT) is a research and development company that is working on developing small molecular weight enzyme inhibitors with imaging and drug delivery capabilities for use in cancer diagnostics and treatment. CTT-54, the company's lead product, targets circulating tumor cells and delivers radio-photo- and chemotherapeutics to the overexpressed Prostate Specific Membrane Antigen (PSMA). The CTT-54 PET diagnostic is said to be able to image within an hour and determine personalized treatment options, as well as monitor them. In 2022, Neo Genomics is a cancer reference laboratory that provides cancer testing and partnership programs to pathologists and oncologists and it funded by USD350.5 million.
Recent Development:
March 2022, Pluvicto (lutetium Lu 177 vipivotide tetraxetan) has been approved by the US Food and Drug Administration (FDA) for the treatment of adult patients with prostate-specific membrane antigen-positive metastatic castration-resistant prostate cancer that has spread to other parts of the body.
March 2022, for the treatment of adults with advanced prostate cancer, BioPharma announced the launch of camcevi (leuprolide), a 42mg injection emulsion. The company further offers AccordConnects mobile application access for the management of Camcevi inventory management.
In March 2022, US FDA approved 177Lu-PSMA-617, a new metastatic prostate cancer treatment.
In March 2022, Merck announced keylynk-010 a trial for evaluating keytruda in combination with lynparza in patients with metastatic castration-resistant prostate cancer.
Key Market Players:
AbbVie, Inc.
Astellas Pharma, Inc.
AstraZeneca plc
Bayer AG
Clovis Oncology, Inc.
Dendreon Pharmaceuticals LLC
Ferring Pharmaceuticals
Johnson & Johnson (Janssen)
Merck & Co., Inc.
Pfizer, Inc.
Sanofi S.A.
Segment Covered in the Report:
(Note*: We offer report based on sub segments as well. Kindly, let us know if you are interested)
By Drug Class
Hormonal ADT
AR-Directed Therapies
Cytotoxic agents
Bone metastases
therapeutic vaccines
PARP inhibitors
Kinase inhibitors
PSMA-targeted radioligands
By Distribution Channel
Hospital Pharmacies
Drug store & Retail pharmacies
Online pharmacies
By Geography
North America
Europe
Asia-Pacific
Latin America
Middle East and Africa