The global pharmaceutical water market size was valued at US$ 23.9 billion in 2019 and predicted to hit US$ 50.7 billion by 2027 with a CAGR of 9.86% from 2020 to 2027.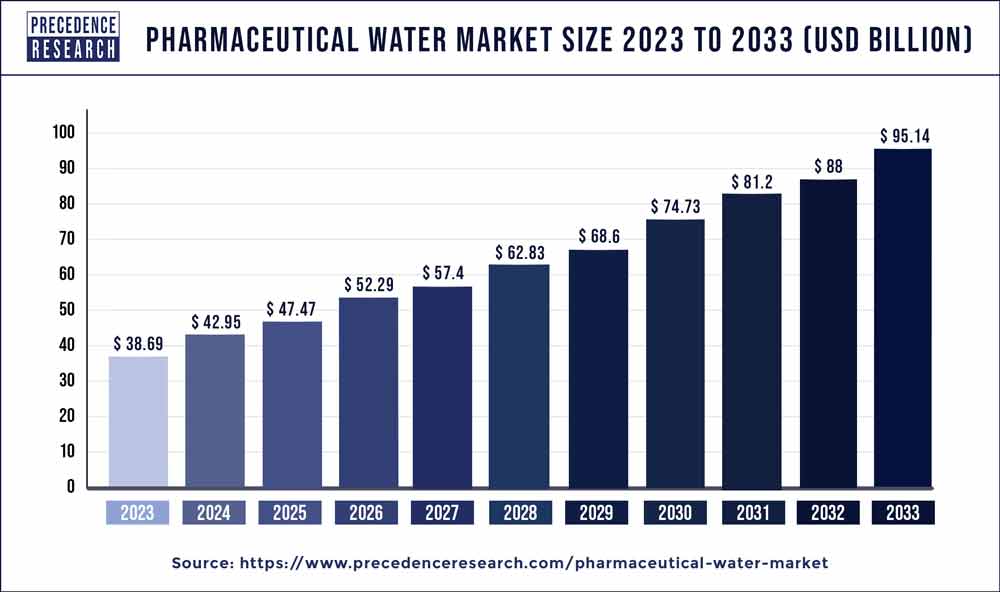 Key market Insights:
High purity water is a vital component in the production process of vital lifesaving drugs. The ongoing demand for high quality water is the sole major driver for the progress of the pharmaceutical water market. Pharmaceutical corporations are on expedition to save cost and retain their profit margins. The saving measures have a trickle-down effect that is strictly affecting the water for pharmaceuticals market. The novel tendency is for pharmaceutical consumers to procure the lowermost cost systems. This consequences in profit margin attrition for the water technology suppliers and equipment providers. They have to suggestively lower their prices in an effort to success bids and stay competitive.
Crucial factors accountable for market growth are:
Rising burden of diabetes among the obese and geriatric population
Rise of biopharmaceutical and generic injectable drugs sectors
Upsurge in responsiveness for routine checkup and diagnosis
Significant Market Trends:
HPLC grade water segment predicted to offer substantial growth
HPLC grade water is vital for formulating mobile phases and samples. Water employed in the HPLC process must be purified via a combination of reverse osmosis, filtering, ion exchange, distillation, ultraviolet irradiation, and other methods. Water for HPLC must fulfil with the uppermost purity quantified under type 1 by the ASTM. Sterile water for injection or Water for injection, is a sterile, non-pyrogenic, solute-free preparation.
Pharmaceutical & Biotechnology Companies is Expected to dominate the Pharmaceutical Water Market Revenue
Growth of the biopharmaceutical sector can be credited to huge unmet medical requirements in the treatment of chronic medical circumstances, a huge pipeline of clinical drugs and patent expiration of branded biologic drugs leads to advancement of biosimilar drugs. Furthermore, speedy development of the vaccines sector is predictable to force the biopharmaceutical sector during years to come.
North America is Estimated to be Garner Major Chunk of Pharmaceutical Water Market
The research report covers key trends and prospects of Pharmaceutical Water products across different geographical regions including North America, Europe, Asia-Pacific, Latin America, and Middle East and Africa. North America seized major stake of the pharmaceutical water market in 2019. Occurrence of important companies and development strategies accepted by these players are the major influences propelling the growth of pharmaceutical water market in the region.
Emerging countries embrace the majority of ​prospects ​for ​pharmaceuticals ​water market, with ​China leading ​the control. China is expected to be the fastest developing region for outlay in ​the pharmaceuticals water ​market. ​Investments of USD 68.3 million in 2014 are set to increase to USD 130.7 million in 2018. The level of ​development is being ​motivated by the ​rising ​expectation of progressively ​large and ​prosperous ​population in ​China, which ​will consequence in ​augmented ​spending on ​upgraded ​pharmaceutical ​and healthcare products. For ​water-associated ​corporations, the ​prospects present in ​projects ​presented by ​international ​pharmaceutical ​firms ​manufacturing ​in the region. Further, in India, investment in pharmaceutical water will also perceive striking progress during years to come.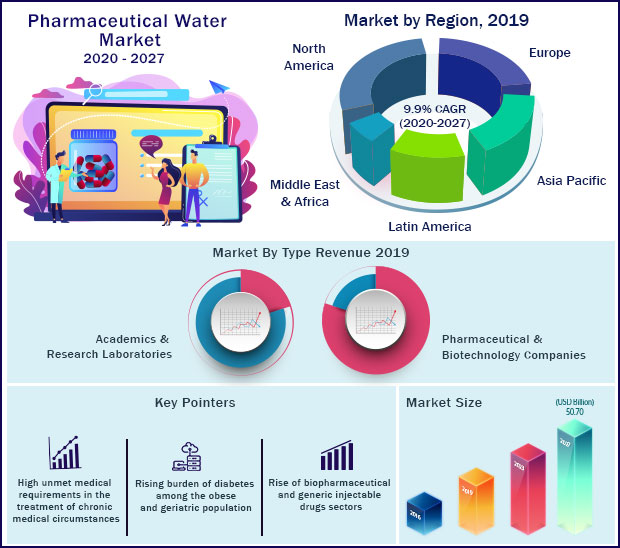 Top Players contending in the Market:
With the industry ​assuming ​regulatory ​fluctuations across the globe on ​micropollutants, ​ pharmaceutical ​corporations are ​seeking to get ​forward of the ​micropollutants issues. Water ​technology ​suppliers have prospect ​to profit from ​the necessity for ​leading-edge ​systems that ​can deal ​micropollutants, and want to ​recognize the ​suitable ​technology ​combinations to ​attain the ​most well-organized ​and cost-​effective ​outcomes. Chief competitors contending in global Pharmaceutical Water market are as follows:
Baxter International, Inc.
Merck KGaA
Braun Melsungen AG
Thermo Fisher Scientific, Inc
Cytiva (Danaher)
Fresenius Kabi AG
Pfizer, Inc.
CovaChem, LLC
Intermountain Life Sciences
In order to better recognize the current scenarios of pharmaceutical water sector, and policies adopted by the foremost countries, Precedence Research predicted the future evolution of the Pharmaceutical Water market. This research report embraces complete valuation of the market with the help of wide-ranging qualitative and quantitative perceptions, and forecasts concerning the market. This report bids classifications of market into potential and niche segments. Further, this research study examines market size and its growth trend at global, regional, and country from 2016 to 2027.
Report Scope of the Pharmaceutical Water Market
| | |
| --- | --- |
| Report Highlights | Details |
| Market Size | USD 50.7 Billion by 2027 |
| Growth Rate | CAGR of 9.86% from 2021 to 2027 |
| Largest Market | North America |
| Fastest Growing Market | Asia Pacific |
| Base Year | 2021 |
| Forecast Period | 2021 to 2027 |
| Segments Covered | Type, Application, Region |
| Companies Mentioned | B. Braun Melsungen AG, Merck KGaA, Thermo Fisher Scientific, Inc., Baxter International, Inc., Intermountain Life Sciences, Cytiva (Danaher), Standard Reagents, Pvt. Ltd., FUJIFILM Irvine Scientific, CovaChem, LLC, Pfizer, Inc and Fresenius Kabi AG. |
Major Market Segments Covered:
By Type
HPLC Grade Water
Water for Injection
By Application
Pharmaceutical & Biotechnology Companies
Academics & Research Laboratories
By Geography
North America
Europe

Germany
France
United Kingdom
Rest of Europe

Asia Pacific

China
Japan
India
Southeast Asia
Rest of Asia Pacific

Latin America

Brazil
Rest of Latin America

Middle East & Africa (MEA)

GCC
North Africa
South Africa
Rest of Middle East & Africa