The global laboratory equipment market size was evaluated at USD 14.18 billion in 2022 and is expected to attain around USD 39.64 billion by 2032, growing at a CAGR of 10.83% from 2023 to 2032. The North America region generated the largest share in 2022.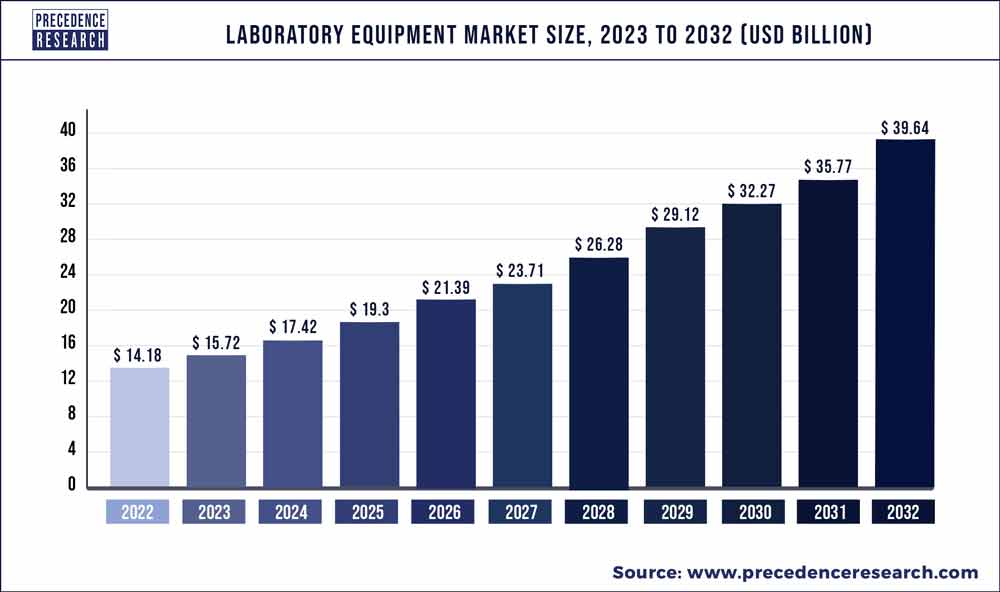 The gadgets and tools experts and students use while working in a laboratory are called laboratory equipment. Laminar flow hoods, centrifuges, incubators, scopes, micromanipulation systems, homogenizers, sterilizers, and autoclaves are some of the equipment. Laboratory disposables, on the other hand, are one-time-use devices that assist in keeping labs clean.
Some disposables frequently used during clinical testing include tubes, cuvettes, dishes, gloves, masks, pipettes, and tips. Since they help to increase testing efficiency and prevent laboratory accidents, laboratory supplies and disposables are frequently used to store, collect, and process specimens. In order to conduct research, conduct scientific experiments, and carry out analyses of various scientific materials, they find extensive uses in clinical diagnostic, pathology, research, microbiology, and educational labs.
This study thoroughly discusses the global laboratory equipment market's strengths. The study includes a summary of dynamics, segmentation, essential players, geographical analysis, and other crucial elements. The study also thoroughly analyzes the worldwide Laboratory Equipment Market forecast through 2032.
Market Growth
The increase in funding and investment in R&D activities in the pharmaceutical and biotechnology industries is a significant factor driving the market. Due to the consistent and reliable supply of laboratory equipment, the market is anticipated to expand steadily over the next few years. Research on coronaviruses has increased as a result of the COVID-19 pandemic. However,
the main objective of the lockdown was to avoid close contact with others, labs investigating other diseases before the pandemic were closed, which resulted in low demand for lab materials. Numerous academics have claimed that prolonged and extensive shutdowns substantially impacted the speed of other scientific advancements, according to Stat News. The need for lab supplies is increasing as a result of developments in technology in the fields of chemical and biological research.
The rising number of life science research studies and clinical laboratory testing drives the need for disposable laboratory products. The market is also anticipated to experience a rise in demand from procurement managers in the pharmaceutical and healthcare industries for a steady supply of essential laboratory tools and equipment.
All kinds of research facilities are in desperate need of better safety protocols. In addition to cups, beakers, and test tubes, there are a variety of other safety and preventive items used in laboratories. Throughout the research, the integrity of a specific study must be upheld. It is realistic to assume that, as a result of the considerations above, the global market for laboratory equipment and disposables will generate substantial sums of money in the coming years. The existence of a high-end medical research facility has also facilitated market expansion.
Report Scope of the Laboratory Equipment Market
| | |
| --- | --- |
| Report Coverage | Details |
| Market Size in 2023 | USD 15.72 Billion |
| Market Size by 2032 | USD 39.64 Billion |
| Growth Rate from 2023 to 2032 | CAGR of 10.83% |
| Base Year | 2022 |
| Forecast Period | 2023 to 2032 |
| Segments Covered | By Equipment Type, By Contract Type and By Service Provider |
| Regions Covered | North America, Europe, Asia-Pacific, Latin America and Middle East & Africa |

Market Dynamics:
Market Drivers
The rising frequency of numerous infectious diseases worldwide is leading to an increase in clinical diagnostic procedures, further propelling the industry. Diseases like AIDS, TB, and hepatitis are treated and diagnosed using laboratory supplies and equipment, including homogenizers and spectrophotometers. In line with this, the market expansion is aided by the rising demand for better safety protocols across all research facilities.
By lowering the risk of exposure to toxic and corrosive substances, flammable solvents, high-pressure gases, explosive compounds, and harmful germs, laboratory supplies and disposables contribute to the market's expansion. In addition, several product improvements, including the release of eco-drying glassware, biological safety cabinets, and sustainable and eco-friendly equipment, are boosting the market growth.
The market is predicted to be influenced by several other factors, such as significant research and development (R&D) efforts, improved diagnostic capabilities, and the implementation of numerous government initiatives to set up hospital laboratories.
Market Restraints
With the integration of cutting-edge technology to boost productivity and efficiency, laboratory equipment services are now more expensive. Throughout the forecast period, rising laboratory equipment costs are anticipated to restrain the development of the global market for laboratory equipment services. This aspect is projected to significantly negatively affect the market potential for laboratory equipment services in the developing world.
The industry's main obstacle is the move away from laboratory-based diagnosis and toward point-of-care diagnostics. Inadequate laboratory infrastructure exists in emerging and developing countries.
Market Opportunities
The vendor environment is defined by the numerous suppliers' usage of effective business strategies to compete in the laboratory equipment market outlook. Due to the market's extreme fragmentation, manufacturers must use organic and artificial growth tactics to remain competitive. Market participants should concentrate on the development potential in the fast-growing categories while retaining their presence in the slow-growing varieties to optimize opportunities and recover from the post-COVID-19 effect.
To conduct tests and conduct research, laboratories need several tools. General lab technology is used in research, education, clinical labs, quality control, R&D, marketing, and other sectors. By utilizing laboratory technology, analyses can be completed more quickly, boosting the laboratory's value by enabling it to do more daily tests. As a result, expenditures for materials, upkeep, legal documentation, and overall expenses might be lowered.
Segments Insight
Equipment Type Insights
Based on the kind of equipment used, the market is segmented into Specialty Equipment, General Equipment, Analytical Equipment, and Others. The upgrading of laboratories resulted in a broad scope for the specialty-equipment market. The specialized instruments produce findings that are precise and timely. Time will be saved by using this equipment.
An electric current is used in the gel electrophoresis to separate DNA, RNA, or proteins in an agarose gel. Systems for horizontal and vertical gel electrophoresis, chemicals, imaging systems, and power sources are all included in the electrophoresis apparatus. The market is growing due to the segment's capacity to provide quick results at a reasonable price.
Contract Type Insights
Based on the type of contract, the market is split into two categories: customized and standard service contracts. A standard service contract is a legally binding agreement between two parties that cannot be altered, accepted, or rejected. The Standard Service Contract presents a unique opportunity for a large company to take advantage of a person's weakness by imposing on him terms that mimic private legislation and may even release the company from all liability under the contract. Thus, the future of the essential service was quite promising.
Service Provider Insights
Depending on the kind of service provider, the market is segmented into OEMs, Third-party Service Providers, and Others. The OEM segment outperforms the others in terms of growth. Companies that produce their equipment and sell it in a variety of ways. Customers can readily obtain information and buy things thanks to the internet.
Regional Insights
North America accounted for the largest share in 2022. This is explained by the existence of numerous pharmaceutical and biopharmaceutical companies actively involved in R&D. Additionally, a rise in grants from government institutions, such as the National Institutes of Health (NIH), to advance research initiatives is projected to promote market expansion.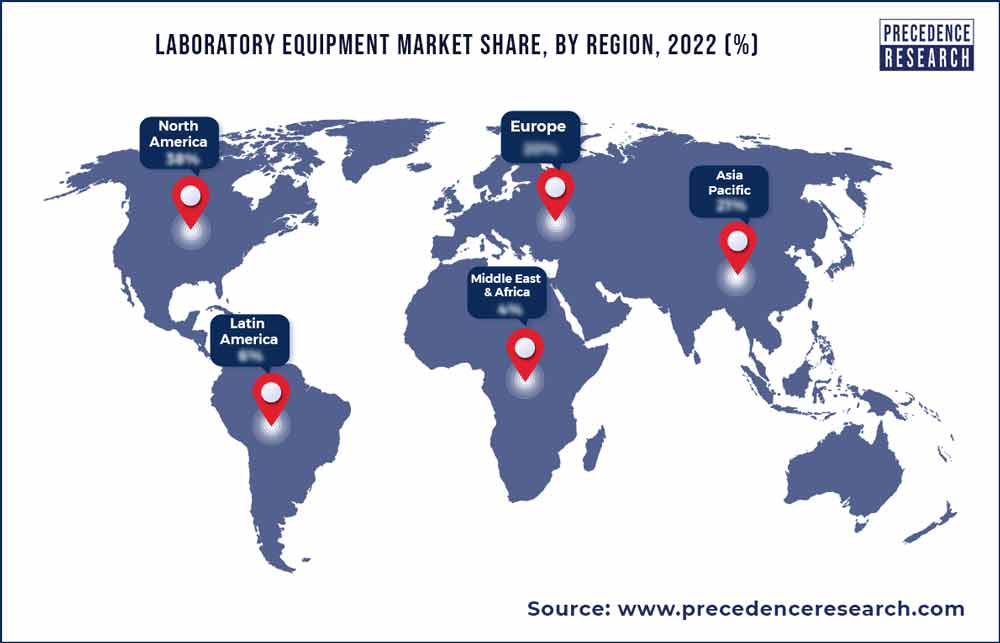 It is anticipated that additional investments in research will be attracted during the projected period due to the caliber and track record of companies that have operated in the region. Regarding funding research, the biopharmaceutical sector ranks among the top industries in the area. Many businesses concentrate on creating fresh leads and have a ton of samples on hand, which increases demand for these goods. Due to the coronavirus outbreak, numerous companies are also working to create treatments and vaccines, helping the market expand.
In terms of growth, the Asia Pacific region dominates the global market for laboratory equipment and is predicted to develop at the quickest CAGR through 2032. The demand for research and development activities is expected to continue to grow, which will, in turn, fuel the market potential for laboratory equipment over the projection period. Through 2032, India and China are anticipated to be the two biggest markets in this area.
Recent Development:
In March 2022, Under the Dynamica brand, Precisa Gravimetrics AG unveiled their Halo line of very advanced UV-Vis spectrophotometers, model number GB 30.
INTEGRA Biosciences introduced the D-ONE single-channel pipetting module in February 2021 for hands-free transfers from individual tubes or wells utilizing the ASSIST PLUS pipetting robot. This device efficiently automates tiresome activities like serial dilutions, sample normalization, hit selecting, or pipetting of intricate plate layouts, boosting lab efficiency and repeatability while lowering manual labor, processing errors, and physical strain.
Competitive Landscape
With a focus on the global market and some of the key players like Danaher Corporation, Eppendorf AG, Waters Corporation, Thermo Fisher Scientific Inc., Agilent Technologies, Siemens Heathineers, PerkinElmer, Inc., Pace Analytical Services, Inc., Bio-Rad Laboratories, Inc., and Becton, Dickinson, and Company, the "Global Laboratory Equipment Market" study report will offer helpful insights.
Segments Covered in the Report
(Note*: We offer report based on sub segments as well. Kindly, let us know if you are interested)
By Equipment Type
Specialty Equipment
General Equipment
Analytical Equipment
Others
By Contract Type
Customized Service Contract
Standard Service Contract
By Service Provider
Third-party Service Providers
OEMs
Other
By Geography
North America
Europe
Asia-Pacific
Latin America
The Middle East and Africa