The global pharmaceutical manufacturing market size accounted for USD 454 billion in 2022 and is predicted to be worth around USD 1,467.7 billion by 2032, poised to grow at a noteworthy CAGR of 12.5% during the forecast period 2023 to 2032.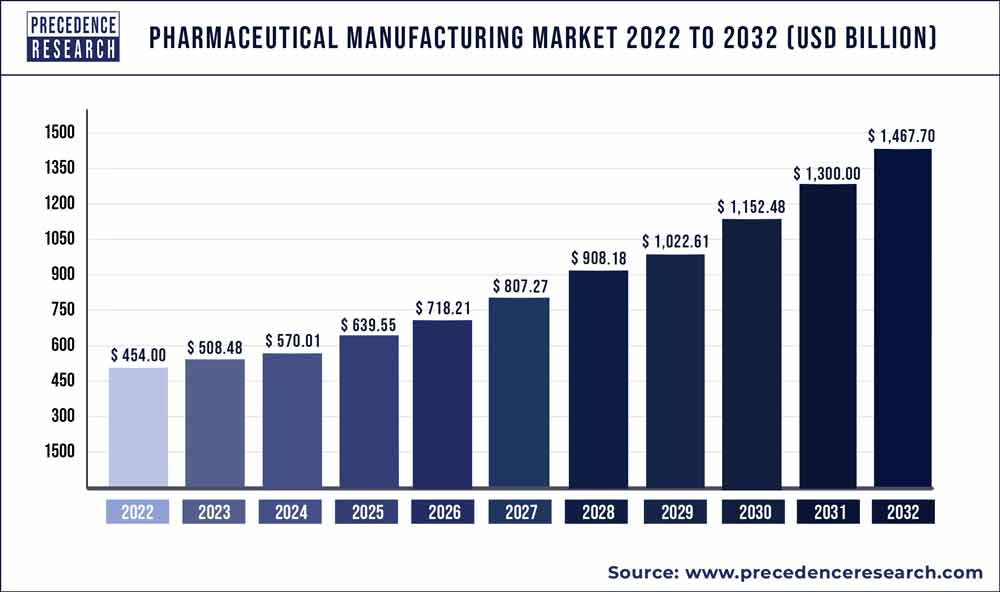 Access our Premium Real Time Data Intelligence Tool, Visit: Precedence Statistics
Key Takeaways
North America led the global market with the highest market share in 2022.
By Drug Development Type, the in-house drug development segment held the largest revenue share in 2022.
By Route of Administration, the oral drugs segment dominated the global market in 2022.
By Formulation, the tablets segment has held the highest market share in 2022.
By Therapy, the cancer segment is estimated to hold the highest market share in 2022.
Pharmaceutical Manufacturing Market in the U.S. 2023-2032
The U.S. pharmaceutical manufacturing market size was valued at USD 100.06 billion in 2022 and is estimated to reach around USD 323.48 billion by 2032, growing at a CAGR of 12.50% from 2023 to 2032.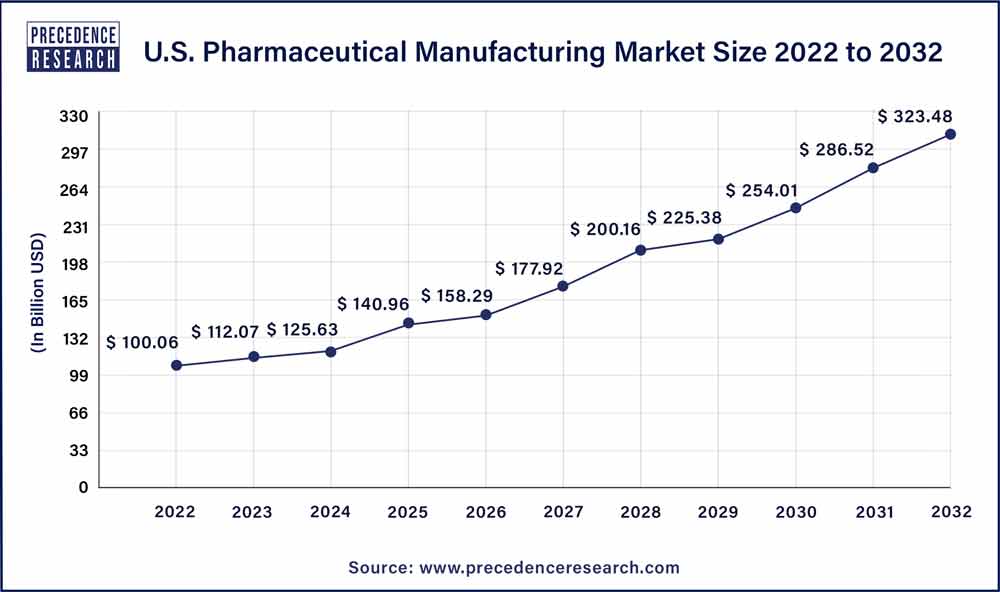 The research study covers key prospects and trends of pharmaceutical manufacturing products throughout different regions including Europe, North America, Asia-Pacific, Middle East and Africa, and Latin America. Regionally, pharmaceutical manufacturing market is dominated by North America due to presence of skilled researchers and high prevalence of chronic ailments. Europe accounted for the second highest share majorly due to encouraging reimbursement scenario and high geriatric population. On the other hand, Asia-Pacific is anticipated to witness the rapid growth rate, on account of increasing investment by major manufacturers, rising popularity of contract research organizations, and growing per-capita healthcare expenditure.
Major Trends In The Pharmaceutical Manufacturing Industry:
Pharmaceutical manufacturing is described as the method of commercial-scale coalescence of medications by the pharmaceutical companies. Medication manufacturing services are outlined by a core assurance to meeting the user's objectives with the finest quality while sustaining the most effective use of time and regulating costs. The pharmaceutical industry has the repute of being watchful about applying new technology and very slow to carry out changes. The cautious approach of pharma industry is because of the regulatory obligations to verify that any procedure modifications will not exhibit a harmful effect on the product quality. However, the monitoring agencies along with pharma industry are attempting to adopt procedures and technologies that will advance quality and production efficiency. Moreover, there is also a consciousness that more adjustments will be required to further acclimatize to new manufacturing methods, such as continuous manufacturing, personalized medicine, and Industry 4.0,along with subsidiary technologies, such as procedure analytics and innovative process control. Leading pharmaceutical manufacturers are exploiting advanced technologies for streamlining manufacturing processes. For example, GSK is evolving world-class manufacturing modernization for bringing drugs and other healthcare products to persons who want them all over the world. The company is employing progressive technologies to advance the skill within manufacturing, installing virtual reality devices and touch screens to preserve a sterile atmosphere and bolster apparatus maintenance.
Pharmaceutical Manufacturing Market Scope
| | |
| --- | --- |
| Report Highlights | Details |
| Growth Rate from 2023 to 2032 | CAGR of 12.5% |
| Market Size in 2023 | USD 508.48 Billion |
| Market Size by 2032 | USD 1,467.7Billion |
| Base Year | 2022 |
| Forecast Period | 2023 to 2032 |
| Segments Covered | Drug Development, Route of Administration, Formulation, Therapy |
| Regional Scope | North America, Europe, Asia Pacific, Latin America, Middle East & Africa (MEA) |
| Companies Mentioned | GlaxoSmithKline plc, Merck & Co., Inc., Eli Lilly and Company, Johnson & Johnson, Hoffmann-La Roche Ltd., Lonza, Pfizer, Inc., Sanofi SA, Novartis AG, AstraZeneca |
Crucial factors accountable for market growth are:
Increasing prevalence of chronic ailments
Growing geriatric population
High investment in research and development
Increasing focus on outsourcing manufacturing activities
Increasing per capita healthcare expenditure
Growing incidence of novel viral diseases
Technological advancements in manufacturing processes
Improving reimbursement scenario in developing regions
COVID-19 Impact on Global Pharmaceutical Manufacturing Market
The corona virus pandemic has tested the pharmaceutical industry by presenting challenges such as speeding up research activities, expansion of manufacturing capacities, and supply chains. The sudden up burst in all sectors of pharmaceutical industry, has bought the attention of investors around the globe to this sector. The pharmaceutical manufacturers have realigned their strategies to deal with the pandemic situation in a better way. The development of vaccine against the corona virus in a record time-span is an accurate example of the steps taken by manufacturers to combat the pandemic. The development of multiple rapid testing methods for early detection of COVID-19 has also played a major role in containing the disease. The leading companies within healthcare domain are working with governments across the world to prepare an effective framework for avoidance of such pandemics in the future.
Future of Pharmaceutical Manufacturing
In order to deal with the challenges that advanced therapeutics, pricing burdens, and worldwide supply chains exhibit, the implementation of latest digital solutions has become vital for pharmaceutical manufacturers. It includes leveraging artificial intelligence, Big Data, machine-learning, and industrial internet of things (IIoT) for a consequential impact on pharmaceutical manufacturing process to improve quality. Contract manufacturing is expected to bring about the much-required transformation in the pharmaceutical manufacturing business.
Market Dynamics
Market Driver: Technological advancements
Technological advancements enable more efficient and precise production processes, leading to improved product quality and reduced manufacturing costs. Automation, robotics and digitization enhance manufacturing accuracy and consistency, minimizing human error. Analytical technologies help in real-time monitoring and quality control, ensuring adherence to strict regulatory standards. Moreover, advanced techniques like 3D printing and continuous manufacturing enable faster production and customization of pharmaceuticals. Overall, these innovations enhance productivity, reduce time-to-market, and contribute to the growth of the pharmaceutical manufacturing industry. Thus, such technological advancements are observed to act as a driver for the growth of pharmaceutical manufacturing market.
Market Restraint: Complexities in adopting new technologies
The pharmaceutical industry often deals with complex processes, stringent regulations and hig standards for product safety along with maintaining efficacy. In such situations, introducing new technologies can be challenging for the market. The complexities in adopting new technologies are caused by the need for validation, ensuring compatibility and potential risk of disrupting the existing system of manufacturing. Moreover, the industry is a little conservative, which concerns data security and financial investment. This factor also limits companies from investing in new technologies. Thus, such complexities in adopting new technologies are observed to act as a restraint for the market's expansion.
Market Opportunity: Rising demand for personalized medicine
The rising demand for personalized medicine presents a significant opportunity for the pharmaceutical manufacturing market. Personalized medicine involves tailoring medical treatment to individual patients based on genetic, molecular and clinical information. This approach allows for more effective and precise treatments, potentially reducing adverse effects and improving patient outcomes. For the pharmaceutical manufacturing market, this trend drives the need for specialized manufacturing processes to produce customized drugs, diagnostics and therapies. It also requires multiple advanced technologies, such as 3D printing, targeted delivery systems and gene editing.
Manufacturers can optimize opportunity by developing flexible production processes that can accommodate small batch sizes and rapid changes in formulation, which are often required for personalized medicine. Thus, the rising demand for personalized medicine is expected to offer multiple opportunities for the market to grow.
Market Challenge: Supply chain disruptions
Pharmaceutical manufacturing processes require a range of raw materials. Many of which are sourced globally. Disruptions in the supply of these materials, whether due to natural disasters, geopolitical issues or manufacturing problems, can lead to production delays or even stoppages. Pharmaceutical manufacturing involves intricate processes and a sequence of steps. If any component or intermediate product is delayed or unavailable, it can disrupt the entire production process, leading to potential shortages. Thus, supply chain disruptions are observed to pose a challenge for the market.
Drug Development Type Insights
In-house Segment Reported Foremost Market Stake in 2022
In-house drug development segment displayed the major share in the worldwide pharmaceutical manufacturing market in 2019. The use of in-house infrastructure and expertise by big pharma companies for drug development is the major reason for high market share of multi-dose systems. The factors such as data privacy issues and technological advancements are expected to retain the dominance of in-house drug development in the near future.
The outsourced drug development is projected grow at the highest CAGR through the forecast time-frame mainly due togrowing popularity of contract research organizations.
Route of Administration Insights
Oral Route of Administration Dominated the Market Revenue
Oral drugs are prescribed for a vast-array of diseases due to their easy availability and affordability. Oral medicines are generally the first line of treatment that a physician prescribes.Thus, high incidence of chronic ailments such as diabetes and asthma are expected to boost the demand for oral medicines in the forecast time-frame.
Parenteral segment will expand at a significant CAGR during the forecast time-frame.
Formulation Insights
Tablets Will Dominate the Formulation Segment of Pharmaceutical Manufacturing Market Revenue
Tablets are the most widely used formulation due to factors such as ease of storage and use. Furthermore, tablets are available in multiple forms for different purposes. These factors contribute to the growth of tablets segment.
Therapy Insights
Cancer Accounted For the Highest Share within the Therapy Segment of Pharmaceutical Manufacturing Market Revenue
Factors such as high investment in cancer research, strong product pipeline, and technological improvements contribute to the growth of cancer segment.
Pharmaceutical Manufacturing Market Players
The companies focusing on research and development are expected to lead the global pharmaceutical manufacturing market. Leading competitors contending in global pharmaceutical manufacturing market are as follows:
GlaxoSmithKline plc
Merck & Co., Inc.
Eli Lilly and Company
Johnson & Johnson
Hoffmann-La Roche Ltd.
Lonza
Pfizer, Inc.
Sanofi SA
Novartis AG
AstraZeneca
In order to better recognize the current status of pharmaceutical manufacturing, and policies adopted by the foremost countries, Precedence Research predicted the future evolution of the pharmaceutical manufacturing market. This research study bids qualitative and quantitative insights on pharmaceutical manufacturing market and assessment of market size and growth trend for potential market segments.
Key Market Developments:
In August 2023, Saudi Arabia's sovereign wealth fund announced the launch of a commercial-stage contract manufacturing organization, Lifera. The new organization aims to support the local biopharmaceutical industry to boost.
In May 2023, headquartered in Ahmedabad, Cadila Pharma signed a Memorandum of Understanding (MoU) with the state of government of Gujrat in order to invest Rs.1,000 crore in different existing pharmaceutical projects. The investment will be made over three years and Cadila aims to open a new plant for active pharmaceutical ingredients.
In August 2023, Metrion Biosciences Limited announced that it has received final notification from UK Medicines and Healthcare products Regulatory Agency. The notification stated that the Metrion is now a part of UK Good Laboratory Practice Compliance Monitoring Program. The certification allows the company to focus on small molecule therapeutics development.
Major Market Segments Covered:
By Drug Development Type
By Route of Administration
Topical
Oral
Inhalations
Parenteral
Others
By Formulation
Injectable
Tablets
Suspensions
Capsules
Sprays
Others
By Therapy
Diabetes
Cardiovascular Diseases
Respiratory Diseases
Cancer
Pain
Others
By Geography
North America
Europe

Germany
France
United Kingdom
Rest of Europe

Asia Pacific

China
Japan
India
Southeast Asia
Rest of Asia Pacific

Latin America

Brazil
Rest of Latin America

Middle East & Africa (MEA)

GCC
North Africa
South Africa
Rest of Middle East & Africa