The global pharmaceutical manufacturing market size was accounted at US$ 357.9 billion in 2020 and is predicted to worth around US$ 1,190.16 billion by 2030, poised to grow at a noteworthy CAGR of 12.8% during the forecast period 2021 to 2030.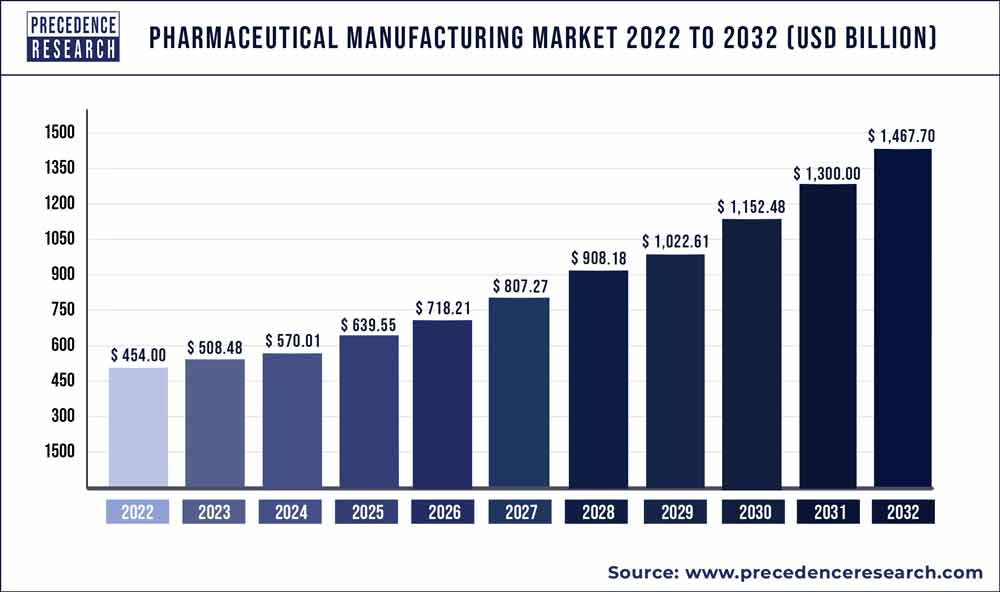 Major Trends In The Pharmaceutical Manufacturing Industry:
Pharmaceutical manufacturing is described as the method of commercial-scale coalescence of medications by the pharmaceutical companies. Medication manufacturing services are outlined by a core assurance to meeting the user's objectives with the finest quality while sustaining the most effective use of time and regulating costs. The pharmaceutical industry has the repute of being watchful about applying new technology and very slow to carry out changes. The cautious approach of pharma industry is because of the regulatory obligations to verify that any procedure modifications will not exhibit a harmful effect on the product quality. However, the monitoring agencies along with pharma industry are attempting to adopt procedures and technologies that will advance quality and production efficiency. Moreover, there is also a consciousness that more adjustments will be required to further acclimatize to new manufacturing methods, such as continuous manufacturing, personalized medicine, and Industry 4.0,along with subsidiary technologies, such as procedure analytics and innovative process control. Leading pharmaceutical manufacturers are exploiting advanced technologies for streamlining manufacturing processes. For example, GSK is evolving world-class manufacturing modernization for bringing drugs and other healthcare products to persons who want them all over the world. The company is employing progressive technologies to advance the skill within manufacturing, installing virtual reality devices and touch screens to preserve a sterile atmosphere and bolster apparatus maintenance.
Crucial factors accountable for market growth are:
Increasing prevalence of chronic ailments
Growing geriatric population
High investment in research and development
Increasing focus on outsourcing manufacturing activities
Increasing per capita healthcare expenditure
Growing incidence of novel viral diseases
Technological advancements in manufacturing processes
Improving reimbursement scenario in developing regions
COVID-19 Impact on Global Pharmaceutical Manufacturing Market
The corona virus pandemic has tested the Pharmaceutical industry by presenting challenges such as speeding up research activities, expansion of manufacturing capacities, and supply chains. The sudden up burst in all sectors of pharmaceutical industry, has bought the attention of investors around the globe to this sector. The pharmaceutical manufacturers have realigned their strategies to deal with the pandemic situation in a better way. The development of vaccine against the corona virus in a record time-span is an accurate example of the steps taken by manufacturers to combat the pandemic. The development of multiple rapid testing methods for early detection of COVID-19 has also played a major role in containing the disease. The leading companies within healthcare domain are working with governments across the world to prepare an effective framework for avoidance of such pandemics in the future.
Future of Pharmaceutical Manufacturing
In order to deal with the challenges that advanced therapeutics, pricing burdens, and worldwide supply chains exhibit, the implementation of latest digital solutions has become vital for pharmaceutical manufacturers. It includes leveraging artificial intelligence, Big Data, machine-learning, and industrial internet of things (IIoT)for a consequential impact on pharmaceutical manufacturing process to improve quality. Contract manufacturing is expected to bring about the much-required transformation in the pharmaceutical manufacturing business.
| | |
| --- | --- |
| Report Highlights | Details |
| Market Size | US$ 1,190.16 Billion by 2030 |
| Growth Rate | CAGR of 12.8% From 2021 to 2030 |
| Base Year | 2021 |
| Historic Data | 2017 to 2020 |
| Forecast Period | 2021 to 2030 |
| Segments Covered | Drug Development, Route of Administration, Formulation, Therapy |
| Regional Scope | North America, Europe, Asia Pacific, Latin America, Middle East & Africa (MEA) |
| Companies Mentioned | GlaxoSmithKline plc, Merck & Co., Inc., Eli Lilly and Company, Johnson & Johnson, Hoffmann-La Roche Ltd., Lonza, Pfizer, Inc., Sanofi SA, Novartis AG, AstraZeneca |
Significant Market Trends:
In-house Segment Reported Foremost Market Stake in 2019
In-house drug development segment displayed the major share in the worldwide pharmaceutical manufacturing market in 2019. The use of in-house infrastructure and expertise by big pharma companies for drug development is the major reason for high market share of multi-dose systems. The factors such as data privacy issues and technological advancements are expected to retain the dominance of in-house drug development in the near future.
The outsourced drug development is projected grow at the highest CAGR through the forecast time-frame mainly due togrowing popularity of contract research organizations.
Oral Route of Administration Dominated the Market Revenue
Oral drugs are prescribed for a vast-array of diseases due to their easy availability and affordability. Oral medicines are generally the first line of treatment that a physician prescribes.Thus, high incidence of chronic ailments such as diabetes and asthma are expected to boost the demand for oral medicines in the forecast time-frame.
Parenteral segment will expand at a significant CAGR during the forecast time-frame.
Tablets Will Dominate the Formulation Segment of Pharmaceutical Manufacturing Market Revenue
Tablets are the most widely used formulation due to factors such as ease of storage and use. Furthermore, tablets are available in multiple forms for different purposes. These factors contribute to the growth of tablets segment.
Cancer Accounted For the Highest Share within the Therapy Segment of Pharmaceutical Manufacturing Market Revenue
Factors such as high investment in cancer research, strong product pipeline, and technological improvements contribute to the growth of cancer segment.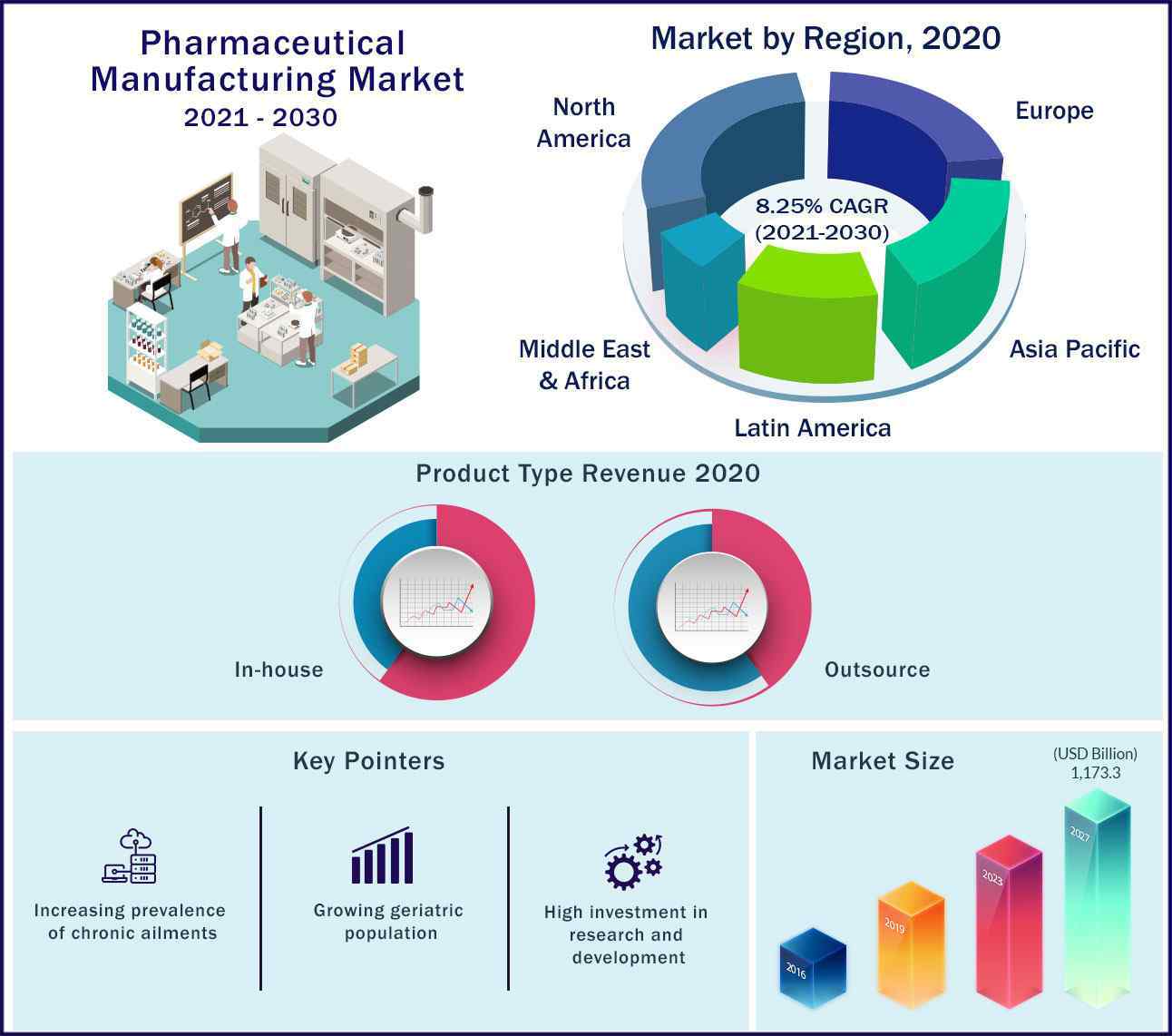 North America is Estimated to be the Largest Market for Pharmaceutical Manufacturing
The research study covers key prospects and trends of pharmaceutical manufacturing products throughout different regions including Europe, North America, Asia-Pacific, Middle East and Africa, and Latin America. Regionally, pharmaceutical manufacturing market is dominated by North America due to presence of skilled researchers and high prevalence of chronic ailments. Europe accounted for the second highest share majorly due to encouraging reimbursement scenario and high geriatric population. On the other hand, Asia-Pacific is anticipated to witness the rapid growth rate, on account of increasing investment by major manufacturers, rising popularity of contract research organizations, and growing per-capita healthcare expenditure.
Top Players contending in the Market:
The companies focusing on research and development are expected to lead the global pharmaceutical manufacturing market. Leading competitors contending in global pharmaceutical manufacturing market are as follows:
GlaxoSmithKline plc
Merck & Co., Inc.
Eli Lilly and Company
Johnson & Johnson
Hoffmann-La Roche Ltd.
Lonza
Pfizer, Inc.
Sanofi SA
Novartis AG
AstraZeneca
In order to better recognize the current status of pharmaceutical manufacturing, and policies adopted by the foremost countries, Precedence Research predicted the future evolution of the pharmaceutical manufacturing market. This research study bids qualitative and quantitative insights on pharmaceutical manufacturing market and assessment of market size and growth trend for potential market segments.
Key Market Developments:
In December 2020, Aprecia entered into a collaboration with Battelle to fast-track and expand its proficiencies in the 3D printed pharmaceutical manufacturing.
Major Market Segments Covered:
By Drug Development Type
By Route of Administration
Topical
Oral
Inhalations
Parenteral
Others
By Formulation
Injectable
Tablets
Suspensions
Capsules
Sprays
Others
By Therapy
Diabetes
Cardiovascular Diseases
Respiratory Diseases
Cancer
Pain
Others
By Geography
North America
Europe

Germany
France
United Kingdom
Rest of Europe

Asia Pacific

China
Japan
India
Southeast Asia
Rest of Asia Pacific

Latin America

Brazil
Rest of Latin America

Middle East & Africa (MEA)

GCC
North Africa
South Africa
Rest of Middle East & Africa