The global high potency active pharmaceutical ingredients market size was exhibited at USD 24.28 billion in 2022 and is estimated to surpass around USD 55.66 billion by 2032, expanding at a compound annual growth rate (CAGR) of 8.7% during the forecast period 2023 to 2032.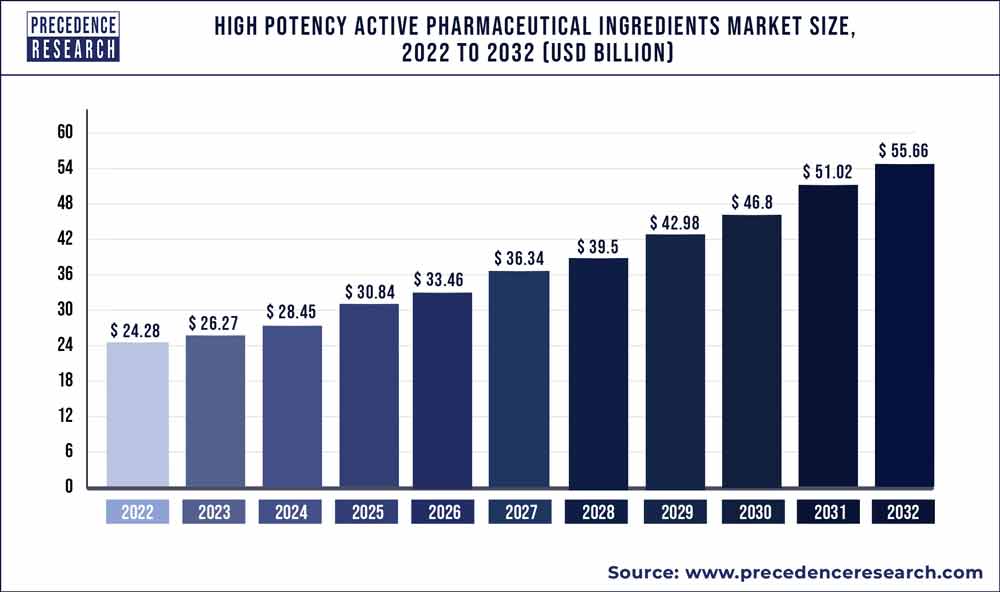 Access our Premium Real Time Data Intelligence Tool, Visit: Precedence Statistics
Key Takeaways:
The North America market accounted for more than 36% of the total revenue share in 2022.
By manufacturer type, the in-house segment accounted for 71% of the revenue share in 2022.
By application, the oncology segment has captured a market share of around 76% in 2022.
By drug type, innovative drugs have accounted revenue share of over 71.6% in 2022.
By product, the synthetic segment accounted revenue share of around 70.5% in 2022.
The high potency active pharmaceutical ingredients (HPAPI) are more effective than conventional APIs at considerably lower dosage levels, but their handling issues are unique due to their potency. One significant reason anticipated to propel the market for highly potent active pharmaceutical ingredients is the increased incidence of cancer (HPAPIs). The WHO estimates that cancer is the second leading cause of mortality, accounting for nearly 9.6 million deaths in 2019, with tobacco use accounting for 22% of those deaths. The entire burden of the disease has been attributed, according to the CDC, to risk factors including lifestyle modifications like smoking, obesity, drinking alcohol, and exposure to UV radiation from the sun or tanning beds. Furthermore, it is predicted that the cost of cancer treatment will rise to USD 174 billion by the end of 2022, which will likely drive market expansion.
Growth Factors
The market for high-potency active pharmaceutical ingredients (HPAPI) is expected to increase as a result of factors such as the rising demand for outsourcing HPAPI manufacturing and the abundance of targeted therapeutic medications in the pipeline. The market for high-potency active pharmaceutical ingredients (HPAPI) is expected to grow quickly, but the concentration of technical competence in the hands of a select few significant businesses and the absence of global regulatory regulations and standards are expected to accelerate this expansion.
Rising demand for drugs
Increasing Focus on Precision Medicine and High-potency APIs
Technological Advancements in High-potency API Manufacturing
Increasing application of HPAPIs
Rising prevalence of cancer
Scope of the High Potency Active Pharmaceutical Ingredients Market
Report Coverage
Details
Market Size in 2023
USD 26.27 Billion
Market Size by 2032
USD 55.66 Billion
Growth Rate from 2023 to 2032
CAGR of 8.7%
Largest Market
North America
Fastest Growing Market
Asia Pacific
Base Year
2022
Forecast Period
2023 to 2032
Segments Covered

By Product
By Manufacturer Type
By Drug Type
By Application

Regions Covered

North America
Europe
Asia-Pacific
Latin America
Middle East & Africa

Key Market Drivers
Rising demand for drugs
The market is expanding as a result of a number of factors, including rising medication demand (particularly for oncology and antibody-drug conjugates). New predictions from the International Agency for Research on Cancer (IARC) for GLOBOCAN 2020 indicate that there will be 10.3 million cancer deaths and 19.3 million new cases of cancer worldwide in 2020. According to this recent study, more than 50 million people will receive a cancer diagnosis in the next five years.
The usage of very potent APIs in a variety of pharmacological therapies also contributes to the market's expansion. For instance, novel treatments for several malignancies, including lung, thyroid, and breast cancers, were approved by the US Center for Drug Evaluation and Research (CDER) in 2020. Both small and large API molecules were used in these treatments. The main ingredients in these medications are high-potency APIs. The market will expand in tandem with the increase in cancer cases to offer treatments for the condition. Similarly, 60,000 Americans are estimated to receive a Parkinson's disease diagnosis each year, according to a Parkinson's Foundation article released in July 2020. In recent years, precision medicine has received a lot of attention.
Increasing clinical trials
Targeted therapies are expanding as a result of hospitals and healthcare organizations collaborating closely with pharmaceutical firms to perform clinical trials. For instance, the Human Epidermal Growth Factor Receptor 2 (HER-2) protein, which is abundant in cancer cells, is being targeted for the treatment of breast cancer. Because the protein is overexpressed in breast and stomach cancer cells, HER-2 receptor antagonists such as trastuzumab are employed. Additionally, scientists are working to create a variety of specialized products, such as Janus kinase (JAK) 3 inhibitors, selective S1P receptor modulators, inhibitors of human interleukin, and inhibitors of dihydroorotate dehydrogenase.
Key Market Challenges
Barriers to entry - While many companies have not sought to buy existing businesses or add HPAPI capacity to their infrastructure, those with current HPAPI capabilities are actively growing their facilities. With regard to entrance obstacles, regulatory constraints, large investments, and knowledge related to APIs & HPAPI development, several manufacturers across different geographies and degrees of experience are making a sizable number of investments in HPAPI capabilities.
Need for appropriate process designs - The majority of HPAPI and ADC medication payloads require just modest clinical and commercial production volumes. However, it is difficult to produce gram-scale GMP APIs and payloads. It is undoubtedly difficult to maintain containment control when employing flexible and compact equipment, especially glass equipment, and each process and unit operation calls for a different strategy. In order to make sure that the process scales up to the facility's capabilities and equipment, it is crucial to retain proper process designs at the developmental stage.
Key Market Opportunities
Opportunities for CMOs and CDMOs are expanding
Comprehensive planning, the use of risk management and assessment tools, and a system to decide which compounds are suitable for manufacturing in each facility are all necessary for a comprehensive HPAPI manufacturing plant. The manufacturing of such substances exposes both the environment and people to dangers and risks.
A growing number of strong substances require pharmaceutical producers to have the ability to produce, store and transport them safely. This demonstrates that putting into practice a successful HPAPI manufacturing strategy involves a sizable time and financial commitment. Because many of these businesses have the appropriate machinery, many sponsor companies choose to turn to CMOs and CDMOs for assistance with the research, production, and distribution of HPAPIs and their formed medicinal products.
Segments Insight
Product Insights
The synthetic category accounted for the greatest revenue share in 2022. In the upcoming years, a number of synthetic compounds are also predicted to lose their patent protection, which is likely to spur industry expansion. Since 2007, the Japanese government has encouraged the use of generic medications to lower the overall cost of healthcare and lessen the financial strain on patients.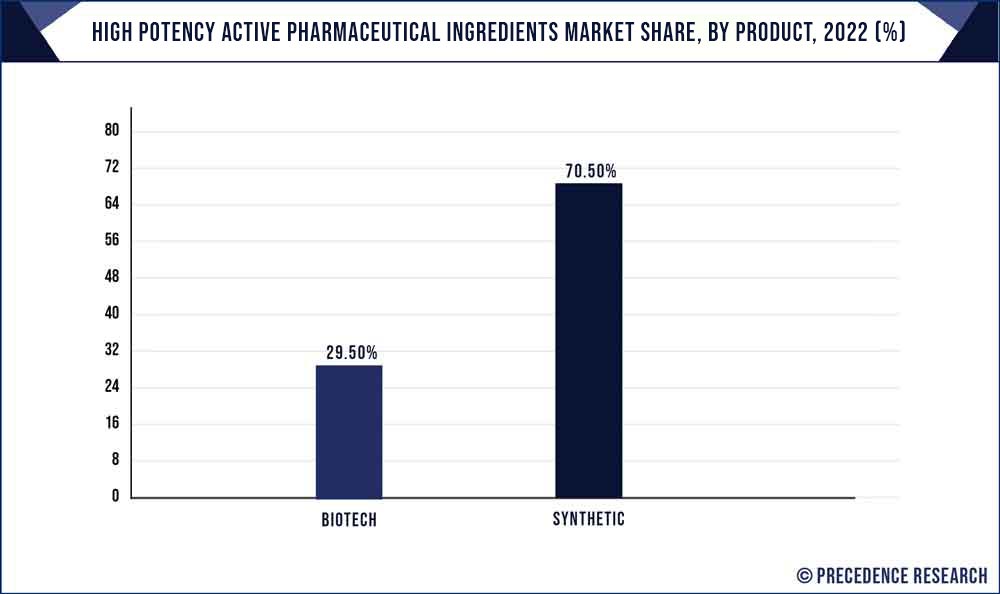 Due to technical improvements and the high level of efficacy of these substances, the biotech segment is anticipated to grow profitably during the forecast period.
Drug Type Insights
Due to increased R&D efforts for the creation of novel pharmaceuticals and advantageous government laws, innovative drugs made up the greatest revenue share in 2022. The development of innovative APIs is being driven by the increasing emphasis on personalized and precision medicines, such as Antibody Drug Conjugates (ADCs), to treat specific patient problems, making innovation in this field a high-impact market driver.
Over the projected period, generic medication molecules are anticipated to grow at the fastest rate. Lower prices and the patent expiration of branded medications are two factors that are driving this market segment. Due to the increase in patients in emerging nations with low per capita incomes, generic medications are also increasing their market share. The Association of Accessible Medicines reports that in 2017, the number of manufacturing facilities significantly increased in Asia, Australia, and the EU5.
Application Insights
Due to the substantial use of HPAPIs in oncology medications, the oncology segment had the greatest sales share in 2022. One significant element driving the increase in demand for HPAPIs is the rise in cancer prevalence. The WHO estimates that there were 18 million cancer diagnoses worldwide in 2018, with 8.5 million cases affecting women and 9.5 million cases affecting males.
As a result of glaucoma's rising incidence in both established and developing nations, the glaucoma market is expected to experience exponential expansion in the years to come. Additionally, the market for HPAPIs is anticipated to rise more quickly due to the increasing trend in the occurrence of infectious disorders with antibiotic resistance.
Manufacturer Type Insights
The in-house sector generated the most revenue in 2022, and it is anticipated that it will continue to lead during the forecast period. To create these compounds, the businesses make significant infrastructure and development expenditures.
Further evidence that important firms are more focused on internal production than outsourcing comes from recent developments and initiatives. For instance, Novartis stated in November 2019 that it had acquired Cell for Cure, a CDMO with offices in France, in order to make molecules internally that had previously been given to Cell for Cure on a contract manufacturing basis.
High Potency Active Pharmaceutical Ingredients Market Share, By Region, 2022 (%)
| | |
| --- | --- |
| Regions | Revenue Share in 2022 (%) |
| North America | 36% |
| Asia Pacific | 23% |
| Europe | 28% |
| Latin America | 8% |
| MEA | 5% |

Regional Insights
On the basis of geography, North America is anticipated to dominate the market. When it comes to the prevalence of diseases like cancer and neurological illnesses, the U.S. was the most impacted nation in the entire world. The region's output of HPAPIs is rising as a result of the rising prevalence of these illnesses. In several therapeutic, drug-discovery, or other research investigations pertaining to oncology and other serious conditions, HPAPIs are frequently used. As a result of the region's growing patient population relative to other nations, the demand for the same will be considerably larger in North America.
Growing elderly population as well as the rising prevalence and incidence of infectious diseases in this region, North America is anticipated to account for a sizable portion of the market for high-potency APIs and HPAPIs. Incidence rates for chronic conditions like cancer are similarly high in the US. According to the American Cancer Society's 2020 report, there were 606,520 cancer deaths and 1.8 million newly diagnosed cases of cancer in 2020. The Parkinson's Foundation estimates that approximately 1 million Americans have Parkinson's disease, which is more than the combined number of people with muscular dystrophy, multiple sclerosis, and amyotrophic lateral sclerosis. By 2032, this number is projected to rise to 1.2 million.
Recent Developments
In March 2022 – Pfizer successfully acquires Arena Pharmaceuticals. The agreement will boost the company's Inflammation and Immunology Therapeutic Area by bringing Arena Pharmaceuticals' pipeline there, advancing efforts to improve the lives of people with immuno-inflammatory illnesses.
In July 2022– A partnership between Albany Molecular Research, Inc. (AMRI) and Biasing Technologies, Inc. for the supply of merimepodib for the production of antivirals for the treatment of SARS-CoV-2 has been announced. The company can maintain its position in the market and increase its revenue thanks to this supply deal.
Key Market Players
BASF SE
CordenPharma
Dr. Reddy's Laboratories Ltd.
CARBOGEN AMCIS AG
Pfizer, Inc.
Sun Pharmaceutical Industries, Ltd.
Teva Pharmaceutical Industries Ltd.
Albany Molecular Research, Inc.
Sanofi S.A.
Merck & Co., Inc.
Novartis AG
Segments Covered in the Report
(Note*: We offer reports based on sub-segments as well. Kindly, let us know if you are interested)
By Product
By Manufacturer Type
By Drug Type
By Application
Oncology
Hormonal Disorders
Glaucoma
Others
By Geography
North America
Europe
Asia-Pacific
Latin America
Middle East & Africa (MEA)