The global leisure boat market size was evaluated at USD 44.7 billion in 2022 and it is expected to hit around USD 152.54 billion by 2032, expanding at a CAGR of 5.76% during the forecast period from 2023 to 2032.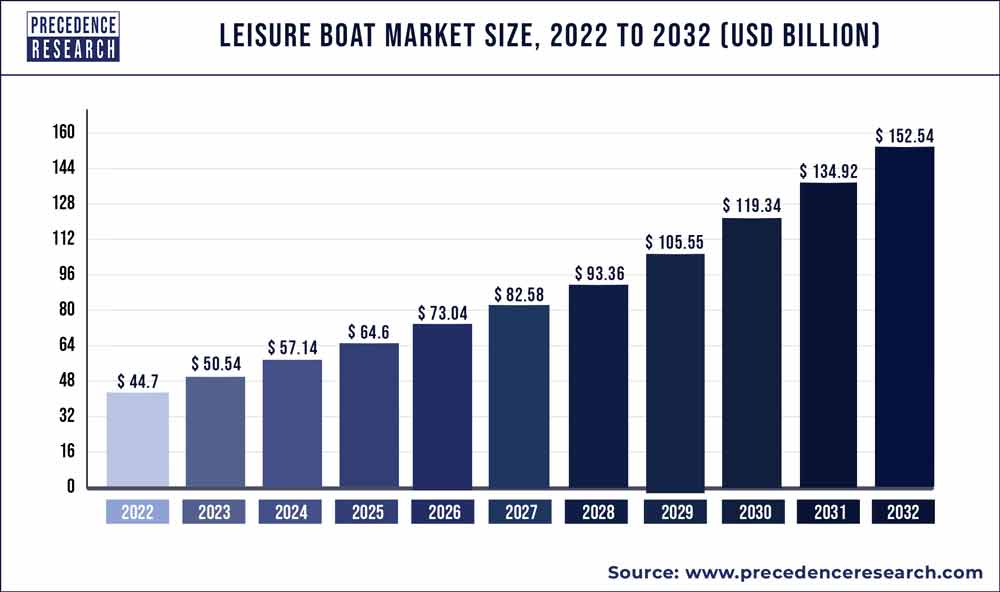 Access our Premium Real Time Data Intelligence Tool, Visit: Precedence Statistics
Key Takeaways:
Asia-Pacific region held the largest market share in 2022.
By Type: the new leisure boats segment held the maximum market shares in 2022.
By Product: the motorized segment held the largest market shares in 2022.
Market Overview:
The leisure boat market refers to the industry that encompasses the manufacturing, sale, and rental of boats designed for recreational purposes. The boats are primarily used for leisure activities such as cruising, fishing, watersports, and entertainment. An important sector of the worldwide boating market is recreational boats. Its size might change depending on local factors, including geography, population, and consumer desire for water-based leisure activities. Boats of many kinds, including motorized yachts, sailboats, pontoon boats, fishing boats, speedboats, personal watercraft, and opulent cruisers, are available in the market. Each variety is made to satisfy a certain recreational need or inclination. The traditional target market for recreational boats is made up for people or families who like to be in the water. They could have a variety of hobbies, from lovers of fishing and water activities to those looking for rest and luxury.
Technological improvements and changing customer tastes have an impact on the leisure boat industry. Innovative boat designs that improve comfort and convenience, eco-friendly propulsion options, and the integration of cutting-edge navigation and entertainment systems are all current trends. North America, Europe, Asia-Pacific, and coastal places with access to seas, lakes, and rivers are popular destinations for leisure boating. Related industries, including marinas, boat rentals, boat insurance, maintenance and repair services, and accessory producers, are also part of the leisure boat market. These sectors maintain the ecology and offer crucial assistance to boat owners.
As disposable incomes rise, lifestyles change, and interest in outdoor activities rises, the leisure boat industry has seen a steady rise in popularity around the globe. Significant developments in boat technology have been made in the industry, including the incorporation of cutting-edge navigation systems, increased fuel efficiency, eco-friendly propulsion systems, and improved safety measures. Electric and hybrid boats have become more popular as sustainability and environmental issues have gained more attention.
Due to their lower emissions and less dependency on fossil fuels, these boats are becoming more popular. Boat-sharing and rental services have increased as a result of the emergence of sharing economy concepts. These platforms make boating more accessible to a wider audience by enabling inexpensive access to boats without the requirement for ownership. Numerous factors including the state of the economy, governmental rules, and others, have an impact on the leisure boat market's development and trends. A wide variety of boats made for leisure activities are included in the leisure boat market. It is a multi-billion-dollar sector that serves the various needs of customers and consists of producers, dealers, service providers, and ancillary businesses.
Growth Factors:
The leisure boat market is expanding as a result of the growth of the tourist sector and the rising popularity of recreational activities. The demand for boat rentals and boat excursions has increased as more tourists and vacationers seek out boating activities in coastal regions, lakes, and rivers. The pursuit of a lifestyle centers around water-based recreation, and the demand for outdoor leisure activities fuels market growth. The market for leisure boats is fueled by the perception that boating is a means to unwind and spend quality time with family and friends.
The recreational boat industry is expanding as a result of the rising popularity of water sports, including wakeboarding, waterskiing, jet skiing, and paddleboarding. These activities frequently require specialized vessels or personal watercraft, which increases demand for different kinds of leisure boats.
Report Scope of the Leisure Boat Market:
| | |
| --- | --- |
| Report Coverage | Details |
| Market Size in 2023 | USD 50.54 Billion |
| Market Size by 2032 | USD 152.54 Billion |
| Growth Rate from 2023 to 2032 | CAGR of 5.76 % |
| Largest Market | Asia Pacific |
| Base Year | 2022 |
| Forecast Period | 2023 To 2032 |
| Segments Covered | By Type and By Product |
| Regions Covered | North America, Europe, Asia-Pacific, Latin America, and Middle East & Africa |

Market Dynamics:
Driver:
Tourism and travel
Boating is closely associated with tourism and travel, with many popular tourist destinations offering boat rental and leisure activities, contributing to market growth. Rising disposable incomes and economic growth in many regions have increased consumer spending on leisure activities, including boating. The desire for outdoor recreational activities such as fishing, watersports, and cruising has fueled the demand for leisure boats. The continuous development of innovative boat technologies and features has attracted consumers looking for enhanced safety, comfort, and convenience.
Restraint:
High prices and cyclical demand
Potential purchasers may face considerable obstacles due to the price of buying and maintaining a recreational boat. Boats can have significant up-front expenditures, continuing maintenance costs, storage fees, insurance premiums, and fuel costs, especially bigger or more opulent versions. The hefty ownership costs can prevent some new key players from entering the market. Boating is frequently a seasonal pastime, occurring only during the warmer months or under certain weather conditions. Manufacturers, dealerships, and service providers may face challenges as a result of this seasonality since they may see changes in demand and income throughout the year. Seasonal commercial operations might affect their viability.
Opportunity:
Electric and sustainable boating
The market for recreational boats has a lot to gain from the growing emphasis on sustainability and environmental responsibility. Eco-friendly materials, hybrid propulsion systems, and electric boat development and adoption might draw customers who are concerned about the environment and help the industry expand. The leisure boat industry has chances for innovation due to ongoing technological improvements. The boating experience may be improved and expanded upon by integrating smart features, cutting-edge navigation systems, digital connections, and upgraded onboard entertainment systems.
Challenge:
Compliance with environmental regulations and safety
The recreational boat market may face difficulties as a result of environmental rules and limitations. Manufacturers and boat owners may incur higher expenditures as a result of regulations governing emissions, hazardous waste disposal, the preservation of marine ecosystems, and limits on boating in certain locations. Some firms may find it difficult to invest in environmentally friendly practices and adapt to changing rules. Compliance with boating rules and safety standards is essential, but it may be difficult for boat owners. It takes constant work and awareness to stay on top of evolving legislation, maintain safety gear, and promote appropriate boating practices.
Impact of Covid-19:
The COVID-19 epidemic has had a tremendous impact on the leisure boat sector, presenting both possibilities and problems. Lockdown procedures, travel limitations, and social distance rules initially caused market disruptions. Due to the closure of marinas, boat fairs, and boating events, there were delays and shortages in the construction and delivery of boats. Chains of production and supply were also affected. As individuals looked for safe and socially isolating leisure activities, the epidemic also led to an increase in interest in boating. Smaller boats and personal watercraft were more popular since boats allowed people to enjoy the outdoors while keeping a physical distance.
Due to restrictions on overseas travel, local boating became more popular. People visited adjacent lakes, rivers, and coastal regions, generating revenue for nearby businesses and opening new markets for marinas, boat rental services, and dealerships. In many areas, the sales and rentals of boats surged as a result of the increasing interest in boating. Boat manufacturers, dealers, and rental businesses had chances to match the growing demand as consumers sought to buy or rent boats for personal use. A boost in interest in water sports activities during the epidemic also raised the demand for boats and other gear designed specifically for these activities.
The leisure boat market embraced digital transformation despite obstacles including production and supply chain interruptions. To communicate with consumers and ensure company continuity, manufacturers, dealerships, and service providers used internet platforms, virtual boat exhibitions, and digital marketing. Reaching new customers required a move to digital platforms and online commerce. Consumer choices were also affected by COVID-19, with a focus on elements that promoted comfort, privacy, and onboard amenities. Consumer choices were also affected by COVID-19, with a focus on elements that are designed to promote comfort, privacy, and onboard amenities. People wanted to provide their families and themselves with self-contained leisure activities. Prioritizing safety and health concerns caused boat manufacturers and service providers to introduce improved cleaning procedures, contactless payments, and safety requirements in order to foster customer confidence.
The market for leisure boats exhibits tenacity and flexibility. The market is anticipated to rebound and expand as limitations are relaxed and vaccine technology advances. Long-term effects on the sector are probably going to be favorable due to the rising popularity of boating and other water-based activities.
Segments Insight:
Type Insights:
New leisure boats held the majority of shares in 2022. The market for brand-new, unused boats is represented by the sector of new leisure boats. Economic situations, customer tastes, and technological developments all have an impact on it. The desire for the newest boat models with cutting-edge features and designs is what fuels the growth of the leisure boat market. It serves customers who want the security of owning a brand-new boat, which is frequently supported by warranties and after-sales service.
Product Insights:
Motorized boats held the maximum shares in 2022. Boats with engines, such as sterndrives, outboard motors, or inboard motors, fall under the category of motorized boats. These boats are more versatile, convenient, and fast for a variety of recreational uses. The demand is growing and rising from people and families that enjoy water sports, fishing, cruising, and other motorized boating activities, which account for a sizeable percentage of the leisure boat industry. They are selected as they can cover greater distances, accommodate more people, and operate more effectively on the water.
Regional Insights:
The leisure boat industry held the maximum shares in the Asia-Pacific region. The leisure boat market in the Asia-Pacific region is experiencing significant growth, driven by rising disposable incomes, increasing urbanization, and a growing interest in recreational boating among the expanding middle class. A recreational boating culture is emerging in the Asia-Pacific region, with a focus on speedboats, luxury yachts, and watersports.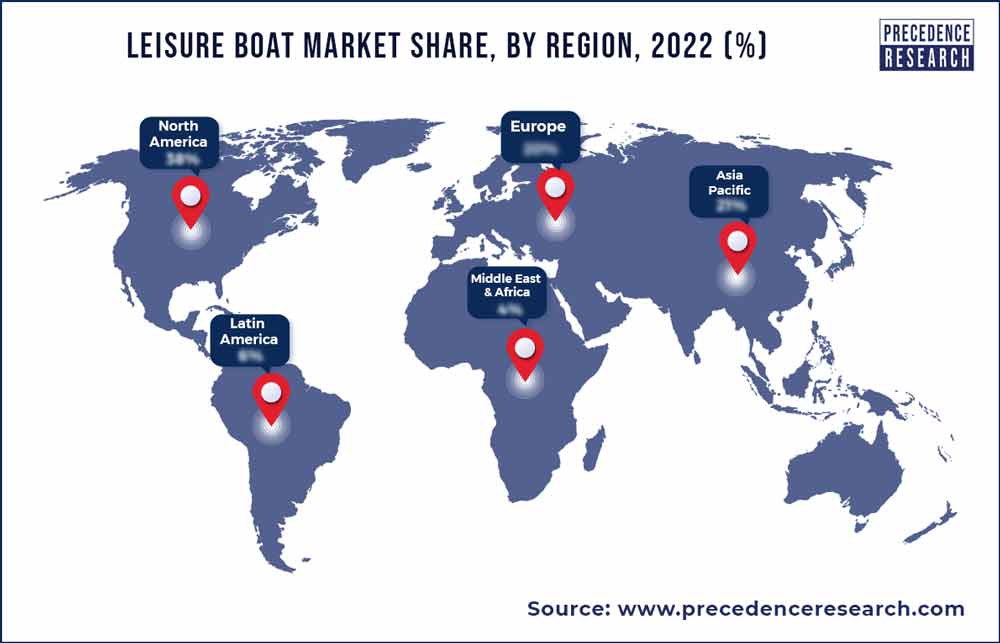 Europe is a significant market for recreational boats, dominating in boat production, sales, and boating activities and is expected to grow quickly in the near future. The leisure boat market in Europe benefits from a long history of boating, a love of sailing, and a vast network of rivers, waterways, and coasts. Local boaters and travelers looking for boating adventures in well-known locations generate demand for recreational boats. Sail boating has a long history throughout Europe. A thriving market for canal boats, river cruisers, and narrow boats is supported by Europe's enormous network of inland waterways, which includes canals and rivers.
Regions with expanding leisure boat market include Latin America, the Middle East, and Africa. Large coasts, and expanding marina infrastructure in these regions all contribute to the market's development potential.
Recent Developments:
In January 2022, Highfield Boats was a world leader in aluminium rigid inflatable hull boats, having delivered more than 37,700 RIBS globally since 2011. Offering a complete line of RIBS from 2.4-metre tenders to the 5-metre-plus sectors where it is a global player. Featuring exclusive powder-coated aluminium hulls, Highfield boats are built in the company's state-of-the art production facility in Weihai, China, and operate under European management.
In January 2023, Propeller technology which significantly reduces underwater noise was introduced by Oscar Propulsion and the University of Strathclyde which is suitable for yachts and all ship types.
In July 2023, Rolls-Royce acquired an Italian yacht bridge specialist. Its Power Systems business unit expands MTU's product portfolio for the yacht market.
Key Market Players:
Brunswick Corporation
Beneteau Group
Groupe Beneteau
Malibu Boats, Inc.
Marine Products Corporation
Yamaha Motor Co., Ltd.
Viking Yacht Company
Azimut-Benetti Group
Ferretti Group
Bavaria Yachtbau
Sunseeker International Ltd.
Bombardier Recreational Products Inc.
MasterCraft Boat Company
Grady-White Boats, Inc.
Chaparral Boats, Inc.
Segments Covered in the Report:
(Note*: We offer reports based on sub segments as well. Kindly, let us know if you are interested)
By Type
New Leisure Boat
Used Leisure Boat
By Product
By Geography
North America
Europe
Asia-Pacific
Latin America
Middle East and Africa