The global loader market size reached USD 32.4 billion in 2022 and it is projected to hit around USD 51.53 billion by 2032, poised to grow at a CAGR of 4.8% during the forecast period 2023 to 2032.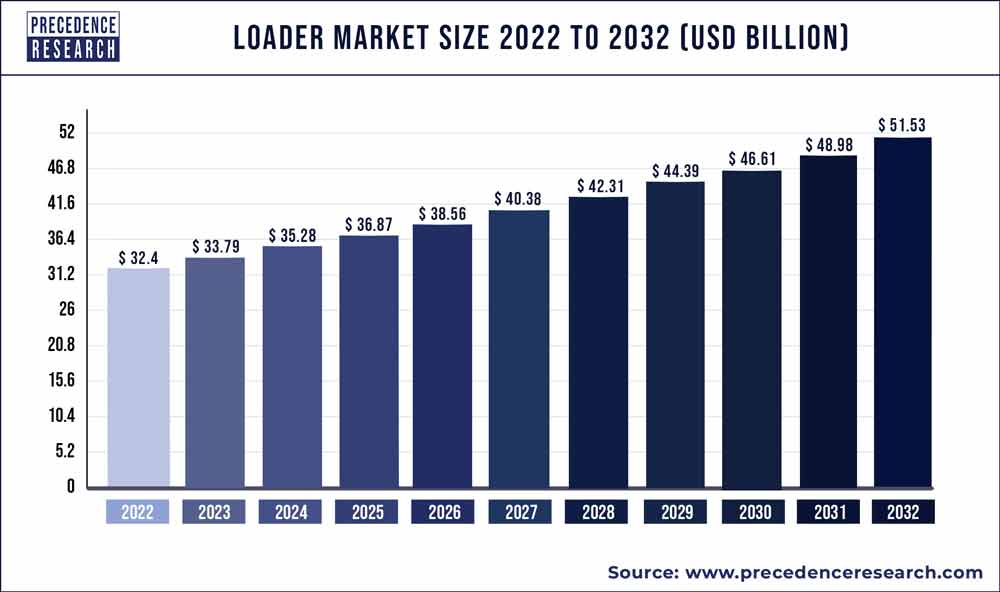 Access our Premium Real Time Data Intelligence Tool, Visit: Precedence Statistics
Key Takeaways
Asia-Pacific has held the highest revenue share of 39% in 2022.
Europe region is estimated to observe the fastest expansion between 2023 and 2032.
By Loader Type, the wheeled loader segment contributed 32.1% of revenue share in 2022.
By Loader Type, the hardware segment is expected to expand at the fastest CAGR of 6.2% between 2023 and 2032.
By Payload Capacity, the 6-10 tons segment captured the largest market share of 29% in 2022.
By Payload Capacity, the 3-5 tons segment is expected to grow at the fastest CAGR over the projected period.
By Application, the construction segment contributed 36.8% of revenue share in 2022.
By Application, the waste management segment is anticipated to grow at the fastest CAGR over the projected period.
Loader Market in the Asia Pacific 2023-2032
The Asia Pacific loader market size accounted for USD 12.64 billion in 2022 and is estimated to reach around USD 19.72 billion by 2032, growing at a CAGR of 4.6% from 2023 to 2032.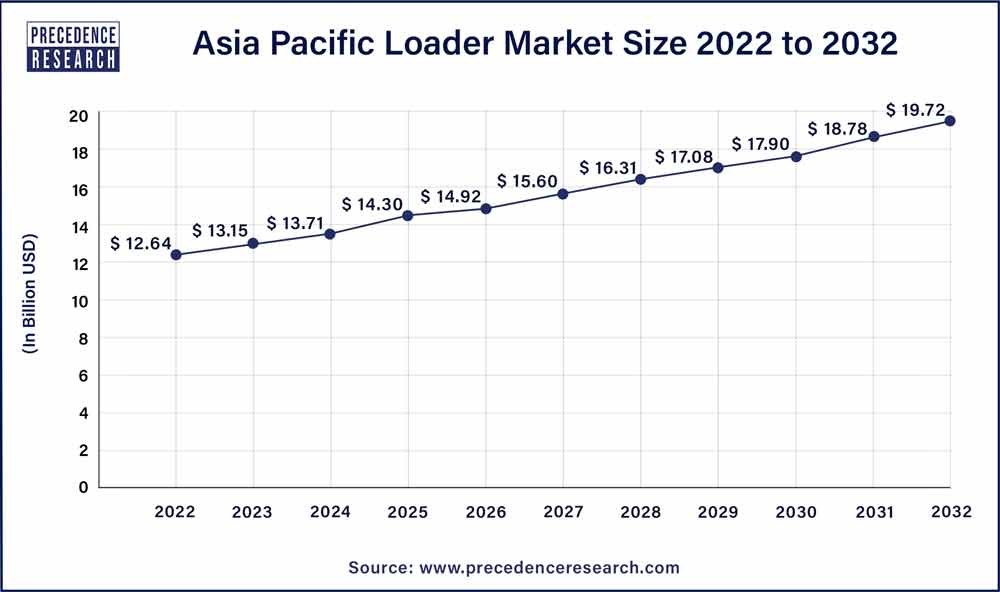 Asia-Pacific has held the largest revenue share at 39% in 2022. In the Asia-Pacific region, the loader market is witnessing robust growth due to extensive infrastructure development projects in countries like China and India. Rapid urbanization, coupled with increased construction activities, is driving demand for loaders. Additionally, the agricultural sector's mechanization and the growth of the mining industry contribute to the market's expansion. Manufacturers are also focusing on introducing technologically advanced and environmentally friendly loaders to meet evolving customer preferences and stringent regulations in the region.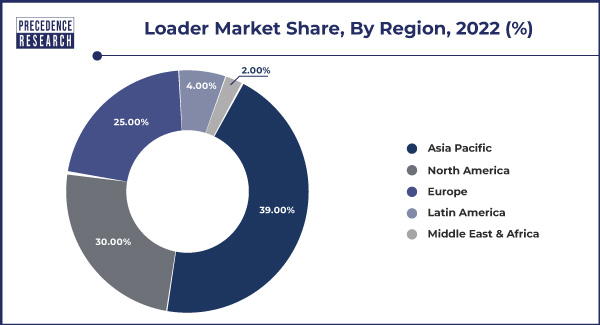 Europe is estimated to observe the fastest expansion. In Europe, the loader market is experiencing several noteworthy trends. The demand for loaders remains strong due to ongoing construction projects and infrastructure development across the continent. Additionally, there is a growing emphasis on sustainability, with manufacturers increasingly focusing on eco-friendly loader models. Technological integration, such as automation and telematics, is also on the rise, enhancing loader efficiency and operator safety. Europe's loader market reflects a commitment to modernization, environmental responsibility, and improved machinery performance.
Loader Market Overview
The loader market refers to the industry involved in the manufacturing, distribution, and sale of heavy equipment loaders. Loaders are versatile construction machines used for material handling, excavation, and loading tasks.
The market encompasses various loader types, including wheel loaders, skid steer loaders, and track loaders, serving sectors like construction, mining, agriculture, and logistics. It is characterized by continuous technological advancements, emissions regulations compliance, and a global presence, as loaders are essential equipment in various infrastructure and industrial applications.
The loader market is influenced by factors like urbanization, infrastructure development, and sustainability concerns, with an increasing focus on eco-friendly and efficient loader technologies.
Growth Factors
Construction and infrastructure development projects rely heavily on loaders for tasks like digging, earthmoving, and material handling, leading to a significant surge in market demand. As urbanization continues worldwide, the need for construction equipment, including loaders, remains high.
Similarly, in the mining and quarrying industry, loaders are indispensable for excavation and transportation of materials. With global demand for minerals and aggregates, the mining sector's growth drives continuous demand for loaders, making it a vital market segment for this heavy equipment.
Moreover, material handling and agriculture significantly boost demand in the loader market. In material handling, loaders facilitate efficient movement of goods in warehouses and logistics centers, optimizing supply chain operations. In agriculture, loaders are essential for tasks like loading/unloading crops, handling heavy materials, and clearing land.
The mechanization of farming practices increases productivity and reduces labor requirements. These industries' reliance on loaders for improved efficiency and productivity drives sustained market demand, especially as industries seek to modernize and streamline their operations.
Loader Market Scope
| | |
| --- | --- |
| Report Coverage | Details |
| Market Size in 2023 | USD 33.79 Billion |
| Market Size by 2032 | USD 51.53 Billion |
| Growth Rate from 2023 to 2032 | CAGR of 4.8% |
| Largest Market | Asia-Pacific |
| Base Year | 2022 |
| Forecast Period | 2023 to 2032 |
| Segments Covered | By Loader Type, By Payload Capacity, and By Application |
| Regions Covered | North America, Europe, Asia-Pacific, Latin America, and Middle East & Africa |

Loader Market Dynamics
Driver
Technological advancements and emissions regulations
Technological advancements are a significant driver of market demand in the loader industry. Integration of advanced technologies like GPS for precise navigation, telematics for remote monitoring, IoT connectivity for data analysis, and automation for increased efficiency and safety have revolutionized loader operations. These innovations enhance productivity, reduce operating costs, and improve operator comfort. As industries increasingly adopt these advanced features, the demand for modern, tech-enabled loaders continues to rise, sustaining market growth.
Moreover, emissions regulations drive demand in the loader market as they push manufacturers to develop advanced, safe, more fuel-efficient equipment. Compliance with stringent emission standards ensures environmental responsibility and aligns with sustainability goals. This compels industries to invest in newer, eco-friendly loaders, resulting in increased market demand for greener machinery.
Restraints
High initial cost and maintenance expenses
The high initial cost of loaders acts as a significant restraint on market demand. Potential buyers, especially smaller businesses, and contractors with limited budgets, may find it challenging to afford these capital-intensive machines. This financial barrier can lead to delayed or postponed purchase decisions, limiting market growth.
Buyers often seek alternative equipment options or used loaders, impacting sales volume, and affecting the overall market dynamics, particularly in regions with budget-conscious customers. Additionally, maintenance expenses deter market demand for loaders as they contribute significantly to the total cost of ownership. High maintenance costs burden buyers and operators, impacting profitability and return on investment. This can lead potential customers to seek more cost-effective alternatives or delay equipment purchases, slowing market growth, which restrains the demand for the loader market.
Opportunities
Customization and rental market
Customization in the loader market caters to diverse industry needs, increasing market demand. Tailored loader configurations enable buyers to choose equipment that precisely fits their specific applications, enhancing operational efficiency and productivity. This flexibility attracts a broader customer base, driving demand for loaders with personalized features and capabilities. Moreover, the rental market boosts demand for loaders as it offers a cost-effective alternative to purchasing.
Construction companies and industries often prefer renting loaders for short-term projects to minimize upfront costs and maintenance responsibilities. This dynamic expands the customer base, increasing market demand as rental companies frequently update their fleets to meet client needs, driving the purchase of new loaders. Additionally, it allows potential buyers to test different loader models before making a purchase decision, further stimulating demand.
Impact of COVID-19
Despite the disruptive impact of COVID-19 on economies globally, the loader market has shown resilience and adaptability. During the initial pandemic phase, lockdowns and supply chain disruptions temporarily slowed production and sales. The loader market has been witnessing steady growth in recent years, driven primarily by increasing construction and infrastructure development activities worldwide. Growing urbanization and the need for modernization of infrastructure in both developed and developing regions have fueled the demand for loaders.
While the COVID-19 pandemic briefly disrupted the market, it demonstrated the resilience of the loader industry. The adoption of remote monitoring and automation technologies allowed loader operations to continue even during lockdowns. In addition to construction, loaders find applications in various industries, including agriculture, mining, and material handling. Their versatility and ability to handle a wide range of tasks make them indispensable in these sectors.
Technological advancements have also played a significant role in shaping the loader market. Manufacturers are incorporating innovative features such as automation, telematics, and IoT connectivity into their equipment, enhancing efficiency and productivity. This integration of technology aligns with the growing trend of smart and connected machinery.
Loader Type Insights
According to the loader type, the wheeled loader segment has held a 32.1% revenue share in 2022. A wheeled loader is a type of heavy equipment used in construction, mining, and material handling. It features wheels for mobility and a front-mounted bucket or attachment for tasks such as digging, lifting, and loading materials. In the loader market, the trend for wheeled loaders includes the integration of advanced technology like GPS for precise operation, improved fuel efficiency, and reduced emissions to meet environmental regulations. Manufacturers are also focusing on operator comfort and safety through ergonomic cab designs and enhanced visibility.
The hardware sector is anticipated to expand at a significant CAGR of 6.2% during the projected period. Mini loaders, also known as compact loaders, are a type of loader characterized by their smaller size and maneuverability. They are versatile machines used in construction, landscaping, agriculture, and material handling tasks. In the loader market, the trend toward mini loaders is driven by the need for compact equipment that can access confined spaces. Technological advancements, such as improved ergonomics and enhanced safety features, have further boosted the popularity of mini loaders for various applications, including urban construction and landscaping projects.
Payload Capacity Insights
By payload capacity, the 6-10 tons segment is anticipated to hold the largest market share of 29% in 2022. In the loader market, loaders with a payload capacity of 6-10 tons represent a versatile category that caters to a wide range of applications. These loaders are commonly used in construction, mining, and material handling operations. Recent trends indicate a growing demand for fuel-efficient and eco-friendly loaders within this payload capacity range, driven by environmental regulations. Manufacturers are also integrating advanced technologies, such as telematics and automation, to enhance operational efficiency and safety in this segment.
On the other hand, the 3-5 tons segment is projected to grow at the fastest rate over the projected period. In the loader market, loaders with a payload capacity of 3-5 tons are versatile workhorses used across various industries. They efficiently handle medium to heavy-duty tasks such as loading and transporting materials in construction, mining, and logistics sectors. A notable trend in this segment is the integration of advanced technology, including telematics for real-time monitoring and automation for improved efficiency. Loader manufacturers are also focusing on enhancing operator comfort and reducing emissions to align with stringent environmental regulations, driving sustainable growth.
Application Insights
In 2022, the construction sector had the highest market share of 36.8% on the basis of the application. In the loader market, the construction segment pertains to the use of loaders in various construction activities, including earthmoving, material handling, and site preparation. A notable trend in this segment is the integration of advanced technology, such as GPS and telematics, to enhance precision and productivity. Additionally, loaders designed for compactness and maneuverability are gaining popularity, especially in urban construction projects. Sustainability is another emerging trend, with manufacturers focusing on eco-friendly loader designs to comply with environmental regulations.
The waste management segment is anticipated to expand at the fastest rate over the projected period. Waste management in the loader market refers to the utilization of loaders for efficient collection, transport, and disposal of waste materials. This application has gained prominence due to increasing environmental concerns and regulations. Loader trends in waste management include the development of specialized waste-handling attachments, such as grapple buckets and forks, to improve waste-handling efficiency. Additionally, loaders with advanced telematics and monitoring capabilities help optimize routes and reduce operational costs in waste management operations.
Recent Developments:
In 2023, Continental has partnered with Aurora, a leader in self-driving technology, to develop autonomous vehicle solutions. This collaboration aims to integrate Continental's expertise in vehicle technology with Aurora's autonomous driving platform for safer and more efficient transportation.
In 2022, John Deere and Wacker Neuson: John Deere partnered with Wacker Neuson to sell a range of compact excavators under the John Deere brand, expanding their product offerings in the construction equipment market.
In 2020, Doosan Bobcat and BOB-CAT Mowers: Doosan Bobcat acquired BOB-CAT Mowers, a manufacturer of commercial zero-turn mowers, diversifying its product range beyond loaders.
In 2020, Caterpillar and Trimble have announced a change to their joint venture, reflecting their ongoing collaboration in the construction technology sector. This partnership is aimed at delivering integrated machine control solutions for construction equipment, including loaders, to enhance precision, productivity, and efficiency in various construction and earthmoving applications.
In 2019, CNH Industrial and ATI Track: CNH Industrial acquired ATI Track Systems, a manufacturer of rubber track systems for construction equipment, enhancing its product portfolio for loaders.
In 2018, Volvo CE and LEGO Technic: Volvo Construction Equipment partnered with LEGO Technic to create a miniature remote-controlled Volvo L350F Wheel Loader set, promoting awareness of construction equipment among younger audiences.
In 2017, Komatsu acquired Joy Global, a mining equipment manufacturer, strengthening its presence in the mining loader segment. Komatsu-brand surface mining equipment with the P&H, Joy and Montabert brands of surface and underground products will allow to offer a complete range of mining solutions to customers.
Loader Market Players
Caterpillar Inc.
Komatsu Ltd.
Volvo Construction Equipment AB
John Deere (Deere & Company)
JCB (J.C. Bamford Excavators Ltd)
Hitachi Construction Machinery Co., Ltd.
Doosan Bobcat Inc.
Liebherr Group
CNH Industrial N.V.
Hyundai Heavy Industries Co., Ltd.
XCMG Group
SANY Group Co., Ltd.
Wacker Neuson SE
Kawasaki Heavy Industries, Ltd.
Terex Corporation
Segments Covered in the Report:
(Note*: We offer reports based on sub-segments as well. Kindly, let us know if you are interested)
By Loader Type
Skid Steer
Backhoe
Wheeled
Crawl/Track
Mini Loaders
By Payload Capacity
3-5 tons, 6-10 tons
11-15 tons
15 tons and above
By Application
Mining
Construction
Waste Management
Others
By Geography
North America
Europe
Asia-Pacific
Latin America
Middle East and Africa