The global nanopesticides market size was estimated at USD 0.5 billion in 2022 and is expected to reach around USD 1.67 billion by 2032 with a registered CAGR of 12.9% from 2023 to 2032.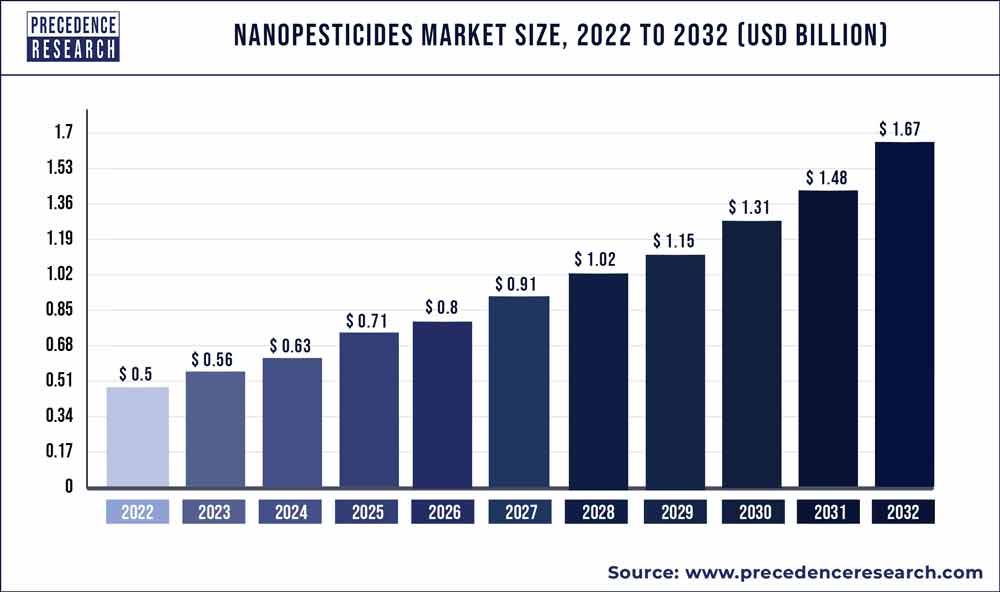 Access our Premium Real Time Data Intelligence Tool, Visit: Precedence Statistics
Key Takeaways:
By type, the nanoinsecticides segment has contributed 44% to the total market share in 2022.
By utility, the industrial crop segment accounted for 71% revenue share in 2022.
By application, the pest control segment has made up 64% of revenue share in 2022.
By region, Europe has captured a revenue share of around 32% in 2022.
Nanopesticides are pesticides whose composition incorporates nanotechnology to improve their properties. Nanopesticides, which have use characteristics comparable to pesticides, comprise nanoparticles that preferably surpass the 100nm size limit specified for regulatory purposes by various governmental agencies. Polymer-based formulations have garnered the most attention in the continual evaluation of research gaps and future goals in nanopesticides, followed by formulations including inorganic nanoparticles as well as nanoemulsions.
To achieve maximum benefit, nano-pesticides are used because they provide sustained release kinetics with high stability, efficient solubility, and enhanced permeability. They also help to promote pest control effectiveness for a longer period of time and prevent degradation of the encapsulated molecules that are in challenging environmental conditions.
The usage of nanopesticides implies a large reduction in the environmental effect of plant protection product active ingredients, as well as an improvement in crop quality and quantity. Although much of the research in nanopesticides is still in its early stages, the product's future is linked to the balance of its advantages in terms of improving effectiveness and minimizing the use and effect of plant protection products, combined with its disadvantages related to nanoparticle contamination by people and the environment.
Nanopesticides are used in a variety of crop protection applications, including seed treatment, preservation of fresh produce and vegetables, crops, feeds and fodder, and so on.
The COVID-19 epidemic harmed the food and agriculture industries. COVID-19 has impacted food and agricultural productivity, including nutrition, as well as farmer livelihoods, as a result of social alienation. However, because to the health advantages associated with fruits and vegetables, population intake rose throughout the pandemic. Nanopesticides are used in the packing of fruits and vegetables to preserve the freshness of these perishable foods. These also boost the chemical content of vegetables and fruits such as beta carotene, naringenin, as well as chlorogenic acid, while also providing a nutritious source of fibre, which aids in weight management by reducing constipation, lowering cholesterol, regulating blood sugar levels, and lowering blood sugar levels. Nanopesticides are also commonly employed in food packaging, which contains nanoparticles with antimicrobial properties that improve the shelf life and freshness of packaged food. As a result, the increased consumption of fruits and vegetables, as well as an increase in demand for food packaging, are expected to boost the nanopesticide market over the forecast period.
Growth Factors
Farmers worldwide are embracing intensive agricultural practises to enhance production per hectare, raising pesticide consumption. Intensive farming is an agricultural intensification and automation strategy that uses pesticides and chemical fertilisers to increase yields from available land. These strategies aid in meeting the expanding population's need for food and preventing food shortages. Pesticide demand is driven by intensive agricultural practises such as monoculture. Monoculture is the practise of extensively producing one type of crop across a vast region, depleting soil nutrients and increasing reliance on pesticides. As a result, the market for nano insecticides will expand in the future to boost production.
Report Scope of the Nanopesticides Market
| | |
| --- | --- |
| Report Coverage | Details |
| Market Size in 2023 | USD 0.56 Billion |
| Market Size by 2032 | USD 1.67 Billion |
| Growth Rate from 2023 to 2032 | CAGR of 12.9% |
| Base Year | 2022 |
| Forecast Period | 2023 to 2032 |
| Segments Covered | Type, Application, Utility, Target Organism, End-user, and Geography |
| Companies Mentioned | Marrone Bio Innovations, Bioworks, Valent Biosciences, Andermatt Biocontrol, Stockton, Bayer, Camson Bio Technologies, Corteva |

Key Market Drivers
A growing concern regarding rising food wastes and losses - According to the FAO, food wastage and loss in developed nations total $680 billion USD, while underdeveloped countries lose $310 billion USD. Both industrialised and developing nations waste nearly the same amount of food, namely 670 and 630 million tonnes, respectively. The data illustrate the rising concern about food waste and its impact on the environment, society, and people's lives. Food waste and loss caused at various points in the chain process is increasing demand for the use of nanopesticides among crop growers and suppliers in order to reduce waste and gain control over GFLI.
Increasing fresh fruit and vegetable exports - Consumers all across the world are increasing their consumption of fresh fruits and vegetables. The demand also meets the requirement for seasoned and unseasoned goods to be offered across the world all year. As a result, agro-economic nations are focused on exporting vegetables and fruits to close the demand gap, boosting the need for the use of nanopesticides in packing of these fresh items to reduce supply chain losses and retain product freshness. Exports of fresh fruits and vegetables increased from 0.67 billion USD in 2010-11 to 1.30 billion USD in 2018-19, according to the Agribusiness and Processed Food Products Export Development Authority (APEDA), Government of India (GOI). Furthermore, the export value for 2019-20 has already surpassed 0.21 billion USD until the month of May.
Key Market Challenges
Concerns for food safety, ban on pesticides and restrictions in utilization in many economies - Pesticides have been outlawed in several economies across the world due to their damaging impact on people's livelihoods. Nations have devised several safety guidelines to address the issue and differentiate pesticides in its class depending on the sensitivity of the chemicals in use in pesticides. For example, the United States Department of Agriculture created the Pesticide Data Program (PDP), a nationwide pesticide residue monitoring programme that results in the most complete pesticide residue database in the United States. Furthermore, since 1985, the Government of India has adopted the Integrated Pest Management (IPM) programme as a cardinal concept and key pillar of plant protection in the overall agricultural production programme. The Government of India's Directorate of Plant Protection, Quarantine, and Storage has revised the list of pesticides that are prohibited, refused registration, or have limited usage in March 2019.
Key Market Opportunities
Greater affects with lower chemical dose: Nanopesticides provide a means to both manage pesticide distribution and produce better effects with a lower chemical dose. The first sort of nanopesticides may be anticipated as active ingredient(s) that are either produced nanomaterials such as metal nanoparticles (e.g., silver as well as copper) or metal oxide nanoparticles (e.g. zinc oxide, titanium dioxide, manganese dioxide, copper oxide, silicon dioxide). The production and deployment of nanopesticides attempts to improve a pesticide's efficacy and longevity while also reducing the number of active chemicals present and minimising or eliminating any possible dangers. All of these reasons are propelling the nanopesticide industry forward.
Usage in multiple applications - The worldwide nanopesticide business is expanding due to its widespread usage in areas such as pest control as well as packaging. Furthermore, the increased usage of nanopesticides in food packaging is likely to boost market expansion during the forecast period. Food waste and loss are increasing as a result of the various phases of the supply chain. According to the FAO, food waste costs developing nations $310 billion and industrialised ones $680 billion. The numbers illustrate the growing worry over food waste. Global consumption of fresh fruits and vegetables is growing. To close the demand gap, agro-economic nations are promoting the export of fresh fruits and vegetables. This is boosting the need for nanopesticides in the packaging of these fresh foods in order to reduce supply chain losses and maintain product freshness. Nanopesticides are mostly employed in food packaging that contains nanoparticles that impart antibacterial activity and boost barrier characteristics, hence extending the life span and freshness of packaged food.
Segments Insight
Type Insights
In 2022, insecticides were the most important product type category, accounting for more than 41% of total revenue generated by this business. Over the projected period, insecticides are expected to continue their dominance in the worldwide nano pesticides market.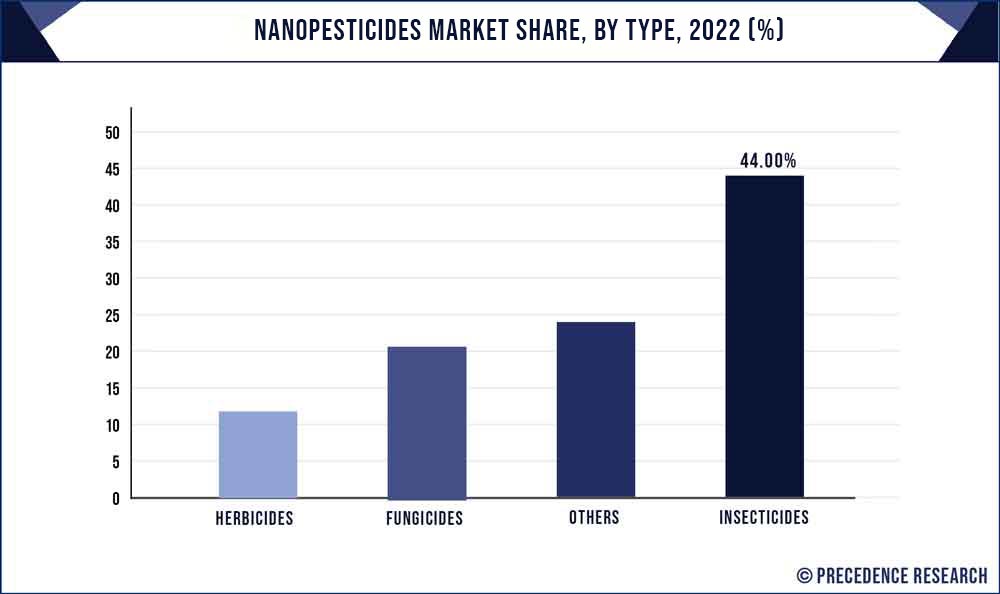 The need for nano pesticides is primarily driven by the growing demand for crop protection agents with smaller environmental footprints and controlled release features.
Application Insights
The nano pesticides market is divided into four primary segments: harvesting, production, protection, and packaging. Nano pesticides are in high demand in agriculture due to their superior pest control characteristics over regular pesticides. Pesticides with encapsulation are also becoming increasingly popular in various end-user areas such as food processing, storage, and packaging.
Nanopesticides are in high demand in the agricultural market due to their superior pest control qualities when compared to regular pesticides. Furthermore, insecticides with encapsulation are becoming increasingly popular in various end-user applications including food processing, storage, and packaging. According to FAO, approximately 40% of losses occur at the post-harvest and processing stages in underdeveloped countries, whereas more than 40% occur at the retail and consumer levels in industrialised countries.
Nanopesticides Market Share, By Region, 2022 (%)
| | |
| --- | --- |
| Regions | Revenue Share in 2022 (%) |
| North America | 25% |
| Asia Pacific | 28% |
| Europe | 32% |
| Latin America | 9% |
| MEA | 6% |

Regional Insights
Europe is in the forefront of nano pesticide usage, accounting for more than 34% of yearly revenue creation in 2022. Due to the most arable acreage and increased acceptance of innovative crop protection technology, Asia Pacific was the second biggest market. Furthermore, it is predicted to expand fast during the projection period. In 2021, North America retained a sizable market share. However, the Middle East and Africa are extremely tiny markets that are likely to develop at a slower CAGR in the next years.
Recent Developments
Bayer concluded the successful takeover of Monsanto in the United States in June 2018. This transaction was made to assist farmers in producing inexpensive and healthful food in a sustainable manner.
BASF SE purchased AgriMetis' unique L-glufosinate ammonium technology in September 2020. The acquisition was made in order to produce vastly enhanced concentrated weed control solutions. This will assist to improve BASF SE's position in the crop protection industry by creating innovative weed-control products.
Segments Covered in the Report
(Note*: We offer report based on sub segments as well. Kindly, let us know if you are interested)
By Type
Insecticides
Herbicides
Fungicides
Others
By Application
Production
Protection
Harvesting
Packaging
Others
By Utility
Food Crop
Industrial Crop
By Target Organism
Algicides
Avicides
Bactericides
Fungicides
Herbicides
Insecticides
Miticides
Molluscicides
Nematicides
Rodenticides
Slimicides
Virucides
By End-user
Farmer
Pest Control Agents
Others
By Geography
North America
Europe
Asia-Pacific
Latin America
Middle East & Africa (MEA)