The global rectifiers market is expected to expand at a compound annual growth rate (CAGR) of 10.94% during the forecast period from 2023 to 2032.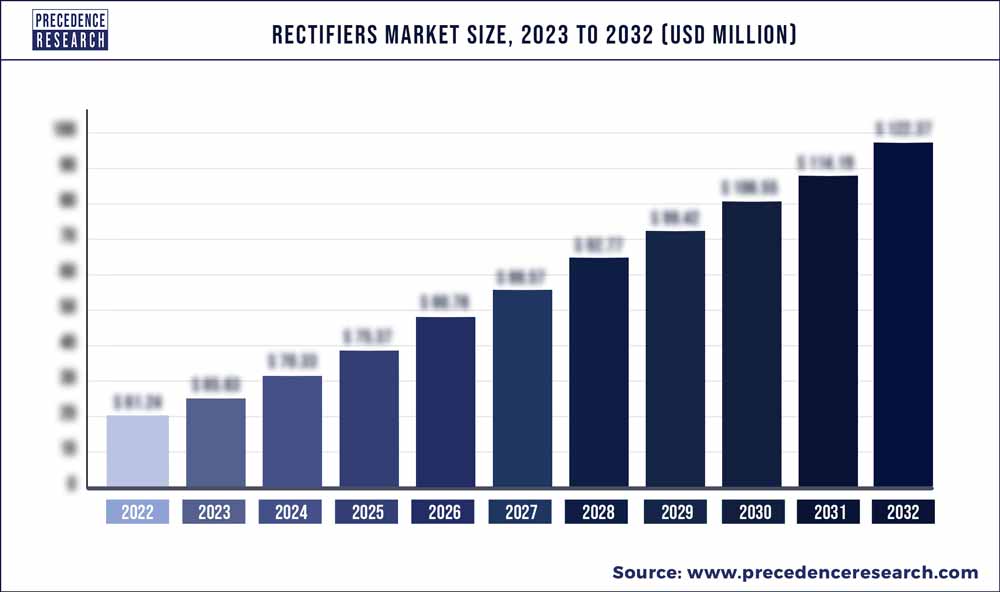 Access our Premium Real Time Data Intelligence Tool, Visit: Precedence Statistics
Rectifiers are frequently employed as circuit guards to stop human error-caused supply voltage reversal in electronic components. Additionally, the industry is being driven forward by the rising usage of high-frequency rectification and improved energy efficiency in consumer electronics like laptops, smartphones, and PCs.
Growth Factor
One of the main reasons fueling the market's expansion is the increasing deployment of smart grids in different parts of the world. Semiconductor rectifiers are frequently employed in circuits as guards to prevent unintentional supply voltage reversal in electronic components. Additionally, the widespread use of the device for high-frequency rectification and improved energy efficiency in consumer electronics like laptops, cellphones, and desktops is encouraging market growth. Additionally, a number of product breakthroughs, such the creation of environmentally friendly semiconductor rectifiers made from biocompatible and biodegradable materials, are boosting market expansion.
Accordingly, the market expansion is being favorably impacted by the rising product use in automobile electronics, such as central body control, contemporary electric power steering, brake system, and seat control. It is projected that further factors, including as the growing downsizing of electronic components and the adoption of several government efforts on contemporary power production and distribution infrastructure, will propel the market toward expansion.
The increased usage of automobile electronics, such as advanced electric power steering, brake systems, charging, and seat control, is positively influencing the market growth.
The industry is expected to advance due to several government initiatives on modern power generating and distribution infrastructure.
Growing demand in the automobile industry for renewable energy supplies and rectifier-based electrical components
Report Scope of the Rectifiers Market
| | |
| --- | --- |
| Report Coverage | Details |
| Growth Rate from 2023 to 2032 | CAGR of 10.94% |
| Fastest Growing Market | Asia Pacific |
| Base Year | 2022 |
| Forecast Period | 2023 to 2032 |
| Segments Covered | By Product and By Type |
| Regions Covered | North America, Europe, Asia-Pacific, Latin America and Middle East & Africa |

Market Dynamics
Key Market Drivers
Rectifier diodes are in increasing demand for a range of automotive & power sector applications
Applications for power electronics in vehicle power generation and control have multiplied in recent years. For instance, a brand-new load-matching technique has been used by the car sector. This technique greatly reduces inefficiency and significantly increases peak and average power production from a traditional Lundell alternator using a simple switched-mode rectifier.
Power electronic components being incorporated into cars and the overall power control, as well as a management system, opens up new opportunities for utilizing rectifiers. In-vehicle electronics may also offer appealing opportunities, which is another expectation. Modern electric power steering, seat control, central body control, and braking systems, are a few examples of potential business opportunities in this market.
Key Market Challenges
Technical difficulties and expensive rectifiers
Rectifiers are often used in electrical components to reference voltage, modify signal size, decouple the signal from the source, and adjust the voltage. By utilizing semiconductor rectifiers in electronic component circuits, inadvertent supply voltage reversal risks can be reduced. As a result, if connected incorrectly or inappropriately, it might cause damage to the machinery or pose a safety hazard.
The rectifier may malfunction for a variety of reasons, including a weak or loose battery, poor grounding, or a worn-out connection to the battery. For instance, it could be costly and time-consuming to replace the regulator rectifier in a car when it malfunctions. However, a key element acting as a barrier that may hinder market development is the high cost of acquiring semiconductor rectifiers. For instance, a bridge rectifier costs more since it needs four diodes to function.
Smart grids are being adopted more widely
China, India, and Brazil are just a few of the countries that are making great strides in the design and creation of smart grid technology. These innovations contribute to the development of a more adaptable power grid, which enables the incorporation of diverse renewable energy sources. By integrating ICT at various stages of the power generation, power consumption, and delivery processes, also raises the degree of service dependability and service given to end users.
The adoption of smart grid technology in emerging nations helps to coordinate the requirements and capabilities of all electricity market participants, including end users, generators, grid operators, and others, in order to operate every aspect of the system as economically and environmentally as possible while enhancing system reliability, stability, and resilience. Semiconductor rectifiers are one of the crucial elements required to guarantee the effective implementation of smart grid technology. The need for semiconductor rectifiers is being driven by this aspect.
Government spending has increased on modern infrastructure for electricity production and distribution in developing countries
For the world economy to run smoothly, reliable and economic power must be provided. As a result, governments all over the world, especially in less developed nations, are boosting their expenditures on cutting-edge infrastructure for the production and delivery of power.
Additionally, the emissions that arise from a variety of energy production techniques raise environmental issues that may have a negative impact on human health, the economy, and national security. In order to assure a reduction in emissions or their complete removal throughout the power generating process, governments in developing nations all over the world are putting cutting-edge technology into practice.
Segments Insight
Product Insights
The automobile sector is a significant application for the rectifier industry. The automotive industry's rapid technological advancements are having an impact on the rectifier market since typical IC engine vehicles only need a small number of electrical components.
Due to the growing popularity of electric cars (EVs) and autonomous vehicle technologies, the majority of market vendors are increasing their investments in the automotive sector. The demand is anticipated to increase as rectifiers are utilized more often in the On-Board Charging and Battery Management Systems (BMS) of electric vehicles (EVs).
Government mandates for (Advanced Driver Assistant System) ADAS systems and the expanding use of smart technologies in vehicle production are also fostering the development of the industry under study.
For instance, the IEA estimates that 6.6 million electric cars were sold globally in 2021. 9% of all automobiles sold globally were electric vehicles. Even though there aren't many battery electric vehicles (BEV) on the road today, the development of the charging infrastructure and the diversity of BEV models may cause sales of these vehicles to outpace those of the whole auto industry in the coming years. Even if overall auto sales remain similar, this increase may increase the need for rectifiers. To meet the rising demand for environmentally friendly solutions, the majority of nations are supporting the use of electric vehicles.
For instance, according to the IEA, 6.6 million electric vehicles were sold worldwide in 2021. Around the world, electric vehicles made up 9% of all vehicle sales. Despite the fact that there aren't many battery electric vehicles (BEV) on the road right now, the growth of the infrastructure for charging them as well as the variety of BEV models may allow sales of these cars to exceed those of the whole auto industry in the years to come. Even if overall car sales stay about the same, this rise may make rectifiers more necessary. The majority of countries are promoting the usage of electric cars in order to fulfill the growing demand for ecologically friendly alternatives.
Type Insights
The three-phase, which dominates the worldwide rectifiers market, is anticipated to expand at a CAGR of 12.4% over the course of the projected period. Three single-phase rectifiers have been merged or linked to a single three-phase generator in three-phase rectifiers, which vary from single-phase rectifiers in that they convert A.C. input to D.C. output. It encourages electrical balance among power loads, boosting efficiency.
The majority of everyday products are D.C. devices, and as more industries, consumer electronics, home appliances, and other D.C. devices are needed, the demand for rectifiers rises. High-power appliances are the most typical place to find three-phase rectifiers. Demand has significantly increased over the past few years as a result of changes in the automotive, solar, and industrial sectors.
The market will experience a growth in demand for rectifier goods like as charging stations, transformers, and other products due to new technologies such as Tesla's electric vehicles. Solid devices like chargers and inverters employ single-phase rectifiers to convert alternating current (AC) to direct current (DC) using a single-phase transfer secondary coil (direct current).
Even though the standard power supply in homes and business buildings uses alternating current, the majority of the devices used there are D.C.-compatible (direct current). A single-phase rectifier's market is expanded by half-wave rectification since it is more compatible with modern electronics. A single-phase supply being used in homes and workplaces produces an alternating voltage that is used by a variety of devices.
Regional Insights
Due to the enormous increase in demand for renewable energy products and rectifier-based electronic components in the automotive sector throughout the area, the Asia-Pacific is one of the regions with the fastest expanding rectifier markets. China is one of the top producers of rectifiers, with a sizable local business presence. Furthermore, while concentrating on the provision of consumer electronics items during the past few years, Chinese rectifier makers have been rapidly growing their businesses.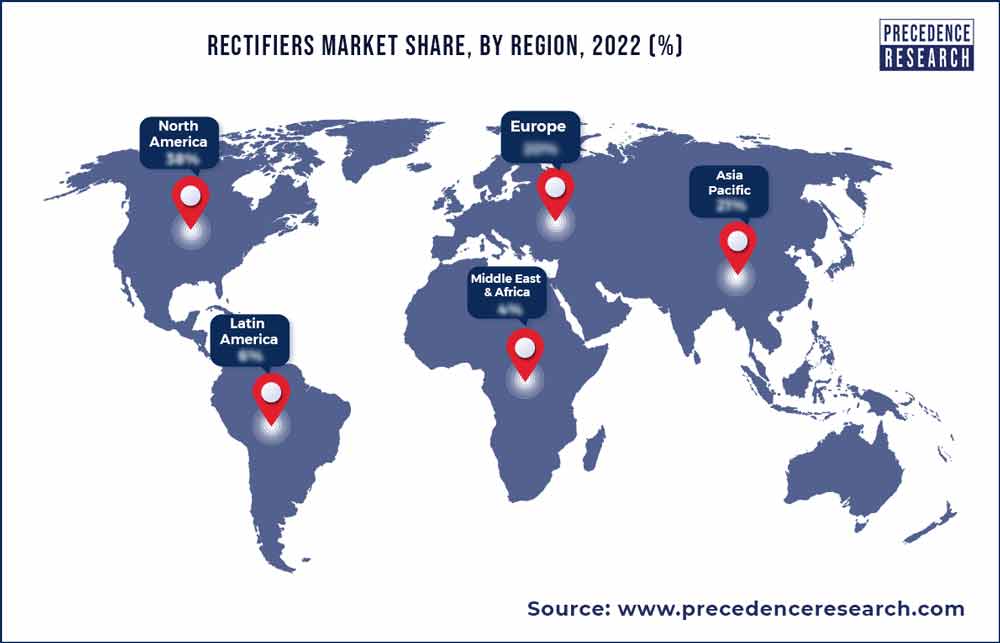 In 2030, excluding two- and three-wheelers, electric vehicle sales will make up 70% of all vehicle sales worldwide and 42% in China, according to the International Energy Agency. By 2030, Japan will still have 21% of the global EV market, followed by Europe with 26% and the United Kingdom with 57%. In order to encourage the usage of electric cars, many governments are developing a number of rules throughout the Asia Pacific area, which is generating a favorable market environment for the expansion of the investigated industry.
The latest commercial vehicles, such as lorries, utilize diesel fuel, which the Chinese government has started to phase out. The nation wants to do rid of all gasoline and diesel cars by 2040. Additionally, according to Business Korea, the ongoing trade spat between China and the United States is having an impact on Korean rectifier producers like Samsung Electro-Mechanics, which gets 40% of its income from China.
In response to the increased demand for rectifiers and other crucial consumer electronics components from China, the Republic of Korea, India, and Singapore, several companies are setting up production operations in the Asia-Pacific region. The abundance of raw materials available as well as the low starting and labor costs are encouraging reasons for businesses to locate manufacturing operations in this area.
Recent Developments
April 2022 saw the release of Diodes Incorporated of a new line of high Schottky rectifiers in extremely small chip packaging (CSPs). The DIODES SDM5U45EP3, DIODESTM SDM4A40EP3, and DIODES SDT4U40EP3 are said to attain the highest current densities in their classes in the industry and satisfy market demands for more compact and potent electronic systems.
April 2022 saw the release of The DIODES APR34910 by Diodes Incorporated, a low secondary-side synchronous rectifier switch used in power adapters for set-top boxes, laptops, and mobile phones. The APR34910's low 10m RDS(ON) and 100V N channel MOSFET reduce secondary-side rectifier power losses, increase efficiency, and provide a high-performance solution.
Key Market Players
ON Semiconductor
Vishay Intertechnology, Inc.
Infineon Technologies AG
STMicroelectronics
Fuses Unlimited Inc.
Toshiba Corporation
Diodes Incorporated
NXP Semiconductors
Renesas Electronics Corporation
Mitsubishi Electric Coporation
Segments Covered in the Report
(Note*: We offer report based on sub segments as well. Kindly, let us know if you are interested)
By Product
Power & Utility
Automotive
IT/Telecom
Consumer Electronics
Others
By Type
Single Phase Rectifier
Three Phase Rectifier
By Geography
North America
Europe
Asia-Pacific
Latin America
The Middle East and Africa