The global surgical laser market size was reached at USD 2.91 billion in 2022 and it is predicted to hit around USD 5.38 billion by 2032, poised to grow at a CAGR of 6.4% over the forecast period 2023 to 2032.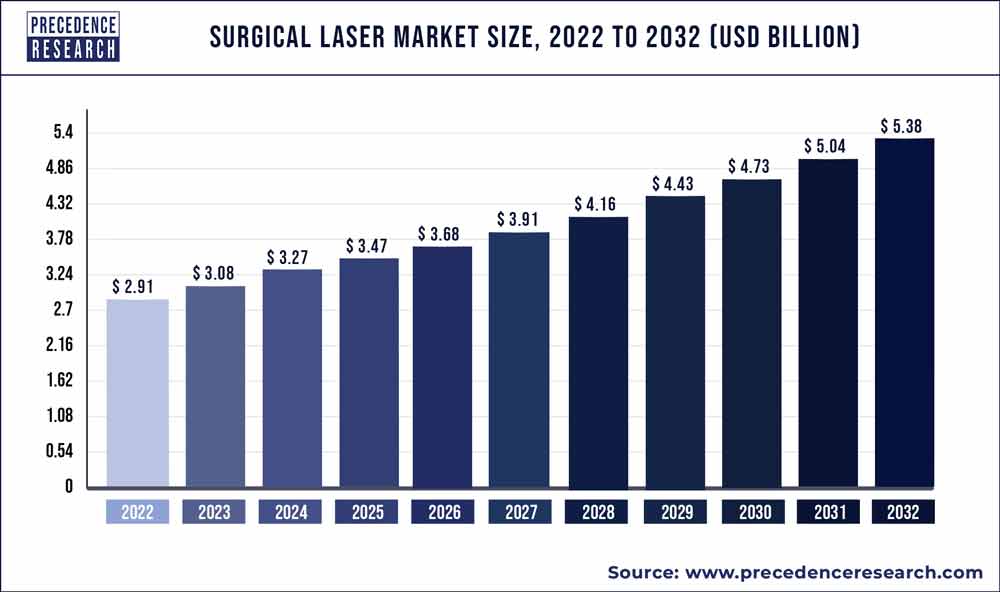 Access our Premium Real Time Data Intelligence Tool, Visit: Precedence Statistics
Surgical lasers are devices that treat or cut tissue without the use of a scalpel by using light. When performing eye surgery, a surgical laser is frequently utilized to reshape the cornea or correct vision. The device can also be used to get rid of tattoos, birthmarks, and wrinkles. Since there is no physical touch during laser surgery, there is no chance of infection, making it safer than traditional surgery.
Key Takeaways:
North America has generated the highest revenue share of 42% in 2022.
By application, the aesthetic laser segment has captured 32.6% of the total revenue share in 2022.
By end user, the hospital segment has accounted revenue share of 41.4% in 2022.
By product, the solid-state laser systems segment has held the largest revenue share of over 38.3% in 2022.
Growth Factors
The market has been transformed by high growth potential in developing nations and growing interest in minimally invasive procedures. The market for surgical lasers is being driven by the expansion of the medical tourism sector as a result of the globalization of the healthcare system. People have been steadily increasing in number in recent years who travel abroad for medical care.
To draw patients, many nations have positioned themselves as having top-notch healthcare facilities and cutting-edge technology. The developing world is now taking advantage of the increased demand for medical care by meeting it with better facilities and at lower costs due to the high cost of surgeries and treatments in the industrialized world.
Furthermore, the rising prevalence of vision impairment and the quick development of laser technology will drive the worldwide surgical lasers market trends through 2030. Over 2.2 billion people worldwide have a distance or near visual impairment, according to the WHO. This element might increase demand for LASIK eye surgery, which makes up 90%–95% of all laser vision correction procedures. The development of laser technology to treat critical illnesses like cancer will also spur industrial growth.
Furthermore, Heriot-Watt University in Edinburgh received a $1.6 million grant from the Engineering and Physical Sciences Research Council in 2021 for the creation of a new laser device that would assist surgeons in identifying and removing cancer cells without causing damage to neighboring tissues. Such significant investments in the management of specific diseases will also encourage
Increasing incidence of chronic illnesses
Burgeoning medical tourism
Rising interest in minimally invasive procedures
Public funding for healthcare interoperability
Increasing technological advancement
Report Scope of the Surgical Laser Market
| | |
| --- | --- |
| Report Coverage | Details |
| Market Size in 2023 | USD 3.08 Billion |
| Market Size by 2032 | USD 5.38 Billion |
| Growth Rate from 2023 to 2032 | CAGR of 6.4% |
| Base Year | 2022 |
| Forecast Period | 2023 to 2032 |
| Segments Covered | By Product Type, By Application and By End-Use |
| Regions Covered | North America, Europe, Asia-Pacific, Latin America and Middle East & Africa |

Key Market Drivers
Rising interest in minimally invasive procedures - Minimally invasive surgery typically results in less discomfort, a shorter hospital stay, and fewer complications. Furthermore, the demand for minimally invasive or non-invasive operations is rising, and patients are favoring shorter hospital stays, which is driving manufacturers to create items and equipment with cutting-edge technology and quick recovery times.
For instance, each year, millions of Americans have cosmetic procedures. According to data from the American Society of Plastic Surgeons, around 2.3 million plastic surgeries and 13.3 million minimally invasive, nonsurgical procedures, like Kate's, were carried out in 2020, which encourages the market for surgical lasers to grow even further.
Increasing technological advancement - Technology developments, rising product approval rates, partnerships and collaborations between important players, as well as other factors, are all contributing to the market's expansion. For instance, the next-generation ALLY Adaptive Cataract Treatment System from LENSAR, Inc., a medical technology firm specializing in advanced femtosecond laser surgical solutions for the treatment of cataracts, was given US Food and Drug Administration 510(k) approval in June 2022. In August 2022, the Eye Institute of West Florida used the ALLY Adaptive Cataract Treatment System for the first time in commercial situations. Such changes are anticipated to accelerate market expansion.
As a result of the aforementioned variables, it is projected that the market under study will expand during the course of the investigation. However, the substantial procedural costs linked to laser surgery will probably restrain market expansion.
Increase in key developments - The Spectranetics Corporation (Philips Holding USA Inc.), IPG Photonics Corporation, Carl Zeiss Meditec, Inc., BISON MEDICAL Co., Ltd., Biolitec AG (BioMed Technology Holdings Ltd.), Alma Lasers (Sisram Med), Abbott Laboratories, Lumenis, Cynosure, and Boston Scientific Corporation are just a few of the major companies operating in the market.
These businesses are employing a variety of techniques, such as new product releases and partnerships, to increase their market share in the cutthroat industry. For instance, Boston Scientific and a BPEA affiliate signed a contract in March 2021. (Baring Private Equity Asia). With this agreement, Lumenis' surgical division, comprising its top-tier laser systems, will be acquired.
Key Market Challenges
Lack of knowledge regarding specialized training - Over the forecast period, challenges such as surgeons' specialized training, stringent safety regulations, and the high cost of laser therapy are anticipated to have a negative impact on the growth of the surgical laser market. Additionally, laser therapy's effects might not persist as long in other conditions, like cancer, so doctors might need to repeat the procedure to get better outcomes.
Furthermore, the high cost of laser procedures, the absence of practical medical reimbursement mechanisms, and stringent guidelines guiding the approval of surgical lasers are anticipated to also be market restraints.
Key Market Opportunities
Acceptance of surgical lasers in developed and undeveloped countries – Players in the surgical laser market have a lot of room to grow in emerging markets like India, China, Brazil, and Mexico. The aging of the population, the incidence of lifestyle illnesses, and rising investments by major companies in these nations are all contributing to growth in these regions.
Furthermore, growing acceptance and demand for sophisticated cosmetic operations worldwide, in both established and emerging nations, are largely due to growing awareness of advanced aesthetic techniques. The use of surgical laser technology in aesthetic operations has significantly increased during the past several years. According to the American Society of Plastic Surgeons (ASPS), the South Atlantic has 3.8 million (25%) of the country's cosmetic treatments were conducted there in 2020.
Segments Insight
Product Type Insights
The surgical laser market is anticipated to have the greatest revenue share in solid-state laser systems in 2021. Erbium Yttrium Aluminum Garnet (Er: YAG), Neodymium Yttrium Aluminum Garnet (Nd: YAG), Holmium Yttrium Aluminum Garnet (Ho: YAG), Ruby laser systems, and other solid-state systems are further subdivided.
The use of Nd: YAG laser systems for cosmetic procedures has spread throughout the world as market participants introduce their goods and surgical laser systems in other regions. Additionally, improvements in Nd: YAG lasers along with their widespread use due to their effective results on practically all skin types are some of the key drivers boosting the segment's growth in the surgical lasers market.
Furthermore, with the low cost of these surgical laser systems and the precision of the procedures, carbon dioxide surgical lasers account for a sizeable portion of gas-laser systems. Due to the numerous benefits that these systems offer, market participants are concentrating on the introduction of CO2 lasers.
Application Insights
The market for surgical lasers is divided into cosmetic, surgical, dental, and ophthalmic segments based on the application. Over the foreseeable period, it is expected that the aesthetics segment will continue to dominate.
An increasing number of FDA approvals that broaden dermatology applications such as skin rejuvenation, varicose vein treatment, acne, tattoo, and pigmented lesions support industry growth in the aesthetics sector. Additionally, in November 2016, Fotona d.o.o. launched the Laser and Health Academy (LA&HA) to conduct advanced workshops and seminars, providing research and instruction on novel medical laser applications, and enhancing treatment standards and treatment efficiency.
End-Use Insights
The surgical lasers market was dominated by the hospital sector. Over the projected period, the category is expected to continue to rule. The rise in aesthetic operations in hospitals in important markets including the U.S., Germany, and Japan is credited with the hospital segment's expansion.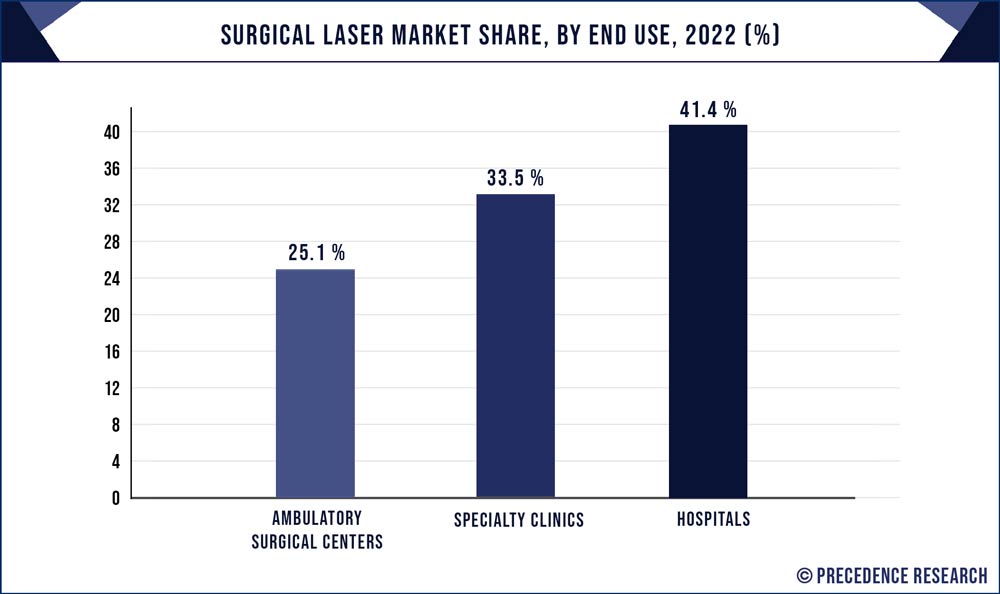 Additionally, it is projected that growing consumer awareness of aesthetic and cosmetic procedures in developing nations like China and India will promote segment expansion.
Regional Insights
North America, Latin America, Europe, Asia Pacific, the Middle East, and Africa are the regional divisions of the surgical lasers market. North America generated the most revenue in 2022, and it is anticipated that it will hold this position throughout the projected period. This dominance is attributable to the established healthcare system, widespread use of technologically sophisticated aesthetic laser technologies, and rising demand for aesthetic and cosmetic procedures in North America.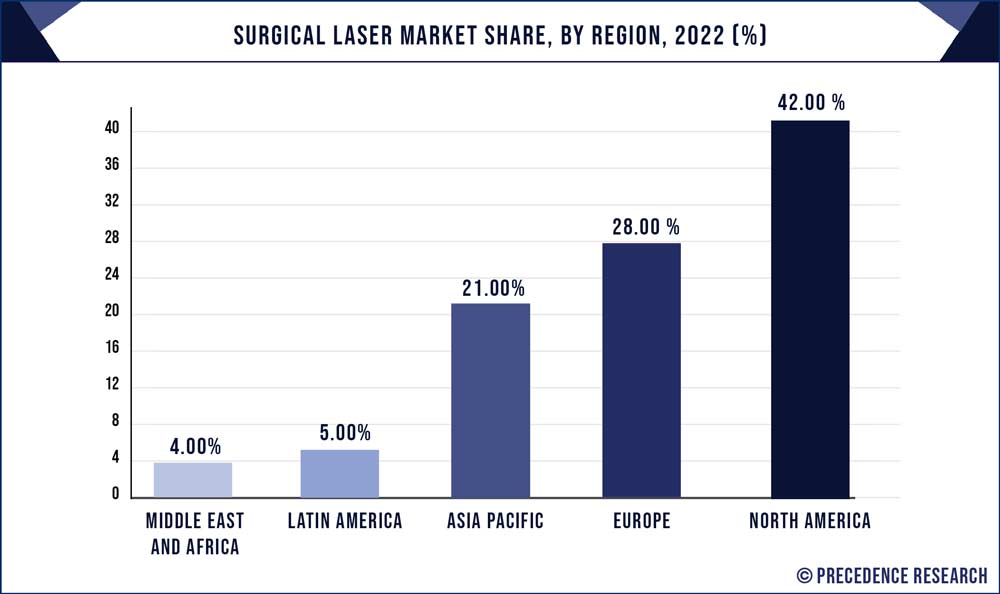 Furthermore, it is projected that the local presence of large firms and their ongoing strategic endeavors will further improve the market environment. During the projection period, surgical lasers are anticipated to have brisk growth in the Asia Pacific region. In order to increase the visibility of its surgical laser devices and to obtain a competitive edge, a number of significant firms are implementing a variety of growth methods.
Furthermore, new key developments, such as product launches and approval by key players, are also anticipated to provide growth opportunities. For instance, in order to support the care of more people with heart failure, Abbott acquired expanded indication approval from the US Food and Drug Administration (FDA) in February 2022 for the CardioMEMS HF System. A paperclip-sized sensor known as the CardioMEMS HF System is inserted into a patient's pulmonary artery using a catheter.
Recent Developments
In May 2022- RevoLix HTL, a family of pulsed and continuous wave Thulium YAG lasers that forms the basis of RevoLix Therapy for urology patients undergoing Benign Prostatic Hyperplasia (BPH) and Stone Management procedures, has been approved by the US Food and Drug Administration.
In March 2022- The United States Food and Drug Administration granted AviClear, one of the first energy-based products to achieve this certification for the treatment of mild, moderate, and severe acne, to CUTERA, INC., a provider of dermatology solutions.
In December 2021- The next generation PicoLO Premium Picosecond Nd:YAG Laser from LASEROPTEK Co., Ltd., a developer of top-notch laser equipment for aesthetic and medical dermatology applications, has been given FDA 510(k) clearance.
In March 2021- Boston Scientific and a BPEA affiliate established a contract (Baring Private Equity Asia). With this agreement, Lumenis' surgical division, comprising its top-tier laser systems, will be acquired.
In July 2019- The TempSure Firm handpiece and a small mask for SculpSure submental treatments are two new items from Hologic's Cynosure division that add to the company's expanding line of cutting-edge aesthetic treatments. The U.S. Food and Drug Administration (FDA) has officially approved SculpSure submental treatments for patients with a body mass index (BMI) of up to 49, the highest BMI clearance available for submental therapies.
Key Market Players
Cynosure, Inc.
Lumenis Ltd.
Candela Corporation
Cutera, Inc.
Lutronic Corporation
El.En Group
Fotonad.o.o
Alcon
Biolase
Asclepion Laser Technologies GmbH
Segments Covered in the Report
(Note*: We offer report based on sub segments as well. Kindly, let us know if you are interested)
By Product Type
Solid-state Laser Systems

Erbium Yttrium Aluminum Garnet (Er: YAG)
Neodymium Yttrium Aluminum Garnet (Nd: YAG)
Holmium Yttrium Aluminum Garnet (Ho: YAG)
Ruby Laser Systems
Others

Gas Laser Systems

CO2
Excimer
Helium Neon
Diode Laser Systems
Others
By Application
Surgical
Aesthetic
Dentistry
Ophthalmic
Dermatology
Urology
Gynecology
Cardiology
Oncology
Others
By End-Use
Hospitals
Specialty Clinics
Ambulatory Surgical Centers
By Geography
North America
Europe
Asia-Pacific
Latin America
The Middle East and Africa