The global 3D metrology market size was exceeded at USD 11.84 billion in 2022 and it is expected to hit around USD 22.36 billion by 2032, growing at a CAGR of 6.65% between 2023 and 2032.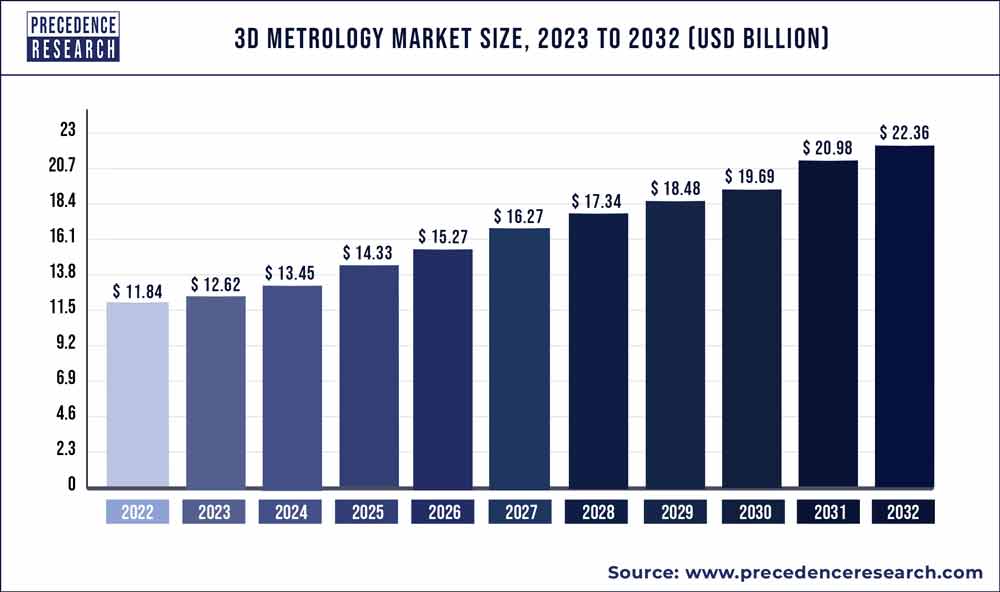 Access our Premium Real Time Data Intelligence Tool, Visit: Precedence Statistics
Market Overview:
The primary factor driving the expansion of the 3D metrology market is the increasing acceptance of 3D metrology devices by various industries, automotive, aerospace, including heavy machinery, engineering and construction, power and energy. Additionally, industry 4.0 implementation and increased R&D spending by producers of metrology equipment are anticipated to impact market growth.
In the market for 3D metrology, the emergence of the services segment is significantly influenced by the adoption of industry 4.0. The goal of Industry 4.0 is to digitize physical assets and integrate them into digital ecosystems that include different value chain participants. Significant advancements in portable metrology tools and software-driven automated processes have fueled the market's expansion.
The requirement for industries to adopt 3D metrology solutions is anticipated to be driven by the expanding demand for expensive goods brought on by increasing disposable income in rapidly growing countries and economies with a low GDP.
Additionally, many industries are concentrating on high-quality products produced through accurate measurement using cutting-edge 3D metrology methods and tooling. High-precision measurement solutions are beneficial for almost all industrial applications.
The metrology system also helps to cut costs associated with product development and the overall time needed for product launches. To perform 3D digital measurement and investigation processes, 3D CAD data is used. As a result, it is anticipated that the rising demand for quality inspection will contribute to the market's expansion during the forecast period.
Research and development in 3D metrology have made significant strides over time, and the market's expansion depends heavily on technological development and research. Recent years have seen many engine technology improvements due to consumer preferences for safety, rigid government regulations, and scientific advancements. The major players in the 3D metrology market are attempting to expand engine design R&D to improve engine performance, emission reduction, and combustion efficiency.
On the other hand, the trend for specialized metrology solutions prevents the expansion of universal systems' application bases from including various functional aspects. As a result, the end-user is forced to pick from multiple service providers to display a single chain of production processes. However, it might increase the additional expenses and compel customers to buy their metrology products, contributing to the market's total demand.
COVID-19 Impact:
The COVID-19 pandemic is spreading quickly, and supply chains worldwide are being affected. Economic activity has been negatively impacted by this factor globally. Additionally, a slight decline in the global market is anticipated in 2023. Potential growth will be positive, and the multiple companies are to blame for the slight decrease.
China, India, the United States, and Europe have all experienced closures of their automotive manufacturing facilities, which posed a problem for the global distribution of industrial output. Additionally, the increase in COVID-19 cases applied to a sudden global lockdown in several nations, which resulted in the closure of many manufacturing facilities and the disruption of raw material supply chains in several countries.
It is crucial to display any market that has yet to experience the COVID-19 pandemic effects. Numerous cases have been noted since the coronavirus outbreak started in China in late 2019 with several infections. The manufacturing of automobiles and aerospace and defence equipment, which relies heavily on Chinese and Indian firms as the primary components and raw materials suppliers, was similarly shut down to the other vertical markets. Due to the coronavirus, China's economy was the first to completely shut down all production facilities.
Report Scope of the 3D Metrology Market
| | |
| --- | --- |
| Report Coverage | Details |
| Market Size in 2023 | USD 12.62 Billion |
| Market Size by 2032 | USD 22.36 Billion |
| Growth Rate from 2023 to 2032 | CAGR of 6.65% |
| Largest Market | North America |
| Base Year | 2022 |
| Forecast Period | 2023 to 2032 |
| Segments Covered | By Product, By Component, By Application and By End User |
| Regions Covered | North America, Europe, Asia-Pacific, Latin America and Middle East & Africa |

Market Dynamics:
Increasing adoption of 3D modelling and analysis techniques across a variety of industries
Several industries, including defence and aerospace, heavy equipment, medical, automotive, electronics, and energy & power, use 3D modelling. The data points used to create a 3D model from a 3D object are gathered by coordinate measuring machines (CMMs) or scanners equipped with sophisticated data tools and models.
Data from 3D metrology is essential for the manufacturing industry because it can be used to evaluate the performance and quality of products. A manufacturing company shares this data with its purchasing, designing, and other specific business units to guarantee the accuracy of manufactured goods.
Visualizing measurements taken into account during a production process is another application of 3D metrology. To describe a company's product for highly precise inspection, a lot of 3D data is needed. Due to improvements in measuring devices, verification software, and data-collection sensing technologies, CMM is regarded as a practical and affordable procedure for this purpose. Currently, CMMs and 3D scanners are used together.
Dimensional metrology solutions for quick, high-precision results are frequently used with white-light scanners, 3D laser scanners, and laser trackers. With the aid of these technologies, data collection has become quick and simple, enabling extremely accurate inspection. The aerospace, automotive, and heavy machinery companies mainly use small laser tracking systems with large-volume measurement abilities to obtain exact measurements.
Restraint:
The high cost of establishing 3D metrology facilities.
A significant financial investment for SMEs is required to set up a 3D metrology facility, which involves measuring equipment, installation, and maintenance costs. To help integrate metrology into their product development and manufacturing processes, companies usually prefer to set up their 3D metrology services or work with outside parties.
To set up an entire 3D metrology department, businesses have difficulty achieving the targeted return on investment, and it is also a laborious and challenging task. Additional expenses include hiring meteorologists, maintaining, upgrading, hiring, standardizing, and offering regular training for metrology equipment and software.
Opportunity:
The requirement for 3D metrology facilities is expanding.
Due to the high expense of establishing a 3D metrology facility and the scarcity of 3D metrology specialists, there has been an increase in the need for 3D metrology facilities. Metrology suppliers have more expertise with equipment and measurement techniques than in-house technicians. By contracting with a professional for 3D metrology facilities, data collection is guaranteed to be highly accurate, reliable, and impartial.
For the highest data reliability and repeatability level, 3D metrology equipment manufacturers instruct their engineers on the most recent tools and software for regularly maintaining, measuring, and calibrating the devices.
A 3D metrology supplier can set up portable CMMs at the production facility according to the measurements required for the product and company. Manufacturers can save money and time by utilizing on-site facilities now that 3D metrology equipment suppliers have begun to offer them.
One of the main factors influencing the requirements for 3D metrology in multiple companies is technological advancement. Industries are concentrating on providing devices with advanced technologies and modular architecture in response to emerging application fields, rising innovations, and advanced technology.
These improvements increase the cost of 3D metrology software and hardware. Companies like communications, automotive, aerospace and defence, and industrial electronics frequently rent or lease measurement equipment services to lower operational expenses.
Customers with limited resources or short-term needs should use these services. Additionally, renting or leasing the testing equipment eliminates related expenses like measurement and repair costs and gives renting service providers the flexibility to end a service contract when necessary.
Segments Insight:
Product Insights
The global market for 3D metrology is divided into segments for video measuring devices, optical scanners and digitizers, coordinate measuring devices, and 3D automated optical inspection systems. The coordinate measuring machine is anticipated to represent a sizable portion of the 3D metrology market by 2032. The main driver of the segment's expansion is its measurement benefits, including high accuracy and precision.
Component Insights
Hardware, Software, and services comprise the three segments of the global 3D metrology market. The hardware market is expected to grow at an accelerating rate throughout the projected period because of its ability to fit into sectors such as defence, construction, aerospace, architecture, electronics, medical, and heavy machinery to sustain the quality of the products.
Application Insights
Reverse engineering, quality control & inspection, virtual simulation, and other segments make up the global 3D metrology market. The quality assurance and application segment are anticipated to grow significantly throughout the forecast period due to the use of 3D metrology for quality control and examination in the aerospace, automotive, and military industries.
End User Insights
The automotive sector generated the most revenue in 2022 due to the numerous advantages this technology offers in automobile production processes. The market is being driven worldwide by the choice of numerous automakers to use coordinate measuring machines for quality assurance and inspection in the factory. The manufacturing sector is expanding along the same lines as the automotive sector, and it is anticipated that the defence and aerospace sector will have the highest CAG during the projected period.
Additionally, the revenue from CMM unit sales in the defence & aerospace and automotive industries is very high because of the regular use of scanner devices and optical digitizers, which will lead to profitable market opportunities.
But during the anticipated period, the electronics, architecture, and construction components showed only modest growth.
Regional Insights
The largest revenue sponsor in the global 3D metrology market was North America. The popularity of 3-Dimensional metrology devices has increased due to the involvement of numerous automobile manufacturers in this area, including General Motors AND Ford Motors, as well as research facilities and sizable semiconductor companies.
The U.S.'s significant aerospace and pharmaceutical equipment industries also contribute to the region's growth. Many manufacturers of powertrains and bodies-in-white could replace traditional measurement facilities.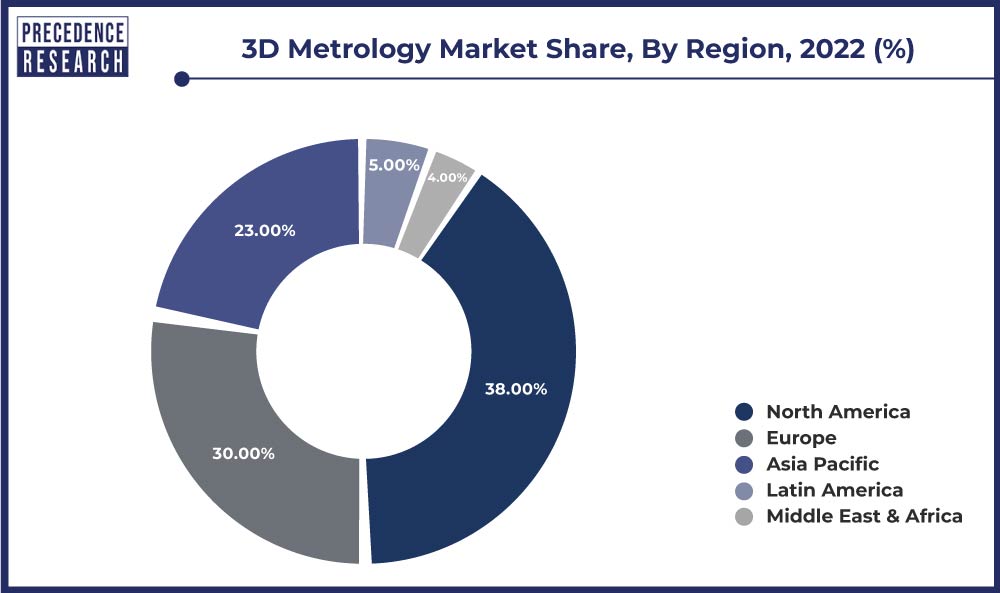 During the projected period, the market in Asia Pacific is anticipated to grow at a healthy segment. This is primarily because of the large automotive corporations present in the area, the expanding airport infrastructure, and the requirement for exact metrology products and services. Additionally, over the past few years, Malaysia, Singapore, and India have all experienced significant growth in introducing new aerospace manufacturing facilities and luring international players to open offices in the region.
China is a hot spot for engineering worldwide. The 3-Dimensional metrology software market is predicted to expand as production methods become more accurate and challenging. China currently houses several manufacturing services of international and national companies. Due to low labour costs and easy access to raw materials, the Asia Pacific region is seeing an increase in investment in manufacturing services, which has helped the market develop.
Recent Developments:
June 2021- ZEISS International and Shree Rapid Technologies collaborated to market and advance machine monitoring and scanning technology in India. Through this partnership, India will see improvements in contactless measurement technology.
May 2021- The United States partner for Capture 3D, GOM 3D non-contact measuring solutions, was acquired by ZEISS International. With this acquisition on a global scale, customers of ZEISS International will gain access to a seamlessly integrated experience to obtain the best measurement system solutions for their tasks. Additionally, ZEISS International increased its commercial footprint in the United States by adapting this strategic move.
Key Market Players:
FARO (U.S.)
Metrological Media Innovations B.V. (Sweden)
Hexagon (Sweden)
Automated Precision, Inc. (API) (US)
Nikon Corporation (Japan)
InnovMetric Software Inc. (Canada)
KLA Corporation (U.S.)
Artec Europe. (U.S.)
Carl Zeiss AG (Germany)
Shining3D (China)
Intertek Group plc (U.K.)
KEYENCE CORPORATION. (Japan)
Renishaw plc. (U.K.)
JENOPTIK AG (Germany)
Bruker (U.S.)
Mitutoyo South Asia Pvt. Ltd. (Japan)
GOM & COMPANY. (Germany)
CREAFORM. (U.S.)
CHOTEST TECHNOLOGY INC. (China)
CARMAR (Taiwan)
CyberOptics (U.S.)
Baker Hughes Company (U.S.)
Trimble Inc. (U.S.)
3D Systems, Inc. (US)
IKUSTEC (Spain)
SGS SA (Switzerland)
Perceptron, Inc. (U.S.)
Segments Covered in the Report:
(Note*: We offer reports based on sub-segments as well. Kindly, let us know if you are interested)
By Product
3D Automated Optical Inspection System Coordinate
Video Measuring Machine
Coordinate Measuring Machine
Optical Digitizer and Scanner
Others (CT System, 3D X-ray)
By Component
Hardware
Software
Services
By Application
Quality Control & Inspection
Virtual Simulation
Reverse Engineering
Others
By End User
Semiconductors & Electronics
Architecture & Construction
Aerospace & Defense
Industrial
Automotive
Medical
Others
By Geography
North America
Europe
Asia-Pacific
Latin America
The Middle East and Africa