The global 5G NTN market size was estimated at USD 3.79 billion in 2022 and it is projected to hit around USD 27.69 billion by 2032, growing at a CAGR of 22.00% between 2023 and 2032.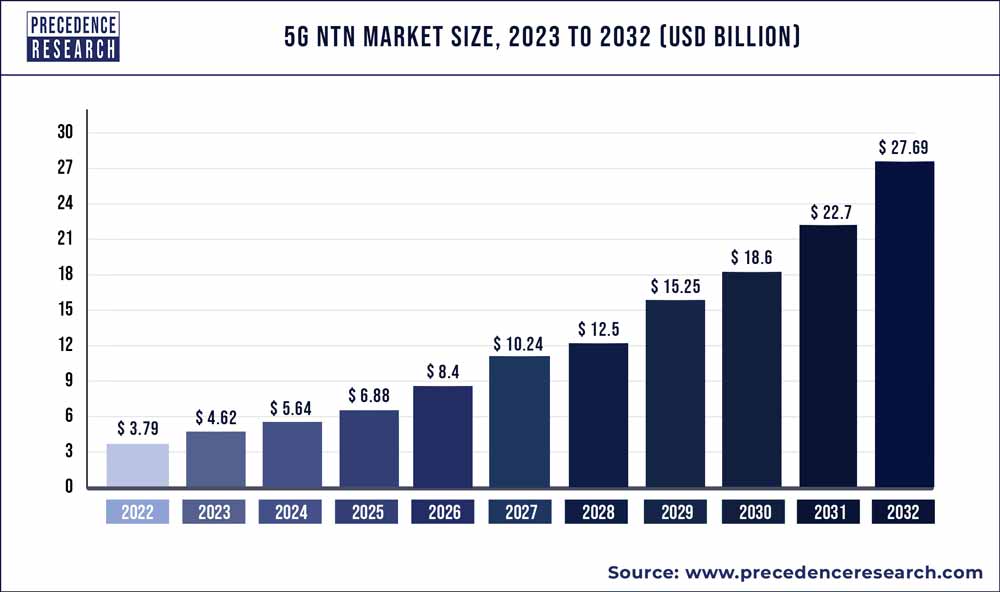 Market Overview:
5G Non-Terrestrial Networks (NTN) refer to the use of satellite or high-altitude platforms, such as drones or balloons, to provide 5G wireless connectivity to users. These networks are being developed to address the challenges of providing connectivity in remote or hard-to-reach areas where traditional terrestrial networks are not practical. 5G NTN is expected to provide a wide range of benefits, including improved coverage and capacity, reduced latency, and increased reliability. It is also expected to support a wide range of applications, including internet of things (IoT) devices, autonomous vehicles, and remote healthcare services.
Growth Factors
5G Non-Terrestrial Networks (NTN) can also have potential applications in mining operations. In the mining industry, remote areas are often difficult to reach and traditional terrestrial networks may not be available or reliable. NTN can be used to provide high-speed and reliable wireless communication to mining sites, enabling real-time monitoring, control, and communication between workers, equipment, and operations.
To enhance operations, mining companies are integrating the most recent automation technologies. The swedish mine operator boliden, for instance, collaborated with Ericsson to build an autonomous gold mine, where ericsson installed the 5G network. The demand for 5G NTN solutions is also rising as more vessels are required to support high data rates for applications like video and data file transfer.
The integration of the terrestrial network with LEO satellite to create a 5G networking system is being supported by governments in numerous nations. The government of Canada and telesat agreed to a deal for USD 600 million in July 2019 to use Telesat's LEO satellite constellation to close the connectivity gap across Canada.
In August 2022, MediaTek and Rohde & Schwarz worked together to execute a NodeB network (gNB) test over an LEO satellite to show off the ability of 5G NTN to give a more dependable and quick connection. By using a 5G network connection to power a smartphone for the first time, the business has reached a new 5G milestone.
Report Scope of the 5G NTN Market
| | |
| --- | --- |
| Report Coverage | Details |
| Market Size in 2023 | USD 4.62 Billion |
| Market Size by 2032 | USD 27.69 Billion |
| Growth Rate from 2023 to 2032 | CAGR of 22.00% |
| Base Year | 2022 |
| Forecast Period | 2023 to 2032 |
| Segments Covered | By Component, By End-Use and By Application |
| Regions Covered | North America, Europe, Asia-Pacific, Latin America and Middle East & Africa |

Market Dynamic:
Drivers
Excessive coverage expansion must be addressed.
The fifth generation (5G) Revolution mobile network technologies aim to ultimately increase coverage such that wireless services are accessible everywhere since connectivity in the future are going to be prevalent. Present a new 5G Evolution architecture that incorporates extraterrestrial networks in order to achieve that goal (NTN).
The cooperative NTN design that has been developed is interesting since it allows for greater cost efficiency through equipment sharing and frequency resource conservation through shared frequencies. Also, consumers may connect to 5G networks everywhere without knowing the connection destination by fully utilizing wireless technologies including handover, available bandwidth, and dual connection between Sites.
Restrain
Meeting demand on ground stations.
Ground stations are necessary to communicate with the satellite or high-altitude platform, and a sufficient number of ground stations must be deployed to ensure reliable communication coverage. One way to address this challenge is to use a combination of NTN and traditional terrestrial networks. Terrestrial networks can be used to provide connectivity in areas where ground stations for NTN are not available or practical.
This hybrid approach can ensure that reliable connectivity is available throughout the coverage area. Additionally, it is important to consider the regulatory and logistical challenges associated with deploying ground stations for NTN. Governments and regulatory bodies may have restrictions on the use of certain frequencies and may require permits or licenses for the deployment of ground stations. Logistics such as power, internet connectivity, and maintenance also need to be addressed.
Opportunity
Need for NTN in the evolution toward 5G and 6G.
Worldwide, 5G networks have been installed in several locations. So far, these commercial networks have provided foundational knowledge. Also, the 3GPP has started standardization linked to 5G Accelerated systems due to the requirement for the continued growth of 5G networks by embracing innovative verticals and use cases. Moreover, 5G advanced offers stepping stones for the future 6G network, connecting 5G and 6G.
The growing expectations have set a clear goal for the business and research communities: 6G should use constantly available intelligent communication to support an effective, humane, and sustainable society. Nonetheless, some of the aforementioned 5G advanced technological elements can be considered as forerunners to some of the 6G fundamentals.
In order to deliver an even better experience, XR, for instance, may progressively develop into immersive interaction for human-machine interaction, which may place additional demands on 6G.
Impact of COVID-19:
The global spread of COVID-19 Coronavirus causes a large supply chain interruption, which is anticipated to slow down the rollout of 5G in the short and medium term. In the upcoming years, the market will be more severely affected by the significant 5G hardware delays and the overall effects of the economic slump. But, in the long run, it is anticipated that the increased demand for digital health services, home connectivity, and even economic stimulus programs will accelerate the development of 5G.
For instance, to address the immediate problem, the Federal Communications Commission (FCC) has directed service providers to give consumers with more bandwidth for 60 days. But, over time, a 5G connection is anticipated to lessen the strain on network connectivity.
Segments Insight:
Component Insights
The growing use of the internet throughout the world will support industry expansion. The expanding telecom and broadband sectors have increased access to reasonably priced internet connectivity options. Nearly 4.9 billion people worldwide utilized the internet in 2021, up from 4.1 billion in 2019, based on the International Telecommunication Union (ITU).
More people will have access to e-learning platforms as more people are using the internet and taking courses or finishing degrees on them. Corporations have been pushed to adopt work-from-home policies to maintain daily operational activities in response to the growing personnel safety concerns.
Practices for working remotely to maintain everyday operations. Several businesses are concentrating on providing specialized learning solutions to meet the growing demand. For instance, LinkedIn Corporation said in April 2021 that it had plans to create an online site for businesses to offer their staff video tutorials & materials on topics like effective management and machine learning.
End-Use Insights
Manufacturers of smartphones are concentrating on baseband development to expand their 5G portfolio. As an illustration, Huawei and Samsung have been creating their own baseband for their own devices to lessen their reliance on other chip producers and boost their ability to differentiate their products through the integration of software and hardware. Vivo stated that the Exynos 980 5G chipset from Samsung would power its x30 smartphone in November 2019.
The production of 5G smartphones reached a significant peak in 2019. Samsung has revealed that it shipped more than 6.8 million Galaxy 5G phones globally in 2019, enabling users to enjoy the utmost in speed and efficiency. With five Galaxy 5G devices available to customers worldwide, such as the Galaxy Note10 5G, Galaxy s11 5G, directly addressing+ 5G, as well as the recently introduced Galaxy Fold 5G and Galaxy A90, Samsung currently holds more than 40% of the global market for 5G smartphones.
Application Insights
In order to deliver high bandwidth with reasonable latency, maintain high mobility of about 500 Kmph, and manage 10,000 times more traffic, 5G NTN concentrated on the implementation of eMBB. In release-18, eMBB application cases such as mobility improvement, MIMO, and system power reduction are listed. Some top players are using upgraded mobile broadband to provide LTE-like 5G network connection. On initiatives, such as planes and ships, 5G NTN's eMBB services offer great broadband access in remote and underserved places.
Regional Insights
A big population, expanding infrastructure, and emerging technologies all contribute substantially to the expansion of the 5G NTN market in the Asia Pacific region. A significant factor in this region's deployment of 5G NTN technologies is the necessity to increase public safety in emergency and disaster circumstances.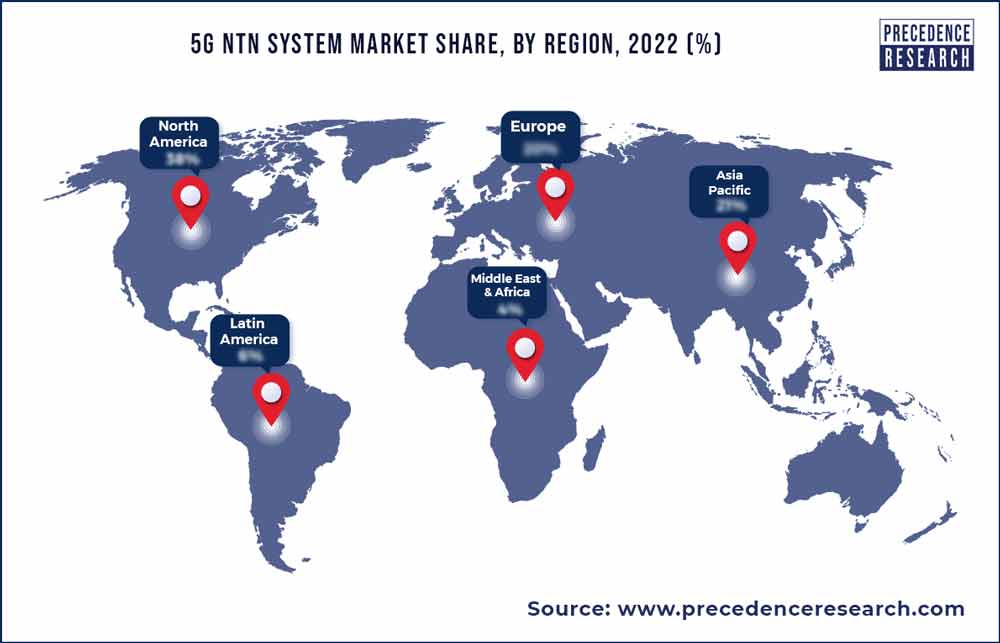 There is a growing demand for public security and safety technologies like surveillance technology, scanning and screening devices, and essential communication networks as a result of the region's boom in smart infrastructures, such as initiatives for smart cities.
To improve network coverage in various areas, a number of industries, including aerospace, maritime, defense, and others, are implementing integrated 5G networking and satellite-based solutions. The maritime sector has embraced maritime satellite technology to make use of cutting-edge communication networks to connect with staff members working in far-flung offshore sites.
Recent Development:
In February 2023, for direct communication between smartphones and satellites, particularly in distant places, Samsung Electronics Co., Ltd., a global leader in advanced semiconductor technology, has acquired standardized 5G non-terrestrial networks (NTN) modem technology. Samsung intends to include this technology into its Exynos modem offerings, speeding up the commercialization of 5G satellite communications and laying the groundwork for the Internet of Everything (IoE) era, which will be driven by 6G.
Key Market Players:
Anritsu
Ast Spacemobile
Echostar
Ericsson
Gatehouse
Gilat Satellite Networks
Globalstar
Inmarsat
Intelsat
Keysight Technologies
Mediatek
Nelco
Nokia
Omnispace
Oneweb
Qualcomm
Rohde & Schwarz
Ses
Skylo
Softbank
Spacex
Spirent
Segments Covered in the Report:
(Note*: We offer report based on sub segments as well. Kindly, let us know if you are interested)
By Component
Hardware
Solutions
Services
By End-Use
Maritime
Aerospace And Defense
Government
Mining
By Application
By Geography
North America
Europe
Asia-Pacific
Latin America
The Middle East and Africa