The global air filters market size was evaluated at USD 15.54 billion in 2022 and it is expected to surpass around USD 28.45 billion by 2032 with a noteworthy CAGR of 6.23% from 2023 to 2032. North America region dominates the market.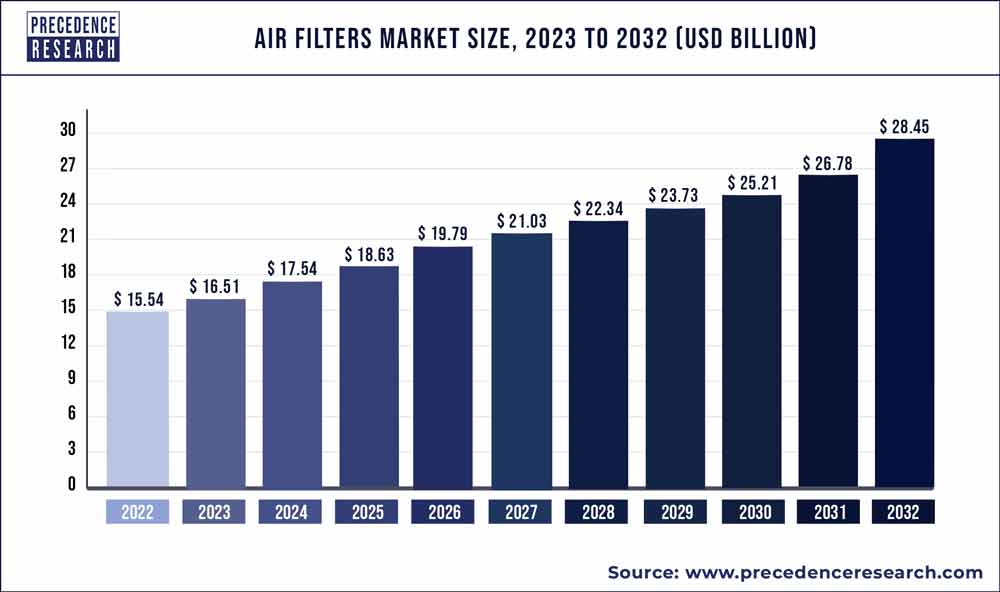 Access our Premium Real Time Data Intelligence Tool, Visit: Precedence Statistics
Key Insights:
The Asia-Pacific region is forecasted to have a significant CAGR between 2023 and 2032.
The dust collectors type segment generated more than 28% of revenue share in 2022.
The industrial end-user segment considering the majority of the market.
The air filters are a critical component of the HVAC system used in internal combustion engines to remove minute particulates. They are an essential component of air-moving devices like fan coils, terminal units, and air handlers. They clean the dirt that causes fan wheel imbalances and coil blockages. The principle is to protect people's health by keeping the ventilation system clean and ensuring a high level of hygiene (IAQ).
Furthermore, the increasing number of passenger cars on the roads, particularly in developing economies, the increased focus on environmental sustainability goals globally, the growth and expansion of the automotive industry, particularly in developing economies, and stringent government norms and regulations regarding pollution emission rate control parameters are the major factors driving the growth of the air filters market. Increasing airborne infections and rising pollution levels in urban areas are expected to propel the market.
Furthermore, rising health consciousness, as well as an improving standard of living and rising disposable income, are predicted to drive market expansion. Consumer health awareness is growing as the prevalence of airborne infectious diseases and viral infections rises. Furthermore, the emergence of several life-threatening epidemics such as Swine flu and Avian influenza has fueled the global air filter market growth over the last few decades.
However, over the forecast period, technical limitations related to air quality monitoring products are anticipated to impede market growth. Most portable and standalone air purifiers can only monitor air quality in a very small area and cannot collect data in three dimensions, which limits their acceptance to some extent.
The lockdown measures implemented by various governments in anticipation of the COVID-19 pandemic have increased sales of home products such as air purifiers, cleaning appliances, kitchen appliances, and water filtering equipment. Rising health consciousness has contributed to an increase in the global sales of air purifiers.
Growth Factors
The need for clean atmospheric air is the factor that propelled the market demand. The various factors are helping to drive the market are:
Increasing health problems due to rising air pollution
Stringent government policies to maintain air quality
Growing usage of air filters in the hospitality as well as industrial sector.
Report Scope of the Air Filters Market
| | |
| --- | --- |
| Report Coverage | Details |
| Market Size in 2023 | USD 16.51 Billion |
| Market Size by 2032 | USD 28.45 Billion |
| Growth Rate from 2023 to 2032 | CAGR of 6.23% |
| Largest Market | North America |
| Base Year | 2022 |
| Forecast Period | 2023 to 2032 |
| Segments Covered | By Type and By End User |
| Regions Covered | North America, Europe, Asia-Pacific, Latin America and Middle East & Africa |

Key Market Drivers
Increase in demand across the automotive industry to brighten the market prospect:
The demand for filter installation in all cars has increased significantly with the development of the automotive sector, which has an impact on that demand. The air filter's purpose is to keep dust, grime, and other environmental toxins out of the engine. The air filter develops dusty and clogged over time and must be updated. In addition, it has high usage in the automotive sector due to its advantages for aftermarket services. The main purpose of the filters is to clean internal combustion engines, increase efficiency, and protect car engine components from hazardous dust particles. An air filter is designed to strain the air that the engine consumes during a series of strokes.
Key Market Challenges
High initial installation and maintenance cost is causing hindrance to the market:
Filtration systems are becoming more popular as people become more concerned about the quality of their indoor air. However, one of the serious challenges hindering the market growth is the high maintenance cost of these filters. Filters are often highly expensive to replace, costing between $40 and $60, because they need to be changed and serviced every four to six months. Furthermore, many commercial and industrial end users choose low-cost filter equipment, which impedes the working environment in HVAC applications.
Key Market Opportunities
These are the following factor which is likely to create opportunity over the forecast period.
The rise in government initiatives as well as investments in clean air
Rising Technological advancement in the air-conditioning system
Increasing the installation of air filters promotes growth
Segments Insight
Type Insights
On the basis of type, air filters are segmented cartridge filters, Dust collectors, HEPA filters, baghouse filters, and others (Mist filters). HEPA filters are expected to grow at an exponential rate over the forecast period due to rapid growth in the industrial, residential, and commercial sectors. It has the power to attract atoms using its implanted cutting-edge diffusion processes.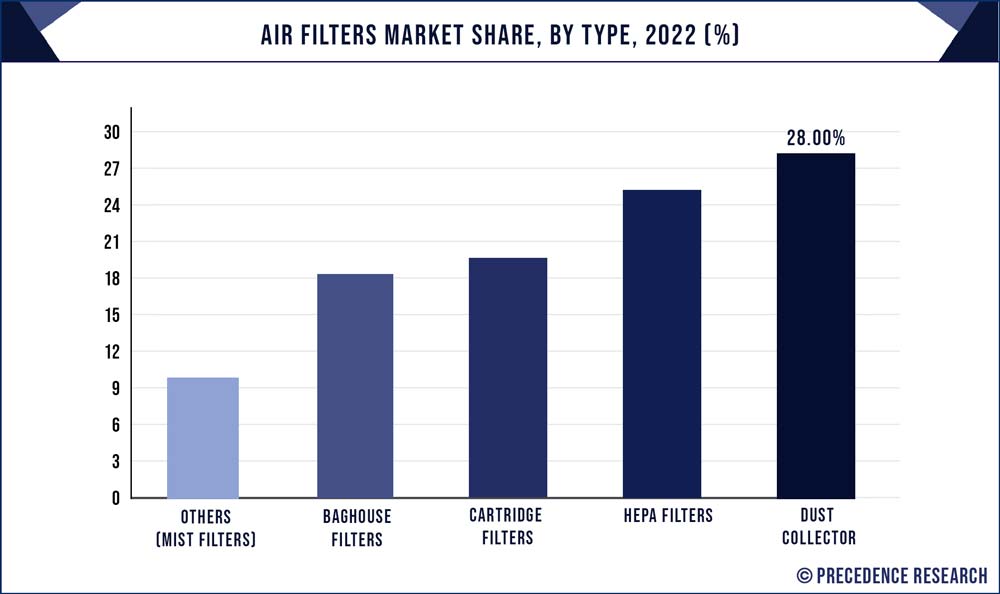 HEPA filters that remove airborne particles with an efficiency greater than 99.94% have the potential to gain traction in healthcare, automotive, commercial and residential buildings, and other applications.
Due to their capacity to control air quality, dust collectors dominate the market and account for more than 28% of revenue share in 2022. In addition to having a sizable air filter market share, MIS collectors, baghouse filters, and cartridge filters are also predicted to support market expansion.
End-User Insights
On the basis of end users, the air filter market is divided into residential, commercial, and industrial, with the industrial sector accounting for the majority of the market. Demand in the industrial sector is expected to rise significantly due to increased demand in manufacturing sites. These filters are used in the industrial sector to protect sensitive manufacturing processes by reducing the risk of microbiological and molecular contamination. As these filters play a dynamic role in all vehicles, the automotive industry captured the largest market share among industrial segments.
Air quality is an important consideration in many industrial applications. These applications need good air quality to maintain product integrity, reduce pollution, and, ultimately, enhance product safety. This excellent air quality is achieved by adding air filtering devices into industrial operations. Industrial air cleaning is the removal of solid particles and molecular pollutants from industrial operations to enhance the air quality inside a system or an environment. Due to the rising need for air purification in commercial and industrial structures, the commercial and industrial sectors account for significant shares.
Regional Insights
On the basis of geography, North America dominates the market owing to increasing pollution day by day and the high growth of the automotive industry in the region. Additionally, the American Government's increased use of preventive measures to address the problems created by air pollution from the manufacturing industry has increased demand for these filters.
The region in Asia-Pacific is anticipated to have the greatest CAGR because of the region's increasing industrialization and urbanization throughout China, India, and other nations. In China, India, and other nations, air pollution is being exacerbated by growing industrialization and urbanization. The government is implementing many steps to prevent air pollution. For instance, China introduced the largest air purifier in January 2018 and garnered favorable reviews from the nearby residential and business sectors.
Furthermore, because industrial expansion reaches its pinnacle in developing nations like China, India, Singapore, and Indonesia, the demand for air purifiers is anticipated to rise the demand, which is fueling the market expansion of the air filters market.
Indonesia plans to construct additional coal-fired power plants in Jakarta, which could exacerbate air pollution and lead to a rise in the use of air purifiers. Sales of Sharp's plasma cluster-equipped air purifier, which produces positive hydrogen ions and negative oxygen ions while inactivating some viruses, increased five-fold in Indonesia. Every month, Sharp sells close to 10,000 air purifiers using its plasma cluster technology. This is increasing the demand for proper-quality air filters.
The South Korean air filters market is rapidly developing, primarily owing to rising demand as consumers become more concerned about fine particles. A face mask with an integrated battery-powered air purifier was introduced by LG Electronics Co. Ltd. to provide filtered air both inside and outside.
Recent Developments
In October 2021, Dyson has introduced two new air purifiers that produce hot and cold air. This air purifier features HEPA 13 standard filtration that removes 99.95% of particles as small as 0.1 microns.
In SEPT.2020, PURAFIL,.INC. installed 'PuraShield Smart 1000 portable filtration systems' to develop indoor air hygiene at Northwestern University Athletics and Recreation. It is a multi-stage original filtration solution that takes away nearly 99.99% of aerosols from the air, including bacteria and viruses.
In April 2020, MANN+HUMMEL and its subsidiary Tri-Dim filter corporation began supplying HEPA filters in Ford respirators. These H13 HEPA Filters remove germs, microbiological contamination, and viruses from the supply air with consistency.
In December 2020, Zeco Aircon unveiled a technique for air purification that can eliminate dangerous viruses, such as COVID-19, which is the source of SARS-CoV2. Zircon air purifiers can be utilised in standalone units and centralised ventilation systems and have been approved as an efficient anti-viral technology by the Centre for Cellular and Molecular Biology (CCMB).
Key Market Players
Camfill
MANN+HUMMEL
CUMMINS, Inc
Donaldson company, Inc.
SPX flow, Inc.
Daikin industries Ltd.
Parker Hannifin corp.
Absolent group AB
Purafill, Inc.
Lydall gutsche GmbH & co. Kg
Freudenberg filtration Technologies SE & Co. Kg
American air filters company Inc.
ANAND Group
Segments Covered in the Report
(Note*: We offer report based on sub segments as well. Kindly, let us know if you are interested)
By Type
Cartridge filters
Dust collector
HEPA filters
Baghouse filters
Others (Mist filters)
By End User
Residential
Commercial
Industrial
By Geography
North America
Europe
Asia-Pacific
Latin America
The Middle East and Africa