The global animation market size was estimated at USD 391.19 billion in 2022 and is predicted to reach over USD 587.1 billion by 2030, growing at a CAGR of 5.2% during the forecast period 2022 to 2030.
Crucial factors accountable for market growth are:
Advancements and developments across the communications and technology sectors
Growing media and entertainment industry
Increased internet penetration across different regions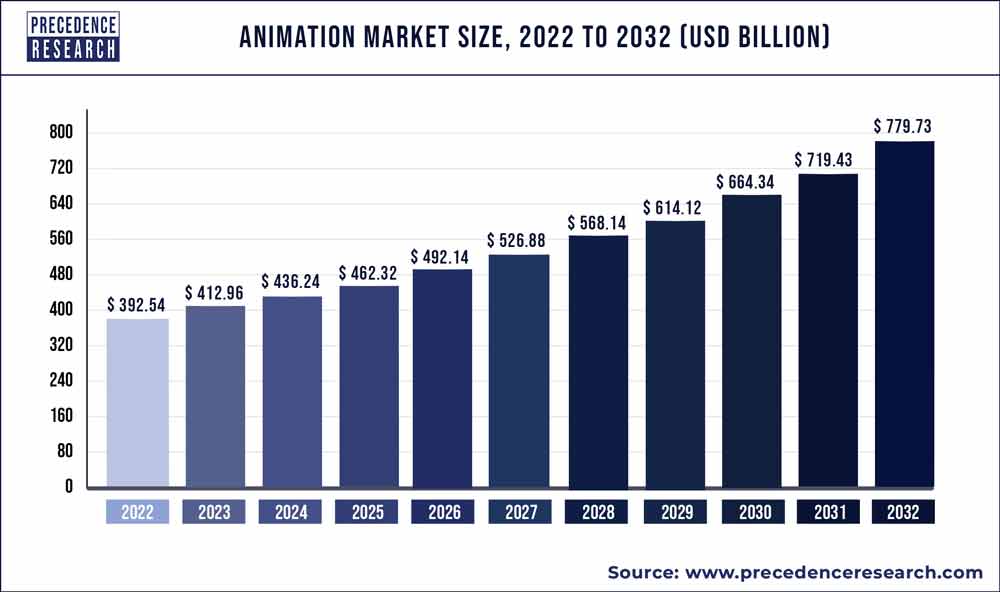 Key market Insights:
Technological advancements in the communications as well as technology sectors across the globe is major factor driving growth of the target industry. Emergence of virtual reality and artificial intelligence technologies across the globe is expected to generate new opportunities to market players operating in the global market. Various existing XR (Extended Reality) technology such as Virtual Reality and Artificial Intelligence Technologies are becoming more advanced in terms of creative use and application in the animation industry. AI will have a massive and profound effect on industrial growth and have transformative effect on the animation industry which is offering potential opportunities for the key players in the market. Rising adoption of visual effects technology in movies is another factor which is expected to boost growth of the target industry during the forecast years 2021 to 2030.
Future of Global Animation Market
The major tend witnessed in the global market in growing numbers of strategic partnerships among major key players. This trend is anticipated to continue and will boost growth of the market in the near future. For instance, in January 2020, corel corporation acquired Gravit Designer, a cross-platform, web-based vector graphic design application. In July 2020, Autodesk acquired Pype, ML and AI construction industry forum. Automating building processes by Closeout from Project Planning. In May 2018, Autodesk acquired Building connected, it provides builders with cloud-based bid procurement services.
| | |
| --- | --- |
| Report Highlights | Details |
| Market Size | USD 587.1 Billion by 2030 |
| Growth Rate | CAGR of 5.2% from 2022 to 2030 |
| Base Year | 2021 |
| Historic Data | 2017 to 2021 |
| Forecast Period | 2022 to 2030 |
| Segments Covered | Offerings, Product, Industry |
| Regional Scope | North America, Europe, Asia Pacific, Latin America, Middle East & Africa (MEA) |
| Companies Mentioned | SideFX, Adobe, Broadcast2World, Inc, Smith Micro Software, Inc., Animation Sharks, IdeaRocket, Triggerfish Studios, EIAS3D, NewTek, Inc, BRAFTON, Corel Corporation, Autodesk Inc. |
Segment Trends:
2D Animation Product Type Segment Testified Leading Market Stake in Year 2020
2D animation product type is anticipated to register highest growth rate as well as market share over the forecast period of time. The growth is attributed to its growing adoption in the various industry verticals across the globe. Along with this the motion graphics product type segment will be growing at considerable pace and will fuel growth of the animation industry in the near future.
Software offerings Segment Reported Foremost Market Stake in 2020
Software offerings are expected to account for the major share in the owing to its rising popularity in the leading countries and developing areas. Along with this the services segment is anticipated to grow at the noteworthy growth rate and will augment the market revenue.
Media and Entertainment Industry Segment Reported Foremost Market Stake in 2020
Media and entertainment industry segment is expected to account for the major share in the target market. Film, radio, television, print make up the media and entertainment industry. TV shows, Movies, news, newspapers, radio shows, magazines, music, and books are included in these segments. As both the old and modern continue to coexist, the media & entertainment industry is in a transition process. Along with this the automotive segment is anticipated to grow at the important growth rate and will expand the market revenue.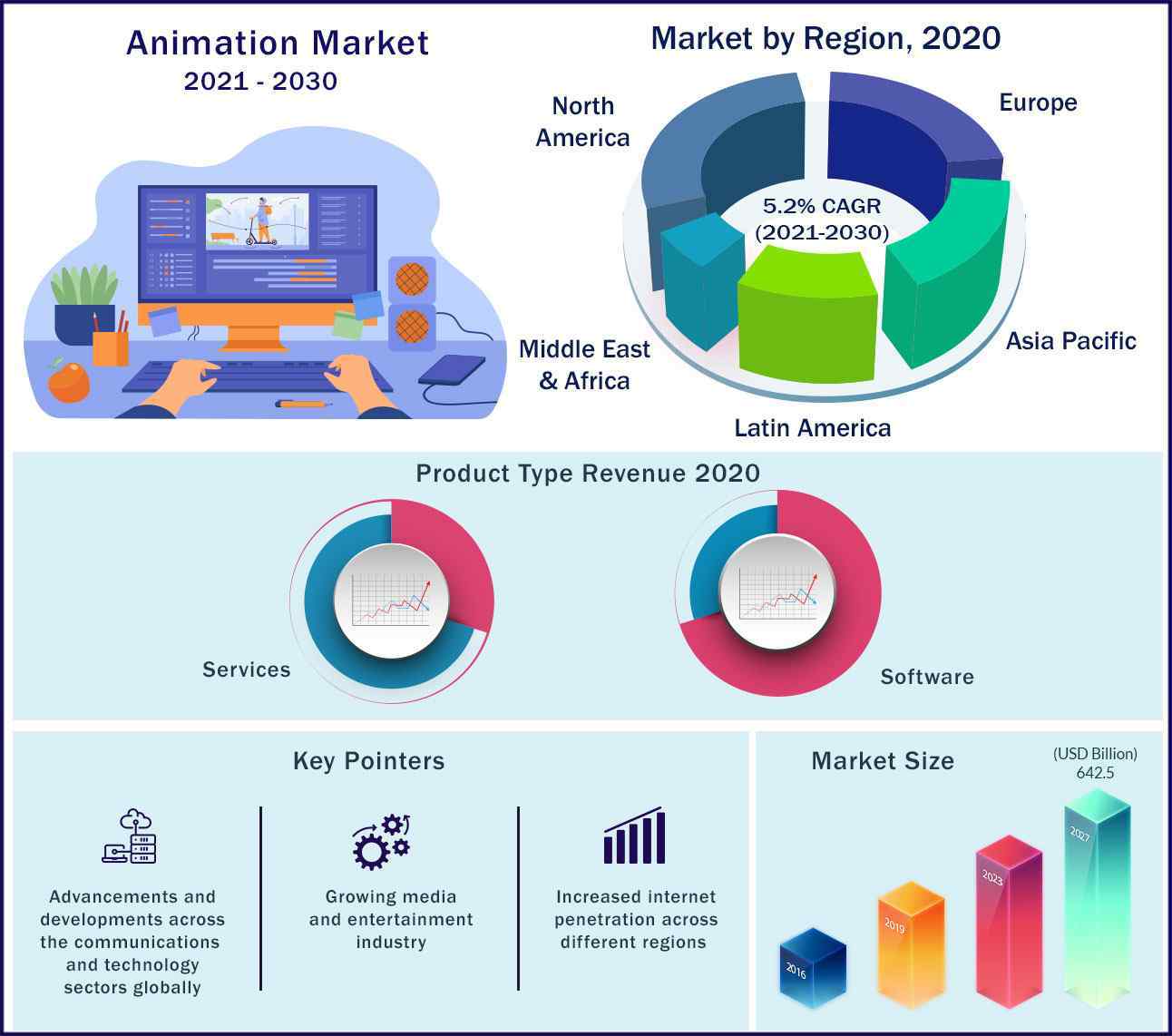 North America is Likely to be the Largest Market for Animation
The study report contracts with the business predictions of animation products around are as counting Europe, Latin America, Asia-Pacific, North America, Middle East and Africa. Animation market is occupied by North America due to augmented intake of the animation in various end use applications, coupled with presence of major companies in the North America and business plans that are executed by the chief players in the nations. Asia Pacific is probable to list the remarkable CAGR, on account of growing in the demand for the animation in evolving economies owing to increased preferences form automotive industry. Likewise, utmost of the companies functioning in the market are advancing heavily in order to get the modest edge in the animation market in Asia Pacific. Further, the Latin America as well as Middle East and Africa regions will likely to register moderate growth in the coming.
Top Players contending in the Market:
Main market firms are pointing towards the advanced developments in order to enrich place in the aiming industry. The major firms are:
SideFX
Adobe
Broadcast2World, Inc
Smith Micro Software, Inc.
Animation Sharks
IdeaRocket
Triggerfish Studios
EIAS3D
NewTek, Inc
BRAFTON
Corel Corporation
Autodesk Inc.
Videocaddy
Maxon Computer
WinBizSolutionsIndia
For upgraded status of animation, and strategies accepted by Precedence Research projected the upcoming growth of the animation market.
Key Developments:
In February 2020, Smith Micro Software acquired Circle Media, it is a software that allows families to manage all of the home's connected devices.
In July 2016, Smith Micro Software acquired iMobileMagic, it is a mobile customer products supplier that caters to clienteles attentive in mobile advancements services.
In December 2019, Maxon Computer acquired Red Giant Software, it is a developer of special effects and motion graphics software for the entertainment industry.
In April 2019, Maxon Computer acquired Redshift Rendering Technologies, it develops the award-winning Redshift, the fastest production-quality of the world, final-frame GPU renderer.
Major Market Segments Covered:
By Offerings
By Product Type
2D Animation
3DAnimation
Motion graphics
Stop Motion
Other
By Industry
Direct
Education
Media and Entertainment
Aerospace and Defense
Automotive
Healthcare
Others
By Geography
North America
Europe

Germany
France
United Kingdom
Rest of Europe

Asia Pacific

China
Japan
India
Southeast Asia
Rest of Asia Pacific

Latin America

Brazil
Rest of Latin America

Middle East & Africa (MEA)

GCC
North Africa
South Africa
Rest of Middle East & Africa