The global artificial intelligence (AI) in breast imaging market is driven by rising cancer incidence, rising healthcare infrastructure investment, an ageing population and rapidly expanding hospital networks in developing nations. The global artificial intelligence (AI) in breast imaging market is estimated to grow at the fastest compound annual growth rate (CAGR) during the forecast period.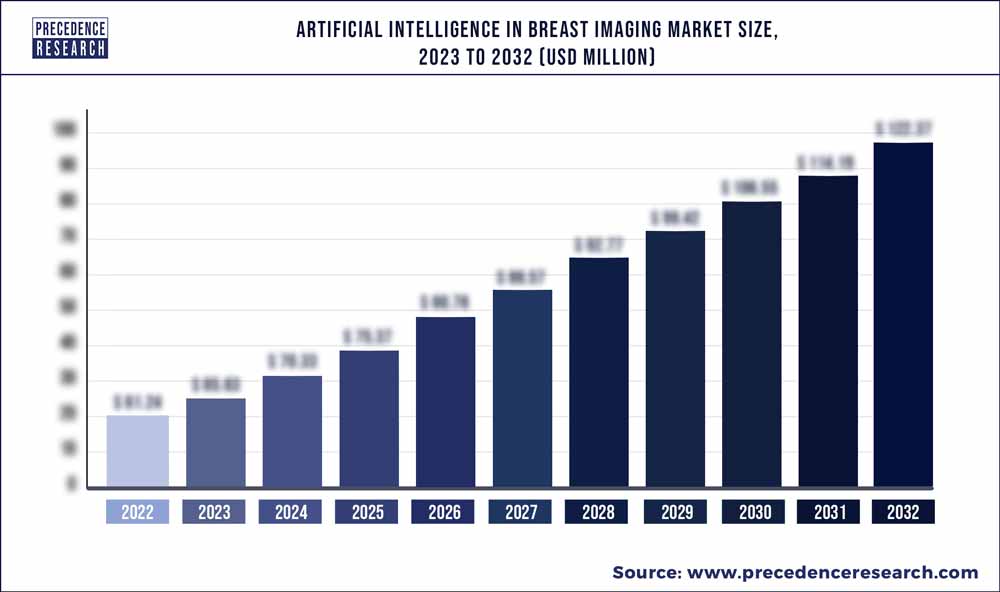 Access our Premium Real Time Data Intelligence Tool, Visit: Precedence Statistics
The use of AI for early detection in the treatment of breast cancer is carried out by utilizing data from radiomics and biopsy slides. A global initiative to create learning algorithms for deciphering mammograms by lowering the incidence of false positives serves as a support for this. AI has improved the likelihood of detecting metastatic breast cancer in lymph node biopsy full slide images. AI algorithms behave differently in various populations because to individual differences in risk factors and predispositions.
Growth Factors
The use of artificial intelligence in breast imaging aids in the early detection of the disease, which is anticipated to be a major market-driving factor. According to the WHO, cancer will be the main cause of death for roughly 10 million people in the world in 2020. With 2.26 million new cases in 2020, breast cancer was also the most prevalent type of cancer. If the cancer is discovered early on, the majority of these deaths can be avoided. The application of AI for breast cancer screening and diagnosis makes it feasible to detect breast cancer early, which is predicted to boost artificial intelligence in breast imaging expansion.
High breast cancer incidence and prevalence rate
Favourable framework for reimbursement for breast cancer diagnosis
More money being spent on oncology treatments and research
Increased breast cancer awareness and early detection
Growing health insurance
Rapidly increasing hospital infrastructure in developing countries
Increasing aging population
Report Scope of the Artificial Intelligence In Breast Imaging Market
| | |
| --- | --- |
| Report Coverage | Details |
| Largest Market | North America |
| Fastest Growing Market | Asia-Pacific |
| Base Year | 2022 |
| Forecast Period | 2023 to 2032 |
| Segments Covered | By End-Use |
| Regions Covered | North America, Europe, Asia-Pacific, Latin America and Middle East & Africa |

Key Market Drivers
High breast cancer incidence and prevalence rate - The prevalence of cancer is rising, and there are more government measures to raise the rate of screening and diagnosis. The market for artificial intelligence in breast imaging is anticipated to be driven by the rising incidence of breast cancer. The American Cancer Society predicts that 281,550 new cases of breast cancer will be identified in 2021 and that 49,290 people will die from the disease in the United States alone. Breast cancer will be the most prevalent type of cancer worldwide in 2021, according to the WHO, with more than 2.3 million new cases.
The increasing aging population will increase risk of breast cancer - As per data published by the Lancet Journal in 2021, people 65 years of age or older account for about 50% of cancer cases. Older patients frequently experience a delayed diagnosis and may receive less (intense) care, which could have an impact on the outcome. Furthermore, according to data released by the NCBI, women under 65 years of age receive the majority of new breast cancer diagnoses, and women 65 and above receive the majority of breast cancer fatalities. In addition, an area that has received little research to date, older age may be linked to biological variations in tumour and microenvironment behaviour. Furthermore, although geriatric oncology can be thought of as a subspecialty of clinical oncology, it is crucial that all oncologists and healthcare professionals are aware of the unique aspects of this field because older people are more likely to develop cancer than younger people. In addition to competing socioeconomic and health-related considerations, geriatric oncology also faces age-related alterations in tumour biology that may affect screening, diagnosis, treatment, and outcome.
More money being spent on breast cancer treatments and research - In the past century, the medication business has flourished owing to increased funding for cancer research to find a treatment for cancer. According to a study paper, $6 billion is allocated each year for breast cancer awareness and research. Additionally, despite the fact that researchers and supporters of breast cancer constantly call for more funding, the illness actually has an abundance of it.
The National Institutes of Health, the leading organization for health-related research in the country, devoted $763 million to the study of breast cancer last year, more than twice as much as it did for any other cancer. Breast cancer study is also supported by the Department of Defense, who allocated $150 million this year. Therefore, the growth of the industry is being driven by increased funding for breast cancer treatment.
Key Market Challenges
Expenses for breast cancer treatments are high
The high cost of cancer therapies will hamper artificial intelligence in breast imaging market growth. The cost of life-saving treatments is rising along with the percentage of cancer survivors. Even for those with health insurance, breast cancer treatment in the US can be very costly. In 2019, people spent $3.14 billion out of their own pockets, more than they did for any other form of cancer treatment.
People with breast cancer frequently experience financial hardship due to missed wages from having to take time off work, as well as unaffordable health insurance and care-related expenses. The mounting debt and bills can lead some people to forego or put off getting the suggested treatments. The financial strain can frequently last for years and have an impact on an individual's entire family.
Furthermore, the most expensive malignancies to treat are those that can be prevented, such as lung, colorectal, breast, and mesothelioma. According to research, most cancers can be avoided. Chance of developing cancer is influenced by our dietary habits, physical activity levels, and lifestyle decisions. The Mesothelioma Center at Asbestos.com conducted a study of cancer patients and their loved ones, and over 20% of them reported spending more than $20,000 year on out-of-pocket expenses.
Key Market Opportunities
Rise in healthcare IT expenditure - Increasing spending on healthcare IT is anticipated to favourably influence artificial intelligence in breast imaging market expansion. The increased spending is anticipated to contribute to the improvement of the digital infrastructure, which is anticipated to accelerate the usage of AI in hospitals and other healthcare facilities. Additionally, AI significantly lowers the cost of therapy and aids in the accurate and early detection of cancer.
Segments Insight:
End User Insights:
In 2022, hospitals controlled the end-use market. A hospital's ability to offer modern, well-equipped facilities has a beneficial impact on a number of variables, including the length of hospital stays, overall healthcare costs, the standard of care, and the accessibility of emergency care. In the coming years, market growth will be aided by the rise in expenditures in healthcare infrastructure around the globe. Investing has made it possible to buy more advanced infrastructure and testing tools. Additionally, it has been successful in offering adequate healthcare coverage for all hospital-based medical services. These are the main elements that will support hospital segment development over the ensuing years.
Regional Insights:
The artificial intelligence in breast imaging market was dominated by North America in 2022 and is anticipated to expand at a significant rate during the forecast period. The market for breast imaging is expanding as a result of the increasing number of breast cancer instances in this area.
According to statistics from the American Society of Clinical Oncology, there will be about 287,850 new cases of invasive breast cancer, 51,400 cases of DCIS, and 43,250 breast cancer-related deaths among US women in 2022. Thus, it is probable that the high prevalence of breast cancer in the U.S. will fuel the expansion of the breast imaging industry there.
The global artificial intelligence in breast imaging market will expand at its fastest pace, though, in Asia-Pacific. The main factors propelling the market's expansion are the rising incidence of breast cancer, significant R&D expenditures on treatments for the disease, and advancements in breast imaging technologies. According to the Centers for Disease Control and Prevention, regardless of race or ethnicity, breast cancer is the most common malignancy in most Asian nations (CDC).
Recent Developments:
In May 2022 – GE Healthcare and the National Oncology Center of Singapore collaborate (NCCS). By utilising artificial intelligence and text processing, this collaboration aims to encourage the possibility of more personalised cancer treatment options and give patients the chance to examine clinically important information along the patient journey.
In November 2020 - Together with Mammography Instructors, LLC, Densitas, Inc. The project aims to create a telehealth technician training platform driven by artificial intelligence that will help mammography clinics keep their operations running smoothly.
Key Market Players:
GE Healthcare
Hologic, Inc.
Gamma Medica, Inc.
Siemens Healthcare
Fujifilm Holdings Corp.
Toshiba Corporation
Aurora Imaging Technology, Inc.
Segments Covered in the Report:
(Note*: We offer report based on sub segments as well. Kindly, let us know if you are interested)
By End-Use
Hospitals
Ambulatory Surgical Centers
Specialty Clinics & Trauma Centers
By Geography
North America
Europe
Asia-Pacific
Latin America
The Middle East and Africa