The global biocides market size was estimated at USD 9.75 billion in 2022 and is expected to attain around USD 15.35 billion by 2032, growing at a CAGR of 4.70% during the forecast period from 2023 to 2032. The U.S. biocides market was valued at USD 2.1 billion in 2022.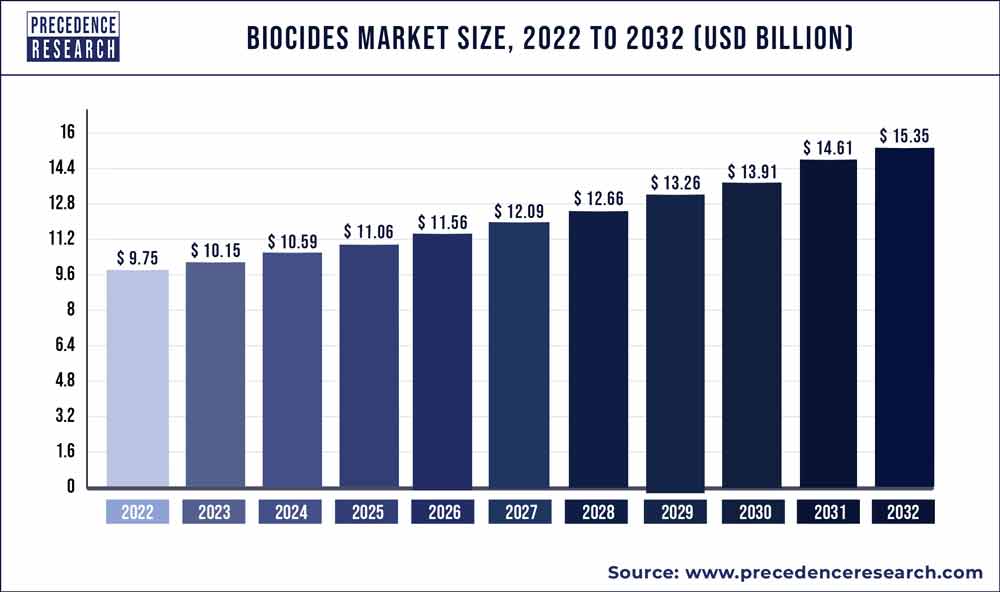 Access our Premium Real Time Data Intelligence Tool, Visit: Precedence Statistics
Key Takeaways:
Asia Pacific has generated more than 37% of revenue share in 2022.
By Type, the halogen compounds segment dominated the market in 2022.
By Application, the water treatment segment led the market in 2022.
Market Overview:
Biocides are used to sanitize, eradicate, and prevent germs like fungi, bacteria, and viruses. For diverse applications in the consumer goods, paints & coatings, and water treatment industries, this substance is typically mixed with other materials. Depending on where the raw materials come from, they can be divided into natural biocide and synthetic biocide. Growing customer awareness of personal hygiene and cleanliness is a factor driving up demand for the product. Also, the sensitivity of people to allergens and dust is expanding the demand for biocides. The market's expansion may also be ascribed to manufacturer investments from both established and developing countries, product expansion, and improving performance for expanding applications. Also, this product type has been adopted by many industries due to its efficient characteristics and relatively inexpensive cost.
Growth Factors:
In the upcoming years, the product's consumption will increase due to increasing innovations made by different multinational corporations to diversify their product offerings and reduce the risks associated with biocides, as well as the growing preference for natural biocides. The market from the water and wastewater and wood preservation businesses continues to make the U.S. the dominating nation in the North American regional market. U.S. water quality laws are severe, and they encourage the use of EPA-registered biocides in water treatment facilities. One of the most important water treatment facilities in the US that use biocides is Blue Plains Advanced WWTP. The widespread use of wood in residential, commercial, and industrial buildings has benefited the expansion of biocides' usage in wood preservation.
When compared to their use, there is a 15-20% increase in tree planting, which benefits the environment. The U.S. market growth for biocides has been further driven by the significant demand for paints and coatings. Globally, increasing demand for biocides from sectors including cleaning and sanitation, water treatment, paints and coatings, and others has sparked an increase in the production and creation of different biocide formulations. Since biocides have an oxidizing capacity that is more than twice that of chlorine, they are highly consumed by wastewater treatment facilities around the world. Biocides, such as chlorine dioxide, are used in wastewater treatment operations at lower concentrations and are very effective as water sanitizers and disinfectants.
Report Scope of the Biocides Market:
| | |
| --- | --- |
| Report Coverage | Details |
| Market Size in 2023 | USD 10.15 Billion |
| Market Size by 2032 | USD 15.35 Billion |
| Growth Rate from 2023 to 2032 | CAGR of 4.70% |
| Largest Market | Asia Pacific |
| Base Year | 2022 |
| Forecast Period | 2023 to 2032 |
| Segments Covered | By Type and By Application |
| Regions Covered | North America, Europe, Asia-Pacific, Latin America and Middle East & Africa |

Market Dynamic:
Drivers:
Increasing demand for wastewater treatment
By removing impurities, wastewater treatment produces effluent that can be recycled back into the water cycle. The treatment happens at a wastewater treatment facility. Sewage treatment plants are used to treat household wastewater, sometimes referred to as municipal wastewater or sewage. Either a separate industrial wastewater treatment facility or a sewage treatment plant treats industrial wastewater (usually after some form of pre-treatment). Leachate treatment plants and agricultural wastewater treatment facilities are additional varieties of wastewater treatment facilities. Phase transition (such as sedimentation), chemical and biological procedures (such as oxidation), and cleaning are examples of procedures that are frequently used to clean water.
The halogen group of chemical elements includes chlorine, fluorine, bromine, iodine, astatine, and other elements. These biocides, which are used in municipal applications, are made using different halogens to take advantage of their disinfectant properties. Halogen biocides are substances that are used to deter, get rid of, make harmless, or control dangerous organisms. Chlorine and bromine are biocides that destroy bacteria by oxidizing them through an electrochemical process. These are the most popular methods for removing organic susceptibilities from water, according to halogen biocides market statistics, because they are inexpensive and have beneficial germ-killing properties that can be utilized in both municipal and industrial applications.
Restrain:
Increasing costs of raw materials will impact the market
Biocides are composed of a variety of substances, including phenols, halogens, ammonium compounds, and iodine. These chemicals' escalating costs are making it difficult for the market to expand. In addition, it is anticipated that government limitations on the import and export of specific chemicals will curtail output, so limiting market expansion. These rules are put in place to lessen the damaging effects that these chemicals have on the human body and health, as well as to safeguard water bodies and stop the spread of water pollution. For example, the introduction of the Biocidal Product Regulation, REACH, classification, and labeling and packaging regulation helped to ensure the highest level of protection for the environment and human health.
Opportunity:
Growing demand from the paints and coatings sector will support market expansion
One important aspect propelling the market is an expansion in the paints and coatings sector. In this industry, the product is utilized to protect the painted surface from microbiological contamination caused by fungal or bacterial growth through exposure to the outside environment and air pollution. The surfaces include the exteriors of cars, consumer products, and the walls of buildings and other infrastructure. The market for these goods has also increased due to the growing preference for water-based paints over oil-based paints. Once the paint has dried, this product is applied to the set with a formulator over the painted surface. The market is also expanding as a result of expanding uses in the automotive sector to safeguard the body, brakes, handle, and other interior and exterior auto elements.
Impact of Covid 19:
The global coronavirus outbreak has had an effect on a number of end-users in the industry, including paints and coatings, food and drink, textiles, and wood. The substance finds extensive use in paints and coatings, which are also employed in the automobile and construction industries. The manufacture of the aforementioned industries has stopped as a result of the worldwide lockdown. This has negatively impacted the growth of the biocides market by causing a drop in product demand, a disturbance in the supply chain, and a halt to painting and automotive exports.
However, because this commodity is a crucial raw ingredient used to make disinfectants, cleaners, and preservatives, the market is anticipated to settle rather quickly. Consumer awareness of cleaners and disinfectants to prevent virus spread has increased as a result of the epidemic. The desire for packaged, high-quality foods with longer shelf lives is another factor boosting the use of this product in food and beverage preservation. The increase in virus transmission is also fueling this market's need for medical and hospital cleaning and disinfection services.
Segments Insight:
Type Insights:
The market is divided into types of phenolic, organic acids, organosulfur, metallic compounds, quaternary ammonium compounds, halogen compounds, and others. Chemicals like chlorine and iodine are examples of halogen compounds. They are applied in the food and beverage sector for preservation as well as in wastewater treatment facilities and swimming pool water treatments. Halogen compounds are increasingly being used in a variety of industrial applications, which is encouraging market expansion.
In surface cleansers, disinfectants, shampoo, personal care items, detergents, and fabric softeners, quaternary ammonium compounds like benzalkonium chloride and benzethonium chloride are mixed with surfactants. These substances have the ability to prevent the growth of microorganisms without endangering human health. This is helping the segment to grow, along with the rising demand for consumer goods. Organosulfur compounds lack chlorine, making them perfect for applications requiring non-corrosive materials. These substances are employed in engineering products, home goods, air conditioning, and autos. A significant driver propelling the market is the high demand for these applications.
Application Insights:
Water treatment, food and beverage processing, personal care, paints and coatings, oil and gas, and others are included in the market segmentation for biocides based on application. The air purification category is anticipated to develop more quickly throughout the forecast period, 2023–2032, whereas the water treatment segment dominated the market in 2022. The need for safe drinking water is growing due to population growth and pollution, which is expected to raise demand for graphene. The WHO/UNICEF Joint Monitoring Programmed for Water Supply and Sanitation estimates that at least 1.8 billion people consume tainted water worldwide.
Also, significant manufacturing sectors produce a lot of wastewater every day, including chemicals, oil and gas, food and beverage, mining, and textiles. Many pollutants, including non-biodegradable compounds, organic waste, and minute amounts of metals and oxides, are present in this water. Since the contaminated water may otherwise result in gastrointestinal issues, diarrhea, nausea, dehydration, and even death, purifying the effluent water is necessary. Hence, increasing Biocide usage in water purification will have a beneficial effect on market expansion.
Regional Insights:
Over the projected period, the worldwide market is anticipated to generate the most value in the Asia Pacific region. The demand from the area's constantly expanding population can be credited with driving up construction activity. Advanced technologies are being further embraced by developing nations like China, Japan, and India in order to improve product development in the paints and coatings sector. In addition, the need for industrial and consumer applications is anticipated to result in higher usage of cleaning and water treatment goods. Due to its vast population, which must be fed, housed, and maintained while keeping the environment clean for people, China is the largest consumer of all the products. North America is anticipated to experience slow growth during the projected time.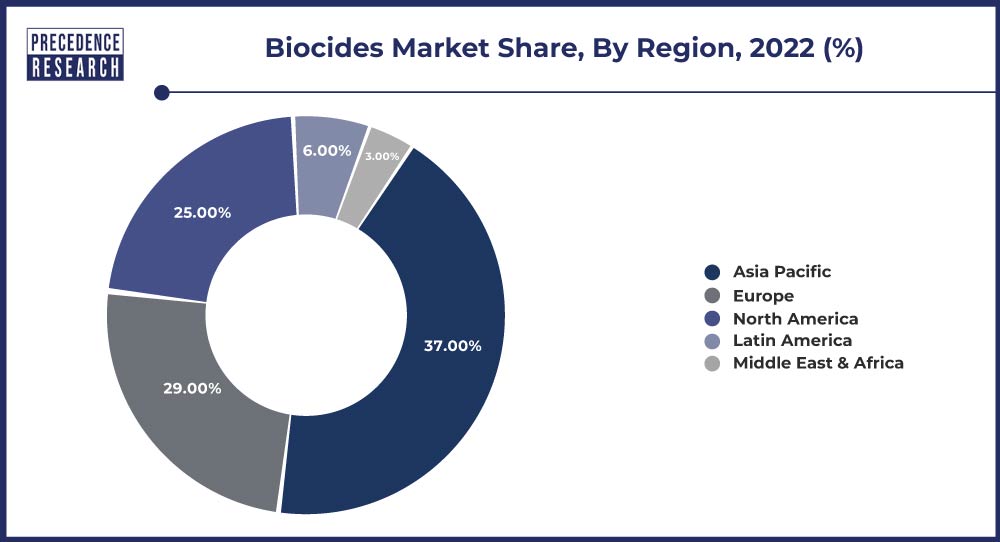 The market is being driven by quick technological development and innovation due to regional economic growth. The main market for this product is the United States, where there is a considerable need for both wood preservation and paints & coatings. Construction, furniture, home and personal care, and kitchenware all use wood, which opens up markets for the products. Also, the move towards bio-based and natural biocides is anticipated to support market expansion.
Recent Development:
The purchase of INTACE, a biocide company with headquarters in Paris and a maker of specialized fungicides for the packaging sector, by LANXESS in January 2021 boosts the company's biocides division. LANXESS is enhancing its biocide technology platform for labels and packaging in the consumer goods sector with the purchase of INTACE.
International Flavors & Fragrances Inc. successfully integrated DuPont's nutrition and Biosciences in 2021. A global leader in elevated ingredients and services for the food and beverage, personal services, and health and wellness markets will result from the merger of IFF and N&B.
Key Market Player:
Lanxess AG
BASF SE
Albemarle Corporation
Hubei Jinghong Chemicals Co. Ltd.
Shanghai Zhongxin Yuxiang Chemicals Co. Ltd.
Neogen Corporation
Troy Corporation
Lonza
Solvay SA
Lubrizol
Wuxi Honor Shine Chemical Co. Ltd.
Iro Group Inc
Finoric LLC
Chemtreat, Inc.
Segment Covered in the Report:
(Note*: We offer report based on sub segments as well. Kindly, let us know if you are interested)
By Type
Halogen Compounds
Quaternary Ammonium Compounds
Metallic Compounds
Phenolic
Organic Acids
Organosulfur
Others
By Application
Water Treatment
Food and Personal Care Products
Cleaning Products
Furniture and Furnishings
Clothing and Textiles
Leather and Suede
Paints and Coatings
Fuel Preservatives
Others
By Geography
North America
Europe
Asia-Pacific
Latin America
Middle East and Africa