The global bolts market size was reached at USD 43.76 billion in 2022 and it is expected to hit around USD 68.62 billion by 2032, poised to grow at a CAGR of 4.6% from 2023 to 2032. Bolts are one of the most used fasteners in a variety of mechanical applications. This market is highly fragmented, with several established players and new entrants competing for a share of the market.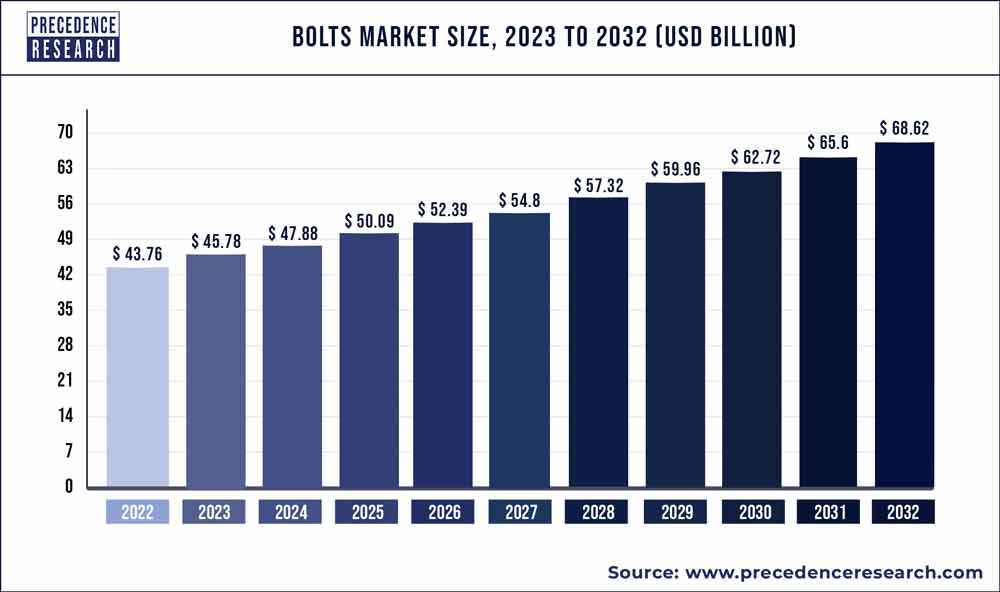 Key Takeaways:
Asia Pacific generated more than 32% of the revenue share in 2022.
By material, the metals segment is dominating the global market with the maximum revenue share.
By end-user, the construction segment contributed the major revenue share in 2022.
Market Overview:
Various screws, nuts, and bolts are manufactured, distributed, and sold in the fiercely competitive bolts market. Construction, aerospace, petrochemical, motors and pumps, automobiles, household appliances, plumbing, and other industries depend heavily on it. The invention of new materials and technological advancements greatly aids the manufacture of bolts. The budget can also impact broader economic conditions, such as inflation, interest rates, and job levels, which might indirectly affect the bolt market.
For instance, the cost of manufacturing and acquiring bolts could increase if the budget results in more significant inflation or borrowing rates, which might affect demand and prices. Conversely, if the budget boosts employment and economic growth, it might raise the need for bolts across various industries, including manufacturing, transportation, and construction.
Growth Factors:
Bolts are in great demand since they are necessary parts for construction, manufacturing, and other industries. Due to the great demand, a continual flow of consumers enters the market. Because of the intense competition in the bolts market, consumers may benefit because it lowers prices and motivates businesses to develop and enhance their goods. Bolts used in manufacturing and construction are in demand as industrialization spreads around the globe.
The expansion of the bolts market is being driven by the construction of new infrastructure, such as buildings, bridges, and roads, as bolts are an essential part of the construction. For instance, if the building industry is experiencing growth, there may be an increase in demand for steel or titanium bolts, which might cause the cost of these materials to raise the price of the bolts manufactured. Bolts are used widely in the manufacture of automobiles, making the automotive industry one of the biggest consumers of bolts.
Report Scope of the Bolts Market
| | |
| --- | --- |
| Report Coverage | Details |
| Market Size in 2023 | USD 45.78 Billion |
| Market Size by 2032 | USD 68.62 Billion |
| Growth Rate from 2023 to 2032 | CAGR of 4.6% |
| Base Year | 2022 |
| Forecast Period | 2023 to 2032 |
| Segments Covered | By Material and By End-User |
| Regions Covered | North America, Europe, Asia-Pacific, Latin America and Middle East & Africa |

Market Drivers:
Technological advancements
As technology continues to advance, new materials and production methods are being developed that can improve the strength, durability, and performance of bolts. This can lead to the development of more efficient and effective bolts, which can benefit both consumers and manufacturers. For instance, 3D printing technology is being used to create bolts with complex shapes and geometries that are not possible using traditional manufacturing methods.
This can result in bolts that are stronger, lighter, and more efficient than their traditional counterparts. In addition, bolts are coated with various materials, such as zinc, to improve their resistance to corrosion, rust, and other forms of wear and tear. Smart bolts with built-in sensors are now available, which can detect changes in temperature, pressure, and other variables.
These bolts can provide real-time information on the health and performance of the bolts, allowing for better maintenance and monitoring. Manufacturers are now producing self-locking bolts, which use friction or other mechanisms to prevent them from loosening over time. This is especially useful in applications where bolts are subjected to vibration or other forms of movement.
Market Restraints:
Market manipulation
The stock market is vulnerable to market manipulation, where large investors or insiders can influence the price of stocks for their own benefit, at the expense of smaller investors. Changes of tax policies, such as tax incentives for businesses that use domestic bolts or penalties for using imported bolts, could also impact the bolt market. These policies could affect the competitiveness of domestic bolt manufacturers, as well as the price and availability of bolts for consumers.
Regulatory changes
The stock market is subject to government regulations, which can change quickly and unpredictably. This can have a significant impact on stock prices and investment strategies. Government can invest in infrastructure projects such as roads, bridges, buildings, and other public works that require a large number of bolts and fasteners. This can create a demand for bolts and help grow the market.
Financial bubbles
The stock market can sometimes experience financial bubbles, where prices of certain stocks become inflated beyond their true value. When the bubble bursts, it can lead to significant market correction and losses for investors. If the budget includes increased spending on infrastructure projects, it could lead to an increase in the price of bolts, as well as greater competition among bolt suppliers to meet the demand. In case of tariffs or other trade policies that affect bolt imports and exports, it could impact the supply and demand dynamics of the bolt market. For example, if tariffs on bolt imports increase, domestic bolt suppliers may benefit from reduced competition, but consumers may have to pay higher prices.
Limited control
Investors have limited control over the companies they invest in. They may have a say in major decisions through voting rights, but they do not have direct control over the day-to-day operations of the company.
Market Opportunities:
With the increasing focus on sustainability, there is a growing demand for eco-friendly bolts made from materials such as recycled steel or biodegradable plastics. Many industries require customized bolts that meet their specific requirements. This has led to the development of specialized bolt manufacturing companies that cater to the specific needs of various industries. Bolts are essential components used in various industries such as construction, automotive, aerospace, and electronics. With the growth of these industries, the demand for bolts is also increasing.
Impact of COVID-19:
The pandemic has caused a shift in market demand for bolts as some industries have experienced increased demand for their products. For example, the medical equipment industry has seen a surge in demand for its products, which has led to increased demand for bolts and other fasteners used in the production of medical devices. The pandemic has caused a decline in demand for bolts and other industrial products as many industries, such as aerospace, automotive, and construction, have slowed down or shut down operations altogether.
This has resulted in reduced sales and revenue for bolt manufacturers. The pandemic has caused volatility in the prices of raw materials used in the production of bolts, such as steel and aluminum. The uncertainty caused by the pandemic has also led to fluctuations in the prices of finished bolts in some markets.
Segments Insight:
Material Insights:
Metals are dominating the market with the highest revenue share. Advances in materials science and technology can also impact the market for bolts. For instance, the development of new, stronger materials that can be used to make bolts may create a shift in demand away from traditional materials like steel. Metals bolts are generally stronger than plastic bolts, which makes them more suitable for heavy-duty applications that require high strength and durability.
It can withstand high temperatures without degrading or losing their strength. Whereas, plastic bolts may melt or deform when exposed to high temperatures. Similarly, if there is a shortage of a particular material used to make bolts, this can also affect the market. For instance, if there is a shortage of steel, manufacturers may switch to using other materials like aluminum or brass to make bolts, which can drive up the demand for these materials and the corresponding bolts.
End User Insights:
The construction segment holds the maximum revenue Bolts are used to connect structural members such as beams, columns, and trusses. This is because bolts provide a strong and secure connection, which is important in ensuring the stability and safety of a structure. It is often used to anchor heavy equipment to concrete or other surfaces.
This is necessary to ensure the equipment remains stable and does not move, which can be dangerous in certain applications. It can also use to repair damaged structures. For instance, if a beam is cracked, bolts can be used to fasten a steel plate to the damaged section, effectively repairing it.
Bolts play a crucial role in aerospace applications. Bolts are used as structural fasteners to join the major components of the aircraft, such as wings, fuselage and tail. These bolts must be designed to withstand the high loads and stresses that occur during flight and to maintain the structural integrity of the aircraft. It is used to attach the engines to the aircraft structure.
These bolts must be able to withstand the high temperatures and vibrations generated by the engine. They are used to attach the landing gear to the aircraft. These bolts must be able to withstand the high loads and stresses of landing and takeoff.
Regional Insights:
The North America bolt market is driven by factors such as growing demand for construction and infrastructure projects, increased investment in renewable energy, and technological advancements in bolt materials and manufacturing processes. Additionally, the growth of industries such as automotive, aerospace, and defense also contribute to the demand for bolts in the region. The United States is the largest market for bolts in North America, accounting for the majority of the demand. The country's strong manufacturing industry and significant investment in infrastructure projects contribute to this demand. Canada is also a significant market for bolts, driven by its construction and mining industries.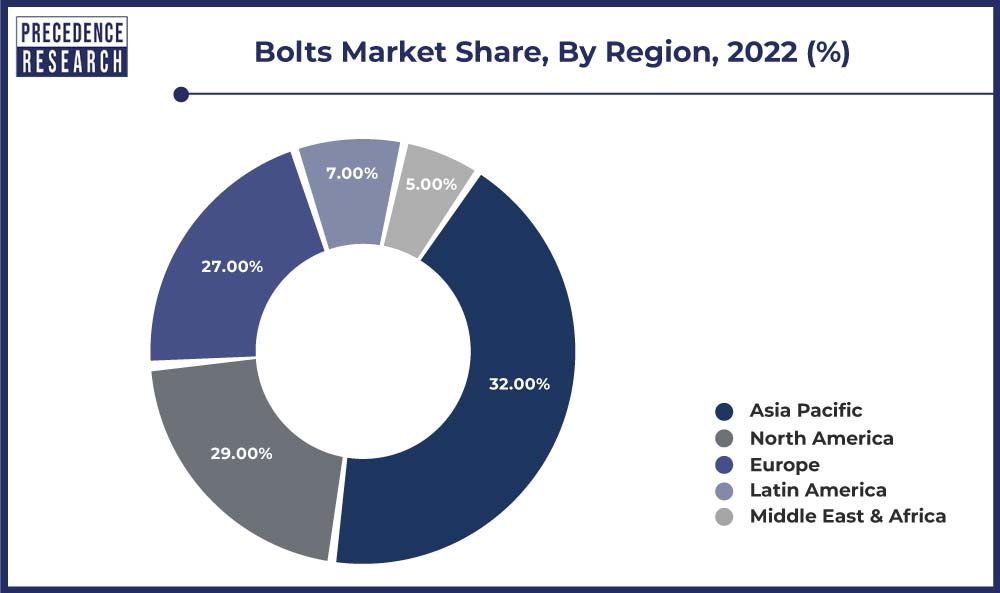 One of the main ways that the bolt market influences the Asia Pacific region is through its role in supporting the manufacturing sector. Bolts are a critical component in the production of many different types of machinery and equipment, including automobiles, electronics, and construction equipment. As a result, the demand for bolts in the Asia Pacific region is closely tied to the overall health of the manufacturing industry.
The Asia Pacific region is also a significant producer of bolts, with several large manufacturers, supporting the growth of their businesses and contributing to the overall economic development of the region. The bolts also influence the construction industry in the Asia Pacific region. As the region continues to experience rapid urbanization and infrastructure development, the demand for bolts used in construction applications such as structural steelwork, scaffolding, and concrete reinforcement is expected to increase.
The Middle East region has a significant presence in the bolts market, with several manufacturers and suppliers operating in the region. The region's booming construction industry has been a major driver of growth in the bolts market. With several large-scale construction projects underway, such as the World Expo 2020 in Dubai and the FIFA World Cup 2022 in Qatar, the demand for bolts and other fasteners has increased substantially.
Furthermore, the Middle East is home to several major ports, which have become key logistics hubs for trade and commerce. The increased transportation of goods has also led to a rise in demand for bolts and other fasteners used in shipping and transportation industries.
Recent Developments:
In March 2023, According to Newswires report, it says that the importance of bolts market construction will hit $81.1 Billion market growth by 2030.
In August 2022, Dokka Fasteners produced premium, high-tensile fasteners for demanding industrial applications. The market includes heavy machineries, such as cranes and steel structures, offshore applications, oil and gas, and wind turbines, which supply foundations, towers, cells, and blades.
Key Market Players:
Rockford Fastener, Inc.
Fabory
Jignesh Steel
Big Bolt Nut
Würth Industrie Service GmbH & Co. KG
Brunner Manufacturing Co., Inc.
KD FASTENERS, INC.
B&G Manufacturing
AB Steel Inc.
REYHER
Fastenal Company
Viha Steel & Forging
KELLER & KALMBACH GmbH
Segments Covered in the Report:
(Note*: We offer report based on sub segments as well. Kindly, let us know if you are interested)
By Material
By End-User
Furniture
Construction
Lawn and Garden
Heavy Machine Equipment
Aerospace
Petrochemical
Motors and Pumps
Automotive
Home Appliances
Plumbing Products
Others
By Geography
North America
Europe
Asia-Pacific
Latin America
The Middle East and Africa