The global cellulite treatment market size was reached at USD 1.93 billion in 2022 and it is expected to surpass around USD 5.73 billion by 2032, growing at a CAGR of 11.5% over the forecast period from 2023 to 2032.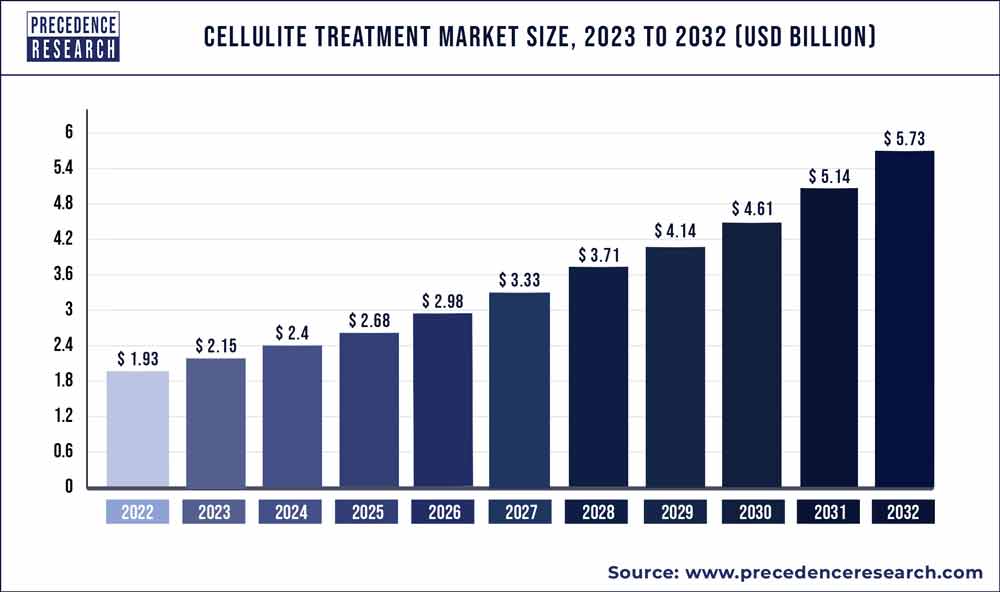 Access our Premium Real Time Data Intelligence Tool, Visit: Precedence Statistics
Key Takeaways:
North America generated the maximum revenue share of around 36% in 2022.
By procedure type, the non-invasive segment captured of around 36.50% of revenue share in 2022.
By cellulite type, the soft cellulite segment generated more than 46% of revenue share in 2022.
By end-use, the clinics and beauty centers segment contributed more than 61% of revenue share in 2022.
Market Overview:
The market is expanding due to the rise in obesity rates brought on by fast food consumption and sedentary lifestyles. Cellulitis develops as a result of excess weight and high obesity rates. Additionally, the market's expansion is aided by the rise in cosmetic procedures performed and the number of cosmetic clinics. Additionally, rising healthcare costs, an increase in cosmetic surgeries, and improvements in cellulite treatment are all factors fuelling the expansion of the cellulite treatment industry. Further fuelling the growth of the cellulite treatment market is the rising demand for physically appealing appearances.
Major drivers of the market's expansion include rising healthcare costs, increased cosmetic hospitals, and growing public awareness of cutting-edge cellulite treatments. The rise in private hospitals offering advanced cellulite treatments also fuels the market's expansion. Furthermore, as the number of medical professionals performing cosmetic procedures rises, the number of cosmetic surgeries performed in hospitals also grows daily. Moreover, the market for cellulite treatments is expanding as hospitals adopt newer technologies.
The advancement of sophisticated cellulite treatment tools, a rise in R&D activities, new product approvals by regulatory agencies like the U.S. FDA, and product launches in the market all contribute to the industry's expansion. Additionally, the expansion of the cellulite treatment market is influenced by increases in healthcare spending, the number of cosmetic clinics, and the quality of healthcare facilities in developing countries. The Cellulite Treatment Market Size may need to be improved by the high cost of cutting-edge cellulite treatments and the poorly developed healthcare infrastructure in developing nations.
Women are more likely to experience cellulite than men. Given the complexity of women's health issues becoming more and more complex, cellulite prevalence is also rising. It turns out that the skin develops a defamation or a curd when common fats flock between collections of connective tissues. Although it can appear on the breasts, stomach, and arms, cellulite most frequently develops on the thighs, hips, and thighs. No pain or discomfort is associated with cellulite, so it cannot be considered a disease. The structure of cellulite is unclear, and neither is cellulite a measure of obesity nor a sign of extra fat.
Report Scope of the Cellulite Treatment Market
| | |
| --- | --- |
| Report Coverage | Details |
| Market Size in 2023 | USD 2.15 Billion |
| Market Size by 2032 | USD 5.73 Billion |
| Growth Rate from 2023 to 2032 | CAGR of 11.5% |
| Largest Market | North America |
| Base Year | 2022 |
| Forecast Period | 2023 to 2032 |
| Segments Covered | By Procedure Type, By Cellulite Type and By End-Use |
| Regions Covered | North America, Europe, Asia-Pacific, Latin America and Middle East & Africa |

Market Dynamics:
Market Drivers
The popularity of cellulite removal procedures.
Sustaining a perfect image is now one of the biggest trends in today's society, and physical appearance has become one of the most significant aspects of personality.
Cellulite therapy is becoming more popular due to factors such as bad eating habits, increased obesity prevalence, an aging population, and regular drug use.
Diversification of treatment options.
Topical creams, massages, and laser therapies are just a few of the many cellulite treatment options on the market. The industry's competition and innovation are being stimulated by the variety of treatment options.
GROWING PREVALENCE OF OBESITY
Obesity is a major health concern worldwide. For instance, according to WHO, in 2016, over 1.9 billion adults were overweight, of which more than 650 million were obese. According to the organization's date, since 1975, the prevalence of obesity has almost tripled. Thus, the rapidly increasing obese population is expected to propel market growth. Moreover, obese people are more prone to health problems, such as cardiac disorders, stroke, high blood pressure, diabetes, and kidney problems. These health issues compel individuals to undergo treatment for obesity, thereby facilitating market growth.
Factors associated with obesity such as weight bias and obesity stigma are also expected to propel market growth as obese population is more likely to suffer from low self-esteem, depression, and emotional eating, along with discrimination and bullying. For instance, according to an article published by Novo Nordisk, obese individuals face discrimination due to their weight and have fewer educational and job opportunities compared with healthy individuals. Such social stigmas are contributing to the growth of the cellulite treatment market.
The presence of cellulite is considered to be esthetically unacceptable for most post-adolescent women, and it is more common in people suffering from obesity. This can be attributed to the high amount of fat stored under the skin leading to increased stress on connective tissues, subsequently causing the excess fat to bulge out. Hence, obese people are more likely to undergo a cellulite treatment. This, in turn, is expected to fuel the growth of the market.
INCREASING ADOPTION OF MINIMALLY INVASIVE TREATMENTS
There is an increasing demand for esthetic procedures and a decline in reimbursements for traditional insurance‐based medicines. An increasing number of medical practitioners, regardless of their specialties, are engaging in medical esthetic practices. Minimally invasive surgeries are rapidly replacing invasive surgeries. For instance, according to the American Society of Plastic Surgeons (ASPS), in the U.S, noninvasive/minimally invasive fat reduction procedures increased by ~5% between 2015 and 2016. Nearly 17.1 million minimally invasive & surgical cosmetic procedures were performed in 2016. Thus, increasing adoption of minimally invasive surgeries, coupled with availability of a wide range of minimally invasive treatment options, is driving the growth of the cellulite treatment market.
Market Restraint:
High cost of treatment
Many of the cellulite treatment options on the market are expensive, which may prevent them from being accessible to a wider range of consumers. This can be a significant barrier for the sector, especially in emerging markets.
Limited efficacy in the cellulite treatment
Despite the fact that there are many cellulite treatment options on the market, many of them only have modest effectiveness. Some treatments only have a short-term impact, while others might have no discernible impact at all. This could result in a lack of consumer faith in the effectiveness of cellulite treatments and could constrain market expansion.
HIGH COST OF CELLULITE TREATMENT
The high cost of cellulite treatment is expected to limit market growth. For instance, the cost of the Cellfina treatment ranges from USD 3,500 to USD 6,500 depending on the number of cellulite dimples and the size of the treated area, and the average cost is nearly USD 4,250 per treatment. In addition, cellulite removal using VelaSmooth systems costs anywhere from USD 500 to USD 3,000 and require 10-15 sessions and monthly follow-up posttreatment to achieve the desired results. Such treatments increase financial burden on patients, thereby restricting market growth. The treatment costs also vary based on the doctor's popularity, qualification, and clinic location.
Moreover, the cellulite treatment market is characterized by rapid technological changes, evolving customer requirements, and frequent product launches, which increase the risk of product obsolescence. Hence, market players are required to invest in latest technologies and R&D to survive in the market. However, these investments result in an increase in the overall price of the products, thereby restricting market growth.
Market Opportunity:
Rising obesity rates.
Due to increasing obesity rates and increased demand for cosmetic and aesthetic treatments, the market is anticipated to grow.
Roughly 650 million people, including more than 340 million teenagers and children, were obese in 2016, according to WHO data. It is anticipated that an increase in prevalence will encourage industry growth.
Technological advancements in treatment.
New and better cellulite treatment options might become available as technology develops. For instance, the application of radiofrequency and ultrasound technologies for cellulite reduction has recently advanced.
COVID-19 Impact:
The COVID-19 pandemic caused significant losses in sales, profits, and business operations across markets, pushing nations into economic crises. Health officials ordered all aesthetic clinics to prevent seeing and treating patients immediately, save for emergencies. This led to office shutdowns and an unexpected drop in revenue for the industry worldwide.
As the popularity of cosmetic procedures grew by the end of 2020, aesthetic clinics began to experience profitable growth. During the pandemic and in the aftermath of the pandemic, several cosmetic surgeons began offering online consultations via digital applications.
Segments Insight:
Procedure Type Insights:
Non-invasive
Topical
Minimally Invasive
The non-invasive segment will also experience a lucrative market over the forecast period. This can be attributed to the high accessibility of this process and the continuous R&D activities. The topical segment preceded the non-invasive segment in the largest market share. Topical cellulite treatment products can be applied without the help of a medical professional and in the user's comfort at home, boosting the market growth. Moreover, the potential impacts of the topical agents are projected to restrict the development of the overall market.
The best treatment option, including radiofrequency waves, is noninvasive, as they don't harm the skin and produce good results. The accessibility of over-the-counter cellulite creams and topical treatments in various healthcare settings makes them more popular at home.
Cellulite Type Insights:
Soft Cellulite
Hard Cellulite
The buttocks, thighs, abdomen, and arms are the main body parts where soft cellulite can be found. Some of the most popular treatments for smooth cellulite include increasing muscle tone through exercise, steady weight loss, radiofrequency treatments, adequate protein intake, and topical applications. Since soft cellulite is more accessible to treat than other types, it is predicted to experience profitable growth over the forecast period.
Compact in nature, hard cellulite hurts to the touch. The outer portions of the thighs and hips have hard cellulite. One of the recommended treatments for hard cellulite is mesotherapy, which involves injecting the mesoderm layer with specialized mixtures of herbal extracts, vitamins, and medications.
End-Use Insights:
Hospitals
Clinics and Beauty Centers
Women over the age of 20 commonly experience cellulite formation. Since it is regarded as a cosmetic issue, patients seek treatment at various aesthetic facilities. Patients have access to efficient treatment options in both hospitals and spas. Due to an increase in esthetic-related conditions and cellulite formation, there is a growing demand for beauty salons and clinics. Hospital cases are frequently referred to aesthetic clinics and beauty centers, increasing demand for these facilities.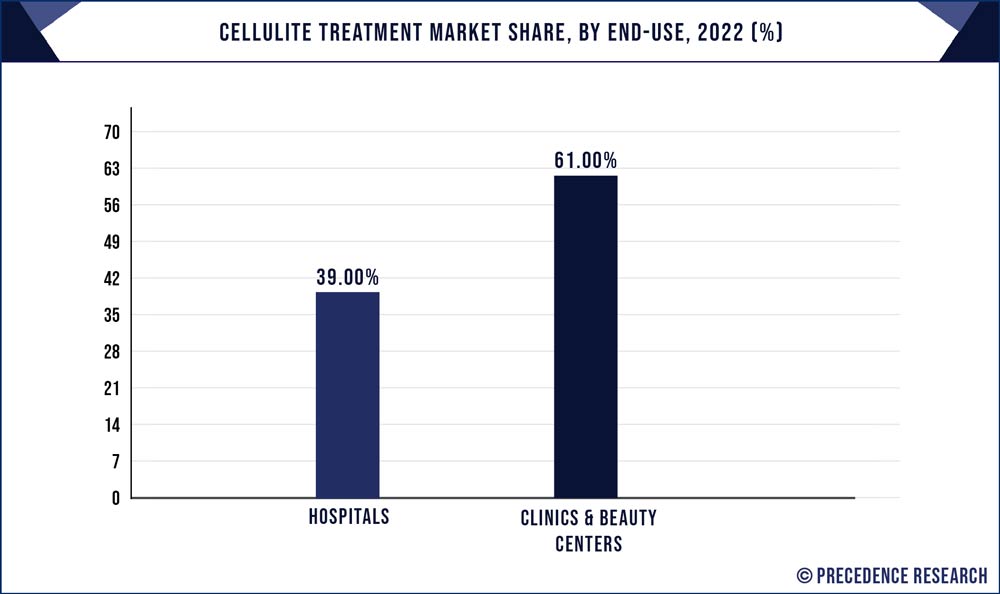 Additionally, some patients favor at-home treatments like commercially available topical creams for cellulite. These clinics and beauty spas have qualified staff and licensed professionals, which lowers the possibility of complications. Additionally, a significant growth factor is the proliferation of clinics and medical spa facilities around the globe as a result of lax regulatory standards for nonsurgical cosmetic procedures.
Regional Insights:
Due to the region's high availability of knowledgeable workers, cutting-edge technologies, and encouraging government initiatives, North America is predicted to dominate the market. Furthermore, the availability and acceptance of advanced treatment options, like laser procedures, are fostering market expansion in this area. Moreover, the development of the sector in North America is being fueled by the increasing prevalence of aesthetic appeal and outward appearance.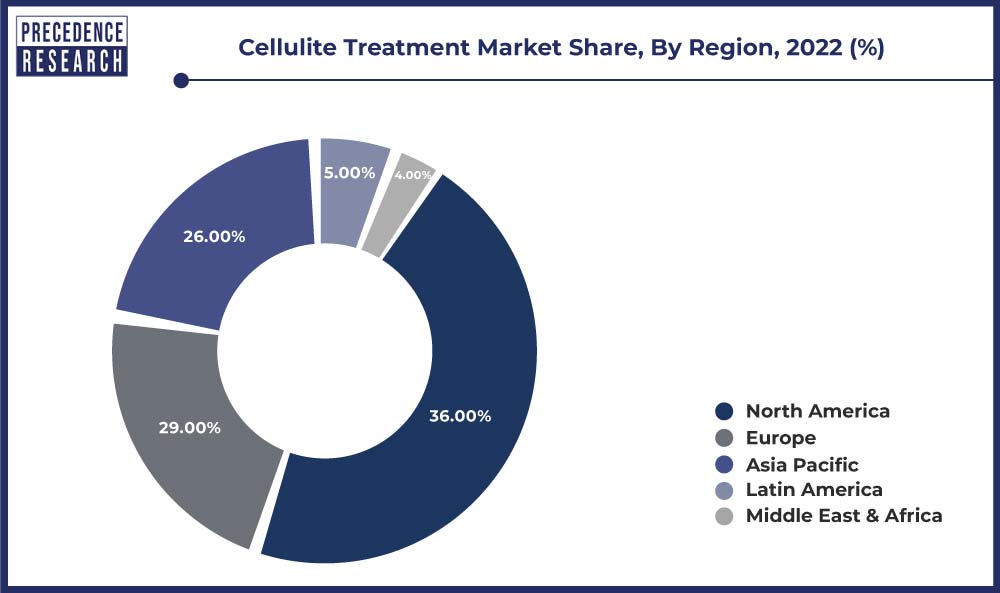 Over the forecast period, the Asia-Pacific region is anticipated to experience profitable growth. This is explained by the lower cost of care, increased disposable income, and rising obesity rates in this area. Most of the nations in this region are developing countries embracing modern technology quickly. This region has a high rate of medical tourism, which is anticipated to further the industry's expansion. The number of women and men who care about their aesthetics and appearance has also substantially risen in recent years, continuing to support the development of the market in this area.
Recent Development:
April 2023 - An exclusive collaboration to increase patient financing options for dermatology processes across the US was announced by CUTERA, INC., a supplier of customer payment and financing solutions.
April 2022 - A contract to purchase the MyEllevate Surgical Suture System was confirmed by Cynosure at The Aesthetic Society's "The Aesthetic Meeting 2022," enhancing the company's line-up of minimally invasive facial rejuvenation treatments.
Key Market Players:
Cutera
Tanceuticals
Merz Pharmaceuticals, LLC
Candela Corporation
Nestle
Inceler Medikal Co Ltd.
Mentor Worldwide LLC
Shanghai Fosun Pharmaceutical (Group) Co. Ltd.
Zimmer Aesthetics
Allergan
Hologic Inc
Nubway Co. Ltd.
Segments Covered in the Report:
(Note*: We offer report based on sub segments as well. Kindly, let us know if you are interested)
By Procedure Type
Non-invasive
Topical
Minimally Invasive
By Cellulite Type
Soft Cellulite
Edematous Cellulite
Hard Cellulite
By End-Use
Hospitals
Clinics & Beauty Centers
By Geography
North America
Europe
Asia-Pacific
Latin America
The Middle East and Africa