The global commercial greenhouse market size accounted for USD 32.08 billion in 2022 and is expected to hit around USD 78.42 billion by 2032, poised to grow at a compound annual growth rate (CAGR) of 9.4% from 2023 to 2032.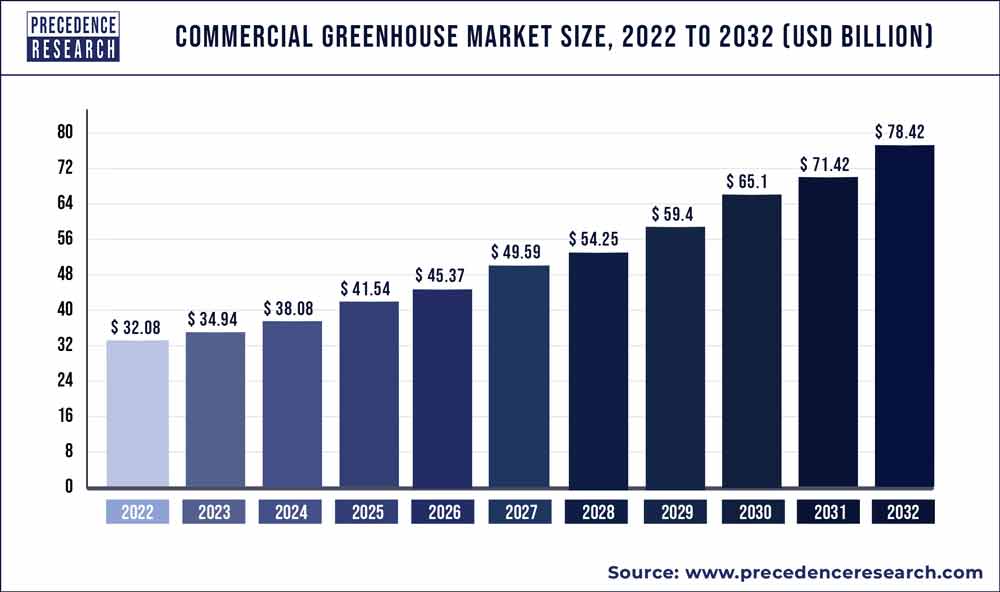 Key Takeaways:
The vegetables segment hit a market share of over 42% in 2022.
The fruits segment garnered a market share of over 25.3% in 2022.
The flowers & ornamentals segment accounted market share of over 16.5%.
North America accounted highest market share of over 32.8% in 2022.
Consumers can grow flowers, fruits, vegetables, and transplants for planting in commercial greenhouses, which provide highly controlled and stable environments. Because of this, greenhouse plants can reliably produce despite regional temperature, soil, or terrain restrictions. In commercial greenhouses, plants are often produced in large quantities for consumers. Farmers have more control over the environment in which their crops grow because to greenhouse farming.
The commercial greenhouse market is expanding mostly due to rapid urbanization and a lack of available arable land. Additionally, the development of commercial greenhouses is a result of the shifting weather patterns that affect conventional farming. More control over the environment in which crops grow is provided through the use of greenhouse farming. A good yield is possible for farmers if they can effectively control the temperature, the irrigation system, the air humidity, and the light. Farmers can estimate how much they will harvest and keep their crops healthier by having that much control over their growth. Farmers are able to grow flowers, vegetables, and fruit crops all year round thanks to their capacity to manage the environment.
Crop genetics can be enhanced by growing them in the controlled atmosphere of a greenhouse, encouraging the development of wholesome cultivars. In addition, less water is required than in an open field. Producers may use all the herbicides and pesticides they need to prevent illnesses and any other plant vulnerabilities because they are not dependent on bees for pollination. In an open field, insects, animals, and locusts may pose a threat to the produce's quality. Due to the controlled medium and environmental factors, crop cycles in greenhouse farming are also quicker than in traditional agriculture, with vine crop productivity more than twice as high. Additionally, compared to traditional agriculture, vertical farming has a land productivity that is more than twice as high and twice as quick. However, there are several obstacles that could limit market expansion, including the need for precise technology in a regulated growth environment and the expensive setup costs.
Growth Factors
Rapid urbanization and a lack of arable land are driving the growth of the commercial greenhouse industry. The employment of commercial greenhouses in conventional farming has also been encouraged by changing weather patterns, and this trend will spur the market's expansion even further. Additionally, one of the main factors influencing the growth of commercial greenhouses is their ability to produce high yields in compared to conventional agricultural methods. Another important aspect is the expanding population, which will slow the market's growth pace and increase the need for food. Additionally, the market for commercial greenhouses would benefit from expanding floriculture and decorative horticulture applications as well as rising demand for fruits and vegetables in underdeveloped countries.
Report Scope of the Commercial Greenhouse Market
| | |
| --- | --- |
| Report Coverage | Details |
| Market Size in 2023 | USD 34.94 Billion |
| Market Size by 2032 | USD 78.42 Billion |
| Growth Rate from 2023 to 2032 | CAGR of 9.4% |
| Base Year | 2022 |
| Forecast Period | 2023 to 2032 |
| Segments Covered | Equipment, Crop Type, Type, Component, and Geography |
| Companies Mentioned | Berry Global, Signify Holding, Heliospectra AB, Plastika Kritis, Everlight Electronics, Richel Group, Argus Control Systems, Certhon, Logiqs BV, LumiGrow, Agra-tech, Inc, Rough Brothers, Inc, Hort Americas, Top Greenhouses, Stuppy Greenhouse, The Glasshouse Company, DeCloet Manufacturing Ltd, Europrogress, Luiten Greenhouses, Sotrafa, Nobutec BV, Ammerlaan Constructions, Ludy Greenhouse, Saveer Biotech Ltd (India), Harford (New Zealand) |

Key Market Drivers
Higher yields are required while using less water and space
Less water and area are needed to produce the same amount of produce when using greenhouse farming, which is one of its key advantages over traditional agricultural practices. The Food and Agriculture Organization of the United Nations estimates to meet global food demand, food output must rise by 70% by 2050. Greenhouse farming is a possible solution to assist fulfill the rising population's demand for food because urbanization is displacing arable land and reducing the overall amount of agricultural land. Compared to traditional farming, organic farming wastes less water. In general, greenhouse farming uses 95% less water than outside farming for the same amount of crops. In vertical greenhouses, the transpiration process happens when commodities or plants are produced, allowing farmers to reuse the water for irrigation.
A small number of crops are suited for greenhouse farming
Growing in a greenhouse is not a popular option among producers because it only works for a few types of crops. A lot of things need to be considered before establishing a greenhouse plantation, including temperature control, adequate water supply management, identification and supply of fertilizer, the growth mechanism to be employed, and specific harvest timings for plants. Fruits and vegetables are the finest crops for vertical farming since they grow more quickly and require less water and light. However, there are just a few fruit and vegetable species that can be grown in regulated environments. For instance, many fruits and vegetables have edible branches, roots, and leaves. Vertical farming is not a good fit for these kinds of plants. In greenhouses, it is difficult to produce crops like sugarcane, rice, and wheat since they require a lot of water and take a long time to harvest. Wheat and rice are two important crops that are produced year-round in the APAC area to feed the region's expanding population. The limited adoption of commercial greenhouse farming in these areas is a result of the challenges associated with cultivating these crops in greenhouses.
Market Challenges
High Capital Expenditure - Crops grown in greenhouses require particular environmental conditions in order to grow properly. It is crucial to keep an eye on the ideal air quality, temperature, and relative humidity. They require the best possible light and water for growth. According to the requirements of each crop's growth stage, the nutrient levels available to the plants should be regularly monitored and gradually changed to the proper levels. Monitoring and precision of natural resources and fertilizers are essential for growing crops in greenhouses. This entails having a thorough awareness of the crop, the surrounding environment, and the plants' ideal requirements. As a result, these crops are frequently grown properly by expert farmers. The right setup and additional illumination of the irrigation systems are among the other factors. All of these are expensive and difficult for conventional farmers to perform, especially in developing nations.
Market Opportunities
R&D projects to advance greenhouse agricultural techniques - The majority of scientific R&D is focused on the agricultural sector. The difficulties created by environmental problems and climate change have motivated the development of several ways to ensure food security on a worldwide scale. Interest in greenhouse farming is growing among researchers, academics, and farmers. Experts are working to adopt greenhouse farming in an effort to address the basic problem of managing the climate in temperate zones. The Advanced Horticulture Research Facility claims that active cooling methods might aid in producing the perfect environment. Many strategies are being investigated, including shading methods based on photovoltaic (PV) technology for greenhouse passive cooling. The methods used by the protected cropping sector to regulate humidity are being improved, and experts are identifying new directions for further study in this area.
Technological innovations - Artificial intelligence, smart irrigation systems, pH monitors, and temperature control software are just a few of the technological advancements that are significant trends in the commercial greenhouse sector. Artificial intelligence, autonomous watering systems, pH sensors, and climate change technologies may be used by indoor farmers to address issues like disease prevention and pest control. For instance, a US-based agriculture firm will introduce LUNA in 2019; it is an optical scanning system run by inch, a US-based company that continuously records imagery in greenhouses and analyzes visual data from growth cycles. The application has the ability to identify crops that are stable and notify farmers when problems occur. High-tech greenhouses are another product offered by businesses like AppHarvest and Kentucky Fresh Harvest, which assist to boost output and enhance harvest quality.
Segmental Insights
Equipment Insights
Heating systems will have the greatest CAGR throughout the predicted timeframe. Heating systems are one of the most important requirements for the effective growth of plants in commercial greenhouses. Systems that keep the temperature steady and don't emit any hazardous substances help plants grow.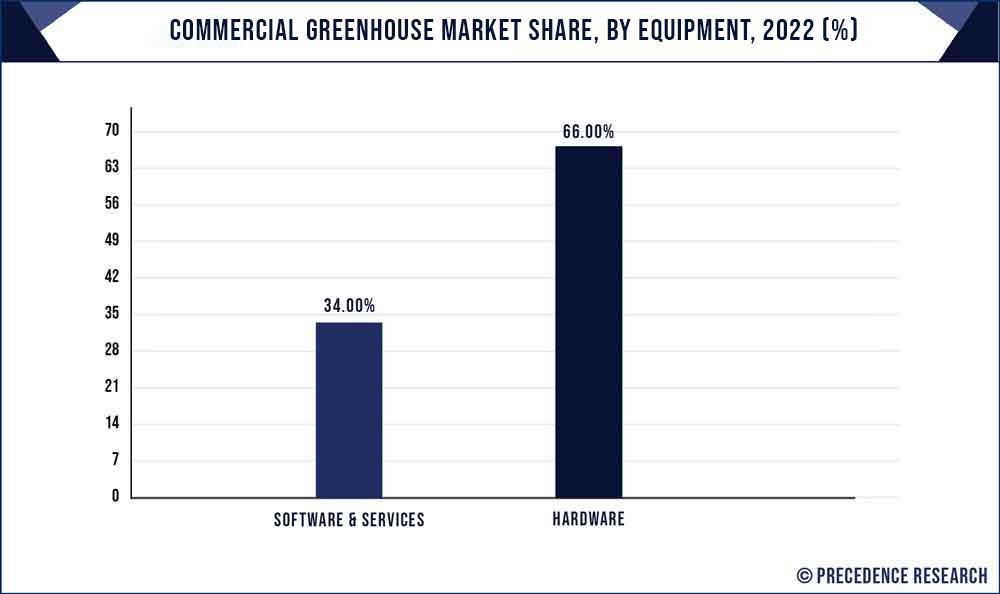 The best way to maintain the proper temperature is with a heating system. These systems may be administered centrally or decentralized. In colder months, greenhouses commonly use radiant hot water heating systems to keep their interiors warm. Because flow control enables effective temperature adjustment, these heating systems use mixing valves to regulate the temperature of the heating pipes.
Crop Type Insights
Vegetables are predicted to see the highest CAGR increase throughout the course of the projection period. Vegetables do well in greenhouse environments. Without having to worry about the climate, temperature, or other environmental changes, vegetables may be cultivated all year round. Vegetables produced in greenhouses are protected from bad weather, such as cold, wind, pests, drought, searing heat, and animals that would want to eat them. Growing vegetables there also permits the establishment of the optimal circumstances for the crops due to the regulating factors present in greenhouses, such as humidity, light, temperature, fertilizer, moisture, and irrigation.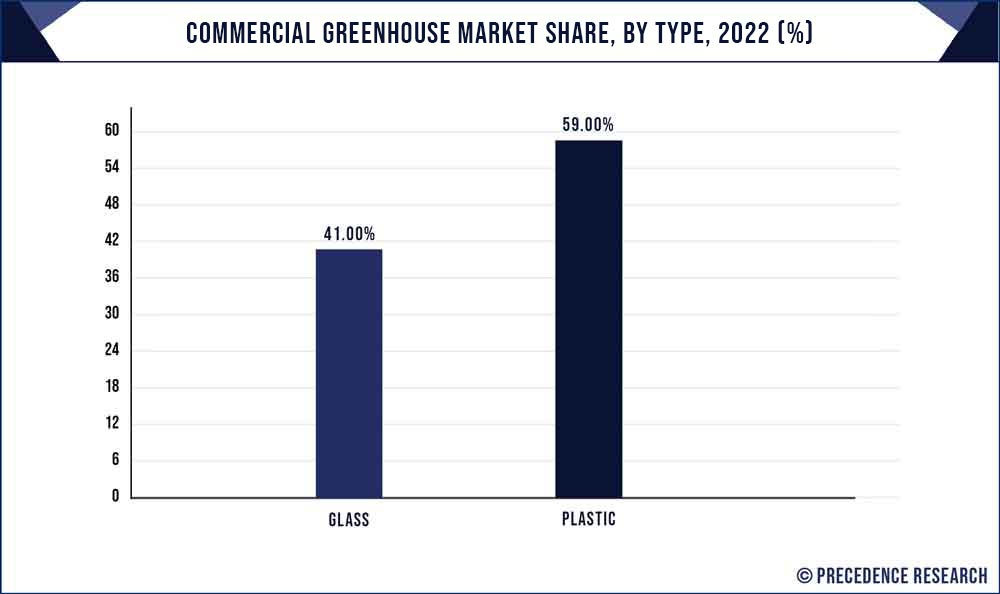 Type Insights
The market for plastic greenhouses is predicted to grow more swiftly than that for glass greenhouses. To make commercial greenhouse plastic more durable than traditional plastic, a distinct manufacturing process is used. The unique design of this material makes it resistant to tearing and extreme weather conditions.
Commercial Greenhouse Market Share, By Region, 2022 (%)
| | |
| --- | --- |
| Regions | Revenue Share in 2022 (%) |
| North America | 32.8% |
| Asia Pacific | 24.4% |
| Europe | 29% |
| Latin America | 9% |
| MEA | 4.8% |

Geography Insights
Significant market shares are held by Europe and North America, while Asia-Pacific is seeing the quickest growth. As a result of extensive greenhouse farming in nations like Italy, Spain, and the Netherlands, Europe was the first to use cutting-edge technology in greenhouses. Due to its fast urbanization, quick technical improvements, and strong demand for fruits and vegetables, Europe is the greatest participant. Over the course of the projection period, the commercial greenhouse market in the Asia-Pacific region is anticipated to develop at a high rate due to the area's rapidly expanding population and shrinking arable land, notably in China and India.
Recent Developments
Why Denso invested in Certhon Group in April 2020 to provide customers cutting-edge greenhouse solutions. The second-largest provider of automotive technology in the world is Denso.
Madar Farms and Certhon Group agreed to work together to build a commercial indoor agricultural facility in the United Arab Emirates in January 2020.
In order to deliver autonomous and plant-centric solutions for environmental management in greenhouses to cannabis cultivars in North America, Argus Controls and Urban-Gro extended their strategic partnership in 2019.
Key market players
Berry Global (US)
Signify Holding (Netherlands)
Heliospectra AB (Sweden)
Plastika Kritis (Greece)
Everlight Electronics (Taiwan)
Richel Group (France)
Argus Control Systems (Canada)
Certhon (The Netherlands)
Logiqs BV (The Netherlands)
LumiGrow (US)
Agra-tech, Inc (US)
Rough Brothers, Inc (US)
Hort Americas (US)
Top Greenhouses (India)
Stuppy Greenhouse (US)
The Glasshouse Company (Australia)
DeCloet Manufacturing Ltd (Canada)
Europrogress (Italy)
Luiten Greenhouses (New Zealand)
Sotrafa (Spain)
Nobutec BV (The Netherlands)
Ammerlaan Constructions (The Netherlands)
Ludy Greenhouse (US)
Saveer Biotech Ltd (India)
Harford (New Zealand)
Segments covered in the report
(Note*: We offer report based on sub segments as well. Kindly, let us know if you are interested)
By Equipment
Hardware

Software & Services
By Crop Type
Fruits

Vegetables

Flowers and Ornamentals

Nursey Crops

Other
By Type
By Component
High-Tech Commercial Greenhouse

Medium-Tech Commercial Greenhouse

Low-Tech Greenhouse
By Geography
North America
Europe
Asia-Pacific
Latin America
Middle East & Africa (MEA)