The global compound semiconductor market value surpassed USD 36.13 Billion in 2021 and is expected to hit over USD 60.07 billion by 2030 with a registered growth at a compound annual growth rate (CAGR) of around 5.8% during the forecast period 2022 to 2030.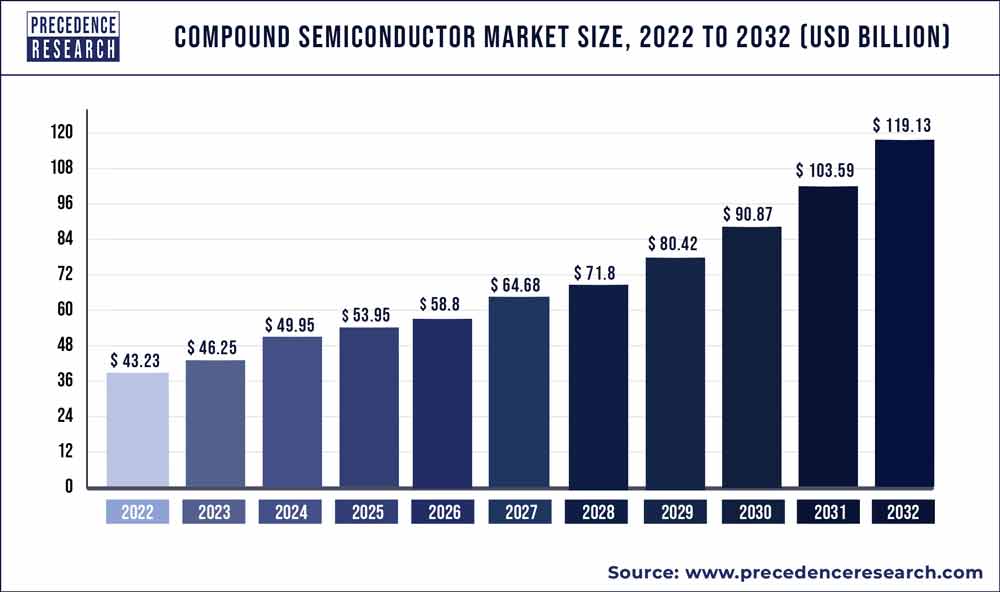 Growth Factors
Increased demand for compound semiconductor epitaxial wafer especially in consumer electronics industry along with the advantages offered by the compound semiconductor wafers over silicon-based wafers are the prominent factors that drive the overall market growth. Light Emitting Diodes (LEDs) are one of the most common applications of compound semiconductor. Today, LEDs have replaced various light sources such as fluorescent bulbs, incandescent bulbs, and CFLs. Moreover, they have significant penetration in automotive lighting, general lighting, and signage displays. The compound semiconductors used in LEDs are made from group III and group V elements of the periodic table commonly known as III-V materials. In addition, rising trend towards application of wafers in automotive sector again propels the market growth to some extent.
Besides this, high cost of wafer manufacturing pose significant threat to the market growth of compound semiconductor. An average expenditure required per compound semiconductor is much more than the expenditure required per pure silicon semiconductor device. This is mainly due to the complex and advanced technologies employed at every stage of manufacturing process. Nevertheless, increasing implementation of compound semiconductors in smart technologies as well as rising penetration of Internet of Things (IoT) in wafers are the prime factors expected to fuel the market growth during the forecast period.
Application Insights
IT & Telecom accounted for the major market value share of nearly 46% in 2020 and expected to witness substantial growth over the analysis period. This is attributed to rising demand for semiconductor elements in wireless and mobile communications. High efficiency and speed offered by the compound semiconductor over silicon semiconductors are the prime factor driving its application in advanced communication technologies. Furthermore, integration of numerous up-coming technologies such as IoT, artificial intelligence, and machine learning are creating more need for the usage of high-speed semiconductor devices, thereby influencing positively for the market growth of compound semiconductors.
On the other hand, consumer electronics projected to register the most lucrative growth rate during the forecast period. Increasing end-use applications such as LED, mobile phones, and television, and other entertainment devices predicted to contribute for the significant market growth.
Regional Insights
The Asia Pacific captured maximum revenue share of nearly 51% in the global compound semiconductor market in 2020. In addition, the region analyzed to witness the highest growth over the forecast period. This is mainly due to the escalating demand of consumer electronic products along with significant penetration of wireless communication technologies in the region. The region encountered prominent growth potential for the new and advanced technologies as well as shifting consumer trend towards smart and innovative solutions has remarkably driven the regional growth in the recent past and projected to continue the same over the coming years.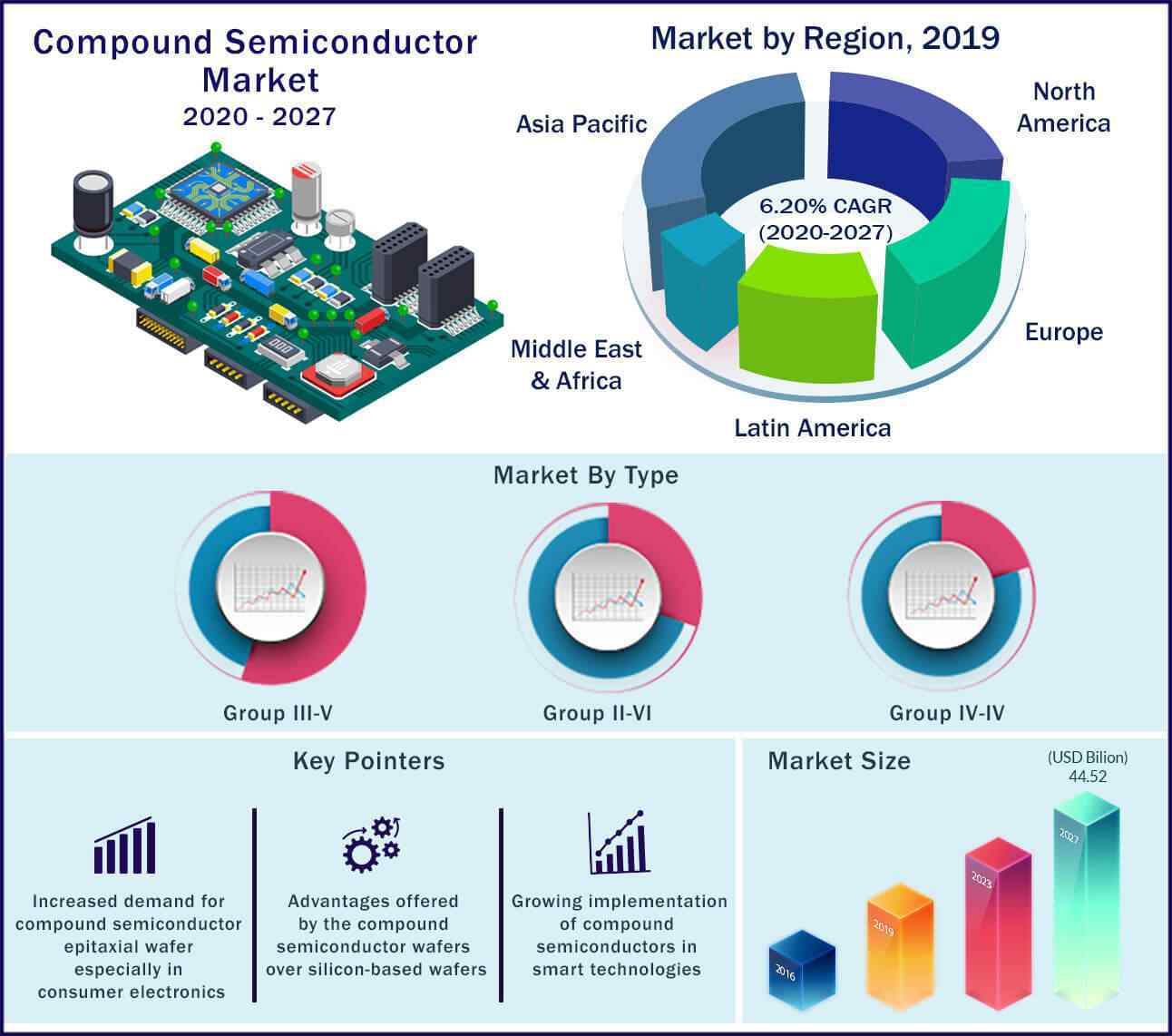 Key Companies & Market Share Insights
The global compound semiconductor market is highly fragmented and competitive in nature due to rapidly changing consumer preferences. Companies present in the market are mainly focusing on differentiating from a product offering standpoint. They are also focused towards acquiring core competencies associated to varied service offerings by different methods that include vertical integration, mergers & acquisitions, and strategic alliances across the value chain.
Some of the prominent players in the compound semiconductor market include:
Nichia Corporation
Cree Inc.
Qorvo
Samsung Electronics
Taiwan Semiconductor Manufacturing Company Ltd.
STMicroelectronics NV
NXP Semiconductor N.V.
Texas Instruments Inc.
Renesas Electronics Corporation
Infineon Technologies AG
Report Scope of the Compound Semiconductor Market
| | |
| --- | --- |
| Report Highlights | Details |
| Market Size | USD 60.07 Billion by 30 |
| Growth Rate | CAGR of 5.8% from 2022 to 2030 |
| Largest Market | Asia Pacific |
| Fastest Growing Market | North America |
| Base Year | 2021 |
| Forecast Period | 2022 to 2030 |
| Segments Covered | Deposition Technology, Type, Product, Application, Region |
| Companies Mentioned | Nichia Corporation, Cree Inc., Qorvo, Samsung Electronics, Taiwan Semiconductor Manufacturing Company Ltd., STMicroelectronics NV, NXP Semiconductor N.V., Texas Instruments Inc., Renesas Electronics Corporation, and Infineon Technologies AG |
Segments Covered in the Report
This research study encompasses comprehensive assessment of the marketplace revenue with the help of prevalent quantitative and qualitative intelligences, and prognoses of the market. This report presents breakdown of market into major and niche segments. Furthermore, this research study gauges market revenue growth and its drift at global, regional, and country from 2016 to 2027. This report comprises market division and its revenue valuation by categorizing it depending on deposition technology, type, product, application, and region:
By Deposition Technology
Molecular Beam Epitaxy

Metal Organic Molecular Beam Epitaxy

Chemical Vapor Deposition

Metal Organic Chemical Vapor Deposition (MOCVD)

Ammonothermal
Hydride Vapor Phase Epitaxy
Atomic Layer Deposition
Liquid Phase Epitaxy
Others
By Type
II-VI Compound Semiconductors

Cadmium Telluride
Cadmium Selenide
Zinc Selenide

III-V Compound Semiconductors

Gallium Phosphide
Gallium Nitride
Indium Phosphide
Gallium Arsenide
Indium Antimonide

IV-IV Compound Semiconductors

Silicon Germanium
Silicon Carbide

Sapphire
Others

Aluminum Indium Arsenide
Aluminum Gallium Arsenide
Aluminum Gallium Phosphide
Aluminum Gallium Nitride
Cadmium Zinc Telluride
Indium Gallium Nitride
By Product
Transistors

Metal Oxide Semiconductor Field-Effect Transistors
High Electron Mobility Transistors
Metal Semiconductor Field-Effect Transistors

Power Semiconductor
Diodes & Rectifiers

Zener Diode
PIN Diode
Light-Emitting Diode
Schottky Diode

Integrated Circuits

Radio Frequency Integrated Circuits
Monolithic Microwave Integrated Circuits

Others
By Application
Industrial and Energy & Power

Wind Turbines & Wind Power System
Smart Grid
Motor Drives
Photovoltaic Inverters

Consumer Electronics

LED Lighting
Invertors
Switch Mode Consumer Power Supply System

IT & Telecom

Satellite Communication
Signal Amplifiers and Switching System
RF
Radar

Automotive

Chemical Vapor Deposition Braking System
Electric Vehicle & Hybrid Electric Vehicles
Automobile Motor Drives
Rail Traction

Aerospace & Defense

Ships & Vessels
Combat Vehicles
Microwave Radiation

Healthcare

Biomedical Electronics
Implantable Medical Device
By Regional Outlook
North America
Europe
Asia Pacific

China
India
Japan
South Korea

Rest of the World