The global computer numerical control (CNC) machine market size was estimated at USD 96.4 billion in 2021 and it is expected to hit around USD 153.8 billion by 2030, poised to grow at a compound annual growth rate (CAGR) of 5.33% from 2022 to 2030.
Asia Pacific computer numerical control machine market size was valued at USD 47.5 billion in 2021.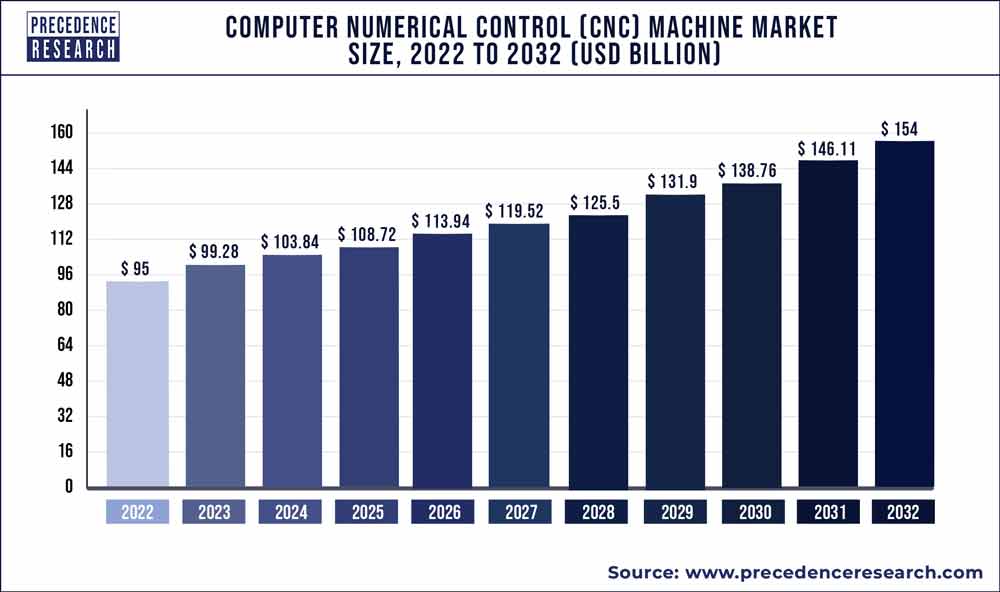 By 2030, it is predicted that there would be a demand for more than 2800 thousand CNC machines. The main driver anticipated to propel market expansion throughout the projected period is the rising need for medical devices, electric vehicles (EV), telecom communication equipment, and equipment used in the fabrication of semiconductors. The necessity for five-axis milling and ultra-precision machinery to meet the demands of EV manufactures is also projected to fuel expansion.
Due to increased machine orders across sectors, particularly from Europe, Asia Pacific, and North America, the CNC machine market rebounded strongly in 2021. Due to the pandemic's pent-up demand and backlog of orders, the market had significant growth in 2021. In the near future, this pattern will continue as backlogs from 2020 are caught up. However, it is anticipated that the sales revenues of OEMs would be hampered until 2023 by the global shortage of semiconductors, rising steel prices, and logistical expenses.
Over the course of the projection period, the market for computer numerical control (CNC) machines is anticipated to rise favourably due to automated CNC systems linked with industrial robots including simulation software to boost output. Automation of CNC machines are being used primarily to alleviate the present shortage of trained personnel that most sectors are now experiencing. This makes it possible for manufacturing sectors to boost productivity and efficiency. Incumbents in this market, such Fanuc Corporation and OKAMA America Corporation, focus on integrating new technologies with the current product line to meet this demand. Market difficulties are anticipated as a result of rising raw material costs and a potential scarcity of semiconductors used in CNC machines. In these market circumstances, it is anticipated that used CNC machine demand would rise, limiting the market expansion of new CNC machines. Over the course of the projection, the tendency is anticipated to persist. Long-term changes in the price of raw materials are anticipated to drive up the average unit cost of CNC machines.
Report Scope of the Computer Numerical Control (CNC) Machine Market
| | |
| --- | --- |
| Report Coverage | Details |
| Market Size in 2022 | USD 101.54 Billion |
| Market Size by 2030 | USD 153.8 Billion |
| Growth Rate from 2022 to 2030 | CAGR of 5.33% |
| Base Year | 2021 |
| Forecast Period | 2022 to 2030 |
| Segments Covered | Type, End Use, and Geography |
| Companies Mentioned | Yamazaki Mazak Corporation, Doosan Machine Tools Co., Ltd., Trumpf, Amada Machine Tools Co., Ltd, JTEKT Corporation, MAG IAS GmbH, Schuler AG, Makino, Hyundai WIA, Komatsu Ltd., Okuma Corporation, FANUC Corporation, XYZ Machine Tools, Mitsubishi Heavy Industries Machine Tool Co., Ltd., General Technology Group Dalian Machine Tool Corporation and, ANCA Group. |

Key Market Drivers
Increase in demand in mass production plants
Due to their capacity to produce very precise parts and components, CNC systems are being used more often in factories that produce large quantities of goods. Additionally, a variety of procedures utilized in CNC to create standardized components using machine tools, such CAD and CAM, are totally interchangeable. Additionally, the use of CNC in manufacturing facilities directly affects cost reduction while also significantly improving productivity and product quality. Thus, all of the aforementioned CNC capabilities have an impact on the development of industrial sectors like automotive and aerospace & military and present a profitable market potential for U.S. CNC machines.
Demand for Various Industrial Devices and Equipment
One of the key drivers propelling the growth of the computer numerical control (CNC) machine market is the rise in demand for a variety of industrial devices and equipment, such as medical devices, semiconductor manufacturing equipment, telecom communication devices, and electric vehicles (EV).
Growing use of industrial automation in the world's manufacturing sector
The adoption of industrial automation systems in the worldwide manufacturing sector is primarily driven by the growing significance of real-time data for process modelling and predictive maintenance in manufacturing sectors. Automation has several benefits, including higher productivity and lower operating costs for businesses that produce components for the automotive, medical, aerospace, and military sectors. It also improves manufacturing processes quality, safety, uniformity, and accuracy. Due to the increased adoption of sophisticated automated systems, such as CNC machines by automakers to automate their manufacturing processes.
Key market challenges
Inadequate skills - The market is significantly challenged by the lack of qualified personnel to operate these automation systems. Training programs are desperately needed to educate people about how CNC machines work. In tiny factories, there aren't many skilled personnel available to run CNC equipment. A significant market hurdle is the labor force's lack of knowledge about how CNC machines work and their inability to operate them. Lack of training may dramatically alter market prospects for CNC machines.
Key market opportunities
Popularity of Automated CNC Systems - The desire for automated CNC systems that are integrated with industrial robots is growing, which has an additional impact on the market. To improve production, alleviate the shortage of experienced laborers, and increase productivity, these systems use simulation software. Additionally, the market for computer numerical control (CNC) machines is favorably impacted by rising urbanization, a shift in lifestyle, a spike in investments, and higher consumer spending.
Strong Adoption of Internet-of-Things (IoT) - Machine tools are controlled by CNC (Computer Numerical Control) machines, which utilize computerized systems. Strong Internet of Things adoption is projected to increase product demand. Additionally, the usage of CNC is anticipated to increase across a number of sectors with the inclusion of modern digital technology. Industries may see increased product uptake as a result of rapid digitization and the move to automated production methods. In addition, growing manufacturing sector expenditures in IoT are anticipated to accelerate the technology's adoption across several industries. For instance, according to reports, the industrial industry would invest up to USD 267 billion in the creation of IoT services by 2020. These elements might fuel the market expansion for CNC (Computer Numerical Control) machines.
Robust Demand for CNC from the Healthcare Sector - Due to the healthcare industry's strong need for CNC (Computer Numerical Control) machinery, the market is anticipated to benefit from the COVID-19 pandemic. Numerous companies adopted automation as a result of the unexpected increase of COVID-19 infections. The need for technology in the healthcare industry was increased by this issue. Due to the high need for effective technology to provide healthcare goods and services, the pharmacy sector also supported this industry. Additionally, quick digitization encourages the use of CNC equipment. Throughout the epidemic, these elements promoted industry expansion.
Segmental Insights
Type Insights
The market for CNC lathe machines was worth USD 17 billion in 2021, and it is anticipated to grow at a CAGR of more than 10.4% during the forecast period. Over the next mid-term, the automotive industry's growing need for CNC lathe machines to produce bespoke parts including cylinder heads, gearboxes, starter motors and other prototype applications is anticipated to propel market expansion. Additionally, the market expansion is anticipated to benefit from technical developments in current CNC lathe systems with new features employed for a variety of applications. For instance, the Cincom L32 XII, a sliding headstock style automatic CNC lathe machine with an automatic tool changer, was introduced by Citizen Machinery Co., Ltd in February 2021. The characteristics allow for the simultaneous execution of several tasks and the machining of complicated structures, such as implants used in medical treatment.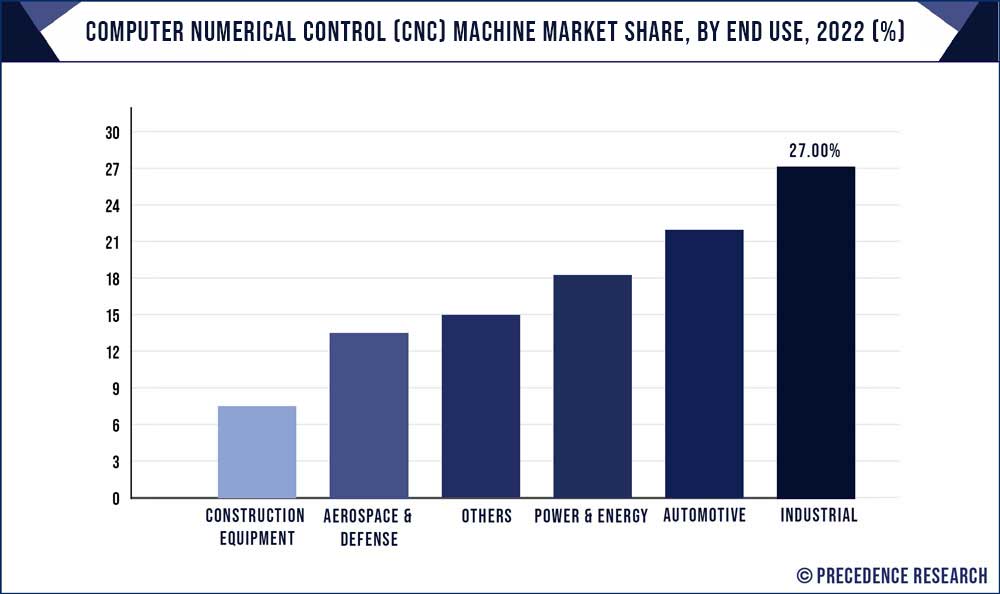 By 2030, there will be a need for more than 600 000 units of CNC laser equipment, representing a CAGR of 9.3% over the projected period. The category is anticipated to develop during the projected period due to the rising demand for CNC laser cutting machines from semiconductor manufacturing businesses to solve the persistent scarcity of semiconductors in all industries. Additionally, market growth is anticipated to be favorable in the next years due to the growing use of CNC fiber laser cutting equipment in the sheet metal processing and kitchenware sectors.
End Use Insights
The automobile, aerospace & military, construction equipment, power & energy, industrial, and others subcategories are further divided into the end-use section. By 2030, the industrial sector is expected to account for more than 28 billion and hold more than one-fourth of the market share in 2021. The general manufacturing sectors of packaging, electronics, medicine, and other general industries are included in the industrial section. Growth over the projection period is anticipated to be driven by rising demand for fully automated and turnkey CNC machines to scale up production to fulfill backlogs starting in 2020.
It is anticipated that the surge in EV sales and the rise in demand for the production of ultra-precision components for EVs would be favorable for the expansion of the automotive sector throughout the projected period. It is anticipated that the need for customized automobile parts such crankshafts, cylinder heads, and motor pumps would continue to support market expansion. These variables suggest that by 2030, the automobile industry would require more than USD 24 billion in CNC machines.
Computer Numerical Control (CNC) Machine Market Share, By Region, 2021 (%)
| | |
| --- | --- |
| Regions | Revenue Share in 2021 (%) |
| North America | 31.7% |
| Asia Pacific | 35.9% |
| Europe | 23.4% |
| Latin America | 5% |
| MEA | 4% |

Geography Insights
In 2021, the Asia Pacific region had more than 35.9% of the global market share, and it is anticipated that it would continue to hold the top position during the projected period. Sales of CNC machines are expected to reach 790,000 units in 2022 and quadruple by 2030. The market demand is attributed to the surge in industrial equipment manufacturing outsourcing services, the availability of inexpensive raw materials in abundance, and low operational costs that fuel the demand for manufacturing outsourcing and increase the sales of CNC machines over the forecast period.
During the predicted period, Europe is anticipated to experience a 8.7% CAGR. Italy, France, Germany, and the other nations of Europe are the main drivers of the expansion. Over the next few years, market growth is expected to be fueled by a lack of workforce forcing metalworking businesses to raise their spending in automation to boost the productivity of their CNC machines.
Recent developments
In March 2021, the Quick and Simple Startup of Robotization (QSSR) G-code feature was integrated with ss by Fanuc America Corporation, a division of Fanuc Corporation, to update its CNC product range. Through this connection, the company's improved CNC machines enable tool makers and machine operators to more effectively program robots.
A 2020 upgrade option will be made available for venerable CNC machines using older operating systems, according to FANUC America, a prominent producer of, robots, CNCs and ROBOMACHINES. The Panel I Replacement Program, that contains a potent industrial PC with a touch- or non-touch LCD display, and Windows 10 IoT Enterprise, may be used to refit FANUC CNCs.
Key Market Players
Yamazaki Mazak Corporation (Japan)
Doosan Machine Tools Co., Ltd. (Korea)
Trumpf (Germany)
Amada Machine Tools Co., Ltd (Japan)
JTEKT Corporation (Japan)
MAG IAS GmbH (Germany)
Schuler AG (Germany)
Makino (Japan)
Hyundai WIA (Korea)
Komatsu Ltd. (Japan)
Okuma Corporation (Japan)
FANUC Corporation (Japan)
XYZ Machine Tools (U.K.)
Mitsubishi Heavy Industries Machine Tool Co., Ltd. (Japan)
General Technology Group Dalian Machine Tool Corporation (Liaoning Province)
ANCA Group (Australia)
Market Segmentation
(Note*: We offer report based on sub segments as well. Kindly, let us know if you are interested)
By Type
Lathe Machines

Milling Machines

Laser Machines

Grinding Machines

Welding Machines

Winding Machines

Others
By End Use
Automotive

Aerospace & Defense

Construction Equipment

Power & Energy

Industrial

Others
By Geography
North America
Europe
Asia-Pacific
Latin America
Middle East & Africa (MEA)