The global control valves market will top nearly US$ 12 Bn by 2027. As per refined forecast by Precedence Research, the market will continue exhibiting high growth through the course of the report's assessment period 2021 to 2027.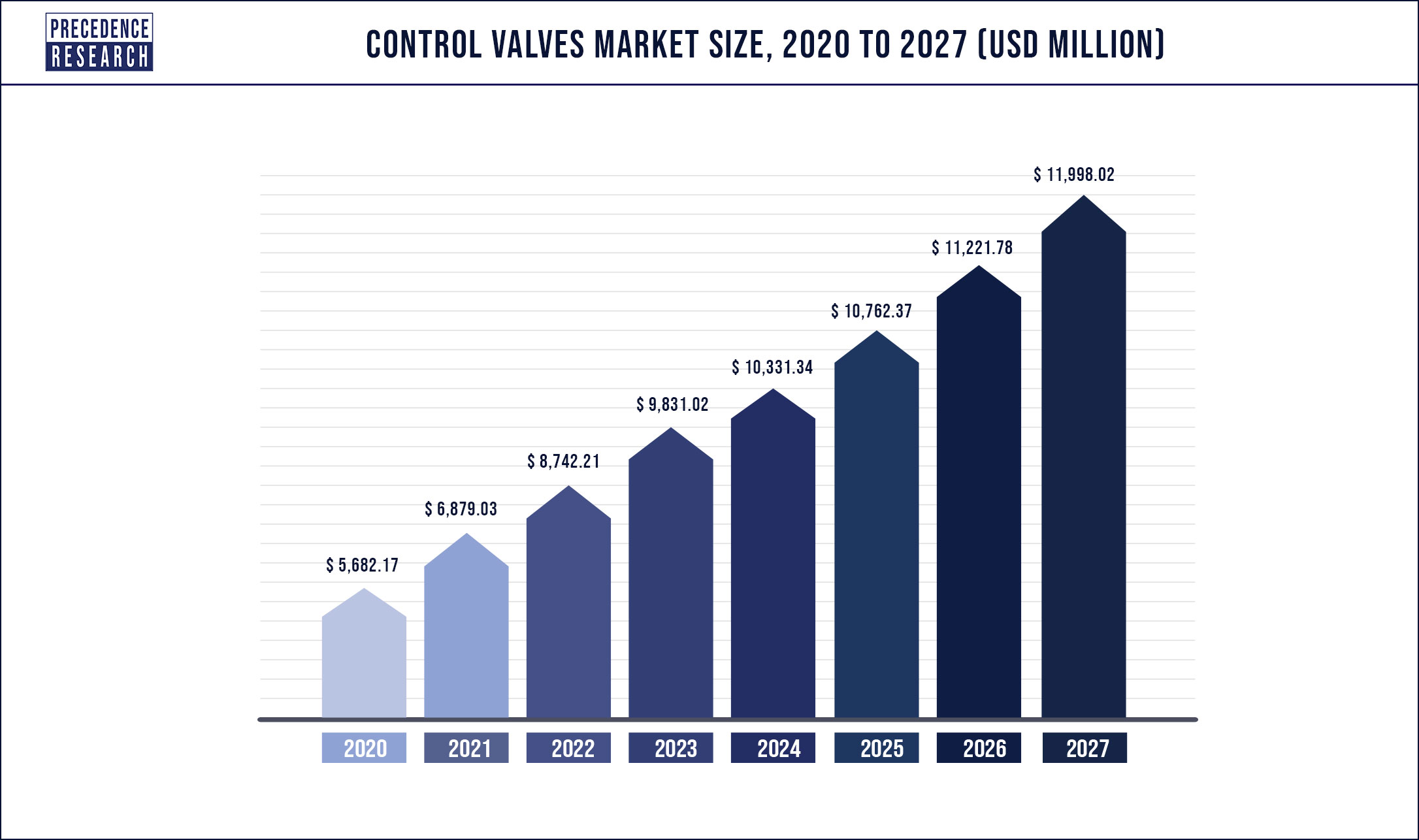 Control Valves Market Overview
With investment towards infrastructural expansion, including wastewater treatment plants and other sectors, reaching all-time high, the demand for control valves is set to increase at 9.71% CAGR between 2021 and 2027. Thanks to recent technological advancements that work in tandem with control valves, application will continue surging across pharmaceutical, mining, chemicals and other sectors.
Process plants usually comprise a multitude of loops designed to mechanically control process variables such as temperature, pressure, and flow. Control valves are relied upon to manipulate the flow of liquid, ascertaining efficiency in operation across process plants by reducing their downtime.
Smarter Control Valves Making Deeper Inroads
Amidst surging demand for power generation and focus on oil & gas exploration, control valve technology has emerged as an ideal solution for helping industries overcome common operational challenges that create cost burden.. Innovations such as integration of sensors and digitization have made control valves smarter.
Some of these protocols have played pivotal role in the technology evolution of control valves and Precedence Research sees this as a splendid opportunity for market players to capitalize on. Despite linear investment opportunities, digital innovations are sought-after as industries focus on achieving real-time improvements.
To set these developments on track, several organizations are integrating smarter external software to support intelligent control valve positioners.
Opportunities for Automation
Modern industries face a myriad of economical, environmental, and competitive challenges. To counter these, several leading organizations have been investing in state-of-the-art equipment. This trend is not only making its presence felt in the control valve market, but is expected to set path for expansion over the assessment period.
While conventional physical control valves have altered little over the years. Technology integrated in these valves have become significantly advanced. Especially for application in subsea oil and gas, intelligent control systems, in-built with embedded processors and networking capabilities have become imperative.
Demand for these developments has encouraged some of the leading market players to step up their game. For instance, in 2019, Siemens launched an intelligent and self-optimizing valve, which is connected to the cloud. Several other launches followed, giving tailwinds to overall growth registered by the market.
| | |
| --- | --- |
| Report Highlights | Details |
| Market Size | USD 12 Bn by 2027 |
| Growth Rate | 9.71% CAGR From 2021 and 2027 |
| Base Year | 2020 |
| Hiostoric Data | 2017 to 2020 |
| Forecast Period | 2021 to 2027 |
| Segments Covered | Actuation Technology, Type, Application |
| Regional Scope | North America, Europe, Asia Pacific, Middle East & Africa, South America |
| Companies Mentioned | Emerson Electric Co., Flowserve Corporation, IMI plc, Alfa Laval AB, AVK Holding A/S, Eaton, Honeywell International, Inc., Velan Inc., Burkert Fluid Control System, Valvitalia SpA |
Region-wise Control Valves Market Survey
North America Control Valves Market Outlook
Despite reigning as an early adopter of the latest technology innovations, North America stands second to Asia Pacific, which currently dominates the global control valves market. As per the study, control valves sales in North America are expected to total more than US$ 3.6 Bn by 2027.
Growth registered in the region is attributable to the increasing investment towards installation of electric control valves. While demand for hydraulic and pneumatic control valves remains high, sales in the electrical segment will increase at an accelerated pace.
To an extent, the North American energy landscape will present opportunities for solid growth in the market. The increasing focus on renewable energy will present highly attractive opportunities for sales in the region.
It was recently announced by Arevon Energy, Inc. that it plans to invest in 4.5GW of Clean Energy in North America. Besides this, expansion is on cards for several other industries, including mining, pharmaceutical and others.
Studies have suggested America's mining industry to register double-digit growth in the forthcoming years, thus creating prospects for sales of control valves through the course of the forecast period.
Asia Pacific Control Valves Market
Demand from India, China, Japan, South Korea, and other nations will seal Asia Pacific's dominance in the control valves market. Backed by demand from strong power sector in India and China, Asia Pacific will record high demand for control valves through the forecast period. According to the study, the demand in Asia Pacific is set to rise at 9.74% CAGR through the course of the report's forecast period.
Under the Union Budget 2021-22, the Government of India has allocated US$ 42 Bn for a revamped and reforms-based new power distribution sector scheme over the next ten years. This information was published in the India Brand Equity Foundation (IBEF).
This is indicative of impressive growth opportunities on card for control valves producers in India. Precedence Research has forecast the demand in India to increase by over 10% between 2021 and 2027.
As per the International Energy Association, China's energy sector is transitioning, steered by the president's call for "energy revolution". Sharp rise in total energy supply and consumption has catapulted sales prospects for control valves manufacturers in China.
Backed by favorable government policies, China is expected to present more than US$ 4.6 Bn absolute opportunity in the Asia Pacific control valves market.
Europe Control Valves Market Outlook
Germany, the U.K., and France are expected to remain at the forefront of the Europe control valves market growth. Expansion of mining activities will present highly lucrative prospects for expansion in the region.
Besides this, focus on digital improvements in existing technologies will push sales of electric control valves at the highest pace in the region. The report also projects the demand for oil & gas, pharmaceutical, and chemical industries to account for maximum sales of control valves through 2027.
Overall sales of control valves in Europe are expected to total more than US$ 2.3 Bn by the end of the forecast period.
Investment Feasibility Across Key Segments
Control Valves Actuation Technology
In terms of actuation technologies available, the market can be segregated into manual, pneumatic, hydraulic, and electric. Of these, pneumatic control valves will remain the most commonly used type in terms of technology. However, given the global scheme of things, sales of electric control valves are expected to rise at a higher pace.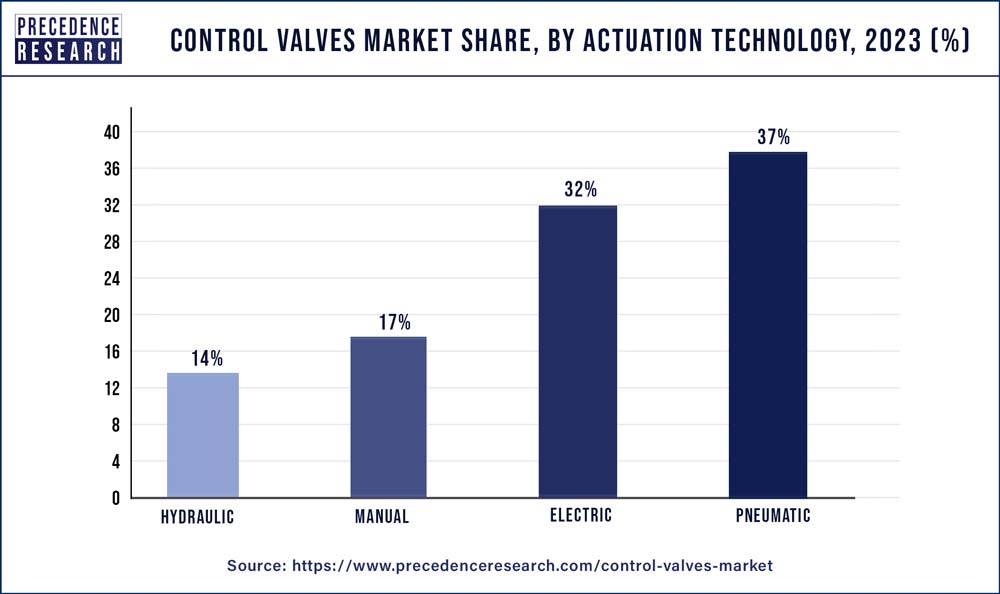 Industries are more willing than ever before to spend on the latest technologies. Focus in integrating smart solutions is gradually steering them away from manual and pneumatic control valves. As per the report, sales of electric control valves will increase at 10.18% CAGR over the assessment period.
Control Valves Market Study in Terms of Type
On the basis of type, the market comprises ball, butterfly, globe, diaphragm, and others. Of these globe control valves are expected to remain the top choice across industries through the forecast period. The report has predicted the total sales of globe control valves to total US$ 3.3 Bn by 2027.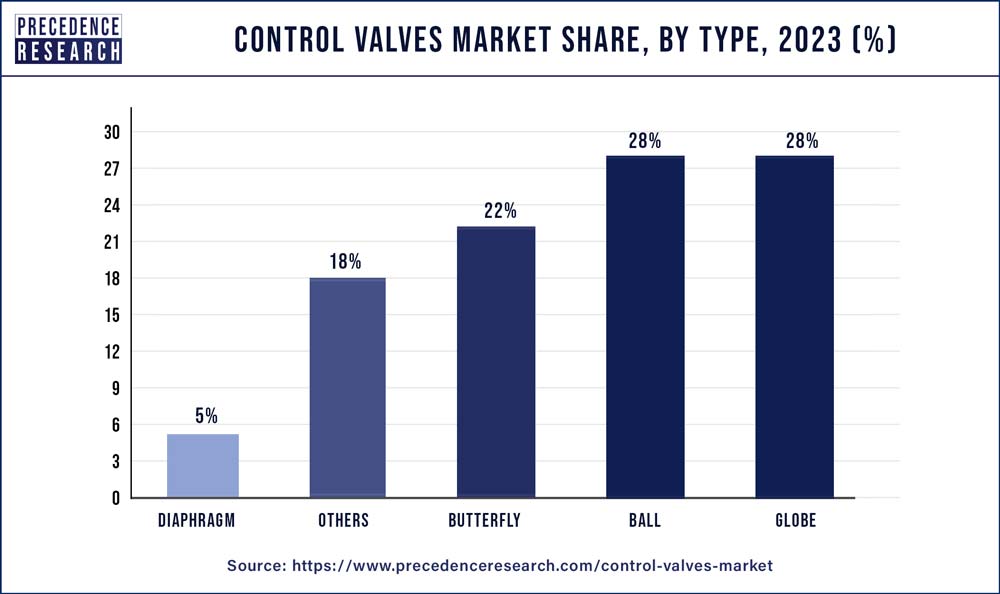 Globe control valves have a myriad of applications. Some of these are in cooling water systems, fuel oil systems, and turbine lube oil systems among others. Considering this, the demand for globe valves is expected to rise in wastewater plants, food processing plants, and process plants.
Application-wise Insights
In terms of application, the dominance lies with the oil and gas industry. According to the report, demand in the oil and gas industry is expected to top over US$ 2 Bn by 2027. Sales forecast within the sector remains strong, however, demand in power generation, chemicals, and pharmaceutical industries is expected to rise at a higher pace.
Competitive Landscape
Despite the dominance of a handful of players, competition in the control valves market is expected to grow stronger in the coming years. As per the report, more companies are focusing on the expansion of their global footprint to gain competitive edge. For instance:
In February 2019, Rockwell Automation, one of the world's leading companies in industrial automation and information, announced that it has entered into an agreement with Schlumberger, one of the world's leading providers of technology for drilling, processing, production, and reservoir characterization to the oil and gas industry. These companies came together to create a new joint venture, dubbed as Sensia, which is touted as the first fully integrated digital oilfield automation solution provider.
Flowserve Corporation announced completion of the sales of its Gestra AG business unit to Spirax-Sarco Engineering plc in May 2018. This sale by Flowserve was aimed at better aligning and optimizing the company's existing portfolio so that it could focus on its core business objectives.
Besides these, some of the companies are even aiming at launching control valves with cutting edge technologies. For instance:
Festo announced launching a new flow control valve in 2020 that uses its pieze technology to deliver dynamic industrial control applications.
Belimo Americas also announced launching a new 6-way pressure independent control valve. The company has been touting this new launch as a one-of-its-kind solution designed for radiant ceiling panels, chilled beams, and fan coil units to enable true flow and impressive balancing.
The report presents an in-depth overview of companies operating in the market and strategies adopted to stay ahead of the curve. Some of the companies profiled in the report are Emerson Electric Co.; Flowserve Corporation; IMI plc; Alfa Laval AB; AVK Holding A/S; Eaton; Honeywell International, Inc.; Velan; Inc., Burkert Fluid Control System; and Valvitalia SpA. Besides aforementioned strategies, investment in research and development is expected to remain pivotal for gaining competitive advantage.
Market Segmentation
By Actuation Technology
Manual Control Valve
Pneumatic Control Valve
Hydraulic Control Valve
Electric Control Valve
By Type
Ball Valve
Butterfly Valve
Cryogenic Valve
Globe Valve
Others
By Application
Power Generation
Oil and Gas
Chemical Industry
Food & Beverages
Automotive
Pharmaceuticals
Wastewater Management
Others
By Region
North America

U.S.
Canada
Rest of North America

Europe

U.K.
Germany
France
Rest of Europe

Asia Pacific

India
China
Japan
Rest of Asia Pacific

Middle East & Africa

GCC
South Africa
Rest of Middle East and Africa

South America

Brazil
Rest of South America