The global control valves market size is expected to hit over US$ 11,998 million by 2027. As per refined forecast by Precedence Research, the market will continue exhibiting high growth through the course of the report's assessment period 2021 to 2027.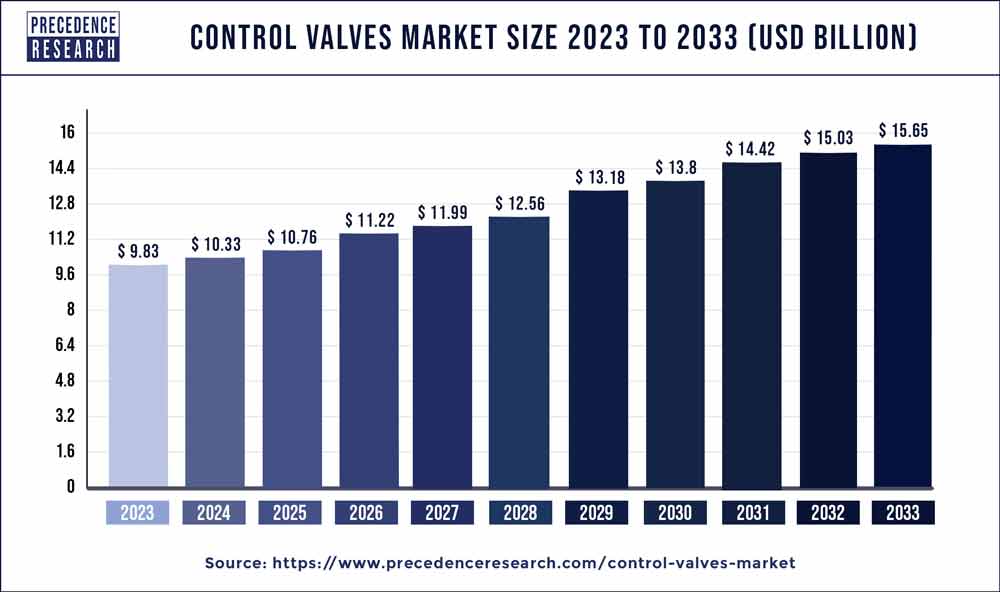 Control Valves Market Overview
With investment towards infrastructural expansion, including wastewater treatment plants and other sectors, reaching all-time high, the demand for control valves is set to increase at 9.71% CAGR between 2021 and 2027. Thanks to recent technological advancements that work in tandem with control valves, application will continue surging across pharmaceutical, mining, chemicals and other sectors.
Process plants usually comprise a multitude of loops designed to mechanically control process variables such as temperature, pressure, and flow. Control valves are relied upon to manipulate the flow of liquid, ascertaining efficiency in operation across process plants by reducing their downtime.
In process sectors such as oil and gas, water management, chemicals, power generation, automotive, mining, pharmaceuticals, and food and beverages, control valves are used to govern process variables such as flow, temperature, pressure, and fluid level. Control valves are crucial to improving the efficiency, safety, and profitability of these process sectors. Furthermore, control valve manufacturers are continually engaged in research and development operations to build their products in compliance with changing industry requirements.
Control Valves Market CAGR, By Type, (2021-2027)
| | |
| --- | --- |
| Type | CAGR (2021-2027) |
| Ball Valve | 9.52% |
| Butterfly Valve | 10.04% |
| Globe Valve | 9.64% |
| Diaphragm Valve | 9.73% |
| Others Valve | 9.73% |
| Total | 9.71% |
Introduction to control valves
A valve is a mechanical device that controls the flow of fluids in a process stream, such as gas, oil, water, and steam. A control valve is a flow control device that uses an actuator to supply power. It is the most widely utilized final control device in the process industry for automatically regulating medium pressure and flow rate within the desired operating range.
When dependability and productivity are the key goals, control valves are essential. Control valves aid in the prevention of income losses caused by leakage. As a result, these valves are an essential component of any industrial process. Ball valves, butterfly valves, plug valves, and globe valves are examples of commercially available valves.
Electrical, hydraulic, or pneumatic actuators are commonly used to open or close automatic control valves. Valve positioners are typically used with modulating valves, which can be set to any position between fully open and closed, to ensure the valve achieves the required degree of opening.
Air-actuated valves are often employed due to their simplicity, as they simply require compressed air, whereas electrically-operated valves require additional cabling and switch gear, and hydraulically-actuated valves necessitate high-pressure hydraulic fluid supply and return lines.
Traditionally, pneumatic control signals were based on a pressure range of 3-15psi (0.2-1.0 bar), or, more recently, an electrical signal of 4-20mA for industrial or 0-10V for HVAC systems. Electrical control now frequently incorporates a "Smart" communication signal superimposed on the 4-20mA control current, allowing the controller to receive information on the valve's health and position verification. The most prevalent protocols are HART, Fieldbus Foundation, and Profibus.
An automatic control valve is made up of three basic sections, each of which comes in a variety of styles and designs:
The valve actuator - A ball or butterfly valve, moves the valve's modulating element.
Valve positioner - This device ensures that the valve has opened to the proper degree. Friction and wear issues are no longer an issue.
Valve body - The modulating element, such as a plug, globe, ball, or butterfly, is housed in the valve body.
Smarter Control Valves Making Deeper Inroads
Amidst surging demand for power generation and focus on oil & gas exploration, control valve technology has emerged as an ideal solution for helping industries overcome common operational challenges that create cost burden.. Innovations such as integration of sensors and digitization have made control valves smarter.
Some of these protocols have played pivotal role in the technology evolution of control valves and Precedence Research sees this as a splendid opportunity for market players to capitalize on. Despite linear investment opportunities, digital innovations are sought-after as industries focus on achieving real-time improvements.
To set these developments on track, several organizations are integrating smarter external software to support intelligent control valve positioners.
Opportunities for Automation
Modern industries face a myriad of economical, environmental, and competitive challenges. To counter these, several leading organizations have been investing in state-of-the-art equipment. This trend is not only making its presence felt in the control valve market, but is expected to set path for expansion over the assessment period.
While conventional physical control valves have altered little over the years. Technology integrated in these valves have become significantly advanced. Especially for application in subsea oil and gas, intelligent control systems, in-built with embedded processors and networking capabilities have become imperative.
Demand for these developments has encouraged some of the leading market players to step up their game. For instance, in 2019, Siemens launched an intelligent and self-optimizing valve, which is connected to the cloud. Several other launches followed, giving tailwinds to overall growth registered by the market.
Market Drivers
Rising demand for renewable energy to drive the control valves market
The development of renewable energy technology has become critical in light of rising energy demand and finite supplies of carbon-based fuels. The instabilities of the electricity distribution system are caused by the fluctuation of power generation from renewable sources such as wind or photovoltaic. Solar thermal power plants with heat storage are an ideal complement to other renewable energy sources. Diversification of energy sources will provide major benefits in terms of energy security, the environment, and the economy. Solar thermal power facilities rely heavily on control valves. Modified designs with expanded bonnets or bellows seal bonnets, as well as specific sealing systems, may be necessary depending on the process circumstances. For concentrated solar power generation, molten salt is a typical heat transfer fluid. To avoid malfunction or damage to the control valve owing to molten salt crystallization, special attention must be paid to the heat tracing. To address the overall process requirement, optimal thermal design is required.
The growing need for energy, finite fossil fuel resources, and greenhouse gas emissions from carbon-based fuel burning such as wood, coal, oil, and natural gas are all driving the development of renewable energy technology. Extra sources have been discovered for hydraulic fracturing, which allows the production of fuels such as natural gas and petroleum from subsurface rock formations. However, there is a substantial potential for negative environmental consequences such as groundwater contamination or gas and fracking chemical movement to the surface. Renewable energy technologies diversify electricity generation and increase system flexibility, resulting in considerable energy security, environmental, and economic benefits. Biofuels, hydropower, wind turbines, geothermal energy, photovoltaic, and thermal solar power plants are the most widely employed alternative energy technologies.
Growing demand for pharmaceuticals amidst COVID-19 to drive the demand for control valves
In 2012, it was reported that flaws in the production of sterile injectable pharmaceuticals caused about a third of the biopharmaceutical industry's manufacturing capacity to be shut down. Quality and production concerns have been a primary cause of these shortages. According to a 2014 analysis by the US Government Accountability Office, the most often identified immediate cause of medicine shortages was manufacturing disruption due to quality difficulties - quality issues or plant maintenance issues accounted for 40% of shortages between 2011 and 2013.
Inadequate treatment regimens, disruptions in care, higher healthcare expenses, and even early mortality resulted from the widespread shortages. To counteract these troubling trends, pharma producers must prioritize product quality to ensure patient safety.
Manufacturers in the life science business have been able to increase their manufacturing capacities by increasing uptime, cutting the overall cost of equipment ownership, and lowering maintenance expenses thanks to advancements in valve and sensor technologies. These benefits are seen across the value chain in the form of greater maintenance resources and financial returns, all of which contribute to enhanced patient care.
The global pandemic of COVID-19 has a variety of short- and long-term effects on the health market, particularly the pharmaceutical sector, which may be seen from both a global and local perspective. The COVID-19 pandemic has wreaked havoc on the worldwide economy throughout 2020. The pharmaceutical industry, in particular, has had to quickly react to the impact on its operations and the ensuing global shortages of active pharmaceutical ingredients (APIs) to resume normal operations as quickly as possible. However, the global epidemic has exposed the pharmaceutical supply chain's vulnerability.
To reduce the danger of future disruptions in pharmaceutical manufacture, many governments are attempting to onshore their supply chains, or at the very least bring supply closer to home or diversify supply networks to avoid over-reliance on any one market. For example, India is attempting to incentivize the localization of its API supply—70 percent of the country's ingredients are now sourced from Chinese providers. With this in mind, it appears likely that pharmaceutical businesses would prioritize supply chain resilience and reliability alongside price when developing supply plans in the future.
Market Restraints
Lack of standardization to restrain control valves market growth
Certain standards and rules must be followed by valve makers. When it comes to valves, different locations have distinct certifications and policies. Because valves are used in so many different industries, such as oil & gas, food & beverages, pharmaceuticals, energy & electricity, water & wastewater treatment, building & construction, chemicals, and pulp & paper, demand is diverse. Such diversity, on the other hand, is impeding the growth of the valves market because industry participants must adapt the same product to regional policies, making it harder for valve makers to obtain an optimal cost of installation. To resolve this issue, they have to invest their resources in setting up manufacturing facilities across the world, thus, requiring additional capital. To remedy this problem, they must invest their resources in establishing production facilities all over the world, which will necessitate additional capital.
Market Opportunity
IIoT to offer numerous opportunities for the control valves market development
The Industrial Internet of Things (IIoT) is far more sophisticated than the commercial Internet of Things, owing to the predominance of linked sensors in the industrial environment, which are the IoT's "things." Hundreds of millions of connected wired and wireless pressure, level, flow, temperature, vibration, acoustic, position, analytical, and other sensors are installed and operating in the industrial sector, with millions more added each year, adding value through additional monitoring, analysis, and optimization.
Sensors communicate with several higher-level software platforms, both on and offshore. On-site connections are frequently made through a local intranet, resulting in the creation of an Industrial Intranet of Things. Offsite connections are typically established through the Internet, generally through the use of a cloud-based storage system. Control and monitoring, asset management, and specialized data-analysis systems are examples of higher-level software platforms. Dedicated experts undertake complex big data analytics at remote data-analysis centers to discover trends, problems, and solutions.
The IIoT connects sensors to analytic and other systems to increase performance, safety, dependability, and energy efficiency automatically by:
Collecting data from sensors (things) at a lower cost than ever before, thanks to the fact that sensors are frequently battery-powered and wireless.
Using big data analytics and other tools to strategically interpret this data and convert it into useful knowledge
Giving this actionable information to the correct person at the right time, whether it's plant staff or remote experts.
Delivering improved performance when employees take corrective action.
Value chain analysis
The value chain for the control valves market includes raw material & component suppliers, OEMs, system integrators, distributors, and end-users.
The value chain begins with the suppliers of raw materials and components. Control valve manufacturers rely on raw material suppliers to provide metals and other material components such as actuators and positioners, which are necessary to create the valves. OEMs get components from component manufacturers, which are then assembled into a control valve system by equipment manufacturers.
Control valves are designed and manufactured by original equipment manufacturers (OEMs). The majority of the major businesses in the sector have their raw material extraction and component manufacturing facilities. This integration aspect aids these companies in achieving greater cost reductions, particularly in the production of control valves and related automation products. The OEM control valves market is dominated by Emerson, Flowserve, Cameron, and Christian Burkert.
System integrators are included in the third phase. They incorporate control valves into equipment and provide users a complete solution. Kira Valves and Engineering, for example, is a particular valve product and service provider based in South Africa. The company fabricates and assembles bespoke valve system components.
Local valve providers, ranging from local fabricators to global manufacturers, carry and sell a variety of products and provide services from a variety of valve manufacturers. Manufacturers' geographical reach is governed in large part by distribution channels. Offline channels (direct distribution) and internet channels are two types of distribution channels. Direct suppliers, such as those listed above, are premium outlets or exclusive suppliers for a large-scale regional or global valve manufacturer. Distributors account for the vast majority of sales. Within a given territory, direct suppliers generally seek contractual sales and frequently operate as suppliers to distributors. End-users in the oil & gas, water & wastewater, power, chemicals, pharmaceuticals, and metals & mining industries, among others, make up the final stage in the value chain.
Region-wise Control Valves Market Survey
North America Control Valves Market Outlook
Despite reigning as an early adopter of the latest technology innovations, North America stands second to Asia Pacific, which currently dominates the global control valves market. As per the study, control valves sales in North America are expected to total more than US$ 3.6 Bn by 2027.
Growth registered in the region is attributable to the increasing investment towards installation of electric control valves. While demand for hydraulic and pneumatic control valves remains high, sales in the electrical segment will increase at an accelerated pace.
To an extent, the North American energy landscape will present opportunities for solid growth in the market. The increasing focus on renewable energy will present highly attractive opportunities for sales in the region.
It was recently announced by Arevon Energy, Inc. that it plans to invest in 4.5GW of Clean Energy in North America. Besides this, expansion is on cards for several other industries, including mining, pharmaceutical and others.
Studies have suggested America's mining industry to register double-digit growth in the forthcoming years, thus creating prospects for sales of control valves through the course of the forecast period.
Asia Pacific Control Valves Market
Demand from India, China, Japan, South Korea, and other nations will seal Asia Pacific's dominance in the control valves market. Backed by demand from strong power sector in India and China, Asia Pacific will record high demand for control valves through the forecast period. According to the study, the demand in Asia Pacific is set to rise at 9.74% CAGR through the course of the report's forecast period.
Under the Union Budget 2021-22, the Government of India has allocated US$ 42 Bn for a revamped and reforms-based new power distribution sector scheme over the next ten years. This information was published in the India Brand Equity Foundation (IBEF).
This is indicative of impressive growth opportunities on card for control valves producers in India. Precedence Research has forecast the demand in India to increase by over 10% between 2021 and 2027.
As per the International Energy Association, China's energy sector is transitioning, steered by the president's call for "energy revolution". Sharp rise in total energy supply and consumption has catapulted sales prospects for control valves manufacturers in China.
Backed by favorable government policies, China is expected to present more than US$ 4.6 Bn absolute opportunity in the Asia Pacific control valves market.
Europe Control Valves Market Outlook
Germany, the U.K., and France are expected to remain at the forefront of the Europe control valves market growth. Expansion of mining activities will present highly lucrative prospects for expansion in the region.
Besides this, focus on digital improvements in existing technologies will push sales of electric control valves at the highest pace in the region. The report also projects the demand for oil & gas, pharmaceutical, and chemical industries to account for maximum sales of control valves through 2027.
Overall sales of control valves in Europe are expected to total more than US$ 2.3 Bn by the end of the forecast period.
Investment Feasibility Across Key Segments
Control Valves Actuation Technology
In terms of actuation technologies available, the market can be segregated into manual, pneumatic, hydraulic, and electric. Of these, pneumatic control valves will remain the most commonly used type in terms of technology. However, given the global scheme of things, sales of electric control valves are expected to rise at a higher pace.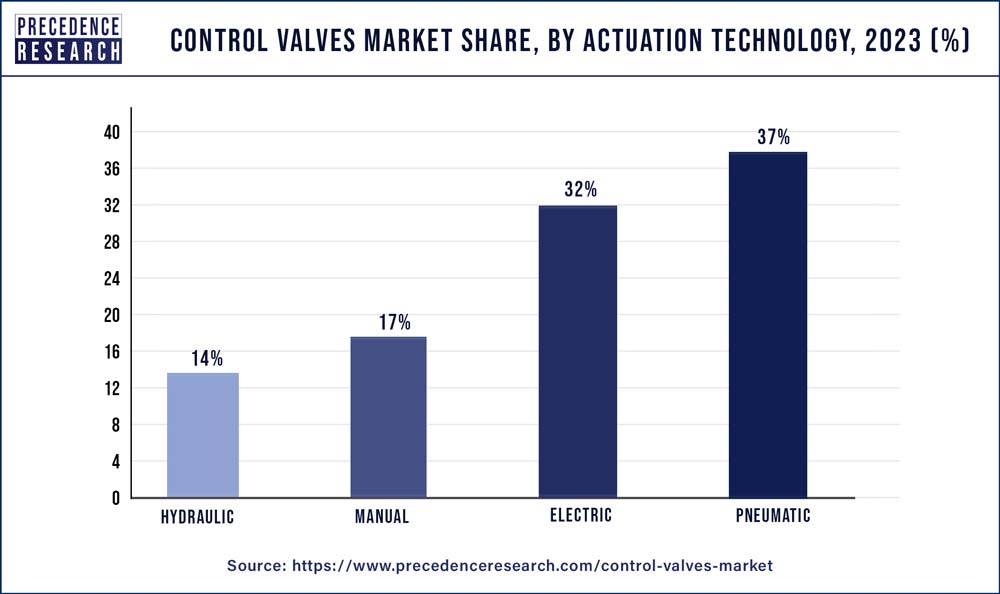 Industries are more willing than ever before to spend on the latest technologies. Focus in integrating smart solutions is gradually steering them away from manual and pneumatic control valves. As per the report, sales of electric control valves will increase at 10.18% CAGR over the assessment period.
Control Valves Market Study in Terms of Type
On the basis of type, the market comprises ball, butterfly, globe, diaphragm, and others. Of these globe control valves are expected to remain the top choice across industries through the forecast period. The report has predicted the total sales of globe control valves to total US$ 3.3 Bn by 2027.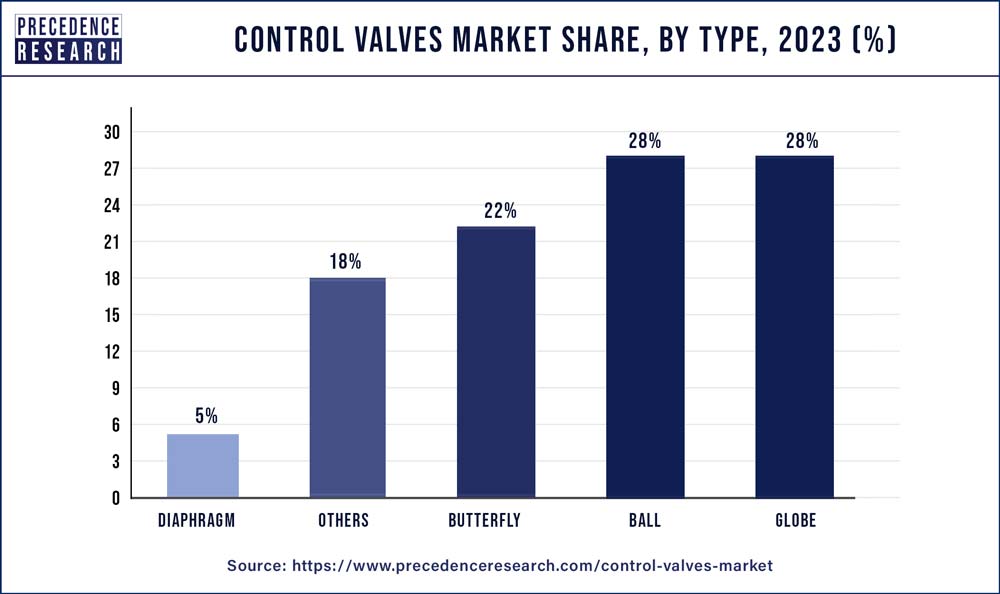 Globe control valves have a myriad of applications. Some of these are in cooling water systems, fuel oil systems, and turbine lube oil systems among others. Considering this, the demand for globe valves is expected to rise in wastewater plants, food processing plants, and process plants.
Application-wise Insights
In terms of application, the dominance lies with the oil and gas industry. According to the report, demand in the oil and gas industry is expected to top over US$ 2 Bn by 2027. Sales forecast within the sector remains strong, however, demand in power generation, chemicals, and pharmaceutical industries is expected to rise at a higher pace.
Control Valves Market Share, By Application, 2016-2020 (US$ Million)
| | | | | | |
| --- | --- | --- | --- | --- | --- |
| Application Segment | 2016 | 2017 | 2018 | 2019 | 2020 |
| Power Generation | 1,034.28 | 1,154.70 | 1,242.00 | 1,324.15 | 880.56 |
| Oil and Gas | 1,164.72 | 1,302.63 | 1,405.06 | 1,497.98 | 971.72 |
| Chemical Industry | 721.02 | 809.52 | 871.76 | 932.53 | 624.68 |
| Pharmaceuticals | 502.25 | 558.86 | 601.00 | 639.07 | 511.76 |
| Water and Wastewater Management | 848.38 | 939.99 | 1,005.08 | 1,065.46 | 750.03 |
| Metals and Mining | 685.07 | 766.37 | 821.50 | 874.25 | 596.71 |
| Others | 1,569.40 | 1,728.97 | 1,840.94 | 1,939.71 | 1,346.73 |
| Total | 6,525.13 | 7,261.04 | 7,787.34 | 8,273.15 | 5,682.17 |
Competitive Landscape
Despite the dominance of a handful of players, competition in the control valves market is expected to grow stronger in the coming years. As per the report, more companies are focusing on the expansion of their global footprint to gain competitive edge. For instance:
In February 2019, Rockwell Automation, one of the world's leading companies in industrial automation and information, announced that it has entered into an agreement with Schlumberger, one of the world's leading providers of technology for drilling, processing, production, and reservoir characterization to the oil and gas industry. These companies came together to create a new joint venture, dubbed as Sensia, which is touted as the first fully integrated digital oilfield automation solution provider.
Flowserve Corporation announced completion of the sales of its Gestra AG business unit to Spirax-Sarco Engineering plc in May 2018. This sale by Flowserve was aimed at better aligning and optimizing the company's existing portfolio so that it could focus on its core business objectives.
Besides these, some of the companies are even aiming at launching control valves with cutting edge technologies. For instance:
Festo announced launching a new flow control valve in 2020 that uses its pieze technology to deliver dynamic industrial control applications.
Belimo Americas also announced launching a new 6-way pressure independent control valve. The company has been touting this new launch as a one-of-its-kind solution designed for radiant ceiling panels, chilled beams, and fan coil units to enable true flow and impressive balancing.
The report presents an in-depth overview of companies operating in the market and strategies adopted to stay ahead of the curve. Some of the companies profiled in the report are Emerson Electric Co.; Flowserve Corporation; IMI plc; Alfa Laval AB; AVK Holding A/S; Eaton; Honeywell International, Inc.; Velan; Inc., Burkert Fluid Control System; and Valvitalia SpA. Besides aforementioned strategies, investment in research and development is expected to remain pivotal for gaining competitive advantage.
Scope of the Control Valve Market Report
| | |
| --- | --- |
| Report Highlights | Details |
| Market Size In 2027 | USD 11,998 Million |
| Growth Rate | 9.71% CAGR From 2021 and 2027 |
| Base Year | 2020 |
| Hiostoric Data | 2017 to 2020 |
| Forecast Period | 2021 to 2027 |
| Segments Covered | Actuation Technology, Type, Application |
| Regional Scope | North America, Europe, Asia Pacific, Middle East & Africa, South America |
| Companies Mentioned | Emerson Electric Co., Flowserve Corporation, IMI plc, Alfa Laval AB, AVK Holding A/S, Eaton, Honeywell International, Inc., Velan Inc., Burkert Fluid Control System, Valvitalia SpA |
Market Segmentation
By Actuation Technology
Manual Control Valve
Pneumatic Control Valve
Hydraulic Control Valve
Electric Control Valve
By Type
Ball Valve
Butterfly Valve
Diagraph Valve
Globe Valve
Others
By Application
Power Generation
Oil and Gas
Chemical Industry
Food & Beverages
Automotive
Pharmaceuticals
Wastewater Management
Others
By Region
North America

U.S.
Canada
Rest of North America

Europe

U.K.
Germany
France
Rest of Europe

Asia Pacific

India
China
Japan
Rest of Asia Pacific

Middle East & Africa

GCC
South Africa
Rest of Middle East and Africa

South America

Brazil
Rest of South America