The global consumer IoT market size was evaluated at USD 221.74 billion in 2022 and it is expanding around USD 616.75 billion by 2032, growing at a CAGR of 10.77% from 2023 to 2032.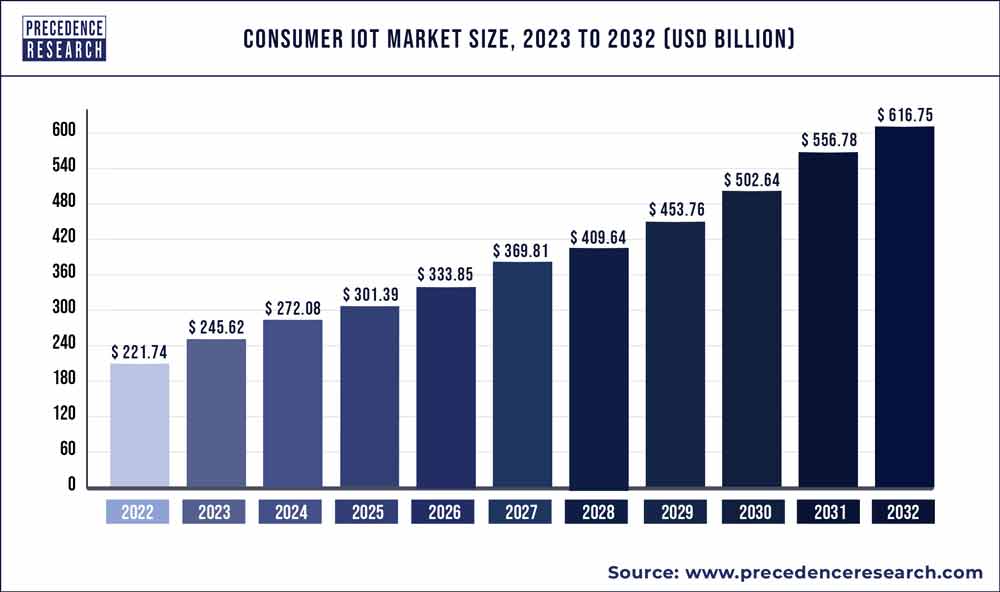 Key Takeaways:
By geography, the North America captured more than 22% of the total share in 2022.
By component, the hardware components segment generated more than 37% of revenue share in 2022.
By component, the services components segment is expected to expand at the fastest rate between 2023 and 2032.
By connectivity technology, the wireless connectivity technology segment is predicted to grow at the largest market share of approximately 12% in 2022.
By application, the consumer electronics segment generated more than 35% of the total share in 2022.
By application, the wearable devices segment is projected to grow the fastest from 2023 to 2032.
Market Overview:
The Internet of Things (IoT) is evolving in every part of the globe, impacting every industry, particularly the consumer. The consumer Internet of Things (IoT) altered how consumers go about their everyday routines. Various businesses have integrated functionalities and sensors into their products to improve interaction with people, resource tracking, and product control.
The increasing popularity of advanced technological devices and home appliances can be attributed to growth. Consumer internet of things (IoT) tools are equipped with several microcontrollers and wireless technologies, enabling them to reveal data without requiring direct contact between users and computers. Consumer IoT represents an interconnected system of physical and digital objects designed for consumer markets, such as smart wearables, smartphones, and smart home appliances.
For instance, according to consumer research by Ampere Analysis, 52% of internet households in the UK have a voice assistant device. In the firm's survey of 25 countries, 32% claim to own a voice assistant-enabled device.
According to IDC, $742 billion will be spent on IoT technology globally by 2020. With COVID-19, 2020 experienced less spending than the previous year because hotels, theme parks, casinos, and movie theatres were closed for most of 2020. However, IoT spending double-digit by 2021 and is expected to exceed $1 trillion by 2023.
Report Scope of the Consumer IoT Market
| | |
| --- | --- |
| Report Coverage | Details |
| Market Size in 2023 | USD 245.62 Billion |
| Market Size by 2032 | USD 616.75 Billion |
| Growth Rate from 2023 to 2032 | CAGR of 10.77% |
| Base Year | 2022 |
| Forecast Period | 2023 to 2032 |
| Segments Covered | By Component, By Connectivity Technology and By Application |
| Regions Covered | North America, Europe, Asia-Pacific, Latin America and Middle East & Africa |

Market Dynamics:
Driver
The introduction of 5G
The 5G is predicted to accelerate market expansion. The 5G networks are anticipated to improve the reliability and execution of connected gadgets significantly. IoT and 5G lay the groundwork for medical devices, wearables, smartphones, and vehicles. Developing a 5G-powered IoT system propels the growth of smart cities and connected vehicle networks, benefits manufacturing firms, and enhances healthcare operational efficiency.
According to Ericsson, 5G will have 40% of the total population and 1.5 billion subscription services by 2024, making 5G the highest generation globally incorporated. This is driven by novel, inventive solutions reprocessing present infrastructure and a spectrum. Parallel to 5G deployment, cellular IoT achieves significant benchmarks toward becoming the leading method for broad IoT applications.
According to the Department of Telecommunications (DoT) 2018 National Digital Communication Policy (NDCP), an eco-system for 5 billion connected devices will be created by 2022. As a result, it is predicted that approximately 60% of the 5 billion connected devices, or 3 billion, will exist in India by 2022.
Restraints
Data breach
Cyberattacks risk increases as these digital technologies become more prevalent in our daily lives as consumers. New products are constantly introducing flaws into the market. According to Consumer Reports, 11 security flaws were discovered in four new video doorbells and home security cameras in 2021, alerting their owners to hacking or leaks of personal data, such as email addresses and Wi-Fi passwords.
Challenges
Inadequate updates, as well as outdated software
Updates are required to ensure the security of IoT devices. Devices should be updated regularly as soon as new vulnerabilities are discovered. Smartphones and computers typically receive monthly (or more frequently in some cases) updates, but this is only sometimes the case for IoT devices. These devices often lack a well-defined process for security updates and patches.
When designing IoT devices, OEMs frequently need to prioritize cyber security. As a result, devices that are more vulnerable to cyber-attacks are produced. This means that a device that was secure when the customer first purchased it is now unsafe and easily accessible to hackers and other security concerns.
Covid-19 Impact:
COVID-19 had a massive effect on the IoT market because nearly every country chose to close all manufacturing facilities apart from those responsible for manufacturing essential commodities. The consumer IoT market is expanding due to digitalization in the manufacturing process and supply chains in agriculture, electrical utilities, mining, oil and gas, and transportation.
Furthermore, IoT adoption in industries increased dramatically between 2020 and 2021, as the pandemic demonstrated the importance of IoT in all types of businesses. The adoption of IoT in sectors has been driven by a surge in demand for automation to avoid the involvement of a maximum workforce. This replicates COVID-19's positive impact on the consumer IoT market, which has further catalyzed the business through adopting industry 4.0 technologies.
Segments Insight
Component Insights
The global consumer IoT industry comprises hardware, services, and software components. Due to the growing demand for IoT devices, the segment of hardware components accounts for approximately 37% of total revenue in 2022. These devices comprise actuators, gadgets, sensors, machines, and appliances that conduct data across networks and are designed for applications. Furthermore, ongoing technological advances are anticipated to favor segmental expansion during the projected period.
The sector of services component is predicted to expand at the fastest rate between 2023 and 2032, owing to the growing demand for solutions that encourage the operation of consumer IoT tools. The end-to-end software development solutions, including project planning, testing, and deployment, are offered by service providers to consumer IoT. They also provide consulting services like IoT tech stack, architectural engineering, software audit, and others.
Connectivity Technology Insights
The wireless connectivity technology sector is estimated to grow at the highest market share of approximately 12% in 2022 due to the network's better scalability. Hardware installations are not required in wireless connectivity technology and are easily extended without regard for facility obstructions. Wireless sensors are made up of nodes which may expand by adding more nodes as needed. Furthermore, they are cost-effective due to current developments in wireless technology and the rising amounts of firms.
The wired connectivity technology section also reported a major share in 2022 and is predicted to expand steadily as this connectivity method remains popular among users. Ethernet is typically used for the connectivity of networks in wired networks, which makes them exceptionally efficient. Additionally, as this technology is not influenced by device distance or placement, they provide faster data transmission speeds. Furthermore, wired networks are assured because they are equipped with a LAN firewall.
Application Insights
The consumer electronics division accounted for greater than 35% of the total share in 2022 due to the rising consumer preference for embracing innovative consumer electronics gadgets throughout residential areas. Home automation is now a reality due to the advancement of technologies like digital assistants, sensors, cloud computing, and advanced networking. According to reports, by 2023, almost 15% of households worldwide are estimated to have a smart home electrical device installed.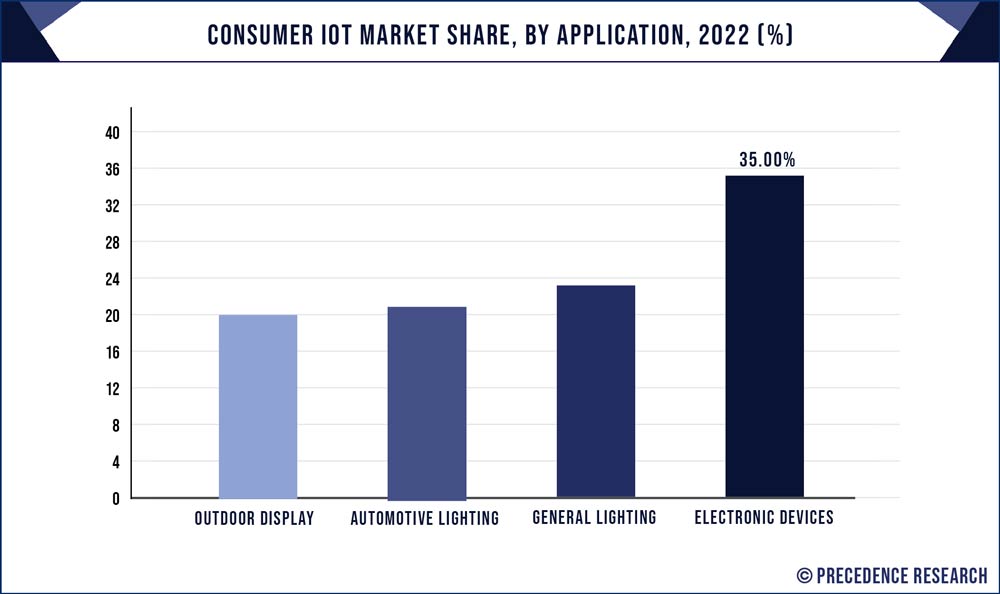 The wearable segment is expected to grow fastest from 2023 to 2032 due to expanding disposable incomes, rising internet users, and substantially lower retail prices of such devices. Furthermore, wearable devices benefit healthcare providers and patients by assisting in heart-rate monitoring, hand hygiene monitoring, glucose monitoring, depression monitoring, Parkinson's disease monitoring, and other activities.
As a result, the market is expected to benefit from the increasing acceptance of wearable consumer IoT devices for healthcare monitoring.
Regional Insights
North America reported approximately 22% of the total share in 2022 and thus is predicted to expand during the projected period. This is attributed to enhanced product demand in the region, particularly for fitness-tracking gadgets. Furthermore, the growing health consciousness due to the increasing prevalence of chronic diseases and the number of diabetes patients, as well as the convenience of the use of medical devices, are driving market growth in this region.
The increased adoption of smart connected devices and the rapid digitalization of various consumer end-use applications have fueled the growth of IoT in North America. As per the 2022 ValuePenguin survey of around 1,500 users, 45% of Americans already use smartwatches, for instance, Apple Watches and Fitbits, and 69% are ready to utilize a fitness tracker to have health insurance discounts.
With the increasing acceptance of innovative home solutions in the area, Asia Pacific recorded a significant CAGR between 2023 to 2032. Asia Pacific is expected to be one of the important markets for IoT market growth. Asia Pacific is growing due to rising internet penetration, increased adoption of cloud-based services among small and medium-sized businesses, and government policies encouraging digitalization and innovative city development.
Furthermore, introducing high-speed networking technologies has been a major driving force in the market. Moreover, the growing interest of multinational players in the region and rising demand from developing economies such as India and China are expected to drive market growth. Ericsson predicts that cellular IoT connections will surpass 4 billion by 2024, owing to strong adoption in North-East Asia.
According to IDC's recent Worldwide Semiannual Internet of Things Spending Guide, the APAC IoT market will grow by 9.1% in 2022, up from 6.9% in 2021.
Recent Developments:
Amazon.com, Inc. released the Halo Band in June 2020, which includes an accelerometer, temperature sensor, two microphones, and heart rate monitor.
Alphabet Inc.-owned Google acquired Fitbit in 2021 to develop its mark in the wearables market. The company does not create wearables but offers software to build smartwatches.
Koninklijke Philips N.V. earned CE marking and FDA approval for its wireless wearable biosensor to monitor coronavirus patients in May 2020.
Sony unveiled new true wireless earbuds and over-ear headphones in April 2020, including two new mid-range models. These earphones continuously analyze ambient sound components and, among other things, provide one-touch access to Siri.
Key Market Players
Alphabet, Inc.
Cisco Systems, Inc.
AT&T
Amazon.com, Inc.
Apple Inc.
IBM Corp.
Honeywell International Inc.
Texas Instruments
LG Corp.
Microsoft
Intel Corp.
Schneider Electric
Sony Corp.
Samsung
TE Connectivity
Segments Covered in the Report
(Note*: We offer report based on sub segments as well. Kindly, let us know if you are interested)
By Component
Processor
Hardware

Sensors

Temperature
Accelerometers
Pressure
Camera Modules
ECG
Humidity
Light
Others

Logic Devices
Memory Devices

Software

Data Management
Security
Remote Monitoring
Network Management
Others

Services
By Connectivity Technology
By Application
Consumer Electronics

Dishwasher
Washing Machine
Others

Healthcare

Pulse Oximeter
Blood Pressure Monitor
Blood Glucose Meter
Others

Wearable Devices

Body-worn Cameras
Smart Watch
Fitness Tracker
Smart Glasses
Others

Automotive
By Geography
North America
Europe
Asia-Pacific
Latin America
The Middle East and Africa