The global copper sputtering target market size was estimated at USD 915 million in 2022 and it is expected to hit around USD 1,483.3 million by 2032, poised to grow at a CAGR of 5% during the forecast period from 2023 to 2032.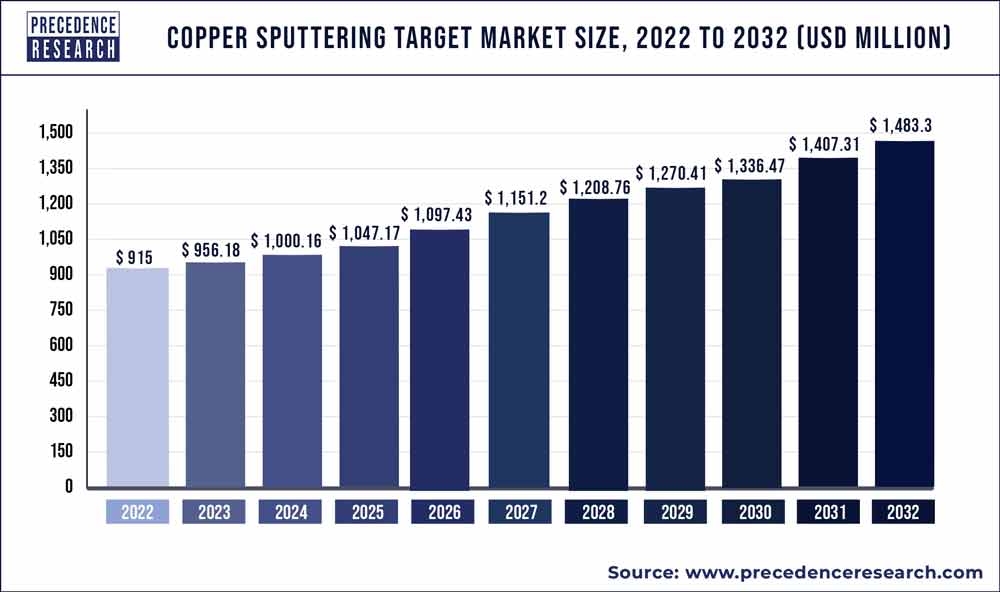 Access our Premium Real Time Data Intelligence Tool, Visit: Precedence Statistics
Market Overview
Sputtering targets are materials that are subjected to physical vapour deposition (PVD), a process that involves the high-velocity ejection of atoms from solids. The atoms that are ejected after depositing on the workpiece produce a thin film coating with beneficial properties. There is a transfer of momentum that occurs when high-energy ions collide with the atoms of the target substance. Multiple collisions can occur at times. Due to long-distance flight, the ions occasionally lose energy. If the energy of the ions travelling to the target is higher than the energy of the bonds holding the atoms of the target material together, the colliding atoms will detach from the target material, a process known as sputtering. And the production of thin coatings on the target that range in thickness from a few nanometers to a few micrometres occurs during copper sputtering, a sort of deposition technique.
Gaseous atoms are released when the target materials split apart. These thermodynamically unstable atoms often live on a surface in a vacuum. The thin film is a coating of atoms that is formed on the target and is a micrometre thick. Using copper sputtering targets, the semiconductor and solar industries manufacture solar cells and other electrical devices. Using the sputtering method, a thin layer of an ultra-pure metallic or oxide substance can be deposited on another solid material. A component capable of high-speed computer operation is now being developed using copper sputtering targets with low electric resistance. The copper sputtering target's normal grain size is around 30 m, and 17% of the heterogeneities are formed by annealing at a temperature of 0.4 Tm in order to achieve uniformity in the thin layer that is created. Gases including krypton, xenon, neon, and argon are used in the copper sputtering procedure. Copper sputtering targets can be set up from projects in research and development to production teams, covering medium to large substrate regions, for effective energy directed to the target mass.
Report Scope of the Copper Sputtering Target Market
Report Coverage
Details
Market Size in 2023
USD 915 Million
Market Size By 2032
USD 1,483.3 Million
Growth Rate from 2023 to 2032
CAGR of 5%
Base Year

2022

Forecast Period

2023 to 2032

Largest Market
North America
By Technique

Copper sputtering target with low purity
Copper sputtering target with high purity
Ultra-high copper sputtering

By Application

Semiconductors
Solar Cells
LCD Displays
Others

Regions Covered

North America
Europe
Asia-Pacific
Latin America
Middle East & Africa

Market Dynamics
Driver: Increased use of copper as a sputtering target for semiconductor chips will fuel industry expansion.
The use of copper-sputtering targets for semiconductor devices is predicted to rise during the time of the projection, fueling expansion in the global market for copper-sputtering targets. The sputtering target is used to create the barrier layer and the packaging metal wiring layer. The metal grid, barrier layer, and conductive layer of the wafer are produced largely using the target material throughout the wafer manufacturing process. Using the sputtering target material, the chip packaging method produces the wiring layer, the metal layer behind the bump, and other metal parts. Despite the small number of target materials used in wafer manufacturing and chip packaging, according to SEMI figures, their cost accounts for around 3% of the total cost of the wafer manufacturing and packaging process. Sputtering target materials are one of the primary raw materials used in the production of semiconductors because they directly affect the uniformity and performance of the conductive layer and barrier layer as well as chip transmission speed and stability.
Restraint: The market's growth is hampered by the challenge of uniformly setting targets for complicated structures.
Two of the major obstacles for the worldwide copper sputtering business are the inability to reliably place targets with complex geometries and the sluggish deposition rate for specific materials in the sputtering target technology. The technological advancements and innovations produced by both established and upcoming producers in the copper-sputtering target market are also expected to hasten the resolution of these issues.
Opportunity: Consumer electronics semiconductor advancements offer a significant prospect for market expansion.
The development of semiconductors for consumer devices like smartphones, tablets, and laptops is likely to assist the growth of the global copper-sputtering target market during the forecasted period. For instance, IBM introduced strides in the design and manufacturing of semiconductors in May 2021 when it unveiled the first chip in the world to use 2 nm Nano sheet technology. Almost every area of modern life uses semiconductors, including computing, appliances, communications, transportation, and essential infrastructure. Improved chip performance and energy efficiency are in high demand, especially in the era of hybrid clouds, AI, and the Internet of Things. IBM has created cutting-edge 2-nanometer chip technology to help the semiconductor industry keep up with this growing demand. It is projected to perform 45% better or consume 75% less energy than the most recent 7 nm node products. As a result, these improvements in the business offer a lucrative opportunity for market expansion.
Impact of COVID-19
The COVID-19 outbreak has significantly harmed the world's social and economic institutions. The target market for copper sputtering is among the many value and supply chains that have been affected by the disease. Authorities enforced lockdowns at several locations. To determine how the COVID-19 outbreak has impacted the global market, we will consider both supply and demand.
An outline of the COVID-19 pandemic's immediate and long-term repercussions would be provided. During and after the outbreak, this would assist in the development of business strategies for all market players, including vendors, producers, distributors, suppliers, and end users.
Numerous industries, including oil & gas, manufacturing, retail, and others suffered greatly as a result of the government's strict global lockdown implemented in response to the COVID-19 epidemic. Additionally, the disruption in the supply networks for goods and services limits market expansion. Similarly to this, the COVID-19 pandemic negatively impacted the copper-sputtering target market due to several factors, such as a shortage of raw materials and a drop in semiconductor industry revenue. Both the supply and demand sides of COVID-19 have had a significant impact on the semiconductor industry. Semiconductor foundries were forced to shut down due to a brief mismatch in demand from the consumer electronics industry. The supply chain interruption had an immediate effect on lead times, backlog obligations, forecasts, costs, and personnel management. The COVID-19 pandemic, therefore, had only a little negative effect on the growth of the copper-sputtering target market.
Segments Insight
By Product Insights
Based on techniques copper sputtering is divided into copper sputtering with low purity, copper sputtering with high purity, and ultra-high-copper sputtering.
Copper sputtering target with low purity - When low-purity copper is sputtered, the target, a sturdy metal disc, is coated with the substance to be settled. As the target gets bombarded by ions to produce electrons, which are eventually released as one electrode of an electronic circuit, it is kept in place by the vacuum chamber of the apparatus of sputter deposition. By delivering a potential that is high voltage between the anode and cathode (the target), a field of electricity is created, accelerating the electrons toward the target (the substrate holder). When these electrons hit the gas molecules in the vacuum chamber, ions of one or both species can be created. The positively charged ions ionise the material on the cathode's surface and sputter it into plasma which condenses on the surface of the substrate when the negatively charged cathode is pulled to them.
Copper sputtering Target with high-purity - Using a substance known as a copper-sputtering target, thin films are produced. The process of depositing layers of one or more materials onto a substrate to produce a thin film is known as sputter deposition. Sputtered targets are made using vacuum deposition processes, which bombard atoms on substrates with ion beams and impale them with high kinetic energy. The process is also known as sputtering, which is how the phrase "Sputtering Target" came to be. During deposition, ion beams expel target atoms onto surfaces, causing accumulation and the development of thin films with uniform thickness.
Ultra-high copper sputtering Target -To create copper sputtering targets with ultra-high purity, copper that is 99.999% pure or greater is employed. The performance and quality requirements are quite stringent because it is the highest grade copper sputtering target. The bulk of applications for copper sputtering targets with ultra-high purity include ICs, photovoltaics, transistors, and other semiconductor devices.
By Application Insights
This market is divided into Solar cells, LCD displays, semiconductors, Solar Cells, LCD Displays and others.
Semiconductors - Due to its excellent conductivity and availability in pure form, copper is commonly used as a sputtering target in semiconductor devices. Reduced transistor size and increased need for metal-insulator-metal capacitors that are necessary to power portable electronics have led to an increase in its utilization throughout time. When used in semiconductor devices, copper's reactivity with oxygen and other ambient elements could reduce the lifetime of the device. As a result, attempts are being conducted to develop innovative defences against copper's air degradation.
Solar Cells - Solar cells capture sunlight and turn it into electrical energy using a copper-sputtering target. It aids in the creation of photovoltaic (PV) technology, which uses sunlight to produce electricity. Because it effectively converts electrical energy from sunlight, copper is a good conductor of electricity. A copper sputtering target is also employed in the production of semiconductors and LCD screens.
LCD Displays - LCD panels use copper sputtering targets for coating purposes. It is also known as a cathode ray tube (CRT). Copper sputtering targets are used to remove rust and prevent corrosion from metals. It acts as a barrier to prevent chemical reactions between other substances and the metal surface. Additionally, used in semiconductors, solar cells, and other items is the copper sputtering target.
By Regional Insights
Given the rising demand for semiconductors, solar cells, and LCDs, North America is expected to have significant growth in the global copper-sputtering target market.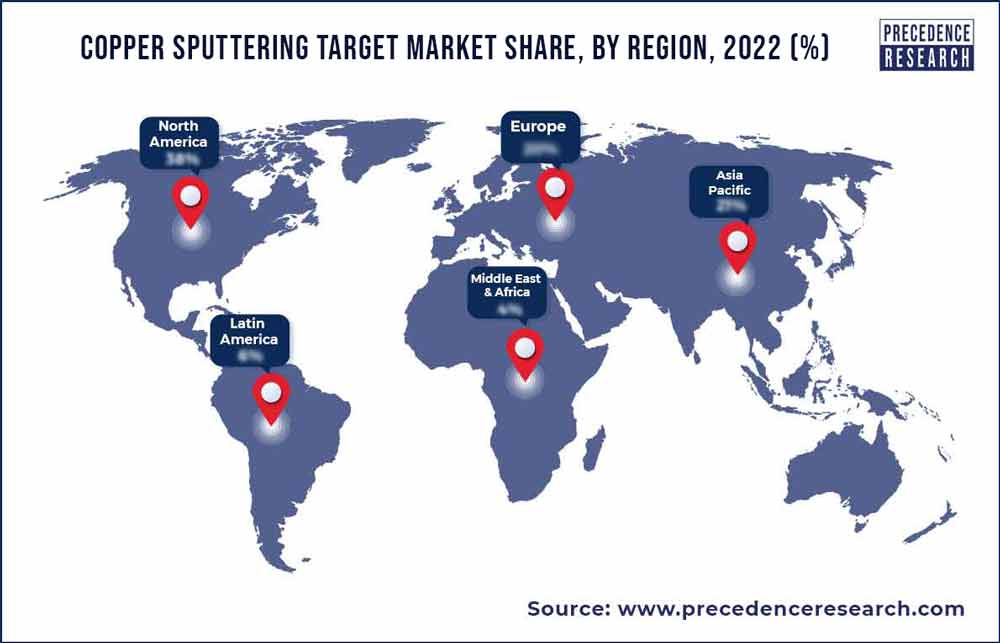 The market is expanding in Europe as a result of rising demand for high-purity items such as copper sputtering targets with ultra-high purity. Due to the rising demand for copper sputtering targets across a range of industries, including semiconductors, LCDs, solar cells, and others, the Asia Pacific is anticipated to experience considerable expansion over the course of the projected period.
Recent Developments
In March 2022, to expand its business by making sputtering targets for semiconductors and creating new business opportunities in the US, JX Nippon Mining & Metals Corporation decided to buy about 260,000 m2 of land in Arizona, USA.
Atomic-layer deposition (ALD) and chemical vapour deposition will replace several sputtering operations at the forefront of IC production (CVD).
Key Market Players
KFMI
Honeywell Electronic Materials
JX Nippon
Praxair
KJLC
Tosoh
China New Metal Materials
KJLC
Sumitomo Chemical Com-pang
KJLC
Plansee
CXMET
Segments Covered in the Report
(Note*: We offer reports based on sub-segments as well. Kindly, let us know if you are interested)
By Technique
Copper sputtering target with low purity
Copper sputtering target with high purity
Ultra-high copper sputtering
By Application
Semiconductors
Solar Cells
LCD Displays
Others
By Geography
North America
Europe
Asia-Pacific
Latin America
Middle East & Africa (MEA)